Although the majority of NinjaOutreach's database is from the US/UK, you can find bloggers from other countries through a variety of methods.
Using The Live Search
The best way to search for results from other countries is using the Live Search with a combination of advanced search operators or correct search terminology, since the Live Search pulls from search engines and not from our database.
First go to the Content Prospecting and check the box Live Search.
Now run your search with any of these advanced search operators.
If you want a country level search, I recommend the following logic:
inurl: – this requires characters to be in the URL, and works well in conjunction with country codes in top level domains, like inurl:.co.uk or inurl:.ru
If you need city level, I recommend typing it in the search directly, for example: plumbers in miami florida
Using The Content Prospecting
You can also leverage our existing database and filters, which might be quicker, but may provide less results. Here are some examples:
Beauty – Blogger tag – UK Location via advanced filter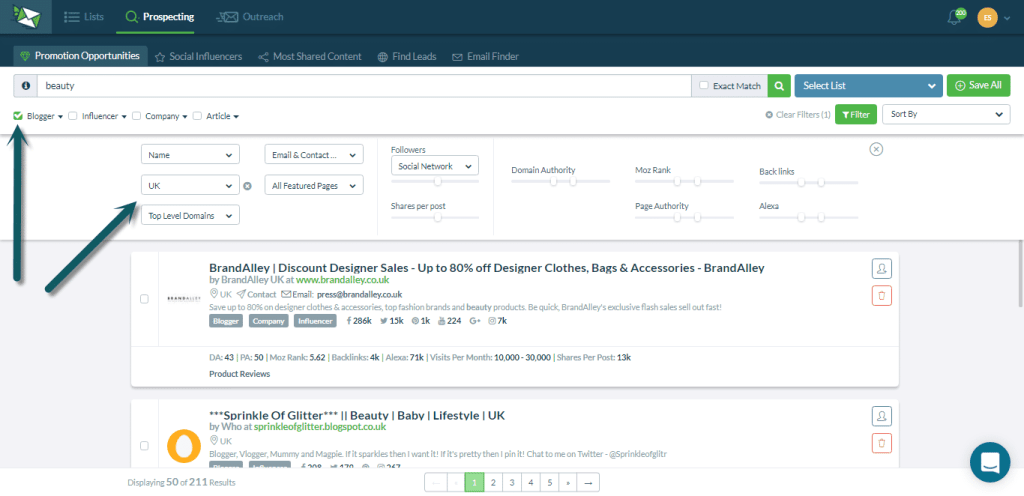 Beauty – Blogger tag- .UK Top Level Domain via advanced filter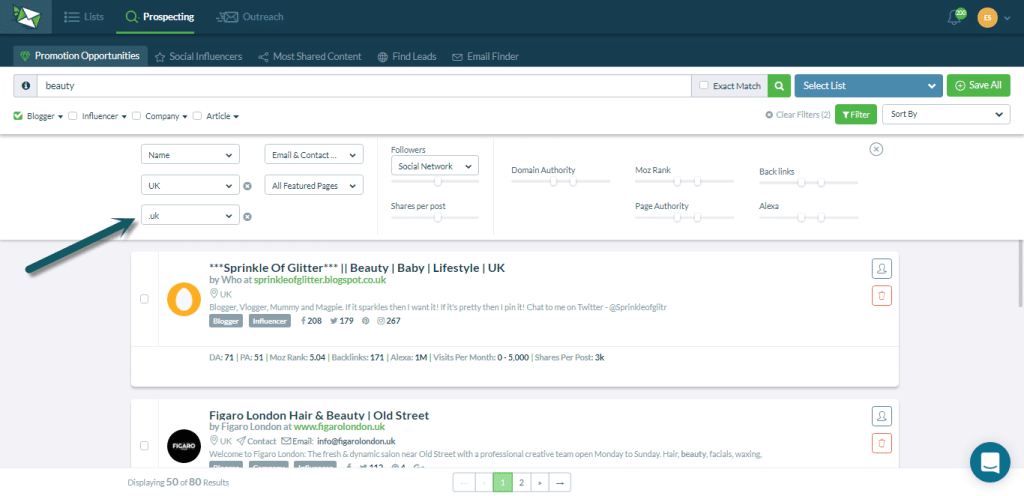 Beauty UK- Blogger tag – None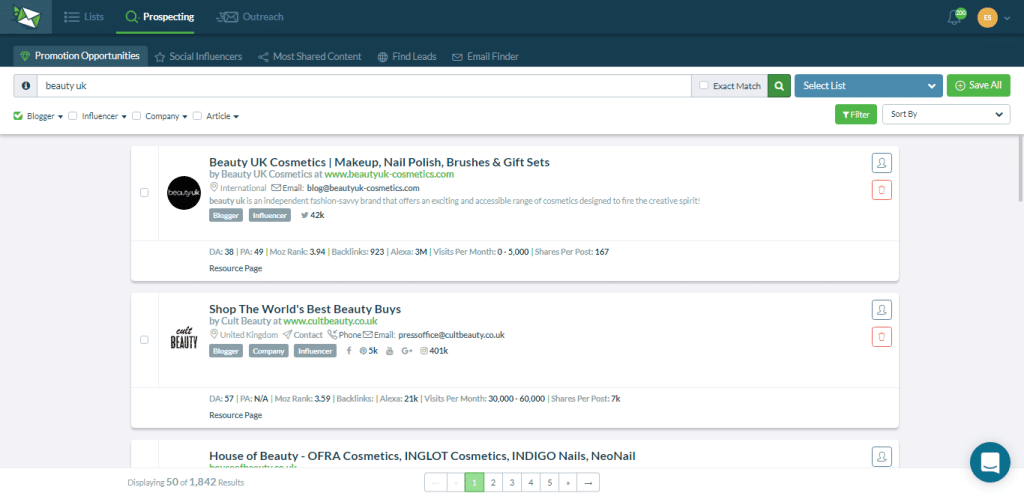 Beauty London- Blogger tag – None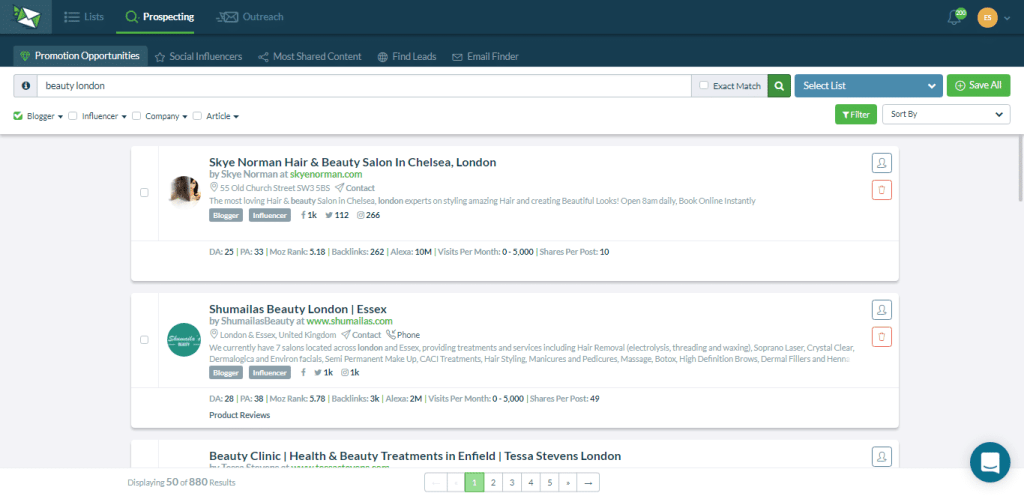 As you can see these return different results and a different number of results. Mind you, our overall database for the UK is in the thousands.
UK – Blogger Filter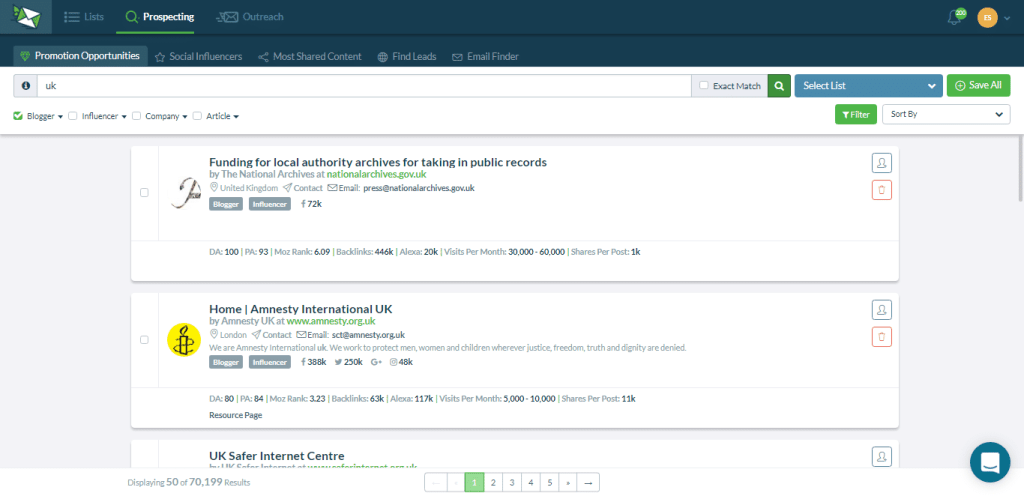 (70k+)
The following goes more in-depth into the methods shown above.
Using The Content Prospecting Tab
The first way to do it is simply through our location filter.
This filter includes:
US
UK
AU
India
Germany
Netherlands
France
Spain
Canada
And is based on the Alexa location.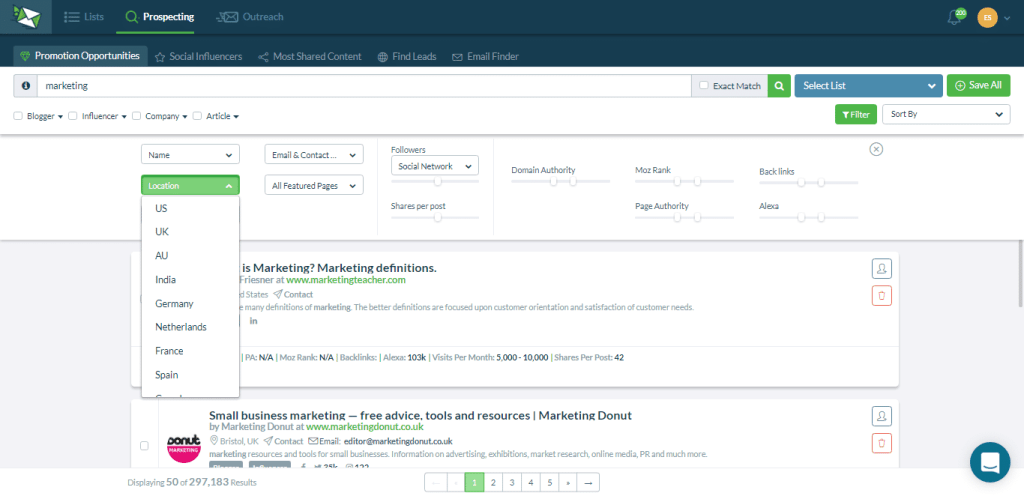 Next, you can try the top level domain filter: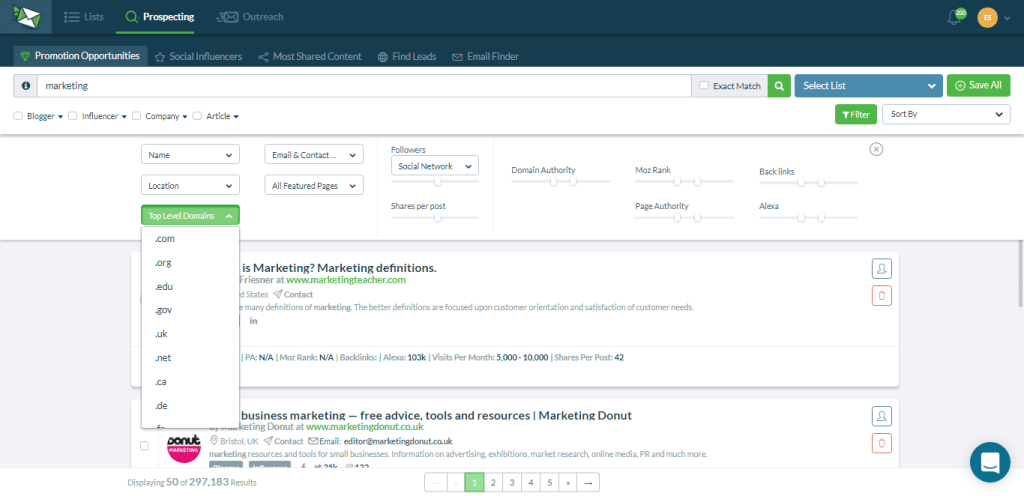 This is based off the website name and allows for .UK, .AU, .CH, and .NL.
Additionally, you can try a search like "Marketing France", and not use the filter at all.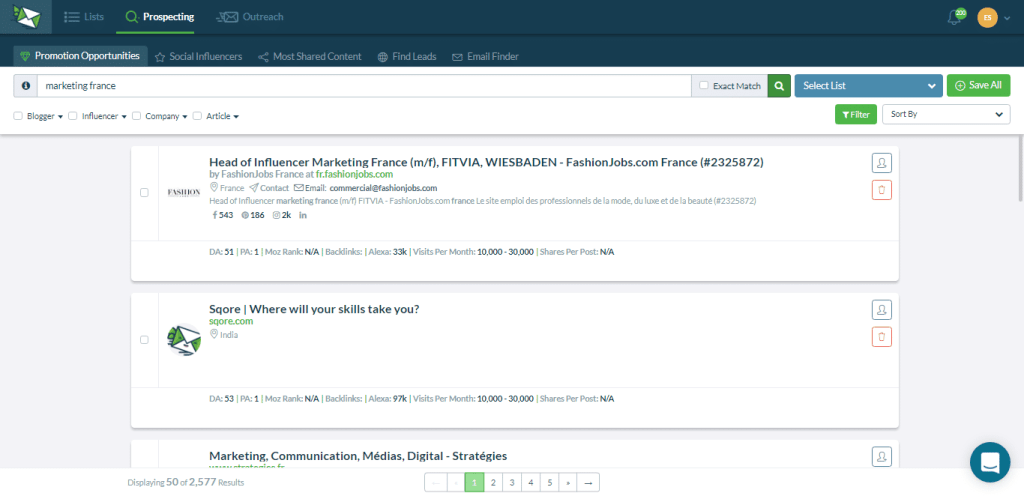 Remember it's an exact match so you also might want to try cities as well as countries: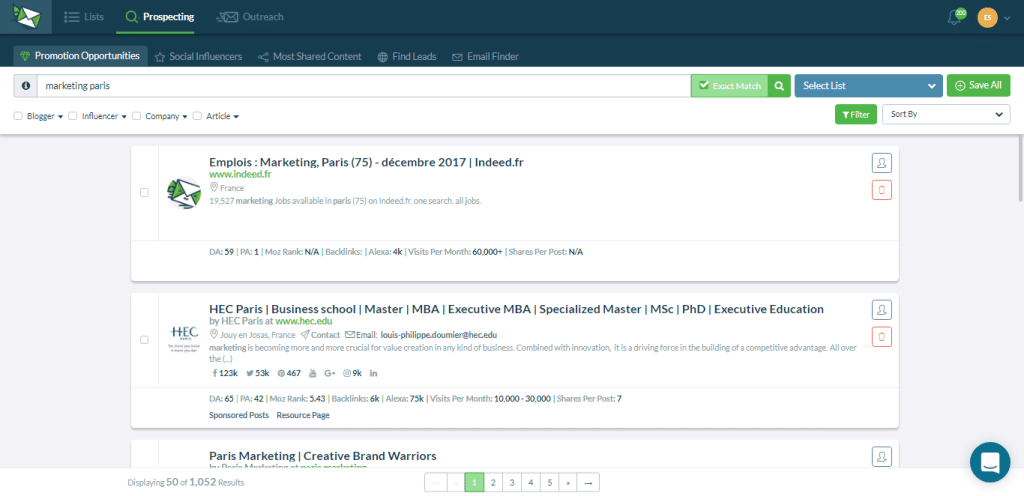 You can also try searching for foreign words.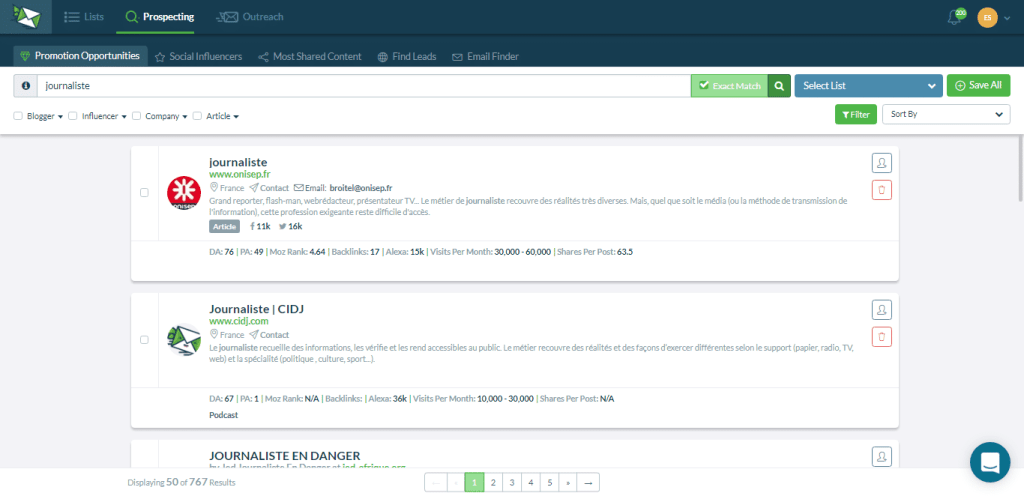 Using The Social Prospecting Tab
While the social prospecting tab doesn't have a location filter, it does have a location metric and you can search through it via keywords, just like above: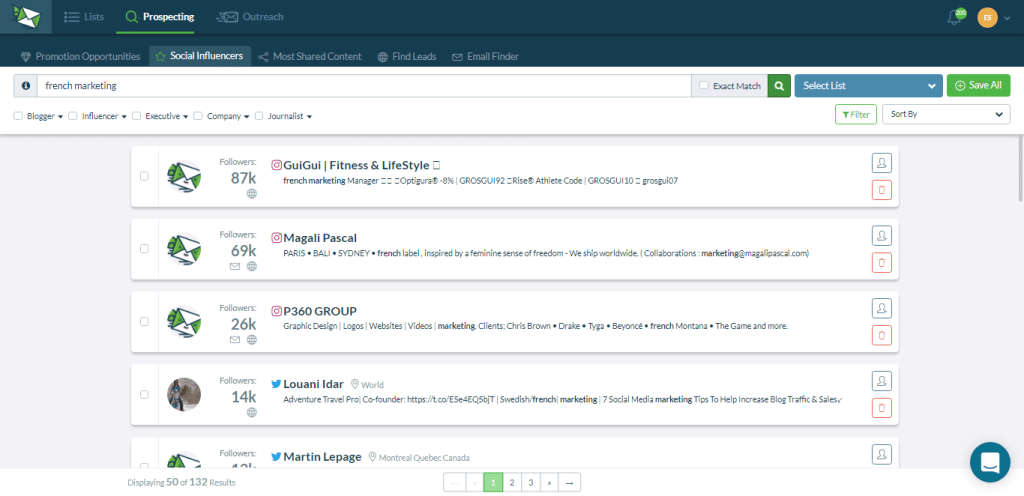 And searching in other languages works too!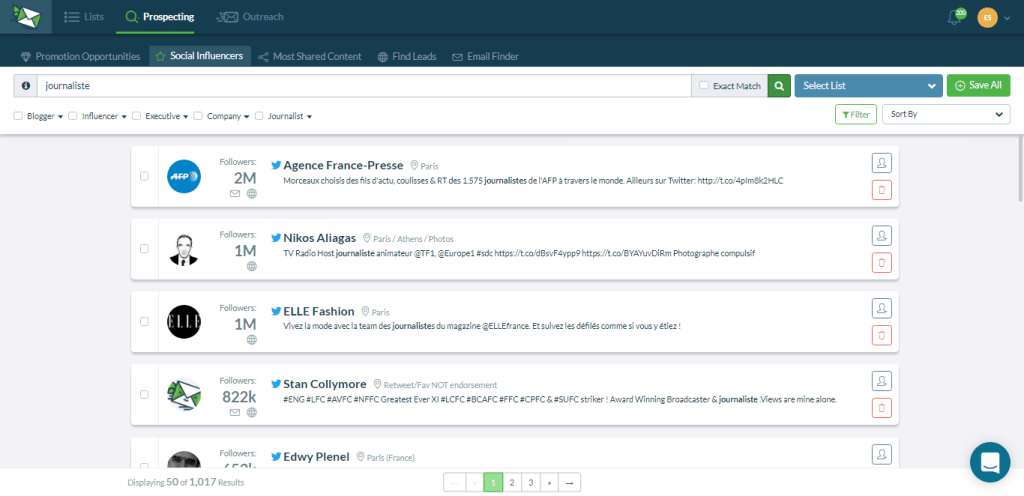 Finally, use variations in the search for the location you want. For example, if I am looking for fashion bloggers in Brazil, I might do:
fashion blogger Brazil
fashion blogger Brazilian
fashion blogger Brasilian
fashion blogger san paulo
fashion blogger .br
All of which allowed me to get thousands of results for Brazil.
Importing The Links Into NinjaOutreach
You can import links into NinjaOutreach's web app. Go to the "List Management" tab and click the blue "Import" button on the top right. Then, you have option to import a CSV file with your websites in it or you can crawl the websites by clicking on "Click here to submit websites".
This will send the websites internally where they will be crawled and returned to you with contact info, SEO metrics, etc. You will receive an email notification when they are crawled and ready in your list.
Here is the full tutorial on how to do that: Importing in the web app
---
You May Also Like: