Pitchbox Alternatives:
NinjaOutreach vs Pitchbox
With apps that look similar at first glance, we bet you're curious to find out how to choose one from the other.
Looking for a Pitchbox alternative?
So which is better, NinjaOutreach, or Pitchbox?
Read below to find out.
Influencer Search Features
Live Content of Finding Leads
Preview of Website Metrics
Ability to View Page Shares
Influencer Outreach Features
Automated Outreach Scheduling
Can Connect to Gmail and/or IMAP
Email Personalization Tags
Open/Click/Reply Tracking
Customer Notes, Tags, Relationship Labels
Can Import & Export Leads
Manage Leads with Team Members
1.

NinjaOutreach is easier to use
We like great functionality, but we believe with great functionality comes a great responsibility to keep things as easy to use as possible for our users.
As a result, we get quite a lot of compliments for our user-friendly interface.
For comparison's sake, here's what the PitchBox interface looks like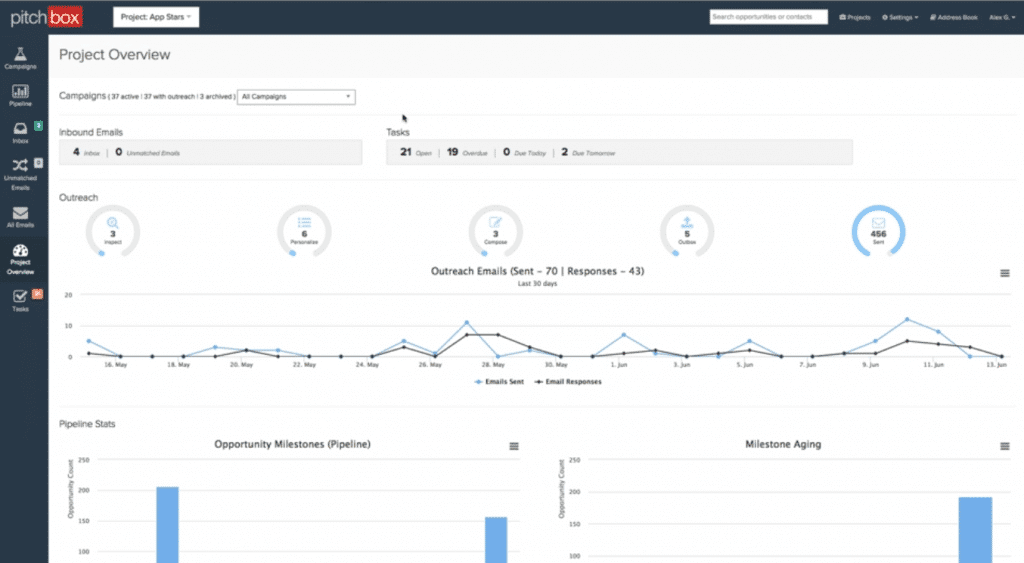 Looks like a handful, doesn't it? Not impossible to learn, of course, but all those controls will mean you can't start your task immediately.
Now, here's what NinjaOutreach looks like.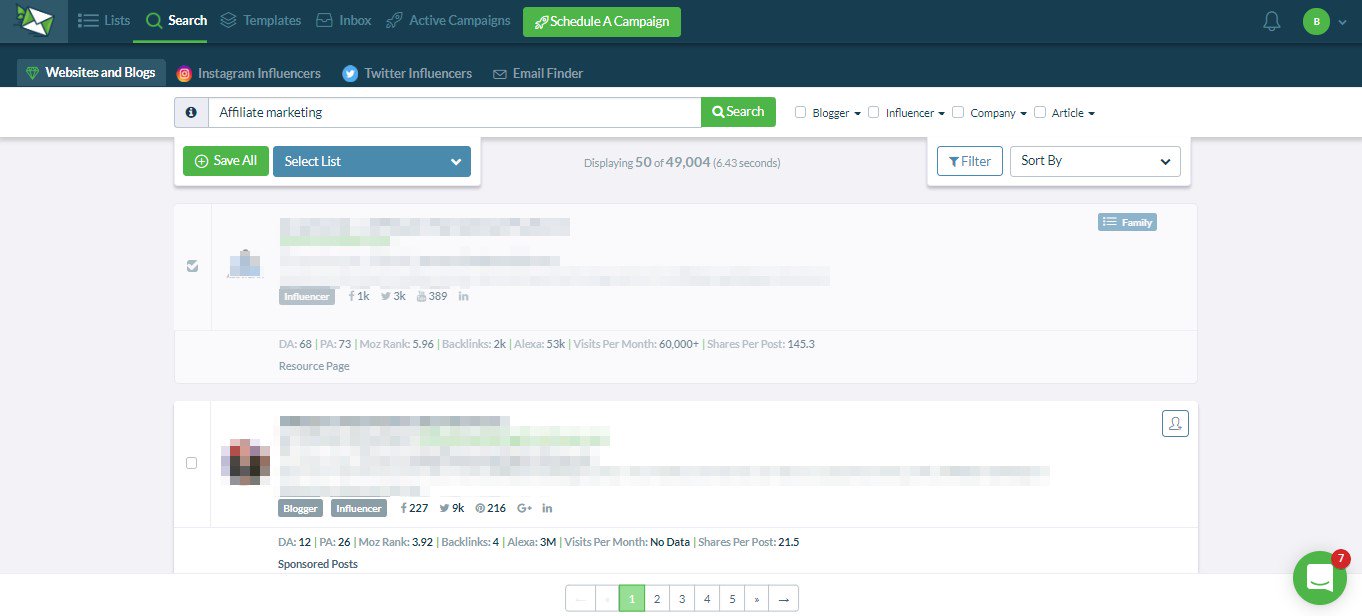 From the looks of it, you'll know exactly where to enter your search keywords, and you can easily spot where the appropriate buttons and boxes are to help you filter your results.
Everything is labeled and positioned so you won't miss the things you need. Such as the functions on the top navigation bar.

No need for too much guesswork or trial and error. Just launch the app, enter keywords, click filters, and wait for results to load.
Can it get any easier than that?
2.

NinjaOutreach has more features and prospecting options
In case you didn't notice what we said earlier about having more features for a lower price point, let us remind you again: we have more search options.
You get to search for leads on Twitter and Instagram—options you don't have with PitchBox.
You also get live search. If you don't find what you're looking for in our cached database, you can simply click the live search box and wait for updated results to populate your list. Again, this is yet another option PitchBox doesn't have.
Did we mention we also have a chrome extension and that Pitchbox doesn't have one?
3.

NinjaOutreach provides live support for all plans. Pitchbox? Only for higher plans
When it comes to live support, PitchBox does provide pretty good service. Problem is, they only serve higher plans.
In NinjaOutreach, we provide live support for all our users.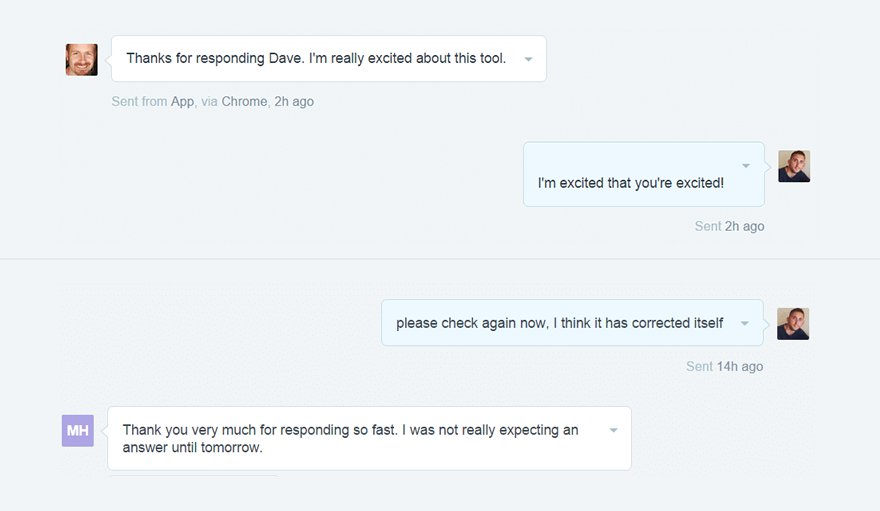 4.

We have automated outreach and follow up features
For manual outreach emailing, PitchBox has a pretty decent capacity of up to 2000 emails.
At NinjaOutreach, we give our users free rein to send as many manual emails as they want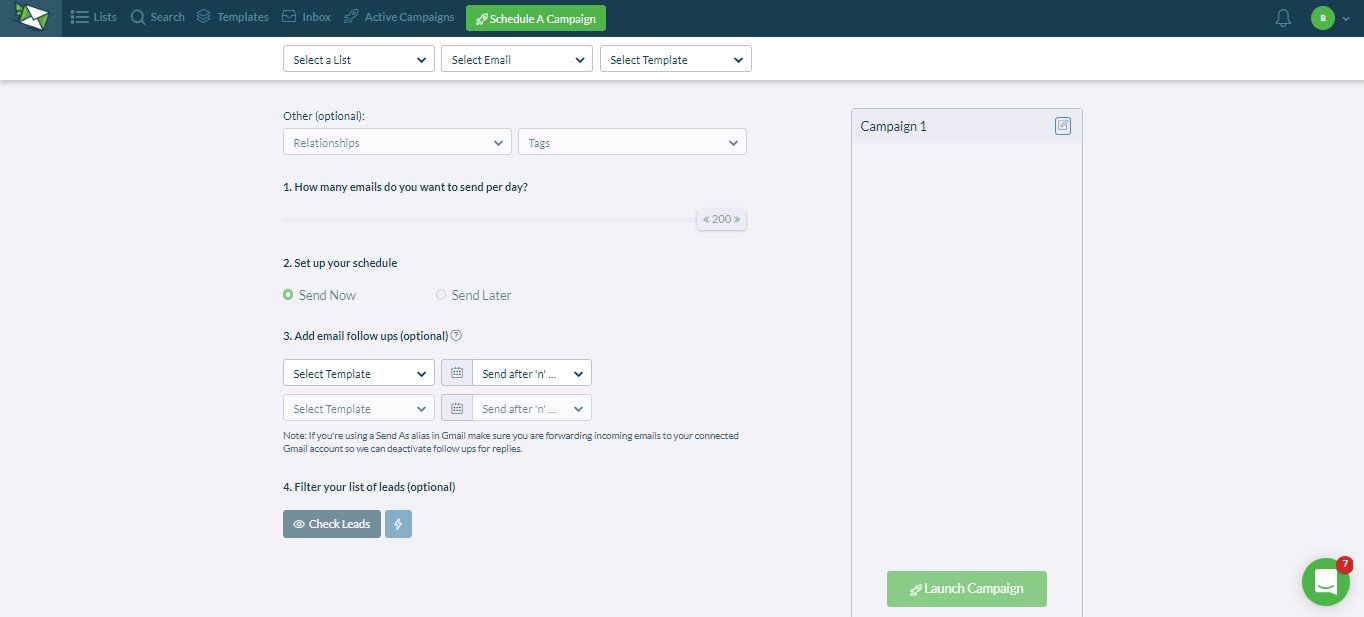 5.

PitchBox doesn't have automated outreach
Although our app doesn't allow for unlimited capacity due to spamming restrictions, our automated outreach campaigns feature still lets users send up to 200 messages per email account per day.
So, if you connect up to 10 email accounts, you can actually send up to 2000 automated emails daily.
Outreach doesn't end with the first email, which is why both PitchBox and NinjaOutreach have automated follow-up features.
But the similarities end there, because on top of automated follow ups, NinjaOutreach goes further to provide automated campaigns with the option for flexible scheduling.
6.

NinjaOutreach founders are happy to meet each user personally
Got questions? Need help? Want a more personalized walkthrough?
Our NinjaOutreach founders will make time to assist you and respond to your concerns personally.

7.

NinjaOutreach is more flexible than PitchBox in terms of adding new features
Noticed a bug? Got suggestions? Want to recommend a new feature? Interested in asking us to add third party integration?
We are constantly improving our tool based on user requests. So if you request an improvement in the chat, you will likely see that feature update go live in a couple of weeks
Don't hesitate to send a message. Our team is open and responsive to what our users want.
We hear you. We listen. So confide away.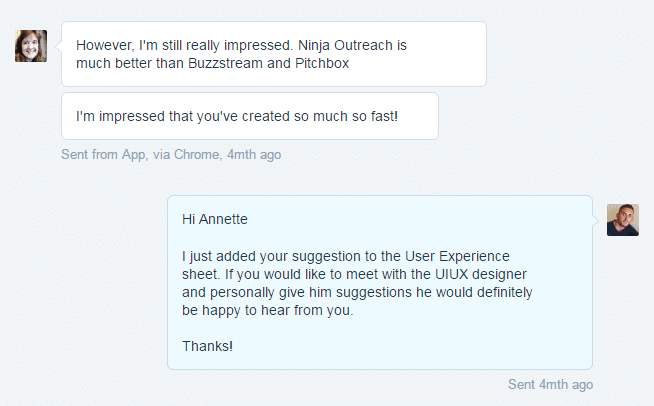 Ready to give NinjaOutreach a try?