How To Generate Leads And Make Sales With Ninja Outreach
Lead generation is integral to every business many do it through email and many wonder how to generate leads.
Although NinjaOutreach is typically seen as a blogger outreach tool, it works quite well for lead generation too, specifically in the B2B space.
Targeting People Based On Interest
Let's say you want to target people who are interested in "fishing". You can do that via the Content Prospecting or Social Prospecting.
You might find that the filters "Has Email Address" and "Has Name" provide better results (or results that will be more responsive to your outreach).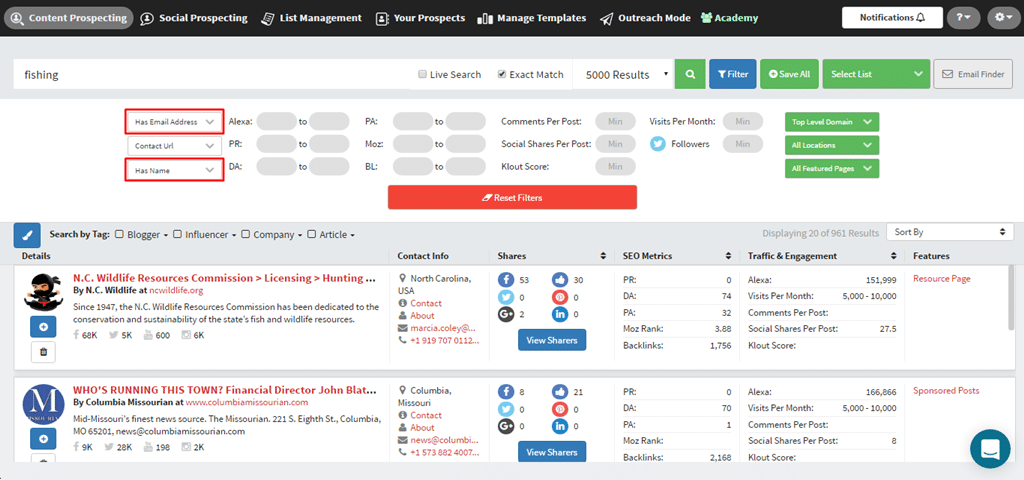 Note: that the Social Prospecting tab does not have a filter for emails nor does it show emails BUT it will show contact information AFTER results are saved to a list.
Targeting Executives
Let's say you wanted to search for executives on Twitter in the email marketing space.
You can use our Social Prospecting tab and filters: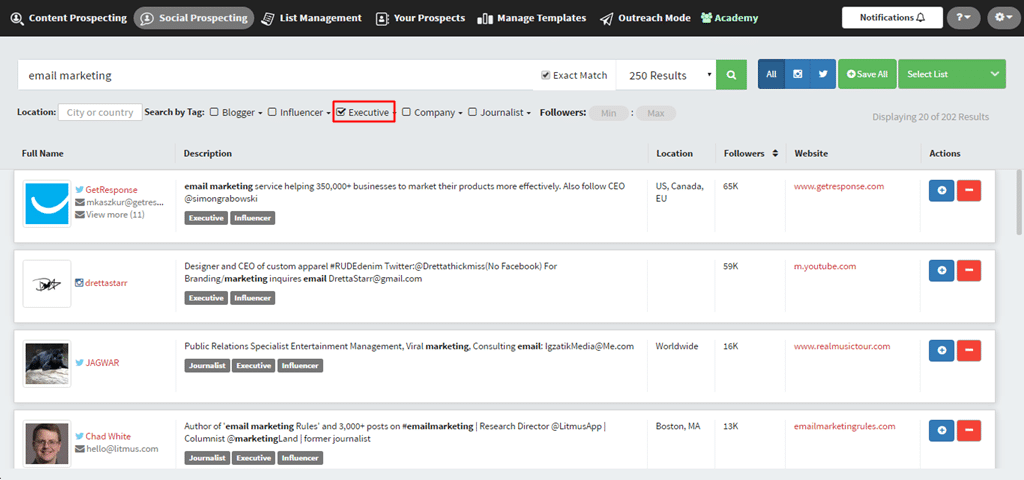 This will look for people with keywords such as Owner, Founder, CEO, Director, VP, etc. This can also be done for journalists and companies.
Targeting Companies In Content Prospecting
If you're looking for marketing agencies, which have an email address and are based in the UK (for example), you can use our Content Prospecting tab and filters: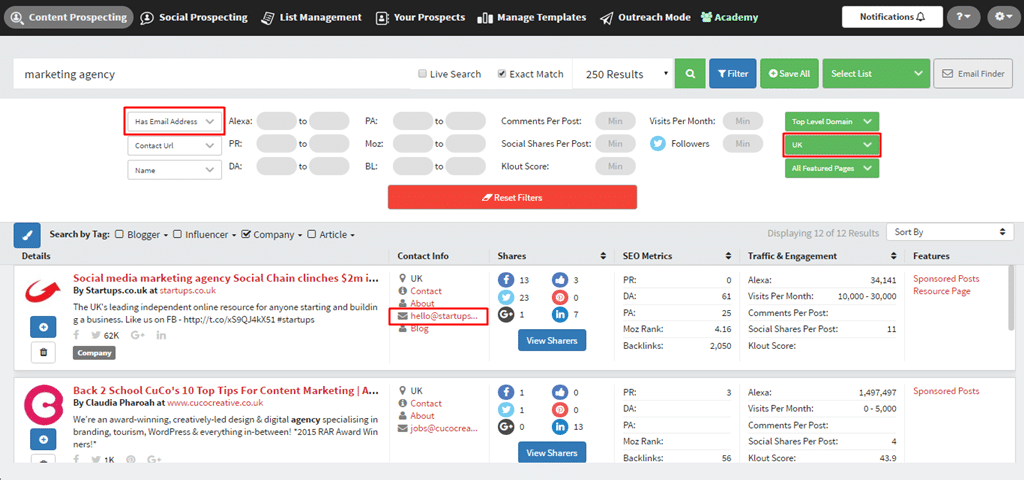 This also has a Company tag you can filter by, like on the Social Prospecting tab.
Still Not Finding What You're Looking For?
If you're still not finding what you're looking for, I highly recommend checking out this tutorial:
Which explains how to leverage Google's advanced search operators to get exactly what you're looking for, and import the websites into our tool to collect their contact information.

Making Sales Through Outreach
Remember these tutorials on:
The outreach script you're sending is going to vary widely based on the product and the audience. Here's something we've sent for NinjaOutreach.
Hey [First Name]
I noticed you're a member of Moz's community, and I was wondering if you've tried influencer marketing as a channel strategy?
Many people I've talked to who are doing it are primarily sourcing their blogs manually from Google and social media, which takes a considerable amount of time.
Have you run into this problem?
If so, I have an idea for you to better solve this issue - Can we chat for 5 minutes?
Dave
NinjaOutreach
76 Galpins Road
Thornton Heath, UK Croydon CR7 6ED
Telephone: +44.7534.705947
P.S. If you aren't the right person to contact about this, please let me know. If you'd rather I not follow-up, you can let me know that too!

---
You May Also Like: