What is online promotion?
Online promotion is the process of using the internet's various platforms to promote your brand. It is essential if you want to get brand exposure at a reasonable cost.
Why is online promotion important?
Online promotion increases brand awareness for your business
It helps your business reach a wider audience.
You can do online brand promotion at a relatively lower cost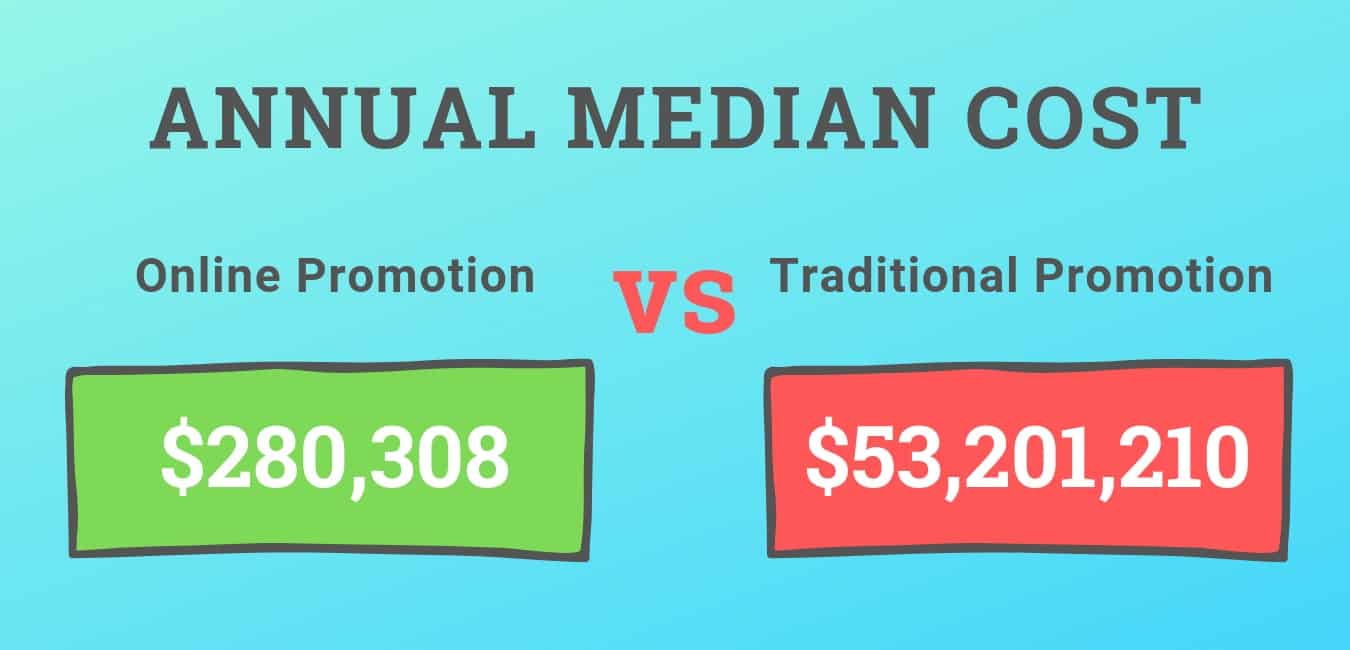 Source:  Inbound Marketing Inc.
Other benefits of online brand promotion also include the following:
It has a lower barrier to entry.
Certain aspects of online promotion can be automated. This means fewer people can execute a brand promotion plan that typically needs a bigger team.
Due to tagging technology, results from online promotion are more measurable compared to offline methods such as billboards and print ads.
Online promotion is a welcome alternative for smaller businesses and startups who cannot compete against companies with bigger advertising budgets.
Below, we've written some steps to help you promote your brand online at a lower cost compared to offline promotion.
Online Promotion Strategies, Tips, & Examples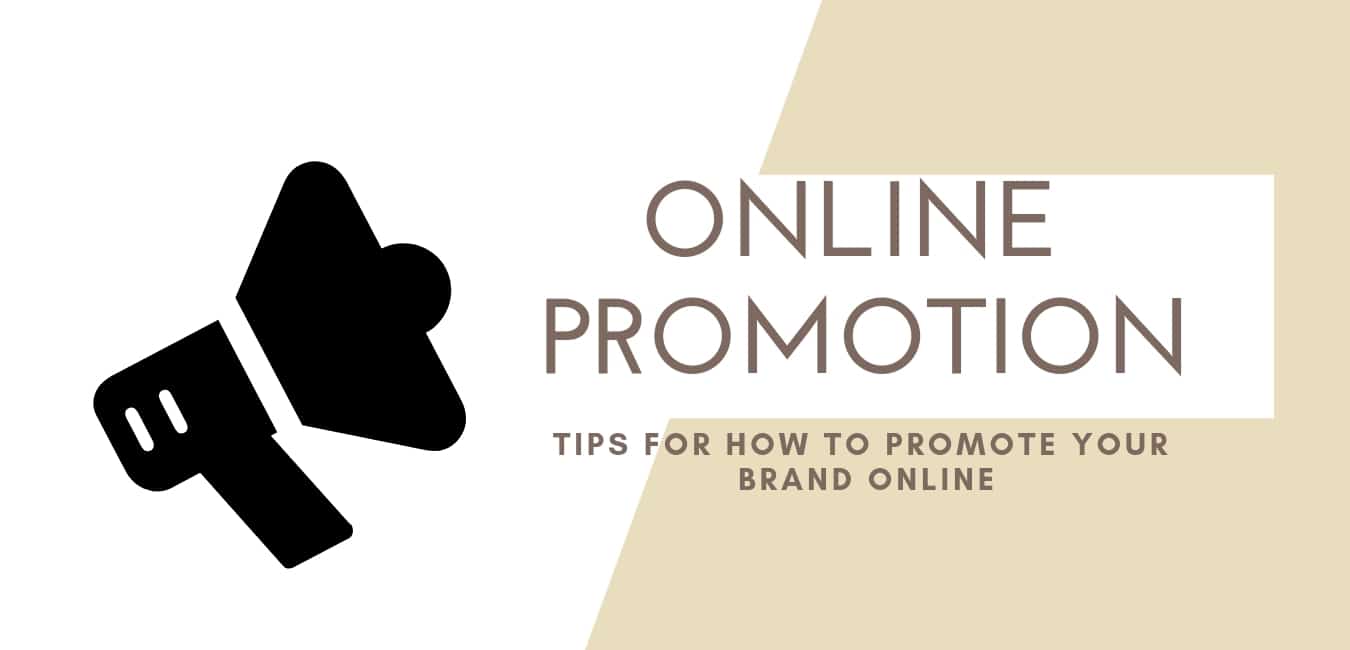 #1. Online Promotion Via Social Media Sharing
Online brand promotion is not just about sharing your content on social media.
There are plenty of social media posting tools these days that let businesses schedule a calendar's worth of posts in one go.
You and other brands have the power to automate your posts. What's left is to make sure you post your content on the right social platforms so you can find your ideal audience.
For example, if your business is related to more visual items like:
Fashion
Beauty
Food
Fitness
Travel
Arts & Crafts
You can find a more engaged audience on:
Pinterest
Youtube
Instagram
If your business is more about cultivating a personal brand, thought leadership, public speaking, consulting and coaching, your best social media platform bets are:
LinkedIn
Twitter
Facebook
For a business with an even more niche audience, you can try:
Now, to avoid spreading yourself too thin, take a closer look at which social media channels are sending you the most engagement.
How to Find The Best Social Media Channels For Promoting Your Brand Online
To see which social media channels have sent you the most views, you should have Google Analytics installed on your business website.
To extract this data:
Go to your Google Analytics dashboard.
Go to Acquisition > Social.
Click Network Referrals to view the top social networks that have referred traffic to your site.
If you want to see how many goals or sales you've gotten per social media channel, choose the Acquisition > Social > Conversions view.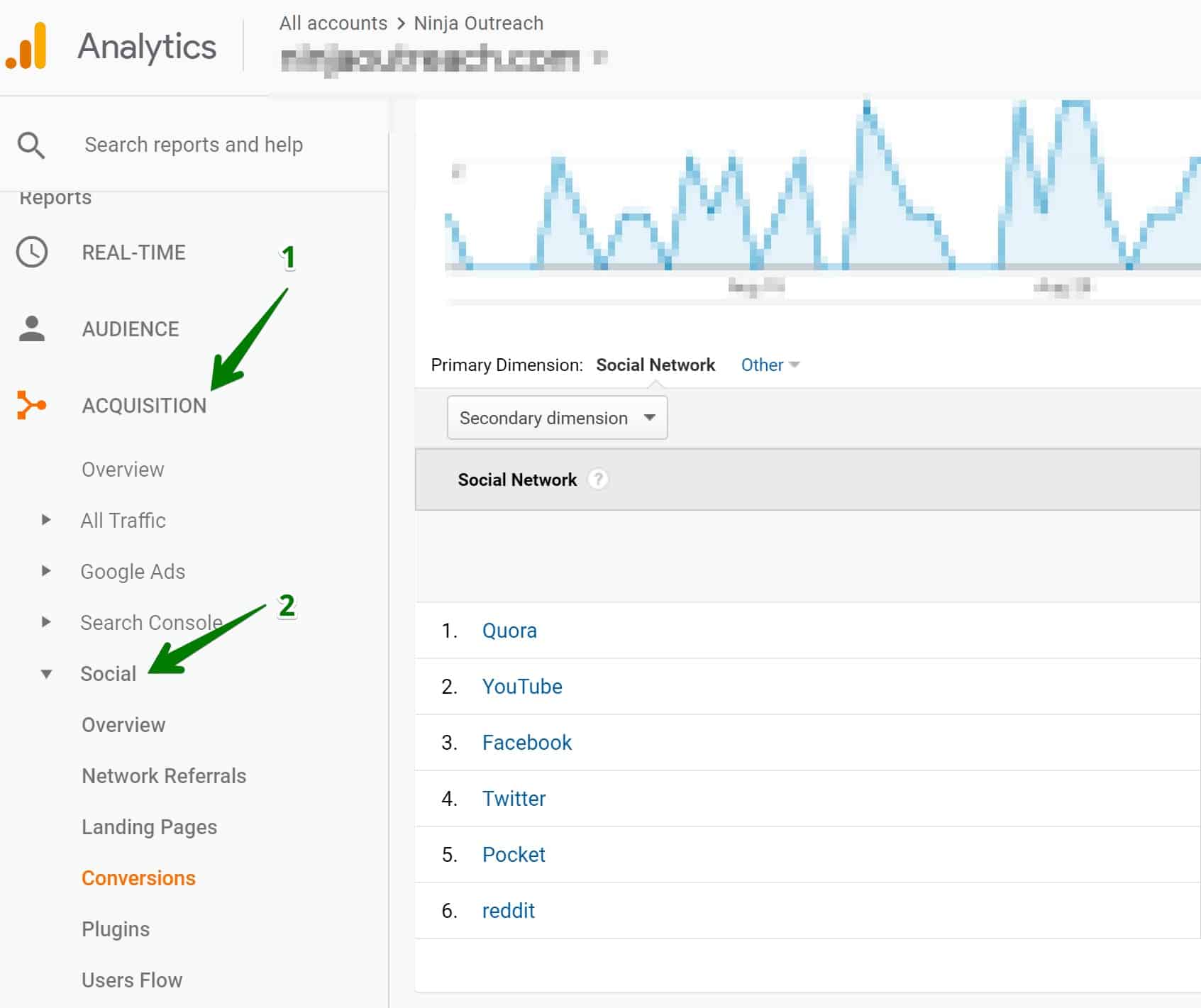 You can now focus on at least one up to 3 social media channels for your online promotion.
How to Fast Track Online Promotion For Your Brand
To increase awareness for your brand fast, you have the option of two quick hacks:
Social media ads
Social media influencers
Promote your brand online via social media ads
By using social media ads, you can immediately promote your brand online without building an audience from scratch.
Below are the median cost-per-click (CPC) of the top four social media platforms today.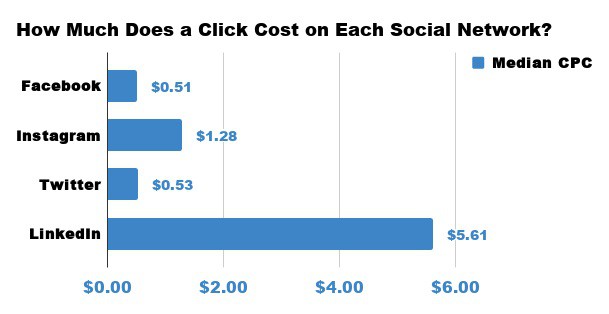 Source: Falcion.io
Promote your brand online with the help of social media influencers
To promote your brand online more cost-effectively via social media, you need to tap into the power of social media influencers.
Social media influencers are users on a specific platform who have a higher-than-average number of engaged followers. They have established themselves as credible go-to thought leaders or trendsetters in their niche and can command a strong influence on the perceptions and purchasing choices of their followers.
This makes them powerful allies when it comes to the online promotion of your brand.
When GNC partnered with social media influencers, for example, their online promotion campaign delivered "almost 400K new Facebook fans, 60K more Twitter followers, and increased sales" to their brand.
You can read more about the power of social media influencers in one of the blogger outreach case studies that we compiled.
1. Launch the NinjaOutreach app.
2. To find Instagram influencers, go to the Search > Instagram Influencers tab. Write your niche keywords in the search bar and hit search.
3. You can filter your Instagram search results by setting your preferred follower count. You can also set your ideal engagement rate.

Engagement rate is the metric we use to determine how engaged a specific social media influencer's followers are. This metric then correlates to how effective the influencer is likely to be.
4. To find Twitter influencers, go to the Search > Twitter Influencers tab. Write your niche keywords in the search bar and hit search.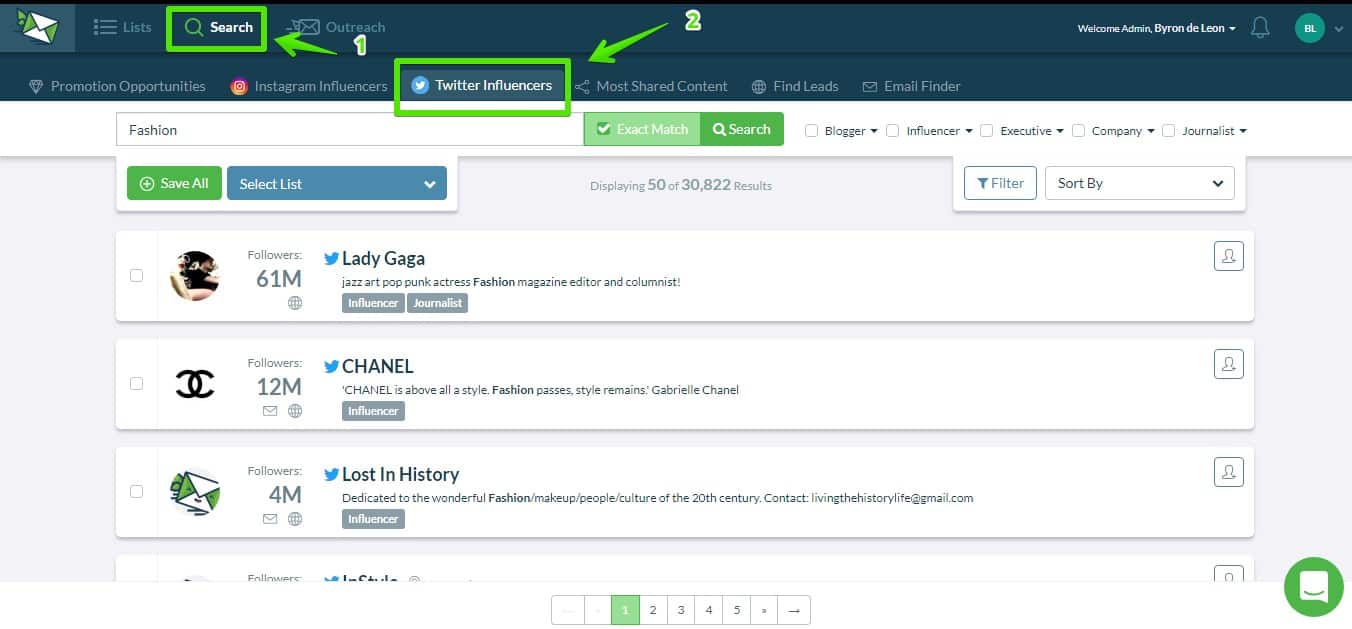 5. You can also filter for your preferred number of Twitter followers and by typing your target location.

6. Go to the top right corner of a lead's card and click the "Add Lead" icon to add the leads you like into a campaign list.

7. Go to Leads > Lists of Leads and choose the campaign list you added your social media influencers to.

8. To send bulk outreach, check the bulk actions box and click the send message icon at the far right side of a lead card.

9. Fill in the required information, hit send, and wait for replies to come in.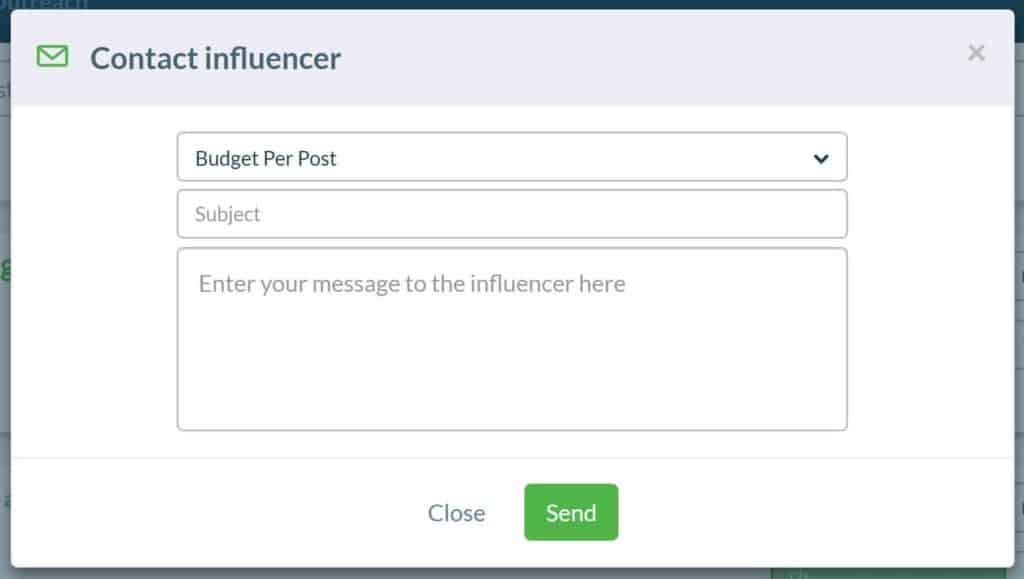 #2. Brand Promotion Via Affiliate Advertising
Partnering with affiliate marketers is also one way to get your brand promoted online.
There are two ways you can go about this:
Enlist your brand in an affiliate network
Partner directly with affiliate marketers
Choose affiliate networks that accept only bloggers whose sites have a minimum traffic threshold. This way, you will get the most reach for your brand.
How To Find Affiliate Marketers for Brand Promotion
Finding affiliate marketers to partner with directly takes a bit more time.
First, you need to get your affiliate program ready, along with your page.
Here's what the NinjaOutreach affiliates page looks like, for example.
Since affiliate marketing is one of the top ways to monetize a blog, we can safely assume most top bloggers are affiliate marketers.
To find these influential bloggers, go to the NinjaOutreach app and follow the quick demo below.
How to find affiliate marketers for your business with NinjaOutreach
#3. Online Brand Promotion Via Network & Influencer Marketing
When we rebranded NinjaOutreach, we relaunched the new version of the app on Product Hunt. The team at the time executed a seamless marketing plan via word-of-mouth and influencer marketing.
The result? We got featured on the coveted first page of Product Hunt! We even managed to hold the #1 Product spot for some time before ending the day at #2.
Below are the steps the team took to promote the brand online.

The fundamental elements of our plan included:
A promotional offer - something our customers would love
A list of influencer leads
A network of warm connections
Influencer outreach templates
Social media post templates
Branded text and multimedia content for online promotion
Social posting automation software
Newsletter and in-app announcements
The steps, simply put, were:
Prepare the promo offer
Send a message to your leads and influencers to let them know of your upcoming campaign
Reconnect with our network of warm leads
Create the branded content and templates
Set up the social posting automation software
Prepare the content + social posts
Schedule all your content to go out and send another message to your leads to let them know you've launched
To know in more detail how we executed each online brand promotion step, read our case study article, Product Marketing | How to Reach #1 on Product Hunt.
#4. Online Brand Promotion Via Content
Publishing good content on your website is par for the course. It is only right that your blog posts showcase your expertise and promote your brand.
Additionally, you also need your content to rank. Why? Your articles should attract traffic to your site to become an effective means of online promotion. And to get the most traffic, your article should rank in the top 5 results or on the first page of Google, at least.
For example, our top blog articles bring over 80,000 monthly traffic to the NinjaOutreach brand. These articles are all on Google's first page results for the keywords they're targeting.
So how do you create an article and get it to rank on Google?
Your domain authority, total backlinks, and referring domains should be close to or exceed that of those in the first page of Google for the keyword you're ranking for.
Here's how to do it. For this process, you're going to need Ahrefs, Moz, and NinjaOutreach.
For example, you want to rank for the keywords "beauty blogs."
1. Do a search for the keyword phrase "beauty blogs" on Google and check out the competition. You should see something that looks like this.
2. Turn on the Ahrefs SEO Toolbar so you can see how many backlinks the top 5 results have. You'll need to see this to see how much work you need to do to outrank them.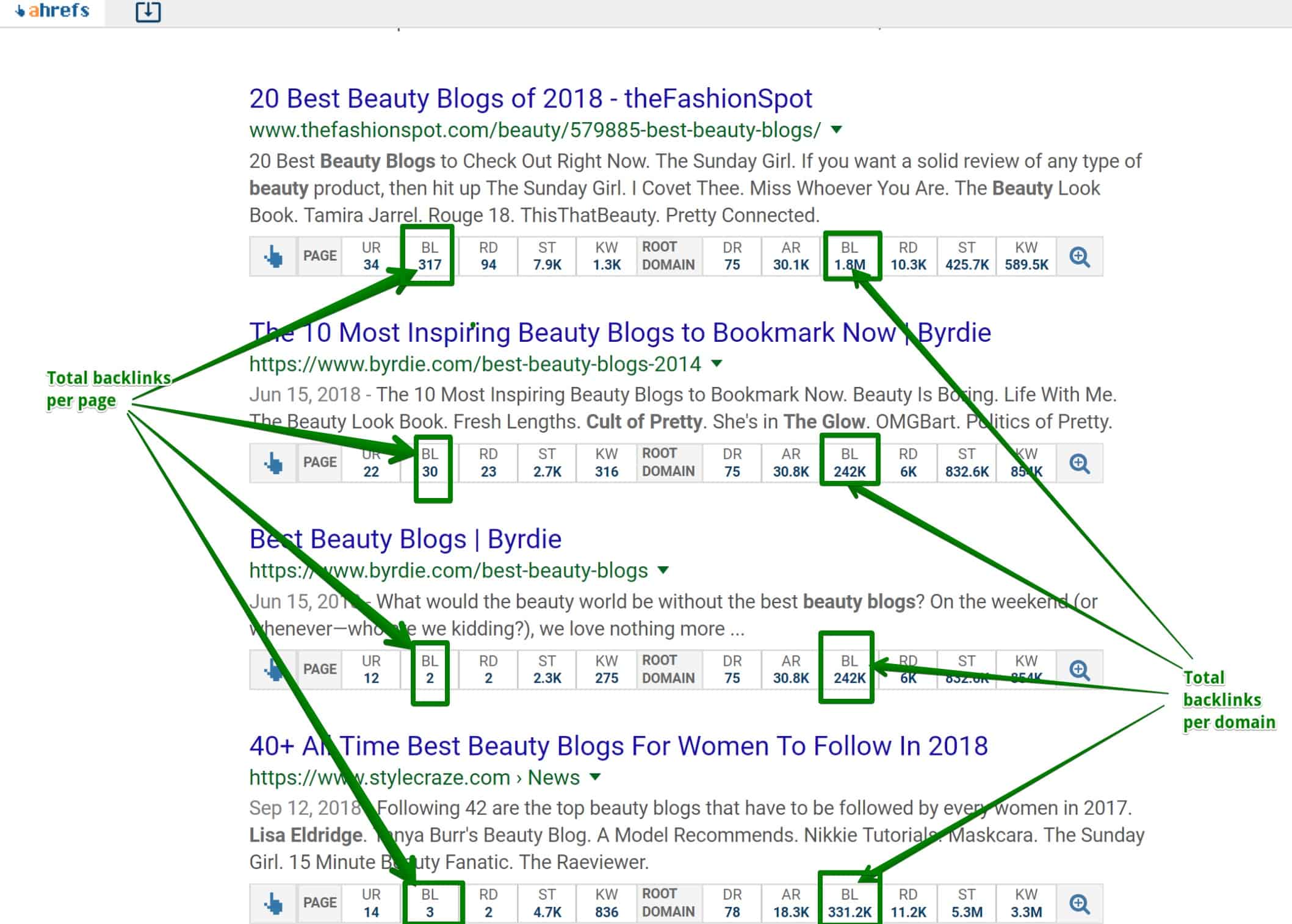 3. And turn on MozBar to see what DA your competitor has. You can also cross-check the backlinks number between Moz and Ahrefs.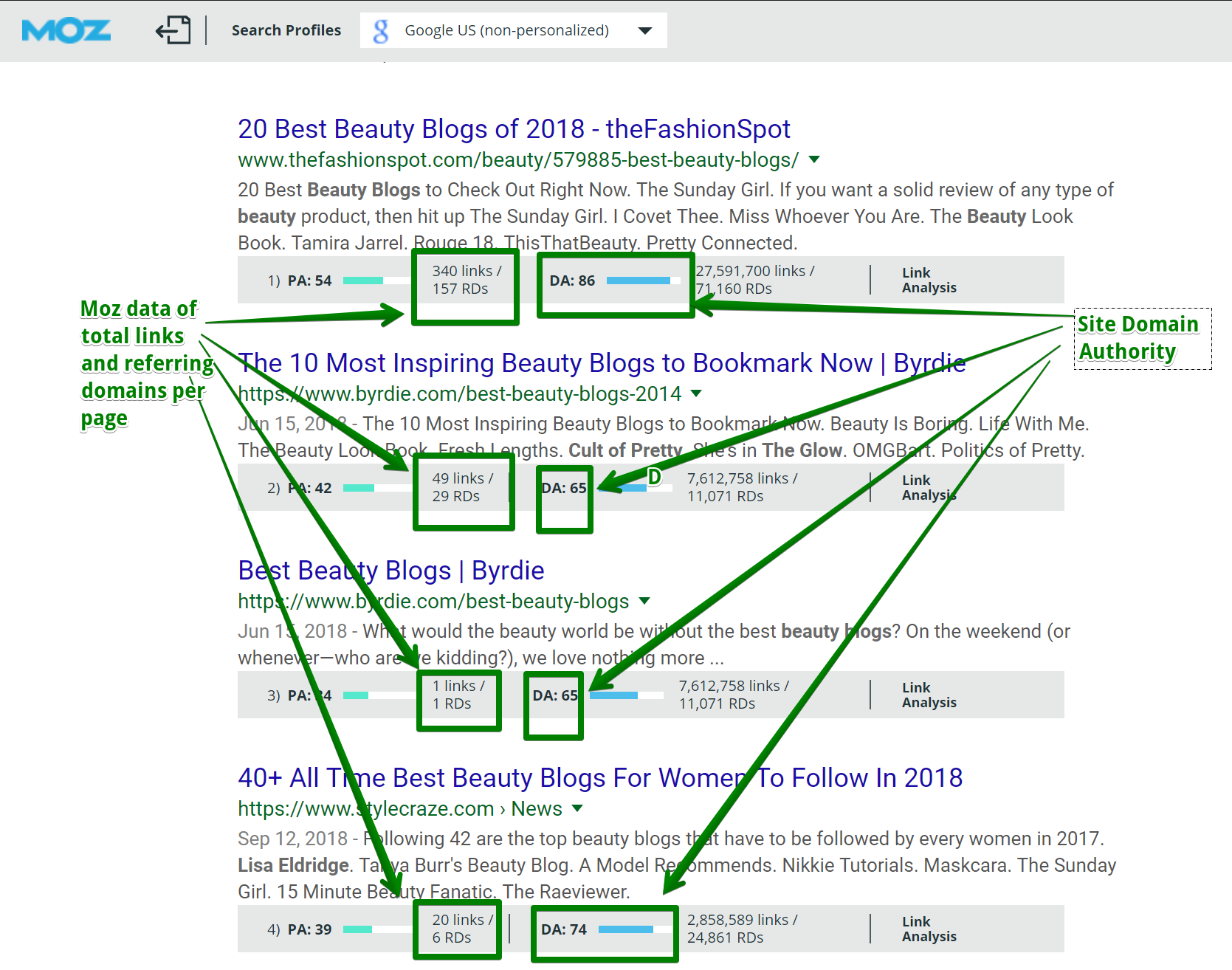 There could be a small margin of error regarding total amounts of links recorded. Directionally, though, you should be pointed to the right track.
Together, these numbers will give you an idea of how much work you need to do to get on the first page.
5. Next, open the first five articles and see what you can improve about them.
6. Write your article. When crafting your draft, make sure you add everything that worked from the top 5 pages. Also notable: add everything you thought the top competing articles lacked.
Successful Brand Promotion Via Backlinks
Now, back to links. Getting enough links so you can compete for top ranking will take you a bit more time.
There are two things you can do:
If you have a vast network of bloggers, start by sending them link outreach emails. Contacts who already know you are more likely to give you a link.
Send mass link outreach emails to other sites. These sites should be relevant to your niche and have a good domain authority.
To find bloggers for your link outreach campaign, you can extract all the sites that linked to your competitors via Moz.
To do that, paste the exact URL of your target page on Moz Link Explorer.
Here's the URL for the #1 result for the keyword "beauty blogs."

Check out how to import websites into NinjaOutreach to create lists of leads.
Prepare your outreach template. Below is a quick demo on how to do that on NinjaOutreach.
Use alternative phrases and dynamic text in your template. This increases uniqueness and deliverability. Check out the quick process below.
Schedule your outreach to send. Here's the quick demo of how to set mass scheduled emails on NinjaOutreach.
Remember, the more you have in your list, the better. A success rate of 2% for cold outreach is already pretty good.
You can also add more bloggers to your list by searching Google and importing new leads via the Chrome extension.
Just replicate the process below for your target keywords.
NinjaOutreach automatically removes duplicates so you can keep adding leads as you go.
Finally, you can also search for leads in the NinjaOutreach database. The beauty of this method is you can filter results by SEO metrics such as DA. This way, you can target authority sites with more valuable link juice.
Once you're done adding leads, repeat the outreach process.
But before sending your next wave of outreach, click the lightning bolt shaped quick actions bar.
Then, toggle the bar saying "Include Leads Emailed In Past Campaigns" and make sure it's blank instead of red. This is so you don't contact the leads you've already emailed before.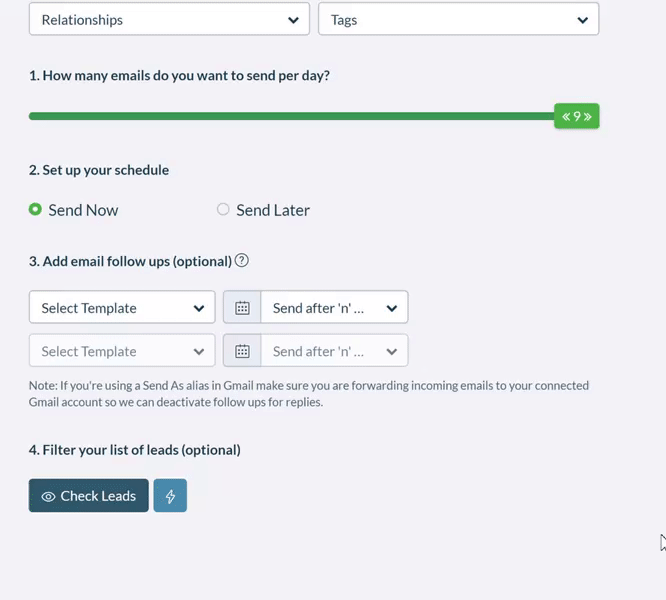 #5. Promote Your Brand Via Guest Posting
Guest posting is yet another way to boost your brand's online promotion.
It even serves more than one function:
Guest posting in other sites with a good audience increases awareness for your brand.
Most blogs allow guest posters at least one link. You can use this to deliver more link juice to the article you're trying to rank.
Blogs that give DoFollow links are great prospects because this gives maximum link juice from their site to yours.
Here, we've compiled a list of DoFollow blogs that you can guest post on.
You can also search for guest posting opportunities via Google search or the NinjaOutreach database.
Just replicate the steps in this quick tutorial about How to do Guest Posting With NinjaOutreach
This can be time-consuming, especially since you'll need to submit articles. But the results, once the links are live, are worth it.
If you do need a source of content to help you keep up, check out our list of free blog content sources.
#6. Brand Promotion Via Expert Roundups
This is an easier way to build links to your site and gain exposure for your brand without writing full articles.
Basically, you create a post based on a question (or series of questions) about your target topic.
Then, you reach out to bloggers and influencers in your niche and publish a post with their collated answers.
It's like you get a bunch of domain experts to write the whole post for you. Additionally, since you've featured them and given a link, these influencers are more likely to link to your post and share it with their followers.
Below is how you can find influencers for your expert roundup post.
#7. Promote Your Brand Online Via Deals
A caveat: It's not a good idea to do this too often, as it cheapens your brand.
But you should participate in Black Friday and Cyber Monday deals. In our case, these events have consistently led to our software brand's busiest periods in terms of new user signups.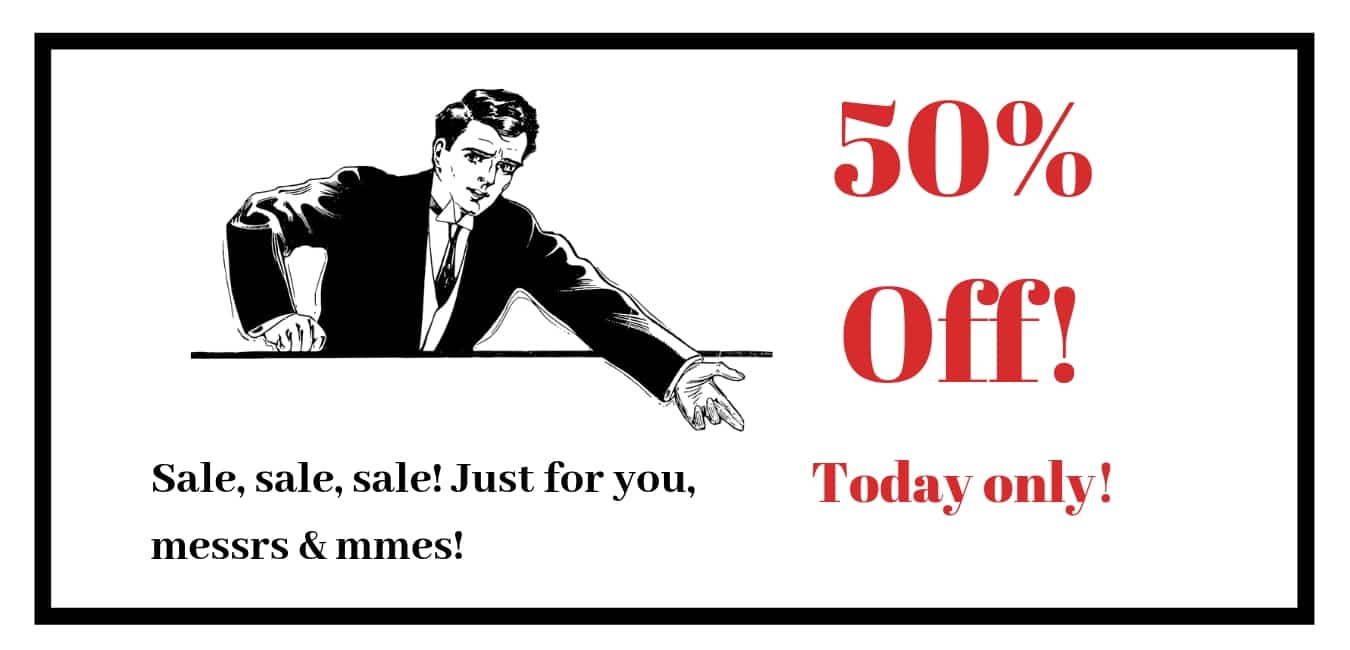 When promoting your brand via massive deals like Black Friday, remember these tips:
Your discount should be impressive enough to eliminate any resistance from the user to onboard due to price. A measly 10% to 15% discount just won't cut it.
Tip: Start at 35%. If you want to make users feel even more ecstatic that they've scored a deal, go for a 50% to 70% discount. The more significant the discount, the shorter the time frame that it should be applicable.
The discount should be good for a long enough period. This is so the user will spend enough time using the app and be dependent on it. When their discounted period ends, they will be more likely to continue a paid subscription.
Tip: Between 3 to 12 months is a good time frame.
If you are offering a discounted lifetime plan, don't give away your full extent of features. Your lifetime plan should be functional, but limit it so users who want to expand their usage will be forced to upgrade.
Tip: For email marketing software, limit your total number of sends; for hosting, limit your total number of sites, etc.
So how did online promotion via Black Friday sales benefit our brand? In most cases, the users who signed up with this initially via Black Friday eventually converted into paying customers.
So yeah, sales are also a great online brand promotion tactic.
Aside from Black Friday discounts, you can also try promoting your brand via these other deal sites:
Conclusion
And there you have it. These are some of the online promotion tactics that worked for our software brand. But stay tuned! Because we'll keep adding to this list as we discover new, effective ways to promote our brand online. Keep checking back in every once in a while as we share new tips!