The marketing world is undergoing a historic transformation which glowingly relies on content promotion. Yet a large portion of companies and organizations find it challenging to balance content production and content distribution strategies to maximize results.
One of the recent statistical confirmations of this trend came with Accenture's global study that surveyed over 1,000 professionals responsible for content strategy implementations.
The results point to a considerable gap between producing content and the ability to effectively manage it. Namely, the study r
social channelseveals that 50% of respondents produce more content than they can effectively manage, while 81% of those already produce moderate or enormous volumes of content.
These figures suggest that much of the content developed as a part of the mass content marketing craze goes largely underutilized and practically becomes a waste of time and money.
To avoid making any unnecessary investments, marketers need to think more strategically in terms of both content production process and distribution strategies. Below are some ideas to help them balance the two effectively.
1. Understand the kings and queens of content promotion
Admittedly, digital marketing professionals have long realized the potential of content marketing. They have shifted their focus to creating articles, video materials, case studies and other content pieces on a regular basis. However, successful content marketing strategies do not solely rely on this aspect, but rather to the ability to combine the creation processes with targeted distribution.

Given that even the most remarkable videos, white papers or blog posts can fail to reach the target audience unless properly distributed. Content distribution tools and techniques need to gain more traction in the overall content marketing plan. Namely, as suggested by experts such as Chad Pollitt, content may still be the king, but distribution can be seen as a queen. Both are equally dominant.

Back in 2013, when Pollitt wrote his article, 64% of marketers didn't feel they were using their content effectively. Fast forward to 2015, this issue remains a challenge for a number of companies trying to compete online.
Apparently, a greater focus is needed on the distribution part and here it is not only social media shares that count. Instead, a wide range of channels, platforms and sites have started to play a role in how content is consumed on the web. Combined with consumers' changing habits, these channels define how successful a content strategy will be, requiring marketers to put them at the forefront when developing a content marketing plan.
2. Plan content production based on consumers' habits and preferences
Developing content with a specific goal in mind is a key to a winning distribution strategy and easier subsequent ROI calculations. To effectively do this, marketers need to understand what types of content work best with their audience. A great study on this particular aspect was recently released by LinkedIn and reveals insightful information on what types of content B2B buyers prefer.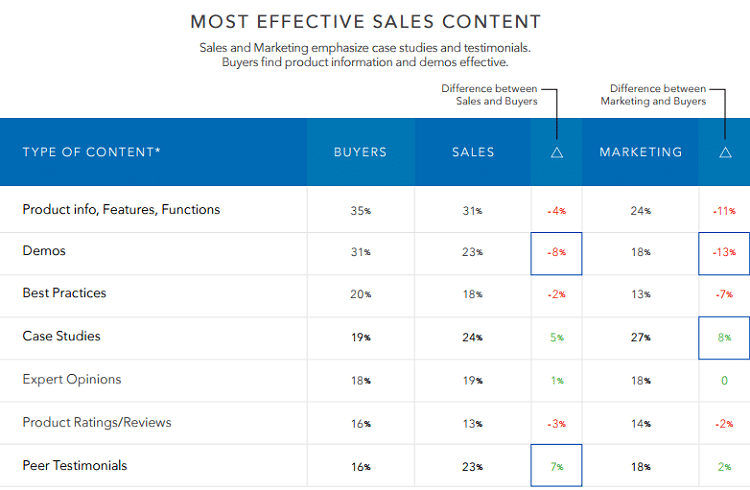 Looking at these findings, one should notice some interesting differences in perceptions of valuable content and it is precisely the understanding of these differences that is essential for creating well-performing pieces.
The study also outlines top content channels that audience prefers depending on the buying lifecycle stage they're in, which helps in planning the distribution channels.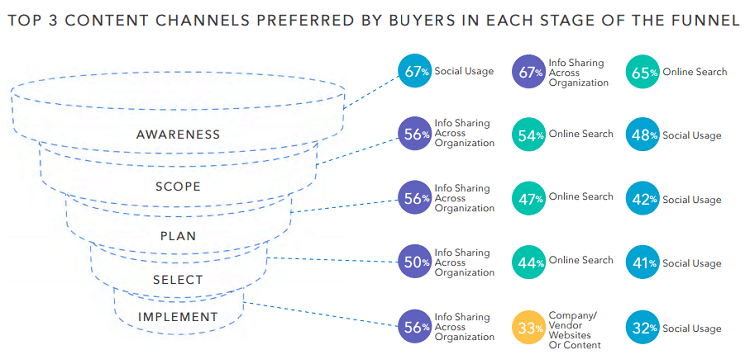 The data given above suggests that online search and social media are key channels for marketing to B2B buyers at all lifecycle stages. This implies the need for regular creation of content that drives social engagement and for applying different content optimization and SEO techniques, some of which are outlined below.
Social media content best practices:

Various studies have shown that content with images drives more engagement. It is also clear that informative (i.e. non-promotional) posts tend to have more shares.
When it comes to some more specific figures related to sharing methodologies, the 5-3-2 rule by TA McCann from Gist.com is something that emerges most frequently as a scheme to effective engagement.

SEO content best practices:

In addition to using proper keywords and adding meta descriptions to all posts and pages, marketers need to ensure the website is regularly updated. They also need to make sure that long-form content get published on a regular interval.
Of course, the general idea is to provide the exact types of content your target audience is looking to find. Based on your consumers' interest and online behavior, you'll be able to develop more effective content creation and production strategies.
3. Combine paid, owned and earned media strategically
Historically, companies have relied on distributing promo content through paid channels and external media. With online publishing enabling brands to actually own media channels, advertising is no longer the only way to reach target consumers.
In fact, the very idea of owning the distribution channel is the essence of content marketing which, unlike some traditional marketing practices, is not necessarily related to a specific campaign.
With the ability to act as publishers, brands can diversify their content promotion strategies and combine paid, owned and earned media to achieve better visibility. Industry resource Altimeter shared insightful tips on how brands can use this philosophy to expand their content marketing efforts and adopt a converged media model.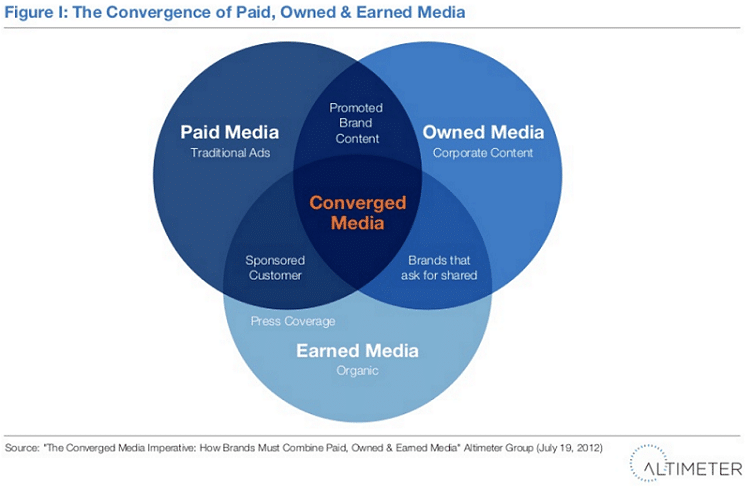 Paid media: Media buying, online search ads and promoted social posts are still an effective way of content promotion and attract more people to your website. With a consistently growing use of search and social media, promoted posts on Twitter and Facebook, Outbrain advertising and retargeting strategies, as well as communities like Reddit and StumbleUpon can help you drive valuable traffic from targeted audiences.
Owned media: Email subscribers list is typically the most valuable marketing asset a company has, as long as it's properly segmented. Additionally, blog as an owned media platform greatly expands the potential to interact with the audience, promote specific stories and improve Google search presence. Combined with social channels that entirely a property of an organization, these can prove to be even more effective areas to invest in for long-term results.
Earned media: As the only aspect marketers cannot control directly, earned media is probably the most difficult part of the equation to obtain, but is probably the most powerful way to market to target consumers. This refers to various forms of offline and word-of-mouth marketing, but also to organic content shares and online mentions by industry influencers. Some tips on how to grow earned media, along with inspiring examples are available in this article.
Any of these two together constitute a converged media model which should be a focus for brands looking to increase their content reach. Developing a strategy to use all these resources gives an entirely new perspective on content marketing, which previously mainly focused on production.
4. Move beyond the content distribution pillars with influencer marketing
Although SEO, social and email still represent pillars of content promotion, the increasingly competitive online space and general consumers' information overload require the use of more advanced techniques to get you noticed.
Among the effective, if potentially exhaustive techniques to achieve better visibility online, influencer marketing is an increasingly popular way to distribute content to targeted eyes. This refers to a multi-layered process that typically requires more research and time than many other strategies, while promising considerably better results.
After setting a goal for the strategy, CMI's complete guide to influencer marketing suggests the following steps to its execution:
Identify influencer types (bloggers, customers, members of a purchasing group, industry experts, partners, etc.);
Decide who will manage the program based on your internal resources;
Create shareable content that both your fans and influencers will love. This needs to be done based on research analyzing your target influencers' previous work and interests, industry trends and hottest topics in your niche. You also need to ensure you're producing different types and are not solely limited to regular, informative blog posts.
Create a pool of influencers by building relationships on social media, attending industry events and talking to your sales teams. Also try some of these unconventional ways that can help you get noticed easier.
Outreach and test your strategies to further optimize your emails or messages. As a key to successful communication, outreach strategies represent the step that makes the greatest difference for your entire strategy success.
Nurture influencer relationships by asking them to co-create content with you or share your content across their channels.
Find the right vendors and tools to distribute content more easily. Consider collecting data on influencers and popular content with BuzzSumo, automate online research process using appropriate search parameters and website assessment factors available in Dibz.me , and streamline email creation, sending and measurement with NinjaOutreach.
Measure by defining the right KPIs for the previously set objectives.
Though each of these phases can be quite complex, influencer marketing is often an exciting way to create content and actually offer something unique enough to get noticed and shared online.
With the right research, outreach and engagement tools, the planning and implementation processes can even be made much more efficient. The final outcome is an increased number of social shares, media mentions and backlinks, which help in driving more readers to your most valuable content pieces.
Conclusions
While the very act of creating relevant content on a regular basis is the basis for achieving brand authority and better visibility online, it can hardly elevate a single company, organization or individual from the sea of those trying to achieve the same.
Content creation strategies have evolved over the last few years, requiring marketers to adapt to the changing setting and think of new ways to have their content seen. More importantly, content needs to be disseminated strategically in order to bring tangible results, which is why distribution techniques constitute an arguably more important part of content marketing strategy.
Resources for further reading:
Content: The H2O of Marketing
12 Ideas to Help you Generate High Quality Natural Backlinks
How to Succeed With Earned Media: 34 Case Studies