The essence of content distribution is when you have content that is useful, unique, relevant, and actionable - not only should the content be seen by web visitors, but in order to maximize on your content generation efforts, the content needs to reach people who need it the most.
To achieve this objective, your content distribution should be centered on these three broad categories:
Owned media - which are content distribution channels owned and controlled by you, such as email, website, blogs.
Paid media - which is any media you pay for such as ads on social media or pay-per-click. Paying for advertising has the ability to provide greater exposure.
Earned media - which is distribution through other people. For instance, guest posts, or product reviews.
Additionally, for your content to be seen by the largest number of people, you need to make use of content distribution tools.
That said, let's have a look at the main tools that will help you to optimize your content distribution strategy:
Owned Media Content Distribution Tools
Buffer provides a simplified way to schedule and share content on social media channels such as LinkedIn, Facebook, Google+ and twitter, with just one click. You can add posts to a queue and schedule them to be published at chosen times. You can also add images to buffer.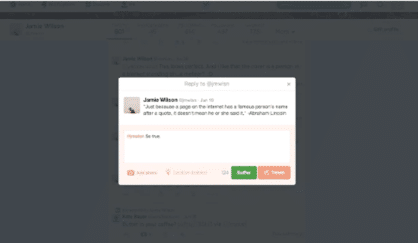 Buffer is great because it also brings your old content back to life; if you have any old content that needs to be re-shared, buffer can share it from the dashboard. Buffer analytics will also track performance of campaigns and let you know what is working or not working.
Cost:
For individuals: free package. Paid package @$10. Paid package (called awesome) has a 7-day free trial.
For teams and agencies: $99small, $199 medium, $399 for large. All packages have 30-day free trial
Without a tool like Edgar, you'd have to throw away all your previously published social media posts. Edgar ensures this doesn't happen, by reposting archived content to social media distribution channels. Below is a snapshot from the Edgar website, showing how easy it is to use this tool and remain relevant when you run out of fresh content: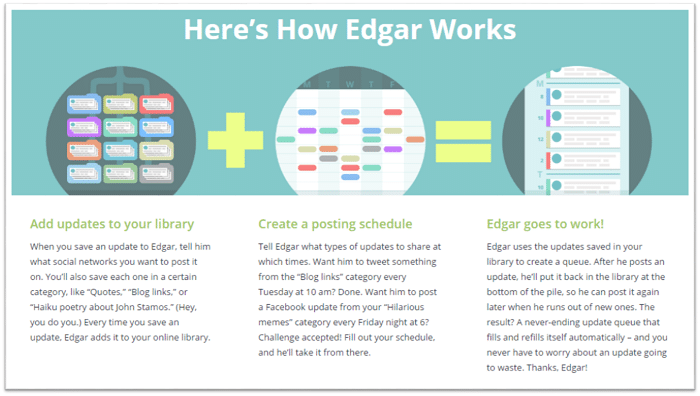 Cost: $49 per month.
If you write a lot of emails, this is a great tool to start using for signing off as it gives you the opportunity to share not just your content information in your email signature, but also social media information, links to your latest tweets and RSS feeds to your blogposts.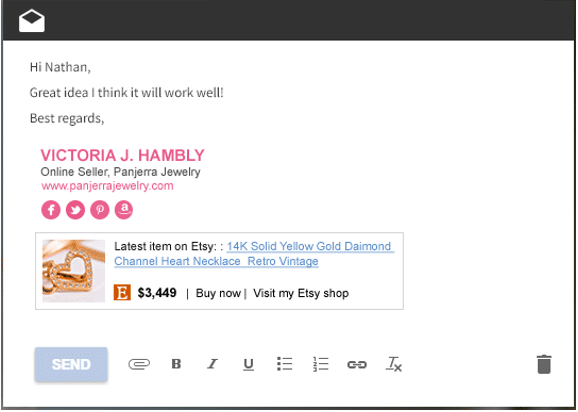 With WiseStamp, you can automatically transform your email signature into an active and effective distribution tool.
Cost:
Personal plan (known as awesome): $4 per month.
For business: $2 per user monthly
Goodbits makes it faster and easier to market your brand through email newsletters. Using the drag-and-drop editor, you can manually collect (using the browser extension) or automatically collect content, tweeter feeds, links, RSS feeds and then curate it into an email newsletter.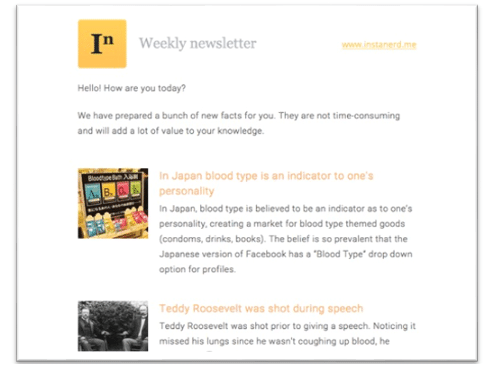 Your mailing list is also customizable when using goodbits and you can email existing subscribers using Mailchimp or campaign monitor.
Cost:
Starter plan: free
Pro plan: $19 monthly
Business plan: price available on request to Goodbits.
Mailchimp is one of the most effective automated tools to use for managing email campaigns. With Mailchimp, you can manage subscribers, send emails to your contact list and track campaign results. The tool can be automated to distribute every new post.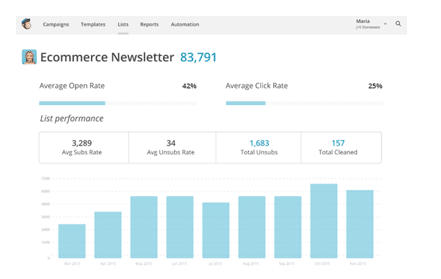 Through analytics reports, you can track emails sent in every campaign and use that information to improve your future campaigns.
As a leading brand in email distribution, mail chimp is a must-use for any brand that wants to automate its marketing emails and targeted campaigns.
Cost:
Starting up: free with added features @ $10 monthly fee
Growing business: $25 per month
Pro marketer: $25 per month $199 pro subscription
This is a WordPress plugin that contains several tools useful for distributing both on owned and earned media. Some of the owned media tools include list pop-up, giveaways widget and sign-up bar, all of which you can use for building your email lists.
Share allows you to take advantage of your earned media (the visitors who've been attracted to your content through your advertising efforts) by making it easy for them to redistribute your content through 16 social media networks.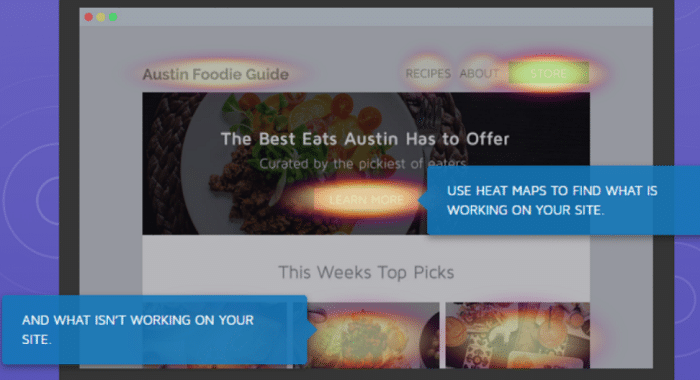 SumoMe also features interesting capabilities, such as the use of heat maps to show where visitors are clicking. This information is useful for making improvements to the content that you want your visitors to pay more attention to.
Cost:
Beginners: free
Email Pro: $40 per month
Pro: $100 per month
This is also a great option for email distribution. You can drag and drop images and other branding on email templates and also share content to your content list. You can also grow your email list by creating email sign-up forms on Constant contact so that people can sign up from any of your owned media.

What's more, this tool gives you the ability to transform emails into social media posts. This allows you to grow your list through your social media resources.
Cost:
Email $20 per month
Email plus $45 per month
Both packages come with 60-day free trial.
This is a tool makes it easier for your audiences to share your content. With click to tweet, you can create a link to a post, such as information about your product launch, and when people click on that link, the message you originally shared will automatically prepopulate the twitter compose box. This way, your audience members can share the quote without having to do any typing themselves.

When sharing is this simplified and fast, people are encouraged to just click and tweet every message you send them.
Cost: free
Medium was created by Twitter co-creators as a vital tool which can be used by paid and unpaid content distributors to post written content, regardless of subject or length. More than 17 million people per month use medium and you could tap into this audience for free.

The network on Medium has a very casual feel, therefore, it's important when using medium to choose a topic that will properly define your post, share content that adheres to the network's feel and add great images or videos to your content.
Some of the brands that use medium include Starbucks, intel, BMW, slack, among others.
Cost: cost of native paid distribution for brands available upon email request to Medium
10. LinkedIn Publisher
LinkedIn Publisher is a great tool for boosting thought leadership through your content. Due to the level of engagement on the platform by professionals, your content has a higher chance of getting viewed and redistributed, possibly to the point of going viral.
If your geography has publishing capabilities, you will notice a 'publish a post' button on your homepage. Once you click on the button, the page below should load. You can write content, edit, add images or rich media and then publish.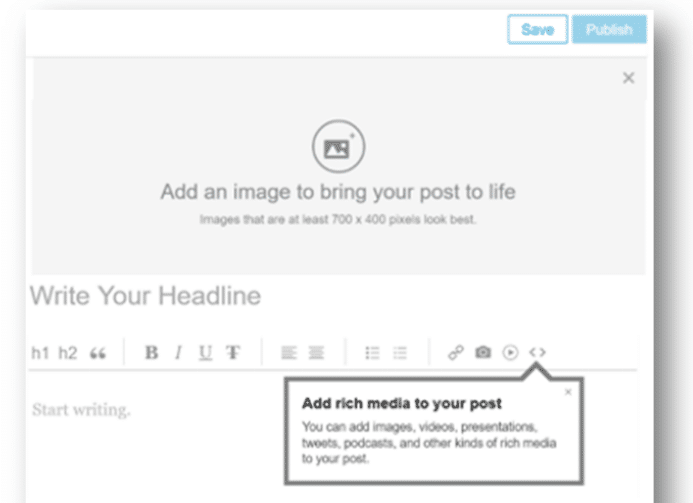 LinkedIn Publisher is also a great tool for blog syndication, giving you an opportunity to redirect profile viewers back to your owned media.
Cost: free, but not available to all geographies.
Notes is a feature on Facebook that allows you to publish long-form articles and images, both from your business page or personal profile. If you have a blog for example, you can write summaries for your post and share these summaries as notes which link back to the posts, thus allowing you to drive traffic to your blog.
To find notes, you will have to look under the 'more' tabs in your profile.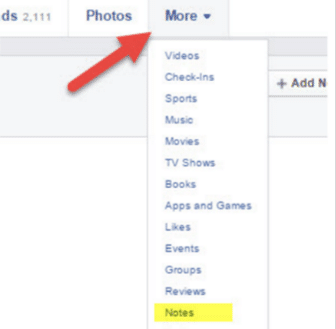 Notes is also useful for promoting profiles (company or personal), introducing new products and services and for driving traffic to your website by linking your notes to your website's landing page.
Cost: free (feature is built into your profile)
If you have a number of employees working for you, you can turn them into a great resource for redistributing your content.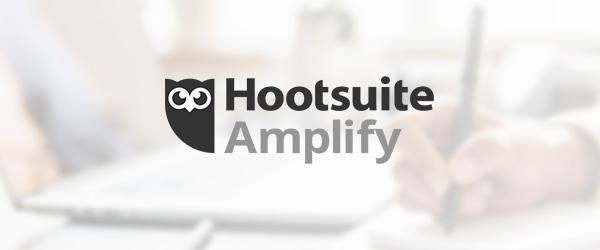 Hootsuite amplify allows you to do just that by sending notifications about new content pieces to your colleagues' and employees', who will then share it through their social media profiles. This tool is more impactful for companies that have a large number of employees as they can achieve wider distribution.
Cost:
For individual beginners: Free
Pro: $8.99 per month
Business: available upon request to Hootsuite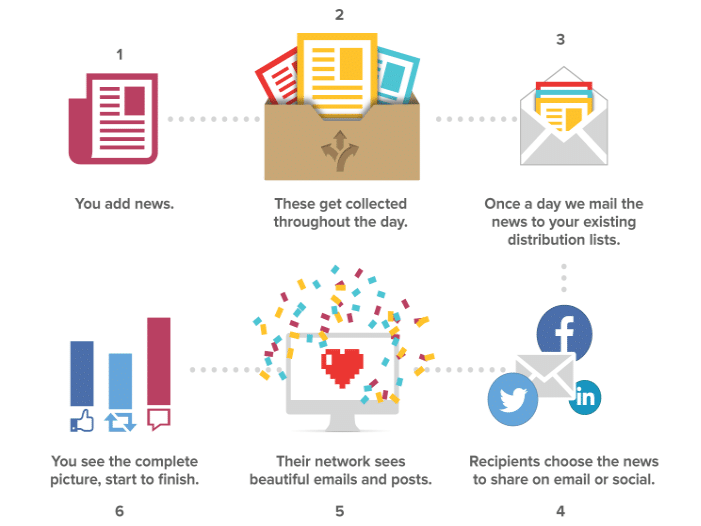 This is yet another tool that can be used by colleagues to distribute content. With Circulate it, you can send daily email newsletters containing articles, posts and news pieces and by clicking on the content, they can share through their social networks.
Cost:
Start up $9 for 1,000 monthly shares;
Basic $29 for5,000 monthly shares;
Standard $49 10,000 monthly shares;
Plus $99 20,000 monthly shares.
All packages come with free trials.
Slideshare (owned by LinkedIn) allows you to share content in slideshow format to a potential network of over 70 million professional users. It's a great way to share not just your powerpoint presentations, but also infographics and videos.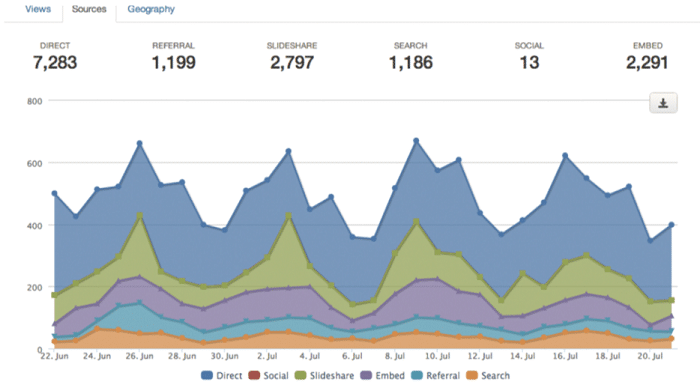 You can provide links to your websites and blogs and also include social share buttons to encourage visitors to share. Professionals are always looking for relevant content and as long as your content is relevant, you can build an audience for your owned media really fast.
An important and powerful feature of slideshare is its analytics. With slideshare analytics, you can tell who has looked at your presentations, where they are located, how they found the content, sources of traffic, among others.
Cost: Free
Earned Media Content Distribution Tools
If you want your readers to only access additional content after sharing, a great way to do this is using social Locker. With this tool, you can use a social share button to lock content such that it's only available once readers share on twitter or Facebook.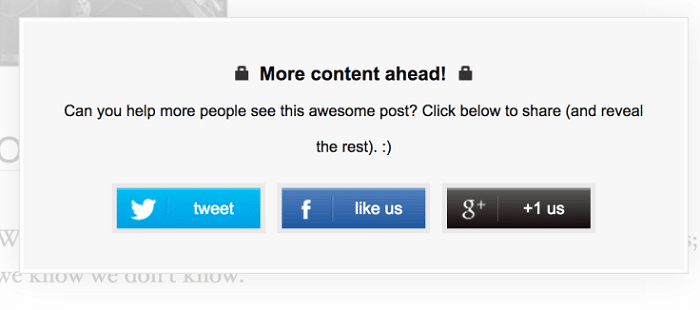 Cost: $24 for WordPress version and $18 for jQuerry version. Comes with 7-day free trial. Purchase at codecanyon.net.
Every year, over 50,000 topics are circulated by media houses such as Time magazine, fox news, Reuters, Chicago tribune and others through HARO. This represents a great opportunity as you can identify a topic in which you are an expert and contact a journalist about it.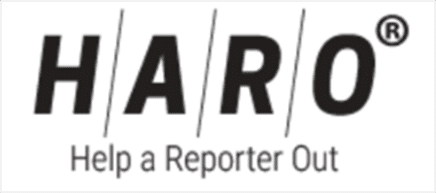 If a journalist selects you as a source, you can take advantage of this by promoting your website within the stories published by media houses.
Cost:
Basic: free
Standard: $19 per month
Advanced: $49 per month
Premium: $149 per month
This tool is handy for distributing newsworthy information such as events, announcements, breaking news and other vital information about your brand to multiple sources.

Once you sign up for PR Newswire, a representative will authorize your account and assist with your promotions.
Your content will be distributed to more than 200,000 media sources. If you want to get news about your products or company out there, this is a great asset to have. You can even get news coverage.
Cost:
iReach service (for non-members): $129 for search reach package, 299 USD for web reach package, $399 for web reach plus package. This service is for non-members and all costs are per release.
Services accessed as a non-member are available at this link: https://ireach.prnewswire.com/Orders/price-options.aspx
Premium membership service: $195 per year or $249 yearly if invoiced.
You can refer to the below link to learn more about benefits of premium membership. https://portal.prnewswire.com/SystemAccess/OMFLearnMore.aspx?type=benefitsofmembership
This is a great list building tool with which you can build and publish lists in your niche area. Lists are a very powerful form of content because they are very sharable and their format is easily digestible. You can use list.ly to create lists related to your niche. Lists can also be about broader topics, but your content should also be included to give it visibility.

Most people love listicles due to their simplicity and when readers love content, they share it, all to your advantage.
Cost:
Casual list maker: free
Pro: $9.99/month
Team: 9.99/month (has 2 more features in addition to what you'll get in 'Pro' plan)

Connecting with influencers is a great way to reach and form relationships with visitors on your media, increase shares for your content, access opportunities as a guest blogger and increase your authority and influence. If blogger outreach is your aim, then Ninja outreach is the tool for you.
With Ninja Outreach, you can use specific phrases to search for influencers, organize them in lists, use inbuilt templates to create emails, and send them to anyone in your list within moments. With such a tool, you can say goodbye to spreadsheets and you won't need to use multiple tools to manage your outreach efforts.
The tool has a great cost structure that caters to the needs of independent bloggers, with 1500 contacts, to enterprises with multiple users and over 100, 000 contacts.
Cost:
Single Blogger: $69/month
Small Agency: $99/month
Large agency: $249/month
Enterprise: $599/month
All packages come with a 14-day free trial.
This is a great tool for automating distribution and simplifying outreach efforts to influencers and other bloggers, by automating email sending and follow ups.

You can create an email and click 'send later', you can get automatic reminders to make follow ups when prospects don't respond, and, if you want to read some emails later, boomerang will archive them and then bring them back into your inbox as 'unread' emails. at the scheduled time.
Basic: free/month
Personal: $4.99/month
Pro: $14.99/month
Premium: $49.99/month
Teams: $50/month for pro; $200/month for premium
Enterprise plan: Must get in touch with Boomerang team to get plan details.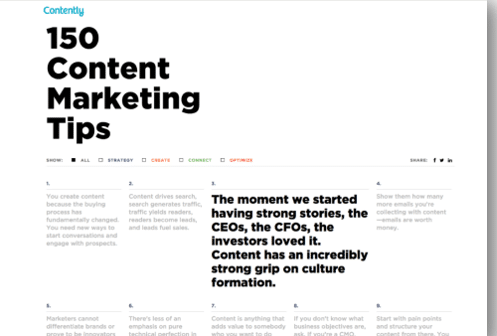 This is a platform where enterprises, content strategists and writers can distribute their content. Freelance writers can create a free portfolio to showcase their work, while enterprise writers can get content through a network of freelancers, in addition to having it optimized and distributed by the contently team. contently services large brands such as Pepsi, Coke, Philips, American express, among others.
Cost: available upon request to contently
Storify is a great tool for creating more engagement on social media, using media you have collected while browsing the internet. You can incorporate this media in your content and share it as unique stories.
When you sign up for a Storify account, you will notice the Storify button on social media sites and by right clicking on a story or image, you can Storify images, links and text selections
With Storify, you can place tweets, blogposts, and other written or video content that you choose in one page. It's a great way to also recap content you have already shared before or saved, including your bufferchats.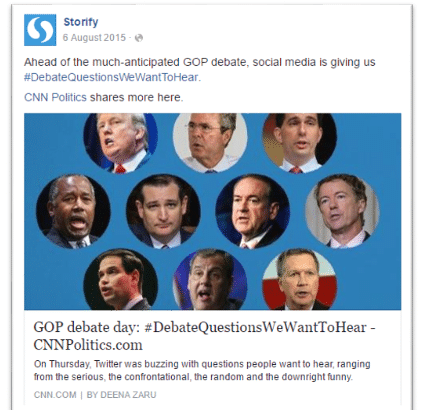 Cost:
Storify free: free
Storify 2 for brands and publishers: must contact Storify for pricing
When people want to ask questions on any topic, one of the places they go to is Quora. Thus Quora represents a perfect opportunity for you to share your expertise by providing relevant answers and then linking these answers back to your websites or blogs so that readers can access more in-depth information.
As people on Quora are already looking for insights, they represent a perfect audience to distribute to when you have the relevant answers.
Cost: free
This is different from Quora in that when people want to find the best content about practically every topic available on the internet, they go to Reddit to find it. Information is shared in subreddits, which are basically niche communities where you can find industry-specific information.

Once you identify the subreddit that's relevant to your business or target audience, start taking part in discussions and actively sharing your content. Relevant and high quality content usually gets voted to the tops of pages, attracting higher engagement, more reads and greater shares.
Cost:
Reddit.com: free
Reddit gold: $29.99/month
Note: yearly and lifetime pricing also available.
Paid media content distribution tools
Articles often have a section where they share links to other content. When you sign up for Outbrain, links to your content can also be included in such articles. It is a compelling content discovery and targeting tool, that distributes your content through publishers such as ESPN, People and CNN.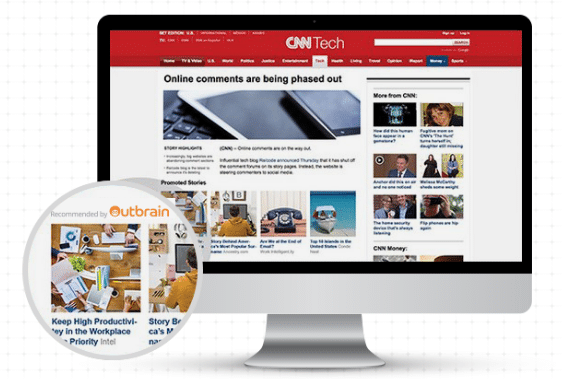 By getting content to interested audiences, Outbrain helps brands to create relationships with readers, drive greater engagement and capture more chances for increasing revenue.
Cost:
Daily minimum budget is $10 and cater for actual visits. You must define cost per click.
This is one of the leading content discovery platforms, as it makes more than 200 billion content recommendations to more than half a billion unique monthly visitors. Content is shared on some of the most popular publisher sites such as business insider, USA today, Chicago Tribune and others.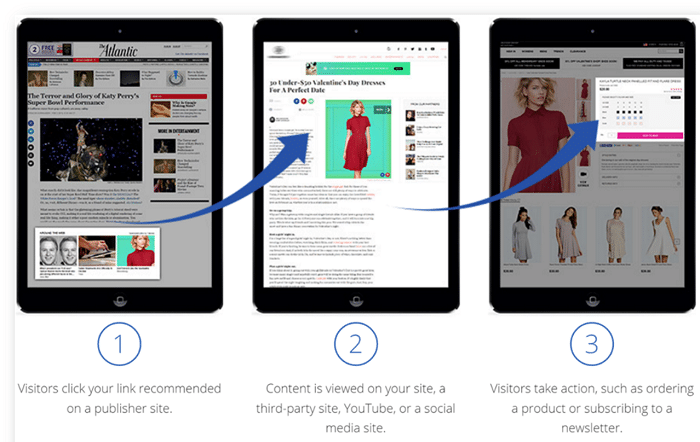 It's a great way for a brand to expand its reach, as content is usually offered in 'click-bait' format and when users click on it, they'll be redirected back to the advertising website. Content also tends to be placed in the 'recommended for you' section in these publisher sites, which drives new traffic to the advertised work.
Cost: Daily minimum budget is $10. CPC varies depending on individual bidding.
Nativo is also another great tool that performs content placement and targeting on over 400 publisher sites like NewsWeek and Entrepreneur.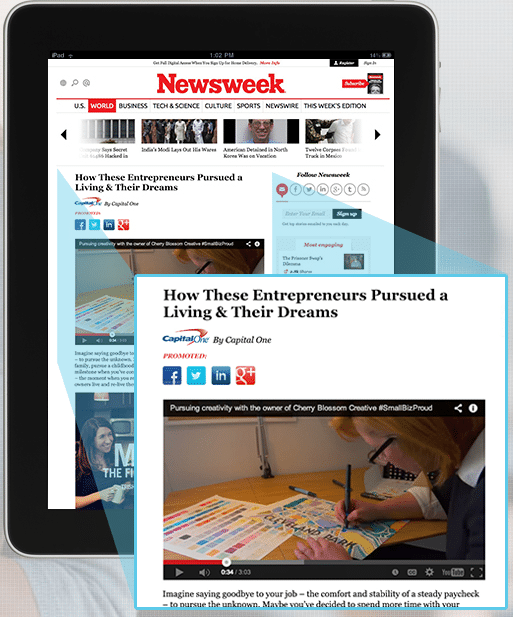 It is a leading native advertising tool as when readers click on the heading of content shared on a publisher's site, they are taken to your site, where you have hosted the full article.
Cost: $10-$18 viewable CPM
28. Facebook Sponsored posts

This is not the same as Facebook ads, but it's similar in the sense that you can pay to get your posts more viewership. You can select specific posts and pay for them to be distributed to audiences that fit certain demographics.
Cost: Budget can vary as shown in image above.
29. Promoted tweets

You can also pay to get specific tweets promoted to reach larger audiences. You can promote new tweets created through the twitter ads dashboard or pick a tweet that's already in your stream for which you want to attract fresh attention.
Cost: Budget is defined per campaign
30. Social media advertising
Statistics show that paying to advertise on social media channels is a worthwhile investment for advertisers, as social media ads attract greater engagement and higher click through rates than traditional banner ads.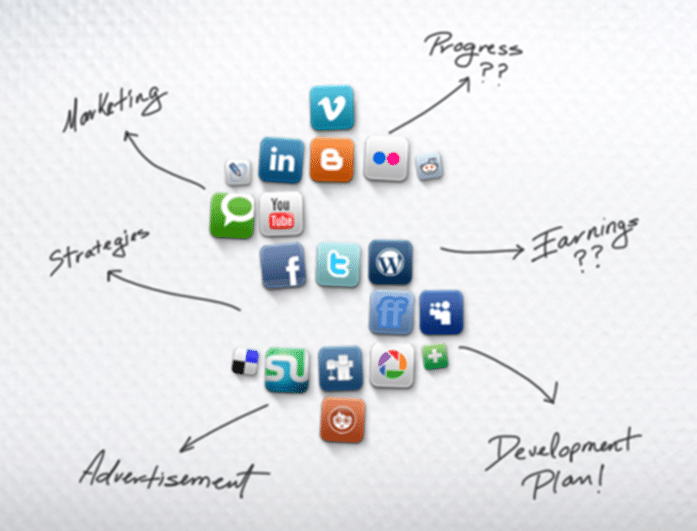 Social ads are also very affordable and are thus a great place for beginner content distributors to start.
Costs: Depends on platform.
This is a content finding tool that enables internet users to discover the best content, photo and video websites. The tool uses social networking principles to source and recommend content that its users are interested in.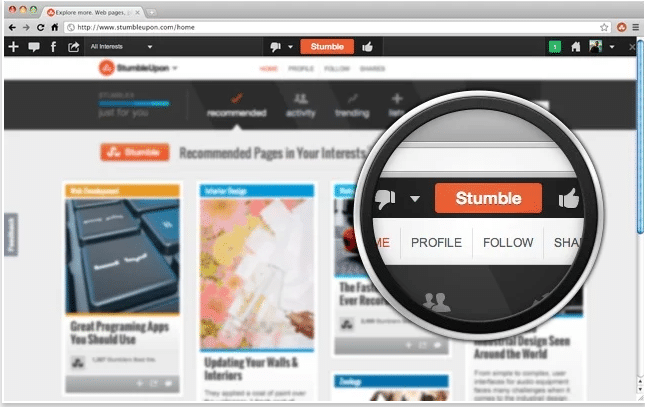 All users have to do is describe the kind of content they are looking for and StumbleUpon will return results that are customized to the search.
This is a content distribution platform as it will increase your page views.
Cost:
Self-service plan: pay per visit/ campaign
Managed: from $10,000/month
Premium: from $50,000/month

More and more consumers are turning to blogs and social media to find out what influencers are saying. Tribber capitalizes on this growing trend by connecting brands with influencers. Though Tribber is a free tool, brands have to pay influencers for their advertising efforts.
Cost: Free but influencer will charge you.
This is yet another great paid tool for automating content distribution. It combines your content, social media accounts, contacts, posts, calls-to-action, page titles, SEO, reporting and analytics, keywords, to create a fully integrated marketing and distribution platform. All these various components are easily created, filed and scheduled for publishing.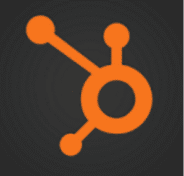 Through the social inbox, you can schedule updates for multiple users on different social media platforms, resulting in time savings and efficiency.
With HubSpot, you can also cut down on the resources (time, costs and people) required for planning, creation, delivery and monitoring of a content strategy.
The reporting service in HubSpot provides information on how every post is performing.
Cost:
Basic: $200/month
Pro: $800/month
Enterprise: $ 2400/month
Sprout social performs very similar functions like HubSpot or Hootsuite. But a main feature in sprout social is the team content calendar, through which members of your team can collaborate in planning schedules for sending out social media posts. Teams can also collaborate in reviewing and modifying updates.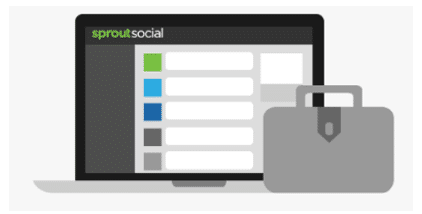 The social CRM in sprout social also collects past conversations and engagements.
Cost:
Deluxe: $59
Premium: $99
Team: $500
This is a great tool for encouraging employee advocacy as it sends notifications to employees to participate by sharing, whenever you publish content or take part in an online activity.
Once you have published content on your social media channels, your followers will read it and want to repost, share or retweet. You can make it easier for your audience to reshare using GaggleAMP, as it allows any audience member, be it followers, members of staff or friends, to automatically sign up and repost content you have published.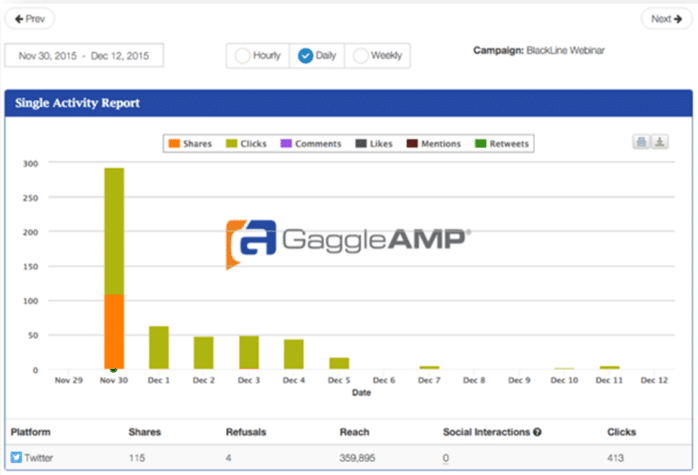 With GaggleAMP, you can schedule posts, which will be filtered into your gaggle networks where members of these networks can share them. It's a great way for people in your networks to help you reach wider audiences without you needing to repost new content.
Cost: must contact GaggleAMP for pricing of all plans: companies, agencies, and Retailers. Each plan has a 7-day free trial.
This tool is specially designed to be used for B2B social media content distribution and management. With Oktopost, you can determine the platforms where new customers come from, and the sales value generated by every post.

You can also plan and schedule posts to your Facebook, LinkedIn, Twitter accounts using several profiles, and get accurate tracking for clicks and conversions. Through the leads tab, you can monitor conversions from different social networks, and get details such as which social network the conversion came from and the number of conversions per campaign. Additionally, you get data from the 'reports' and 'campaigns' features, about specific campaigns or posts, to show which of them give the best results.
Cost:
Basic: $400
Business: $600
Enterprise: $2200
SimpleReach allows content creators to optimize their content distribution and drive better ROI. The measurement and analytics tools in SimpleReach identifies content performance in real time, such as which content is driving traffic, and amplifies it to target audiences on social media platforms and other content distribution channels like Outbrain, StumbleUpon, and Nativo.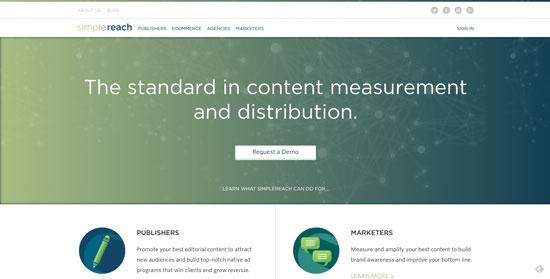 Predictive analytics capability also allows the tool to predict how content will perform in the future. Within moments of publishing, the tool can predict which content will have better performance and recommend focusing on that content.
Cost: Email request to SimpleReach to get plan details.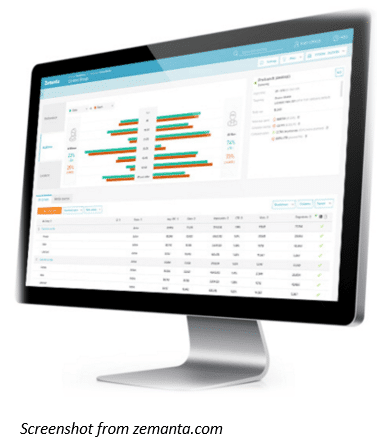 Zemanta is a content distribution tool that indexes, recommends and sponsors content as text links or in-stream ads on third party sites. The tool is 'AI powered', allowing it to manage your optimization processes for you while you sit back. Through analytics, your content can also be matched with interested readers, for higher engagement and lower bounce rate.
Cost: $10,000 minimum budget/month
Zapier is a great tool for automating content distribution because it integrates with social networking platforms, CMSs such as Drupal, Joomla, Blogger and WordPress, and other tools such as Gmail, MailChimp, and Dropbox.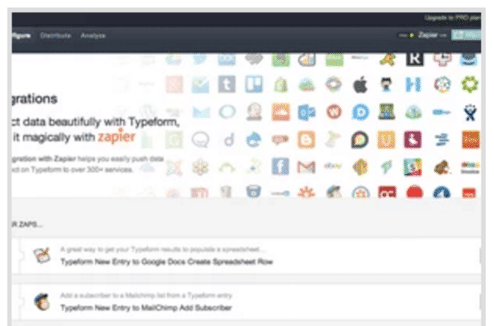 You can coordinate tasks and turn events on or off in each of these tools and apps straight from your Zapier dashboard.
Cost:
Free: $0
Basic: $20/month for 20 zaps
Business: $50/month for 50 Zaps
Business+: $75/month for 75 Zaps
Infrastructure: $125/month for 125 Zaps
Bottom line: So which tools should you use?
The important thing for any business is to select and make the most use of the tools that will best suit its goals for maximizing conversions and revenue. Explore each tool by deep diving into the dashboards to see whether you'll get what you want. You can also test a tool for a short time and if you are comfortable with it, begin to make full use of it to reach wider and wider audiences. Remember, not every tool is suited for every business's content distribution tactics.
---
Mohammad Farooq works as a Social Media Analyst. When not doing anything related to Social media or Analytics, he goes backpacking around India. He regularly blogs about Travel, Movies, Political Issues and a lot of other things on his blog "ReveringThoughts".