As more and more people create personal and professional profiles on social networking sites, there's simply no denying the importance of social media for brand promotion and business growth.
But because marketing professionals contend with a plethora of marketing activities aside from interacting with customers on social media, we've compiled a list of social media productivity tools you should check out in 2018, if you haven't already.
This post tackles 30 of the top social media tools, what they're for, some pricing details, and their pros and cons. Let's dig right in.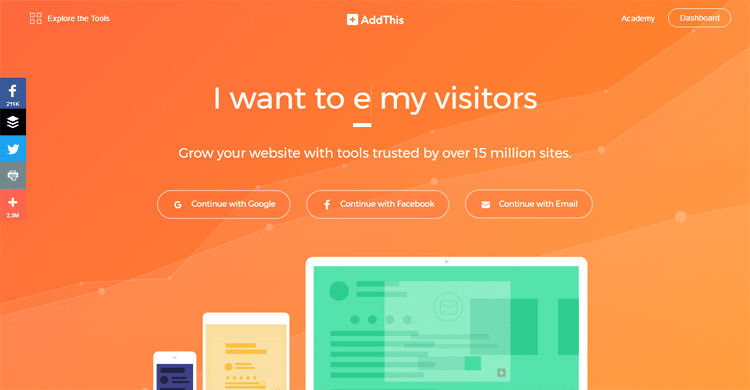 Best known for: Content distribution, tracking, and analysis
AddThis is a social sharing and engagement tool found on many websites. It comes with share and follow buttons to easily distribute your content, boost your social media presence, and grow your audience. Aside from website marketing, AddThis provides valuable data on audience behavior: social engagement, number of people sharing your content, and where traffic comes from.
Pricing
AddThis Basic is free. Paid plans start at $10 per month.
Pros
Share buttons for one-click sharing of content to various social media channels
Follow buttons for quick and easy audience building
Provides insights on browser type, browser language, date and time of a user's visit to your website, and traffic referrers
Aggregates the number of clicks a shared link generates
Responsive and works with any device type
Related Posts feature to keep readers glued to your site's content
Easy-to-install plugin for WordPress
Available browser extensions: Chrome, Firefox, Safari, plus a bookmarklet if you need more sharing options
Cons
Inability to turn off the AddThis branding even on Pro subscriptions
May require some tweaking at the outset to properly work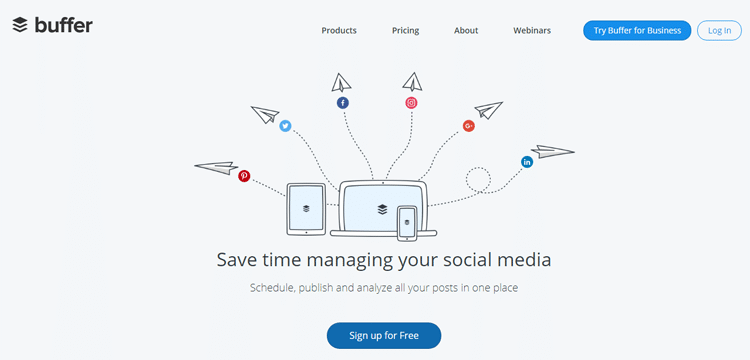 Best known for: Automated republishing and content scheduling
Buffer is a social media management tool that lets users schedule and publish content on the major social networks, as well as measure the impact of their marketing efforts from one centralized dashboard.
Pricing
For individual plans, a free version with limited features is available. The paid version costs $10 per month. Team and agency plans start at $99.
Pros
Social media scheduling and publishing in one dashboard
Includes link shortening and tracking, social analytics, and Pablo, Buffer's proprietary image creator
Can add RSS feeds from blogs
Works with desktops, iPhones, iPads, and Android devices
Includes browser extensions for Chrome and Firefox for easier posting and scheduling
Cons
Doesn't track social mentions
Can't view your Twitter feed or interact with followers directly from the dashboard
Free account doesn't support Pinterest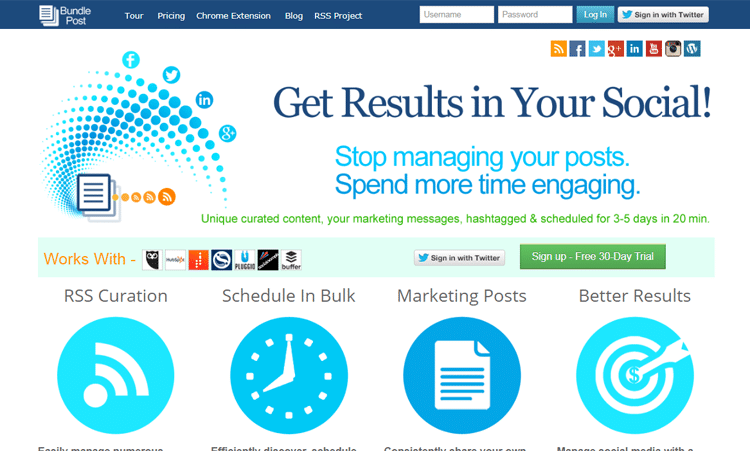 Best known for: Hashtag tracking and content curation
Bundle Post is a social media management tool that tracks hashtags and curates content from numerous sources, including Google Alerts, RSS, and other feeds, allowing you to choose from the latest and most relevant content to send out to your audience. It lets you schedule social content in bulk and create repository folders for your marketing messages, which you can also include in your scheduled posts.
Pricing
Bundle Post plans start at $19.99 per month. A free 30-day trial where you get to test drive the Pro plan (costs $100 per month) is available.
Pros
Allows the creation of folders for each client or campaign
Lets users add single time slots for posting or specify posting intervals to maintain complete control over their scheduled posts
Has a time-saving #FollowFriday feature that helps you figure out what to say in your posts or who to mention
Integrates with Hootsuite
Offers a Chrome extension
Cons
Tech support may be limited to tutorials only for certain plans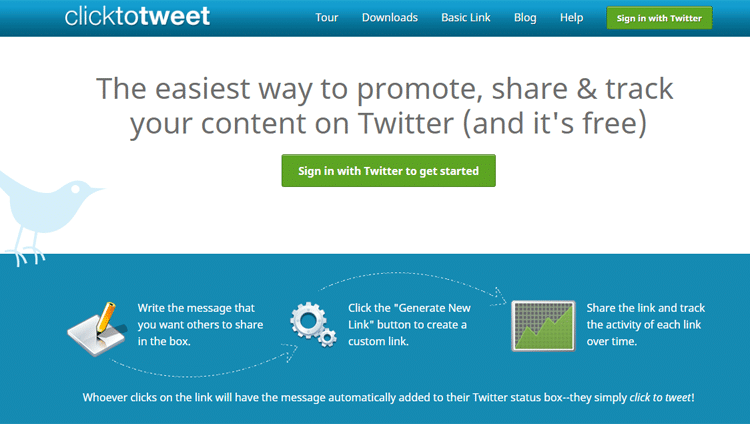 Best known for: One-click content sharing and analytics
ClickToTweet is a Twitter app that lets you create tweetable links you can then embed on your website, email messages, or press releases. It comes with features that make promoting, sharing, and tracking your content easier.
Pricing
ClickToTweet paid plans start at $4.97 monthly. Other plans are Expert at $49.70 per year, and the Enterprise plan at $499 per year. A free ClickToTweet plan is also available.
Pros
Tweetable links generation for easier content sharing
Central dashboard for all your links
Analytics for click activities on your links
Click mapping so you know where people clicking on your links are located in the world
Suggested users feature to increase followers
URL shortener to redirect all your links
ClickToTweet WordPress plugin available
Cons
No full support for embedding images, just a workaround
Free plan only includes five links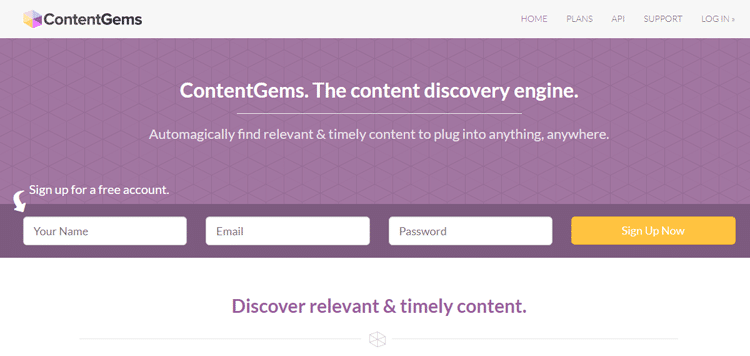 Best known for: Content discovery and distribution
ContentGems is a content discovery engine that scans thousands of online content from trusted sources, helping marketers automatically find timely and relevant content for distribution to their audience on various channels: social media, email newsletters, website, portals/intranets, or mobile app. This, in turn, allows them to attract more qualified traffic to their sites and build thought leadership for the company.
Pricing
Depending on the package you choose, paid plans cost $99 per month (Business) and $199 per month (Agencies). A free plan with limited features is likewise available.
Pros
Monitors leading blog and news sites for top-rated content, which you can further cherry-pick or automatically stream to your followers
Gives users immediate access to hundreds of thousands of RSS feeds
Sends out weekly or daily email digests
Comes with Twitter filters to weed out sub-par content
Lets you build customized feed bundles
Allows the usage of custom keywords and content filtering by media type and social signals
Offers a developer API for customized data sharing between apps
Works with a range of third-party platforms, such as MailChimp, Slack, Buffer, Hootsuite, Feedly, Campaign Monitor, and Sendible
Cons
Mainly built for content discovery and distribution, no advanced social media management capabilities
Advanced features come at a cost that may be steep for small businesses or startups
6. EpicBeat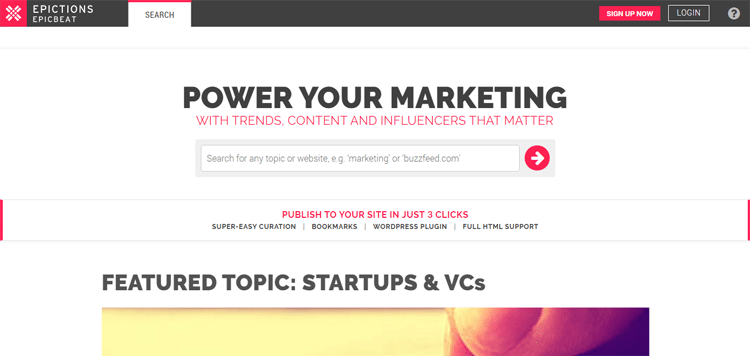 Best known for: Content discovery and analysis
EpicBeat is a social media software system that assists marketers with content, influencers, and trend discovery.
Pricing
EpicBeat costs $49 per month or $490 per year. A 14-day free trial is available.
Pros
Available features: saved searches, downloadable data, real-time alerts, and multiple users
Helps businesses find influencers on Twitter, Facebook, Instagram, YouTube, Google+, SoundCloud, and SlideShare
Provides insights such as best-performing content types and formats, top authors and domains, trending themes, comprehensive sentiment analysis, and ideal posting times across platforms
Various filter options for content refinement
Comes with a curation API for WordPress blogs
Cons
Allows use of the tool without signing up but will only grant you access to Twitter influencers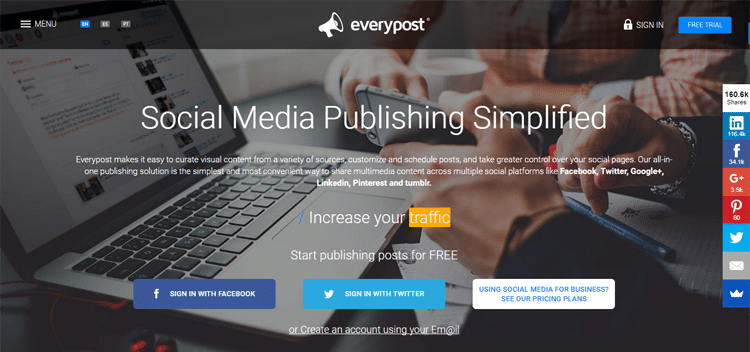 Best known for: Content curation and social media publishing
Everypost is an all-in-one social media publishing tool that simplifies content curation and maintaining control over your social media pages. Supported platforms include Twitter, Facebook, LinkedIn, Google+, Pinterest, and Tumblr.
Pricing
Everypost has a free option plus four different paid tiers, which start at at $9.99 per month.
Pros
Team collaboration and role management
Visual content curation from various social media sources including Instagram, YouTube, Flickr, and RSS feeds
Post scheduling and customization to suit the needs of each platform's audience
Social analytics tools for building granular, platform-specific reports
Compatibility with Android and iOS devices
Automatic syncing of personal contacts to Everypost
Twitter mentions monitoring and location activation
Filters and image manipulation
Cons
Free version is limited to one account per channel and doesn't support team management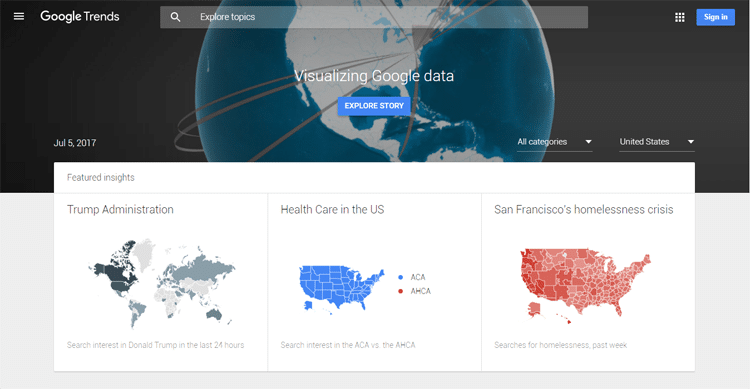 Best known for: Trends tracking and market research
Google Trends is a forecasting and historical analysis tool that aids with market research and web user behavior tracking. It provides interest trends over time for certain keyword searches.
Pricing
Google Trends is a free service.
Pros
Shows insights into interest spikes for relevant terms
Can be used to research on practically anything of interest to you, including predicting economic indicators
Aside from time trends, also renders rising interest reports (related terms not in the top 10 but show sustained increase and should be noticed)
Contains filters to narrow search results: location filter, category filter, time span filter, and type of search filter
Cons
Minimum traffic requirement for your website to be featured
Data may contain inaccuracies
Better to use Google Analytics over Google Trends if you want accurate data on your website
Best known for: Hashtag discovery and influencer marketing
Hashtagify.me is a Twitter hashtag search and discovery tool that lets you find the best hashtags to expand your social media reach. It also helps you pinpoint the right influencers to amplify your message.
Pricing
Hashtagify offers a free account. Pro plans start at $9.99 per month. If you pay annually, you get two months free.
Pros
Has a Research Assistant feature that analyzes your Twitter accounts to give you the best hashtag recommendations, up to 30 related hashtags
Lets you find hashtags from competitors and influencers
HashSmart Filter feature automatically filters out generic and spammy hashtags
Drills down to individual tweets to measure hashtag influence
Comes with analytics and in-depth reports that detail the hashtag's usage patterns
Shows you a live stream of the public posts using the hashtag
Cons
Support for Instagram only available to Business and Enterprise accounts
Requires credit card information to start using the free trial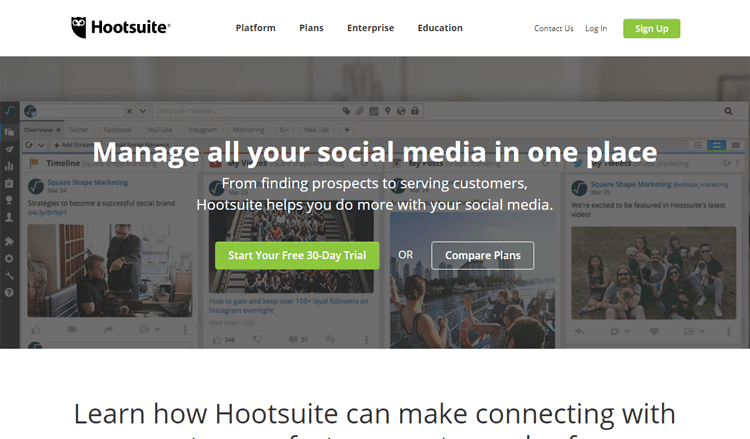 Best known for: Social media management in one place
Hootsuite is a time-saving social media and analytics app that lets users manage all of their social profiles from a single location. It allows you to discover and schedule social content, identify influencers, and connect with customers and social media followers faster.
Pricing
A paid one-user plan starts at $19 per month. For teams and businesses, multi-user subscriptions start at $99 per month. A free and limited single-user plan is likewise available.
Pros
Clean, easy-to-use dashboard
Offers a complete set of social media management tools for scheduling, content curation, analytics, monitoring, team management, and contests/sweepstakes hosting
Also functions as helpdesk for social media teams, allowing businesses to protect their reputation straight from the app
Integrates with 250+ business apps
Works with the following mobile devices: iPhone, iPad, iPod Touch, Android
Cons
Supports a limited number of URL shorteners
Adding more users and advanced features can be very expensive for small businesses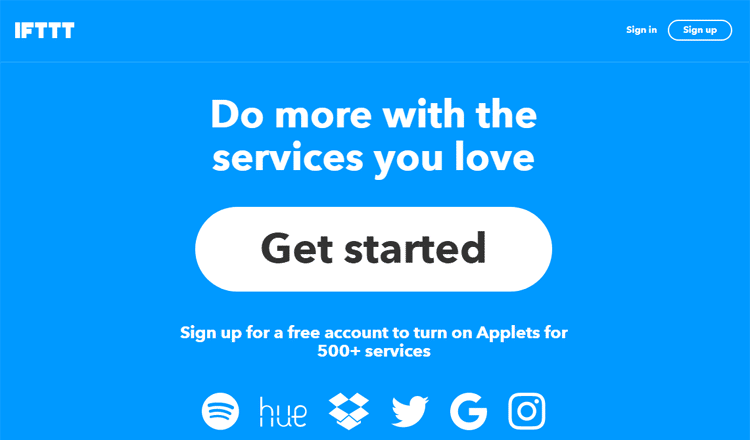 Best known for: Integration of otherwise disparate apps
Short for "if this, then that," IFTTT is more than just a social media management tool. It's a web-based task automation app that performs actions triggered by conditional statements or applets. For IFTTT to work, you need a channel, a recipe, and an action.
For example, if you're tagged in an Instagram photo, IFTTT can automatically download the photo to Google Drive.
Pricing
IFTTT can be used totally free. But if you want to publish a service and embed it in your own apps or website, that will cost you $199 per month. For custom options and services for your brand, Partner Plus starts at $499 per month.
Pros
Connects disparate services without learning how to code
Hundreds of service combinations you can use upon signup
Works seamlessly between desktop and mobile devices
Can build your own recipe if you don't find what you need
Totally free to use
Cons
Can only combine two services at a time
Can result in double postings on your social accounts if you go crazy with your combinations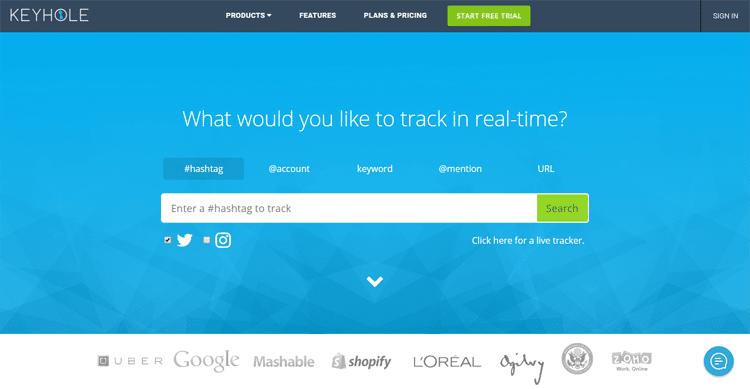 Best known for: Hashtag tracking and keyword analysis
Keyhole is a hashtag analytics and social media marketing tool that works with the major social networks: Twitter, Instagram, and Facebook. Keyhole tracks data from your account, analyzes generated reports, and gives out suggestions on how to better optimize your social media marketing campaigns.
Pricing
Keyhole offers several pricing tiers: Professional ($165 per month), Team ($349 per month), Corporate ($599 per month), Agency ($999 per month), and Enterprise (call their sales team for custom pricing). Although there are no yearly commitments, Keyhole offers discounts on one- and two-year prepayments.
You can also test-drive the app for three days for free.
Pros
Carries a suite of social media marketing features: hashtag and keyword analytics, influencer marketing, competitor tracking, sentiment analysis, demographic analysis, locations heatmap, live streams, historical data reports, and automated reporting
Analytics for both brand mentions and hashtags
Embed widgets available for your website or blog
Tracks which devices users commonly post with
Customized alert notifications via email
Reports that are exportable to Excel and similar software tools
Cons
In-depth social media analytics and reporting features limited to Facebook, Twitter, and Instagram
May be pricey for small businesses and startups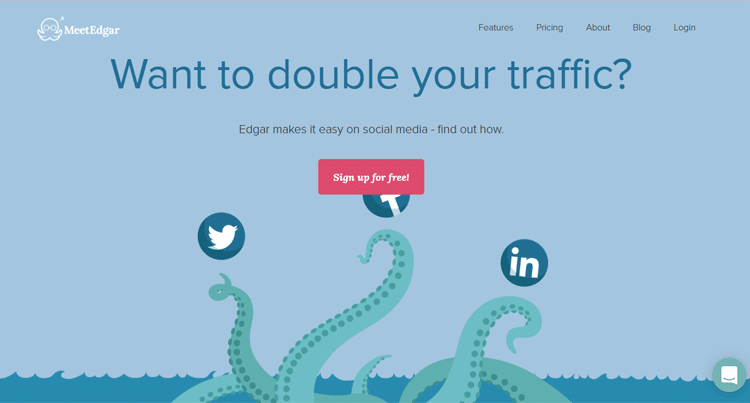 Best known for: Content scheduling and amplification
MeetEdgar is a social media scheduling tool that ensures your posts and updates get the most attention from your fans, followers, and connections. MeetEdgar doesn't just schedule your posts and track their performance, it also allows you to build a library of social media updates that you can use over and over again.
Pricing
MeetEdgar pricing is at $49 per month. A free 14-day trial is offered.
Pros
Automatically reshares evergreen content
Builds a queue of updates for sharing across your different social networks
Supports unlimited content in your library
Lets you assign expiration dates to seasonal content
Pulls content from RSS feeds
Allows category-based scheduling for different types of posts
Supported URL shorteners: Rebrandly and Edgar's proprietary custom link shortener
Offers a Chrome extension and bookmarklet
Provides statistics to better increase the effectiveness of your social media marketing efforts
Cons
Only supports Twitter, Facebook (profiles, groups, pages), and Linkedin (profiles, company pages)
No dedicated plugin for Firefox or Safari
Doesn't support retweeting or commenting on content in-app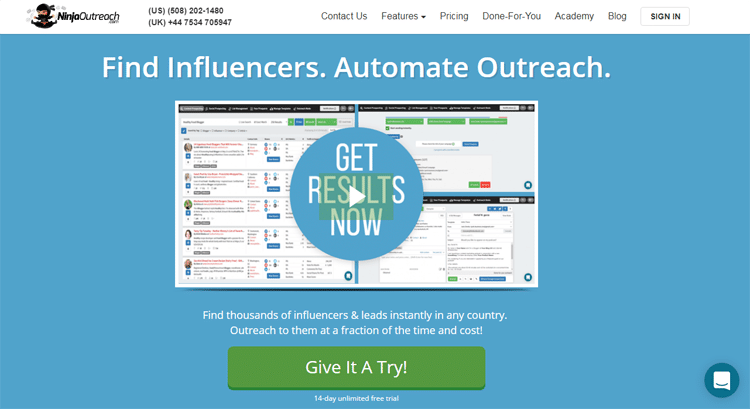 Best known for: Influencer research, content discovery, and outreach automation
Ninja Outreach is primarily an influencer marketing tool, but it goes way beyond that. It can also be used for lead generation, content promotion, Twitter and Instagram prospecting, list management, content research, blogger outreach, and link building.
Pricing
You need to schedule a demo or call their sales department to get pricing information.
Pros
Gives you immediate access to thousands, if not millions, of influencers in your industry
Saves you tons of time on blogger prospecting and outreach
All your contacts, notes, email history, and RSS feeds in one place
Easy clients and campaign segmentation using relevant keywords
Supports team management and collaboration
Carries SEO, location, special posts, and social filters for more targeted results
Has customizable built-in outreach templates
Includes a Chrome extension
Cons
We can be a little biased about Ninja Outreach. It's our baby, after all. We work hard to deliver the best possible influencer marketing solution for you, but if there's anything at all that bothers you about the software, let us know, and we'll do our utmost to get that fixed.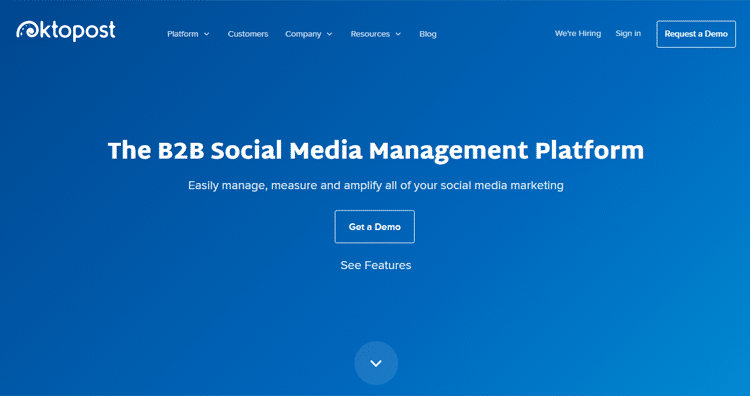 Best known for: Social publishing and lead management
Oktopost is a social media management platform for B2B marketers. It helps with lead generation, lead tracking and analysis, social publishing, social listening and engagement, and content curation.
Pricing
Oktopost pricing depends on the package your company needs. Please contact their sales department for custom pricing.
Pros
Comes with a suite of social publishing features: campaign categorization, editorial calendar, content pipeline, publishing automation, and a mobile app for Android and iOS devices
Social analytics feature that tracks acquisition and lead attribution, audience growth, social engagement, and content performance
Data that can be exported to Excel or any business intelligence solution
Supports the use of custom RSS feeds for content discovery
Live streams to monitor keywords, company pages, mentions, customer feedback, and competitor activities
Promotes employee advocacy and thought leadership for social amplification
Supports team management and collaboration
Upholds data security through role-based user controls
Cons
Because it's feature-rich, may take some getting used to
Integration with Twitter Insights (or other marketing automation software) is a separate purchase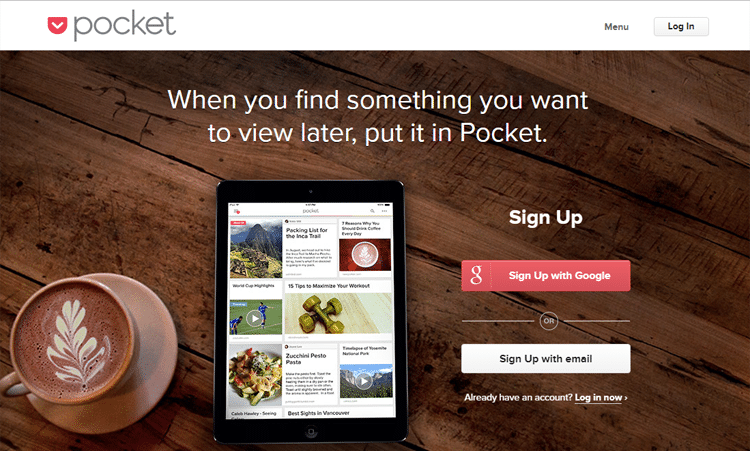 Best known for: "Save for later" content curation
Pocket is a content curation tool that allows users to save content for later viewing. It offers different ways to save: via email, your web browser, or from 1,500 connected apps, such as Twitter, Digg, and Flipboard.
Pricing
You can use Pocket for free. However, if you want it ad-free or need access to more features, such as a permanent library of the webpages and articles you save (even when they're deleted from the web entirely), full-text search, customized reading experience, and suggested tags, Pocket Premium costs $4.99 per month, or $44.99 per year.
Pros
Comes with a clean, minimalistic, and user-friendly interface
Allows offline viewing of saved content
Lets users send links to [email protected] if the app they use doesn't support auto-saving to Pocket
Tagging system for content categorization and easy retrieval
Content recommendation based on the content you save
Premium plan supports multiple languages, including English, Chinese, French, Japanese, Russian, and Spanish
Integrates with 1,500+ apps
Has native apps for Androids, iPhones, and iPads; also works with Kobo e-readers, Windows Mobile, and BlackBerry devices
Offers extensions for the major browsers: Chrome, Firefox, Safari, and Opera
Cons
List of user-created applications on the website not updated
Articles won't be available offline if you've closed Pocket down before full download is complete
Free account removes copies of archived items from the device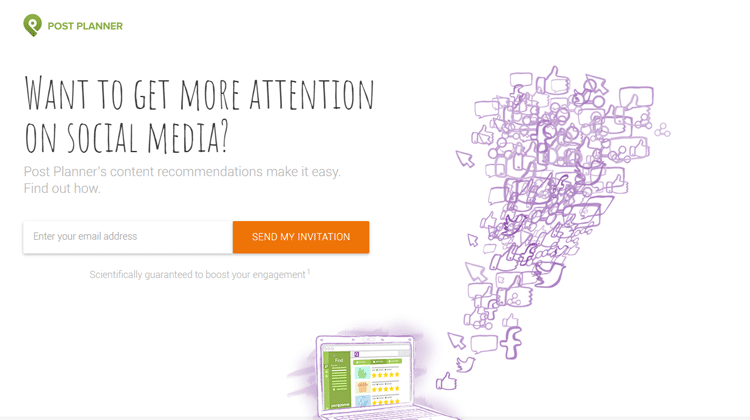 Best known for: Content discovery and trends tracking
Post Planner is a content discovery tool that assists social media managers with finding the right content using keywords, hashtags, and industry recommendations. The app also measures content performance through a five-star rating system so you can cherry-pick the content to showcase to your target audience.
Pricing
Post Planner offers five subscription plans, aside from a free-for-life basic version and a custom package for organizations requiring unlimited features. Paid plans start at $3 per month (Starter plan), if billed annually.
Pros
Lets you add your own content, which is then scored for virality
Allows posting to Facebook groups that you manage
Supports sharing and uploading of photos
Automatically adds evergreen content back to plan rotation
Star rating system to predict content performance - more stars, better content performance
Automates publishing from RSS feeds
Cons
Works with Facebook and Twitter only
No free trial for the paid options
No native mobile app yet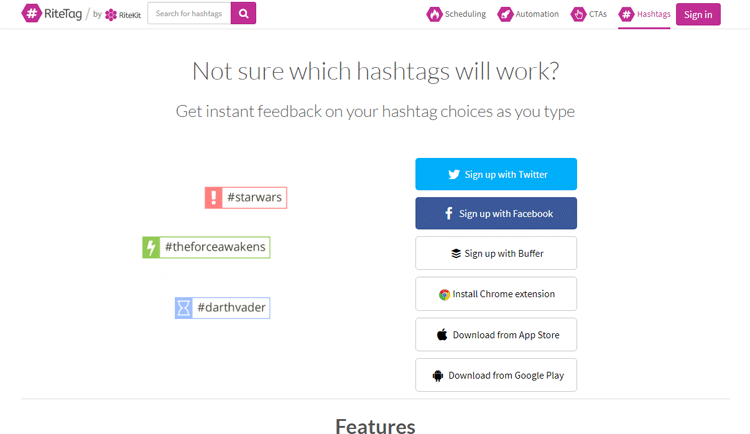 Best known for: Hashtag analysis and optimization
RiteTag is a hashtag optimization tool that helps users find the right hashtags for their social media campaigns. Using real-time engagement data, it provides instant feedback on your hashtags and identifies those that will generate good results.
Pricing
The pricing scheme for RightTag is simple and straightforward: $49 per year. A seven-day free trial is available.
Pros
Visibly warns you of problematic hashtags through color coding
Provides granular statistics on your chosen hashtag, such as unique tweets per hour, retweets per hour, hashtag exposure per hour, tweets with images, tweets with links, and tweets with mentions
Provides statistics on recommended hashtags, making it easy to pick out the most promising ones
Lists down which hashtags not to use
Available browser extensions: Chrome and Firefox
Available mobile apps: Android and iOS
Cons
Exclusively used for hashtag optimization only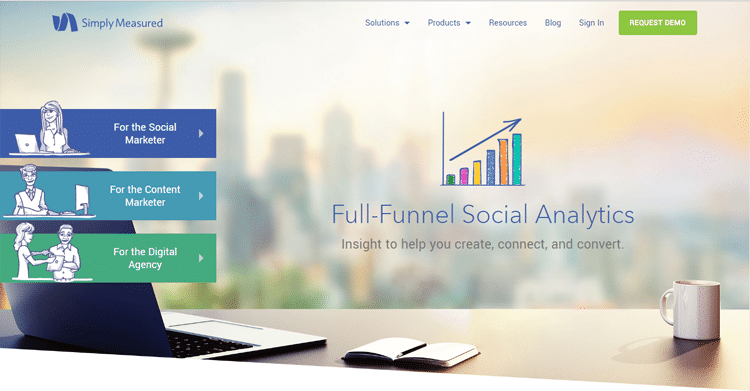 Best known for: Social listening and analytics
Simply Measured is a social listening tool that aids with brand reputation management. It also analyzes metrics across the different social networks, giving social media managers an in-depth look into their social media activities.
Pricing
Pricing for a Simply Measured subscription is not available on their website. Schedule a demo or call their sales department for more information.
Pros
Aggregation and analysis of social media data in one location
Supports the major social networks: Twitter, Facebook, Instagram, LinkedIn, Google+, YouTube, and Pinterest
Other solutions offered aside from social listening and analysis: conversion and content share tracking
Reports that can be generated in a variety of formats: Excel, Word, or PowerPoint
Helps improve SEO and tracks traffic generated via AdWords
Has built-in integrations with Tableau
Offers a social analytics API to analyze your data however you want it analyzed
Gathers data from Google Analytics
Provides free reports for a sampling of the data it generates, such as Twitter follower report,
Facebook fan page report, Facebook content analysis, Instagram user report, Vine tweet analysis, and social traffic report
Cons
Custom reporting may not be available for all users
Because it's feature-rich, may take a little getting used to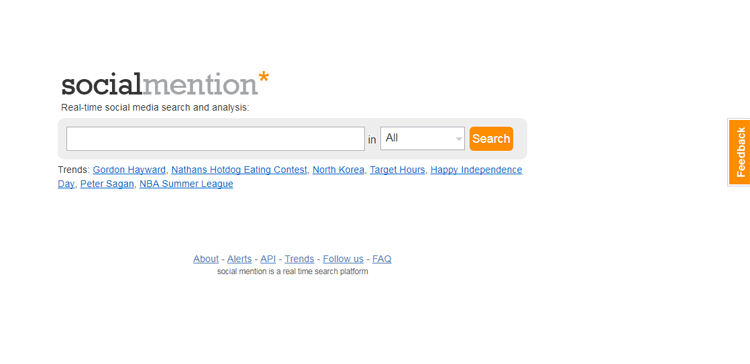 Best known for: Social listening and reputation management
Social Mention is a social listening tool that lets businesses track and monitor the conversations around their brands. It can be used for reputation management and for research into what piques the interest of your target market.
Pricing
Social Mention can be used for free. There are review channels, however, that peg the price per user per month anywhere from $20 to $29. Social Mention doesn't publicly provide such data. Please contact them for more information.
Pros
Simple and straightforward usage: input your query into the toolbar and specify the channel/s you want the app to perform a search on
Covers 100+ social media platforms, including Facebook, Twitter, YouTube, Digg, and Google
Functions as a user-generated content aggregator, as well as a search and analysis platform
Carries a third-party API for companies that want to stream real-time social media data into the applications they already use
Allows the setup of daily social media alerts
Cons
Doesn't offer advanced filtering options as most social media management tools do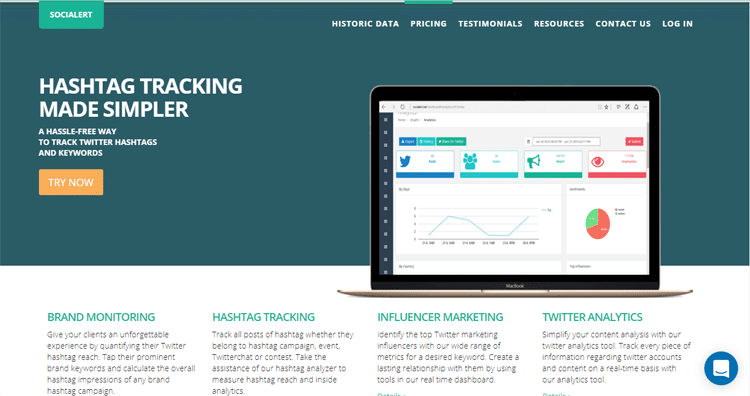 Best known for: Hashtag tracking and reputation management
Socialert makes hashtag tracking simpler and easier. The app, however, is more than just that. It also carries features and tools that perform brand monitoring, influencer marketing, and Twitter analytics.
Pricing
Socialert offers multiple subscription plans: Starter ($9.95 per month), Professional ($29.95 per month), Enterprise ($49.95 per month), and Corporate ($99.95 per month). A free three-day trial is likewise available.
Pros
Multiple functionalities in one platform: brand monitoring, hashtag tracking, influencer marketing, and Twitter analytics
Allows monitoring of every related keyword to amplify your brand's reach
Supports competitor analysis by helping you uncover their influencers, viral content, customers, and trending hashtags
Tracks hashtag mentions and usage
Provides top tweets, hashtags, and links
Allows social media managers to directly communicate with their audience from the dashboard
Has noise-reducing filters that let you hone in on the data that matter
Cons
Mainly focused on Twitter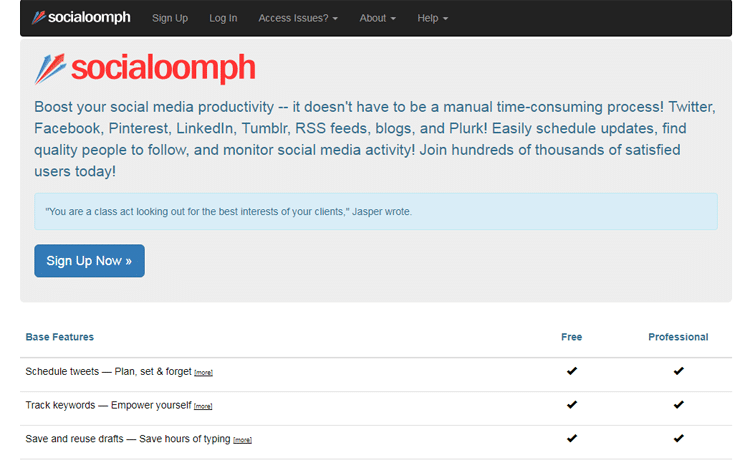 Best known for: Content discovery and posts scheduling
SocialOomph is a social media management and productivity app that lets you schedule posts, find people to follow, and monitor activities in your different networks from one centralized dashboard.
Pricing
A free account for Twitter-only management can accommodate up to five different profiles. If you need to monitor more than five, SocialOomph Twitter Unlimited costs $6.97 once every two weeks. SocialOomph Professional, on the other hand, costs $17.97 once every two weeks.
Pros
Supported social media channels: Twitter, Facebook, Pinterest, LinkedIn, Tumblr, and Plurk
Supports URL shortening and keywords tracking
Allows usage of RSS feeds to create updates
Supports unlimited accounts
Supports tweeting via email
Cons
Additional fees for auto-DM and follow-back features
Free account covers Twitter only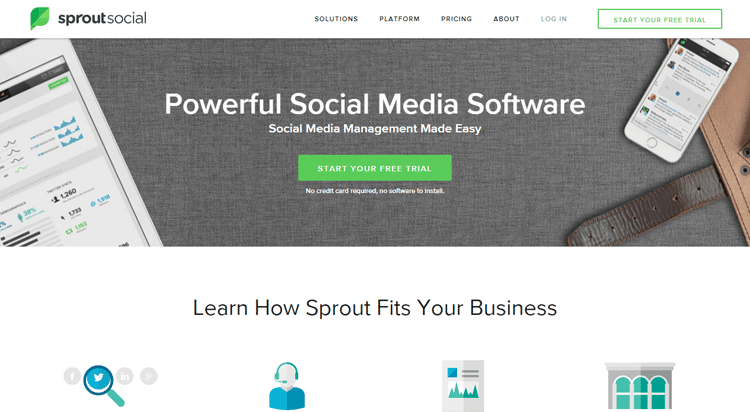 Best known for: Social media marketing and analytics
Sprout Social offers a host of social media management tools to facilitate the way brands communicate with their customers. It carries features that allows individual users and teams to manage their messages in one place, schedule and publish posts, collaborate on content via a shared content calendar, and unlock valuable social media insights through in-depth analytics.
Pricing
Sprout Social offers three pricing tiers: Premium at $99 per user per month, Corporate at $149 per user per month, and Enterprise at $249 per user per month. Free 30-day trials are available for all plans.
Pros
Clean and intuitive user interface
Detailed reporting
Solutions offered: smart inbox, post scheduling and publishing, keyword and location monitoring, a shared content calendar, task management and social CRM, in-depth reports, trends and engagement reports, competitive benchmark reporting, custom URL tracking, and advanced keyword listening
Supports multiple account management
Single-stream inbox for easier engagement with customers
Proprietary analytics tools to monitor and measure individual and team performance against responsiveness and engagement targets
Integrates with Google Analytics
Available apps: web app, browser plugin, Android, iPad and iOS apps
Cons
Doesn't connect with Pinterest
Cost on the high side to include an entire team
Advanced features only available to higher-priced subscription packages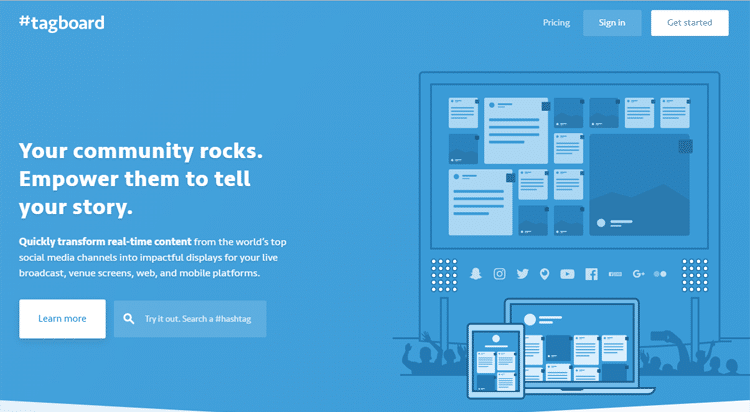 Best known for: Hashtag tracking and content publishing
Tagboard is not your ordinary hashtag tracker. While it does use hashtags to aggregate data from the various social media networks in real time, the app also embeds, reposts, and broadcasts content on various display screens.
Pricing
Tagboard offers two pricing categories: Social Media Displays and Digital + Web Only. The Starter plan for social media displays costs $500 per event, while Starter Digital for digital and web use only starts at $99 monthly, if billed annually.
Pros
Carries an intuitive, user-friendly interface
Allows content curation through hashtags
Supports sharing of content to your live audience at events such as conferences or sports arenas
Has filters for blocking negative or offensive posts
Supports retweeting and commenting from the Tagboard account
Automatic notifications for social media users who get featured
Comes with plugins for Chrome, Hootsuite, and Eventbrite
Cons
Social media display packages are on the pricey side
Valuable features come at an extra cost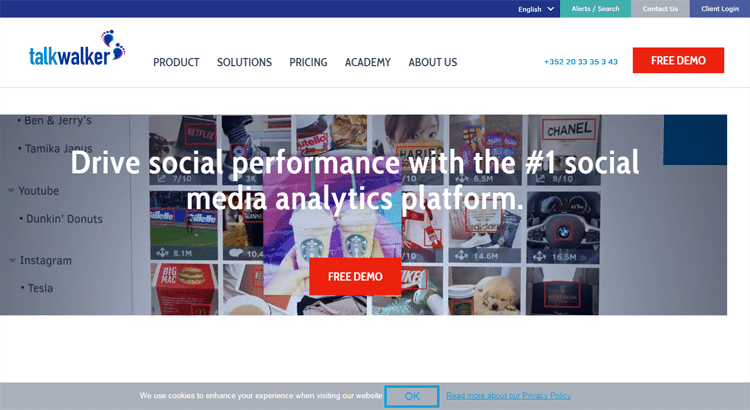 Best known for: Social media listening and analytics
Talkwalker does more than social listening, influencer identification, and hashtag tracking. In all, it's an online reputation management system that enables businesses to monitor what people are saying about their brands and take immediate action where necessary.
Pricing
Talkwalker plans start at $8,400 yearly (or $700 per month). A seven-day free trial is offered.
Pros
Social listening across 10+ social networks, 150 million websites, and in 187 languages automatically translated in-platform
Carries a proprietary image recognition technology, allowing users to analyze both images and text in social posts
Analytics features include virality map to replicate viral campaigns, trending score to pinpoint trends, use case dashboards, in-depth social channel analytics, and smart theme detection for issue identification
Sentiment analysis available in 25 languages
Instant and automatic alerts
Fully customizable crisis dashboards
Time-lapse visuals for trend comparison and measurement
Integrates with third-party apps such as Hootsuite and Tableau
Cons
Too pricey for startups and small businesses
Lacks the ability to directly publish to social media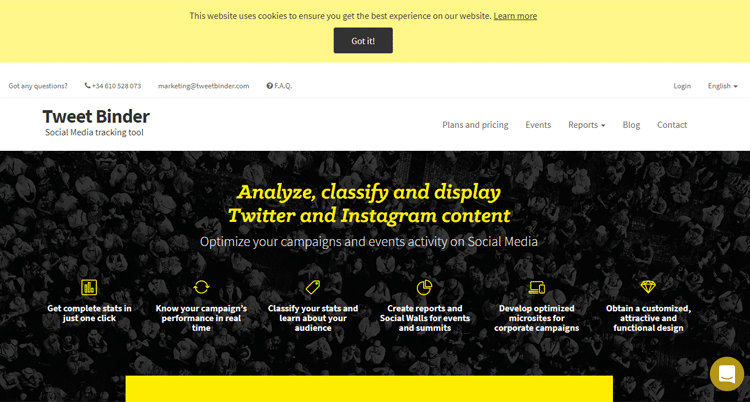 Best known for: Social media tracking and analysis
Tweet Binder is a social media tracking tool that allows users to classify, analyze, and optimize their Twitter and Instagram content for better campaign results. Aside from the ability to track hashtags and keywords, the app has features that showcases stats in just a click, which, in turn, helps social media managers understand their content's performance in real time.
Pricing
Tweet Binder offers three subscription packages: Twitter Plan (€150 per month), Twitter and Instagram Plan (€310 per month), and Instagram Plan (€210 per month).
Pros
Categorizes tweets or topics into binders for stats comparison between binders
Carries an analytics suite to know and measure the reach and impact of your Twitter campaigns
Can be used to integrate Twitter on customized "tweet walls" to show tweets, images, leaderboards, and rankings to your audience in real time
Creates customized microsites for your campaigns and events
Allows exportation of reports to Excel
Cons
Price may be on the steep side for small businesses and startups
Can only store up to 6,000 tweets from the last seven days and up to 35,000 tweets per month for real-time reports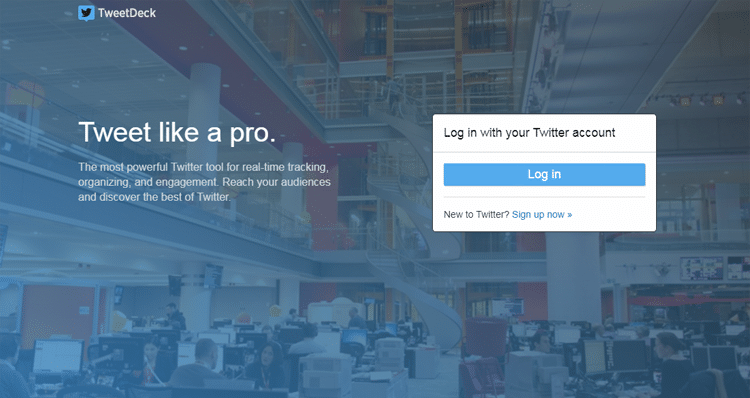 Best known for: Twitter marketing and monitoring
An app by Twitter for Twitter users, TweetDeck is a social media management tool that monitors how users interact with the content posted on your different accounts. It gives you an at-a-glance view of your mentions, messages, notifications, and real-time activity in your network.
Pricing
TweetDeck is absolutely free to use.
Pros
Supports link shortening
Lets you set up keyboard shortcuts and configurable alerts
Allows tweet scheduling
15 different column types that can be added to or deleted from your timeline anytime
Easily customizable look and feel
Tweet Grid, which basically is a collection of tweets, that can be customized and embedded on your website
Supports multiple users and team management
Cons
Shortened URLs that cannot be customized
Twitter-only application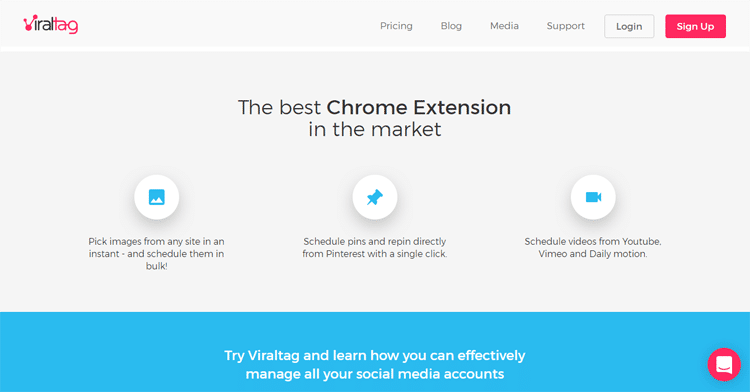 Best known for: Social media publishing and analytics
Viraltag is a multi-featured social media management and analytics tool that allows social media professionals to manage multiple social networks, schedule unlimited posts and updates, reuse evergreen content, collaborate with teams, and track and measure performance from one dashboard.
Pricing
Subscription packages start at $24 per month, if billed annually. Free 14-day trials are available.
Pros
Schedules multiple shares for a single post over different time periods
Lets users customize their messages to suit specific platforms' audiences
Supports sharing on Twitter, Facebook, Pinterest, and Instagram
Carries a built-in image editor
Supports uploading of multiple images at once
Integrates with Google Drive and Dropbox for uploading, editing, and scheduling of content in bulk
Provides the ability to add multiple RSS feeds, Flickr, and Instagram accounts for content curation
Has a Chrome extension and bookmarklet
Allows users to pin on multiple Pinterest accounts and boards at once
Supports URL shortening
Cons
Requires manual setup of each day's schedule
URL shortening may not automatically work across the board, such as on Facebook image posts with a URL in the description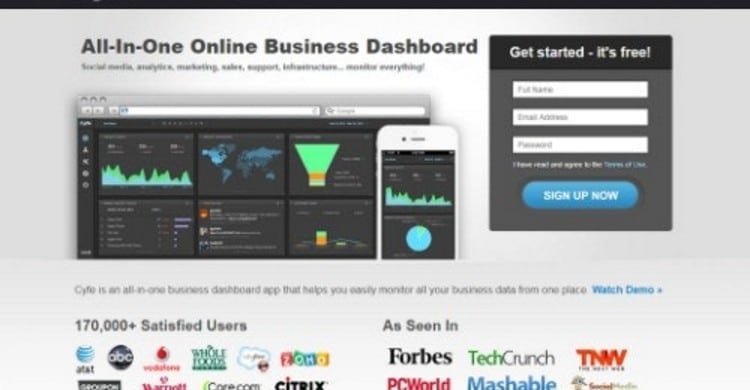 Cyfe is a dashboard app that monitors not just how your company fares on social media but in other aspects as well. It provides prebuilt widgets so you can start monitoring your social media and other KPIs immediately after signup.
Pricing
Cyfe Premium costs $19 per month ($14 per month for annual payments). Cyfe can also be used for free.
Pros
Offers unlimited widgets and dashboards

Data can be exported in various formats: PNG, PDF, JPEG, and CSV

Archives data older than 30 days - meaning, you never lose it

Allows you to showcase your data on any screen type

Lets you customize your data sources using its Push API and present your data however you want via custom widgets

Gives you the ability to share read-only URLs to the public

Offers prebuilt integrations with a number of third-party apps, such as Salesforce, Google AdWords, MailChimp, Freshbooks, Facebook, WordPress, YouTube, PayPal, Amazon Web Services, GoToWebinar, Constant Contact, Shopify, Stripe, Bing Ads, Vimeo, and many more
Cons
Offers limited reporting options for certain connections

Some reports may not be customizable

Limited panel design options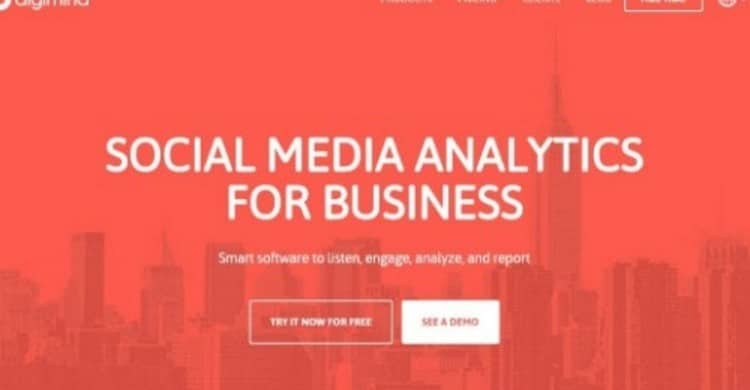 Digimind Social is a social media monitoring tool that allows marketers to listen to what people are saying about their brand. To help with brand reputation and management, real-time brand sentiment is analyzed across millions of sources that include social media and top publications.
Pricing
Pricing depends on the monitoring features you need for your business. Contact their sales team for more details.
Pros
Helps you protect your company's overall brand health

Lets you monitor your content's performance through Digimind's built-in social analytics feature

Allows you to track what people are saying about your company, products, services, your competitors, and even any topic that interests you

Provides the intelligence data you need to better engage with your target audience

Helps you tweak and improve your marketing strategy

Integrates with Hootsuite
Cons
May require some tech support at setup

Social data from some sources may be limited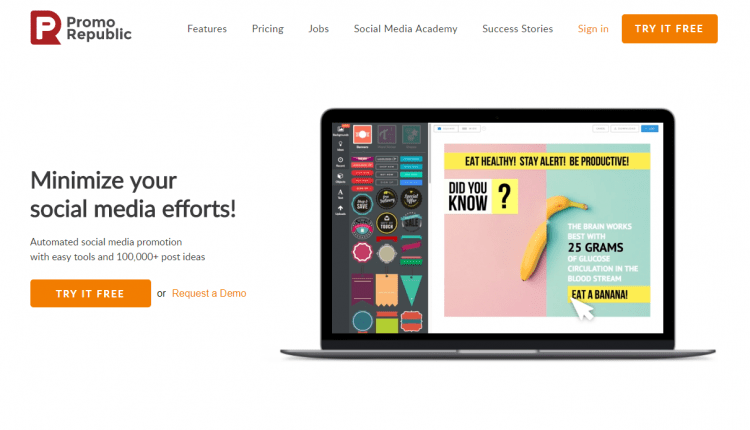 Best known for: Content creation, promotion, and automation.
Promo Republic is designed to help small businesses minimize their social media efforts with an extremely user-friendly tool. It features a graphic editor tool for you to create thumb-stopping visual posts, followed by content promotion ideas you can schedule with a click. And if creating and curating your own content takes up too much time, Promo Republic even has the option for you to go on autopilot - suggesting relevant content for you on a daily basis.
Pricing:
7-day free trial. Paid plan starts at $9 per month.
Pros
Amazing tool for small businesses to understand the type of content to post
Autopilot: daily post ideas and inspirations
Seamless integration to all social media platforms: Facebook, Instagram, Twitter, and LinkedIn
Integration with top industry apps such as Hubspot and Buffer
Great UI/UX: easy to use, easy to navigate
Cons
You can only use pre-built templates; you can't create your own.
Limited flexibility in graphic editor; you can't change the font colours of individual words/letters in the same sentence.
Non-responsive canvas. If you chose a Facebook pre-built template and shared the image on Instagram, the dimensions stay the same.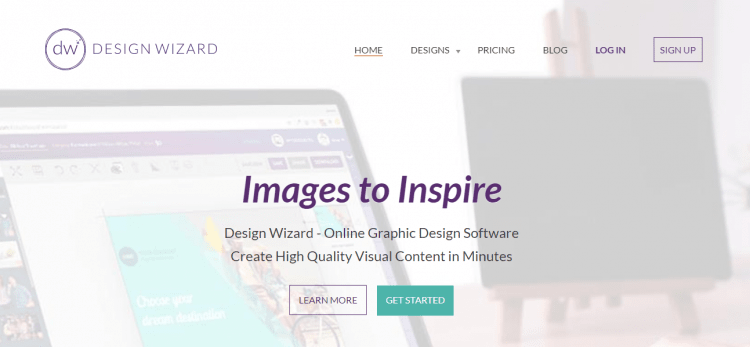 Best known for: Being an effortless way to create high-quality visuals with thousands of templates and personalised images.
Design Wizard is as its name says: a wizard in helping you create top-notch visual contents with its thousands of templates and over 1 million personalised images without the effort or the time necessary. It's easy to use and lets you create a stunning graphic - creative genius or otherwise.
Pricing
Design Wizard is free to use. They do have a paid plan starting at $9.99 per month.
Pros
Access to over 1.2 million curated images.
Ability to customise colour palettes and fonts.
Allows you to share your images instantly.
Responsive resizing for your designs
You can create folders of your favourite images.
Downloadable images with free preview
A simple use of licensing plan.
Database of over 120 free fonts.
Cons
System is still a little slow
Limited space to store uploaded photos
Final word
There you have it - the top 30 social media tools for 2018. We will be updating this post throughout 2018, so if there are any tools you'd like added to the list, feel free to send us a message.