Link building is one of the most surefire ways to skyrocket your website's rankings. We can't deny that massive quality link building was one of the methods that helped to rapidly put NinjaOutreach on the map.
So in this competitor link building guide, we will share the steps we took to acquire those relevant, quality links, coupled with real data from some of our own link building campaigns.
Back in January 2016, we started out with only around 400-plus links referring back to our site. But after noticing thousands of dead backlinks to a now defunct company, Topsy, we were able to grow an idea into an all-out link building strategy and into our very first competitor link building campaign.
By leveraging Topsy's thousands of dead backlinks, we ended up gaining more than a hundred links from this campaign alone, over the course of only a few months.
Here is a couple of examples of the kind of links we acquired:

How Did We Acquire High-Quality Backlinks?
Back in January, Neil Patel published a list post of 15 tools for more effective content promotion.
In his list, however, we were curious about the inclusion of one tool in particular: Topsy.
If you still remember, Topsy was once a small and free tool for analyzing Twitter data. Just as data analytics was exploding, Topsy had already made a name for itself with the speed and depth of the insights it yielded for its users.
In Neil Patel's own words, Topsy was "basically a high-quality Twitter search engine".
So what's up with Topsy?
You see, Topsy doesn't exist anymore. It was bought in 2013 by Apple and shut down two years later.
Before being shut down, the link for Topsy.com would redirect to Apple's support website. Now, it is completely non-existent.
We had found a broken link in Neil's post.
Now, having broken links in your posts can be bad for your SEO, so this hatched an idea.
Since Topsy and NinjaOutreach share certain similarities, we thought we could provide content to replace Topsy on the list, taking care of the broken link problem as, obviously, we still exist.
A link back to us won't lead to a bad-for-SEO dead URL.
So we shot Neil an email about our proposal, but we never got a response.
This is quite understandable, as the guy must receive thousands of emails, after all.
But the fire sparked by this idea was lit, and we transformed this discovery into a long-running campaign that would generate hundreds of backlinks for our business.
From 400+ to 1k+ Links; The Ultimate Competitor Link Building Guide
To make it easier to digest, we created a table of contents for what this guide is going to discuss.
Quick Navigation
Chapter 1: How to Identify Your Competitors
Chapter 2: Tools for Getting Backlinks
Chapter 3: How to Find The Right Prospects for Link Building
Chapter 4: How to Create a Kickass Template
Chapter 5: How to do a "Cold" Competitor Link Building Outreach
Chapter 6: What to do with Other Opportunities
Chapter 1: How to Identify Your Competitors
Finding out who your competitors are and conducting an analysis of the links they have is part and parcel of any link building campaign. In this section, we will give you a step by step of the competitor analysis process we used.
If you already have a competitor list, you can skip this part and head on over to the next section. If you don't have a list, or if you want to learn alternative ways to build one, then read on.
There are a couple of ways to compile a list of competitors, so let's start with the manual but free methods.
As mentioned, these methods typically won't cost you much, if at all, but they will be more time and effort consuming.

How to Use Google to Identify Your Competitors
Your competitors are scattered all over the web, and when it comes to scouring the web for your competitors' data, Google is your friend.
Go to the Google search bar and use this keyword structure:
[niche] + [your business offering]
Here are some sample queries using the format above:
Influencer marketing software - [Influencer marketing] + [software]
Food Supplements - [Food] + [supplements]
Copywriting service - [Copywriting] + [service]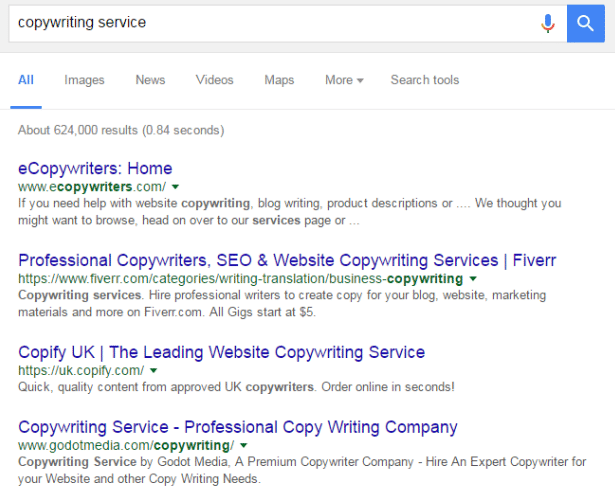 Once you have your results, you can then manually copy and paste the links into a spreadsheet.
The next method is also free but will need a bit more of time investment.

How to Use Quora to Identify Your Competitor
Quora is an online Q&A forum about mostly anything. Topics are categorized by tags, and there are sections for technology, startups, and even software.
It is a community where people can either write or answer questions ranging from day-to-day basic things like "how do you tie a tie" down to more topical questions like "Is influencer marketing dead? If so, what is the next big trend?"
The disadvantage with this tactic is that you are completely reliant on whether or not other people will respond to your query.
Take note, also, that this method may or may not work depending on the popularity of your niche in Quora.
When framing a question for Quora, pattern your question in such a way that the answer would center on the problem that your business solves and should lead to the type of service or product that your business provides.
For example, here's a question asked in the Quora community by a member:

And here is one of the answers he got: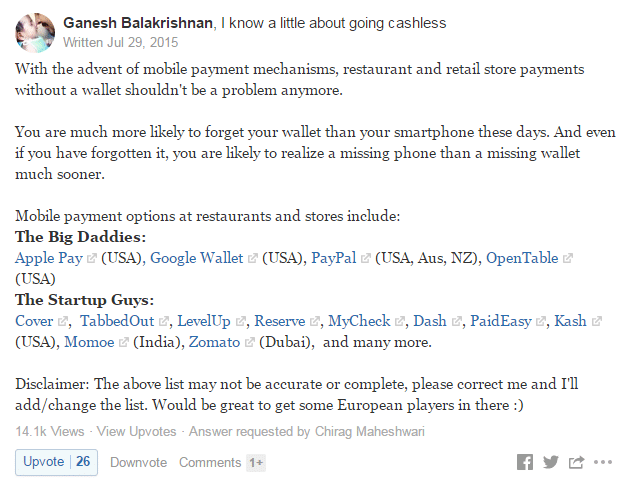 Whether the guy who replied listing links to several mobile payment providers is a marketer of any of the tools he mentioned is anybody's guess.
Still, if the original poster who asked the question is trying to find his competitors, then he certainly got a pretty comprehensive answer.
In our case, we'd ask:
"How can you easily find industry specific influencers in any niche?"
Or
"What's the best way to reach out to influencers?"
We're betting one or more people (or marketers) will come out of the woodwork to give a suggestion or more of their own (including a link back to their own tools, most probably).
The bottom line is, with this method, you are effectively letting other people compile a list of competitors for you.
However, this method should be used with caution and only as a complement to your existing competitor list building research. It should not be solely relied on.

How to Use NinjaOutreach to Identify Your Competitor
NinjaOutreach is a blogger outreach tool that also functions like a search engine for influencer prospecting.
If you already have NinjaOutreach, then you're in luck, as it will take you much faster to build your competitor list using our tool.
We have different search tabs for Content Prospecting, Live Search (kind of like what you'd find with Google), and Social Prospecting.
You simply enter your keywords, filter by tags if needed, and you're good to go.
If this sounds like mumbo jumbo to you, follow this link to know more.

Chapter 2: Tools for Getting Backlinks
Choosing a backlink tool is like going to the store to buy hiking boots—you have to try out a few different ones to know which one is the best fit, because you don't want to find yourself in the middle of a forest—or in this case, a link building campaign, with painful blisters.
So it's about trying different things and seeing which one is the best fit.
In this section, we'll show you how you can get backlinks from two of the tools we've used: MozOSE and Linkody.
We particularly chose these two because MozOSE has a free version and Linkody starts at only $9.90/month.

How to use MozOSE to get Backlinks
For MozOSE, you have to sign up first in order to be able to download anything.
Go here: https://moz.com/researchtools/ose/
Enter the website of one of your competitors (we'll use our own campaign as an example)
Once the results load, filter it by Target = "this root domain". It should look something like this: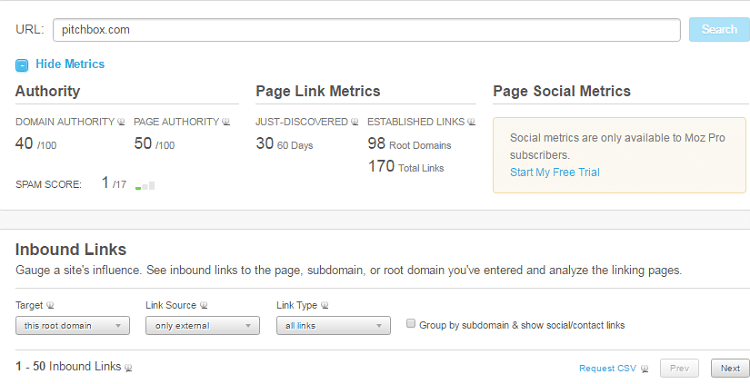 Get your spreadsheet file by clicking on "Request CSV" just beside the "prev" button. You will see a notification box that tells you that your request is being processed.
Click on 'Recent Report' at the top right. The page will load once your CSV file is ready, after which you can simply download it.
This is the file that you will get:

The two things you need are the first column (A), URL; and the second column (B), Title. These are the linked mentions of your competitor in other websites and these are what we call leads.
Keep this for now. Let's move on to Linkody.

How to use Linkody to get Backlinks
This one's a straightforward link monitoring tool. Here's how to use this tool for your link building effort.
Sign in and then click on 'Add Domain' at the top left:

When you see this page, enter your competitor's name and just hit "add domain"
Once you have the domains entered, wait a few minutes and it will start crawling your competitor's backlinks.
Once it's done crawling, you'll have something that should look like this:

Click on the export button on the right to get your CSV file.
You only need column D which contains the URL, and column V, which contains the Page Title (not shown in screenshot):

Other Tools You Can Use to Get Your Competitor's Backlinks
There are hundreds of link building tools out there, but we will only be recommending a couple more here.
That's because, as we said earlier in this section, we've used them firsthand. The ones we recommend are Linkody and MozOSE (because of the freemium).
But that's not to discredit the other tools out there. In fact, we personally believe that Ahrefs is the best link prospecting tool compared to the first two we mentioned since they probably have the largest and most comprehensive database.
But because we only need backlinks and not all the other features that Ahrefs offers, Linkody should be enough.

Chapter 3: How to Find The Right Prospects for Link Building
At this point, you already have an idea of how to effectively get your competitor's backlinks.
So let's move forward to the part where you will be spending the most time: Prospecting.

What is Prospecting?
Prospecting in this context simply means qualifying the leads that you already have (assuming you have gotten your competitor's backlinks already).
Ideally, you would want to create a document where you'd put down the procedure for the prospecting and indicate who, or what, exactly, you are looking for.

How to Qualify Your Leads
There are a couple of questions you need to define the answer to first to make this process a lot easier.
What links, exactly, are you looking for?
What's the best and fastest way to go over all your competitor's links?
Spotting Quick Wins to Decrease Your Outreach Efforts
Quick wins are the type of posts that follow a certain format. Here are some examples:
Tool roundup posts
List posts and expanded list posts
How-to type of posts
These are the type of posts that can be edited without changing the value or the context that the post is trying to provide.
The most common type of post for us to get a link from is the tool roundup post. That's because it is easy to update and adding another resource to the post is actually good for the readers as well, since they'll have more options.
List posts are the second most common type of quick win links and these have a high probability of success in terms of getting a backlink.
That's because it is easy to update a list post as long as what you are trying to add is relevant and builds on the value that the post provides.
How-to type posts are a hit-or-miss. Mostly because when people are writing a how-to post, they are likely to include the tools they have personally used.
Remember, if you are not sure if you can link from a certain article, it pays to check the content first. It only takes about 5 to 10 seconds to determine whether you can get a link or not.
How to determine if a post is a quick win:
Load the content
Type 'ctrl+f' and try to find if any competitor was included in the article
Find out what the author wrote about your competitor then ask yourself, "will my business fit in or not?"
To put more context into this, let's see if you can help me find a quick win post.
Assume that you're trying to get a link for a tool like NinjaOutreach. See if you can identify which among the 3 links below is a quick win:
If you answered the first one, that first URL from INC is not a quick win since it is not likely that INC will respond to your outreach.
The second URL from social media examiner is definitely NOT a quick win, either, since the headline and content are about a topic not related to any core function of our NinjaOutreach tool.
The third article, on the other hand, is a great fit.
Just by skimming the headline, we'd immediately know that this is something we can possibly link to because it talks about influencer identification tools (which is essentially what the NinjaOutreach tool is).
With this in mind, we reach out to the blog poster and ask them to recommend our tool as well (and in our case, they did).
What to do with the leftover prospects?
Keep leftover prospects somewhere for future use. Once you exhaust all of your quick win prospects, you can go back to those prospects left over and review them individually.

How to do Link Prospecting via Google Sheets or Excel
If you opt to do the prospect qualifying in a traditional way (via spreadsheet), here's a sample spreadsheet we recommend you start with.
There are 3 sheets in the spreadsheet:
Competitor Sheet

This is where you'll put all the links you've gathered (URL and Page Title)
Qualify the leads here.

Delete all the links you don't need
Keep all the prospects for competitor link building
Add a note for any other opportunities

Once you're done qualifying the prospects, do a "sort range" in the spreadsheet and sort it by column C (notes)

Quick wins

From the Competitor Sheet, copy all the prospects that don't have a note in them
Paste it in the quick wins sheet
This is going to be your primary competitor link building sheet

Other Opportunities

From the Competitor Sheet, copy all the prospects that have notes in them
Paste in 'other opportunities' sheet
This is your secondary outreach list
How to do Link Prospecting via NinjaOutreach
If you have NinjaOutreach, follow the process we have included in the guide below.
If you don't have NinjaOutreach, check out our trial and skim our quick guide. Basically, NinjaOutreach will speed up the prospecting process because our tool will crawl all your URLs to find the email addresses you need.
Click here to go to the guide.

Chapter 4: How to Create a Kick-Ass Template
Every campaign needs a kick-ass template, and when we launched our own broken link building campaign that capitalized on Topsy's dead link, here's the template we used:
Subject: You Have A Broken
Hey [Receiver First Name],
I was reading your post [Page Title] - and I noticed you had a broken link pointing at Topsy.com, which I thought you might want to fix.
If you feel like our tool (ninjaoutreach.com) can be used as a replacement for that spot, we would be delighted to have you link it.
Thanks for reading my email and have a nice day
Cheers,
[Sender First Name]
Now let's check out the analytics results for that template

273 people opened the email, 152 clicked on the website link we included in the email, and 62 people responded.
That translated into an email open rate of 70% and a reply rate of 16%, which is not bad at all.
For our competitor link-building campaign, we did a few tweaks to the template to increase positive response rates.
We tried to improve our outreach email while keeping these 3 things in mind:
What will make receivers open the email? How can we immediately pique their interest?
What more value can we give? How can we entice them to respond positively?
How can we make it easier for the receiver to take action?
Guided by these questions, we changed our template a few times and this is what we came up with:
Subject: You mentioned [competitor name] in your post!
Hey [Receiver First Name],
I was reading your post [Page Title] - and I noticed you have linked to [competitor name] as a tool you recommend in the article.
The link can be found [near the beginning, by the middle, close to the end] of the post near [quote the nearest section here]" and the nearest section in a quote here"]. Here's a screenshot of that:
Our tool, [name of your tool/service], is similar to [competitor] and I was wondering if you could add us to your post as an alternative. The main difference between our tool and [competitor] is that [indicate a few differences].
We can also provide the necessary content to add to your post, and we'll also promote this across our socials. How does that sound?
No worries if this isn't something you can do
Anyway, how are things on your end and what are you working on at the moment?
Perhaps we can help with something you are working on and maybe collaborate a bit. Let me know!
Thanks for reading my email and have a nice day!
Cheers,
[Sender First name]
NinjaOutreach.com

So let's look at how this next outreach template did in its analytics results:
As you can see, we got an open rate of 97% and a response rate of 72%, which is considerably better!
Now, let's look at the elements we believe contributed to these great results.

Write An Interesting Email Subject Line
From our experience, mentioning a competitor makes for a good email subject line.
Why?
Since you'll be reaching out to targets who already mentioned one (or more) of your competitors before, you can assume they are more familiar with your competitor than they are with you.
So, mentioning the particular competitor/s your target mentioned in the subject creates an instant sense of familiarity and consequently begets curiosity.
In our case, this curiosity drove more targets to open our emails.

Write A Targeted Email Heading
To write a targeted email heading, you need to find a high-ranking person's name.
If you can only find a generic email address ([email protected], [email protected], [email protected], etc.) on your target's website, go to their about page, check the name of the highest ranking person in their marketing department, and address that person.
Companies usually go with the [email protected] email format, but if you want to make sure, you can check out our comprehensive guide on how to use email guessers to find email addresses find email addresses.
Specifically referring to someone from the company is a good way to get noticed. Aside from the fact that you are personalizing your email, you are also indicating that you know who you should be dealing with.
At the very least, you will get your email forwarded to the right person in the company when you send it via their generic email addresses.

First Section: Introduce Your Brand
Usually, you'd start a template by introducing yourself but in our case, we wanted to let the receiver know from the top that we are targeting them specifically.
So we began our email by showcasing what we knew about the receivers so far: we mention their post, which is relevant to our niche, and point out that they have linked to one of our competitors.
Make it short and casual.
For the second part of your outreach intro, point to exactly where you found the link you are referring to so the receiver knows that you have at least scanned through their post.

Second Section: Deliver Your Pitch
The next section is where you deliver your pitch. This is where you now introduce yourself and explain your reason for emailing them.
Again, keep it short, friendly, and don't make it sound salesy.

Add Value And Make It Easier To Respond Positively To Your Email
Make it easier for your targets to respond positively. In other words, show your receiver what's in it for them.
For example, offering to write some short content that they can add to the post you want them to link to saves them time, and ups your chances of getting a positive response.
After all, if you step forward and work out a way to make this less of a hassle for them, there's a better chance that you'll get your link.

Build A Relationship with Bloggers
Turn any possible rejection (since you'll definitely receive your fair share) into an opportunity by building a relationship with your blogger targets.
In our template, we have lines that say this:
Anyway, how are things on your end and what are you working on at the moment?
Perhaps we can help with something you are working on and maybe collaborate a bit. Let me know!
This is another way of saying "if you don't want to put our link on your website, let's try something else where we can provide value to one another."
This has proven to be an effective means of getting a response, because we have been receiving responses where they don't link to us, but they want to know what else we can do to help one another.
For example, we received proposals for cross content promotion, where we share their content on our social media channels and they do the same for ours.
We have a bunch of these going on because of our link building effort.
Eventually, if you manage to build a relationship, you will see that they will link to you in one of their future posts.
So don't neglect to build blogger relationships—they usually eventually pay off.

Chapter 5: How to do a "Cold" Competitor Link Building Outreach
Now that you have the leads and you've created your own template, it's time to switch over to Outreach Mode.
Start sending out 25-50 emails per day while you continue to do prospecting for other competitors on your list.
There are two ways to go about this.
The more painstaking route is by manually emailing your leads.

Via Manual Emailing
Manual emailing is pretty self-explanatory so we won't be tackling a step-by-step procedure on how to do it.
Just have your list open in one browser tab and your email client in another. Copy and paste your template, the respective email addresses, and subjects.
Make the necessary customization for each receiver as needed.
The advantage of this method is that it is free, but as we've mentioned before, it is very time-consuming.
A faster, more convenient method to perform a massive email outreach is via the NinjaOutreach tool.

Via NinjaOutreach
With NinjaOutreach, you won't need to copy and paste the templates manually. NinjaOutreach templates have several sections where your input is expected (for personalization) before sending out, and there are also customized fields you can add from within the platform, which will give you huge time savings.
We also have automated emailing available, but we recommend sending the emails out one at a time so you can personalize a bit more.
The Case For Follow-up Emailing
When your first email goes unanswered, you still have a 21% chance of getting a reply if you send out the second one.
Why is a follow-up email important?
It might not create an incredible number of new links, but gaining an additional 10 or 20 more links per month as a result of follow-ups is a pretty good result for minimal effort.
Again, there are a few ways to go about this.
For NinjaOutreach users, you can simply integrate your email and automatically send emails and follow ups using our tool.
Just click this Outreach Guide for step by step instructions.
For non-users of NinjaOutreach, let us introduce you to what, in our opinion, is the most cost effective tool for this particular purpose: Boomerang.
What is Boomerang and is it Good for Link Building?
Boomerang is a tool you can use to schedule emails to be sent at a later time. It also allows you to set email reminders.
Boomerang has a free plan, but you need to get at least the $4.99/month plan so you can send an unlimited number of emails.
This discussion on Quora will tell you more about this app, as well as introduce other apps that are used for email marketing.
When Not To Follow-up?
Knowing when not to follow up is a skill every good marketer should master.
For us, here are the "no more follow-up" signals that we watch out for:
When they say NO - For the most obvious reason, don't push it if a lead says no. You can send a thank you note for the time they took to actually respond, but nothing more beyond that.
When they have already responded - this will make you look like you don't know what you are doing, which is not good. Make sure you track all responses and follow up only with those who haven't responded yet.
When your email bounces - if the reason your email bounced is because it was not sent to the correct email address, don't bother following up (of course!).
Absent the issues mentioned, it's always best to send a follow-up email
Here's a simple follow-up email template that we use:
Hi [Receiver First Name],
Wondering if you were able to read my previous email?
Let me know what you think 🙂
Cheers,
[Sender First Name]
For an actual example, check out these screenshots.
You can see the email thread where we initially reached out to Bob, and then our subsequent follow-up email when he didn't respond roughly a month after.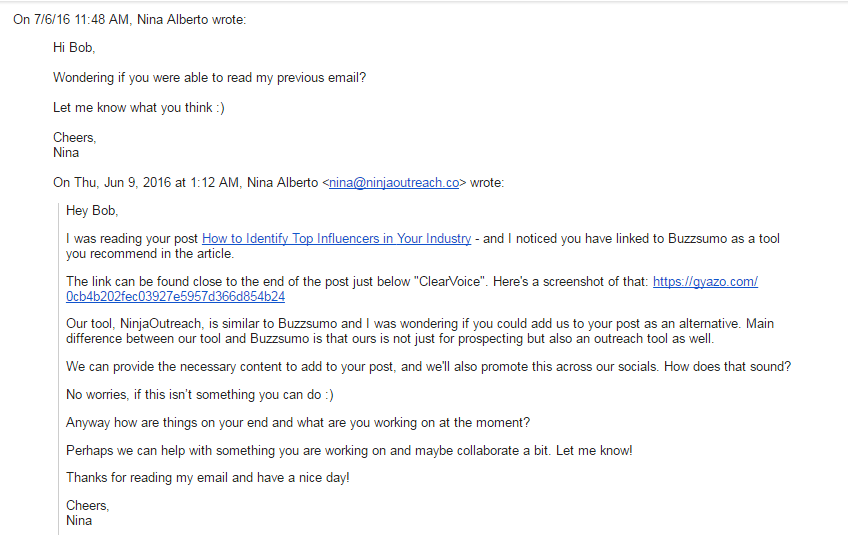 This is what Bob said after he read the followup: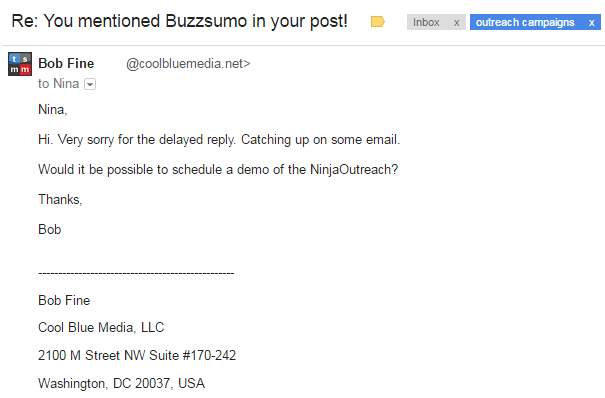 As you can see, after our second email, Bob eventually replied and even requested to be scheduled for a NinjaOutreach demo.
If we had simply given up after the first try and not sent a follow-up email, we wouldn't have been able to open up that opportunity.
Lesson learned? Unless specifically told not to, just follow up.

Chapter 6: What to do with Other Opportunities?
One of the key things about qualifying a competitor's backlinks is that you get to see other opportunities as you go along.
What other opportunities are we talking about?
Here are a few:
Guest posts
Product reviews
Interviews
Now you might be wondering, "how am I going to spot these opportunities if I have thousands of links to filter through?"
That's easy.
Find out how they link to your competitor
Did your competitor write a guest post on that site to get the backlink?
Did the webmaster publish a product review about your competitor's tool?
Was your competitor a podcast guest?
These are just a few of the things that you can get from your list of prospects. We kid you not when we say that you'll have tons of data like these by the time you are done qualifying your leads.
So what do you do with all these opportunities?
You take advantage of it.
Right after you finish all the quick wins (which would take you months if you have a lot of competitors), go back to your leftover prospects list and continue your outreach campaign.
OR
You can run the competitor link-building campaign while doing outreach for guest posting, product reviews, and interviews.
Chapter 7: Conclusion
As of this writing, we are still running this link building campaign.
A link is a link, after all, and this is one of the easiest ways to get your brand out there.
Plus, because you're linking to related content, this makes it look more natural in search engines. Obviously, if you are linking to unrelated content, it's a red flag.
But since we're only linking to posts that mention tools similar to ours, we don't think there's a chance for us tripping along the way.
A key factor here is to always only reach out to quality websites. If you think a website is a bit spammy and does not produce quality content, skip it.
Link Building Starts with Finding the Right Prospects
Do the prospecting right and you will be off to a good start.
Mind you, it might be really slow to start with, but in the long run, these links will make you rank higher naturally in search engines, so it will be worth it.
After all, sites that are linking to you determine your popularity. The more quality sites you get a link from, the more important and popular your website becomes.
You can see this truth demonstrated more obviously when you get prospects that have a high Domain Authority to link to you. Links from top sites like that are gold!
P.S. We have a bonus for you!
Come up with an outline of your campaign based off this guide that we have here. Send it to this email address <[email protected]> and let's see how we can add more value to that.
We get a lot of emails on a daily basis, but we'll make sure to put in some time for you.
Questions? We will answer them in the comments!
---
Aris is the Outreach Manager for NinjaOutreach. He manages outreach and link building campaigns. He is also in charge of customer success inside the NinjaOutreach app and customer acquisition outside of it.