Cold email outreach is the best way to get more sign ups, visitors, engagements and ultimately business growth. If you have an online website or product, chances are, you are always looking for ways to make these things happen.
Here is how cold outreach can easily be one of your best sources of leads and opportunities to build relationships and networks.
Using Cold Email Outreach to grow Visitors and Leads
Cold Outreach using mediums like content or events often get overlooked The most important things to keep in mind. When you do cold email outreach do not forget that:
a) people don't have time for you
b) people like to feel like you've spent time on them
Which is why any cold email outreach guide will tell you to offer something to the person you are contacting.
At Nudgespot, we started cold outreach for a blog we wrote on 75+ Actionable Insights and Resources to Customer Success for SaaS Startups. We were convinced what we were offering was a solid, useful resource for startups everywhere.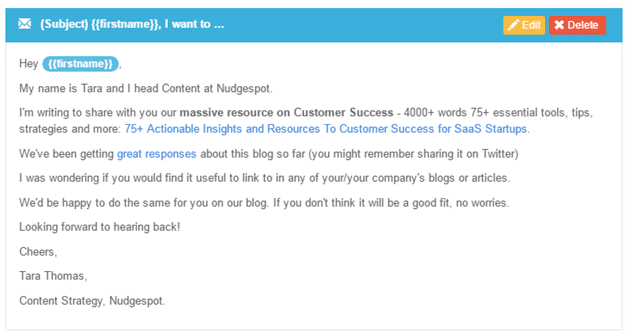 Share and ye shall receive
In a month or so, I decided that it would be good to offer something more to the people I reached out to.
With an audience largely comprising CEOs, SaaS founders, Content marketers and more, it made sense to do something to help them promote their writing.
The benefits of using UTM Parameters in your Outreach Emails
Emailing somebody to share your blog, emailing someone to tell them that you shared their blog is two very different things, with very different results.
You can even link in a few places in the email to your website!
This helps you tag the links you send out in your email outreach text with details of the outreach campaign and the duration, CTA and so on.
Once you tag your links, you can use them to identify the visitors that reached your website receiving your email. This is a great way to indicate which outreach programs are working best for you.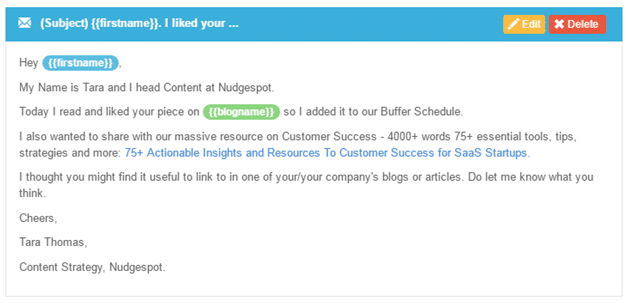 Cold Outreach is bringing me Visitors! Now what?
Once you know your outreach program is bringing visitors to your website, you have to make sure your website is prepared to receive them. Just like how when you invite your vegan friend over, you don't offer them meat. When you know what a particular visitor likes or is looking for, that's what you need to offer. Visitors to a website want something they are interested in, not something they are looking to avoid. This is where using auto-triggered messages and UTM parameters in tandem can make a big difference.
For instance, for a Quora campaign, you could put together a discounted deal for anyone who arrived at your homepage from answers you provided on Quora like we did.
With tailored in-app messages for Quora customers, we started to see some pretty awesome results every month.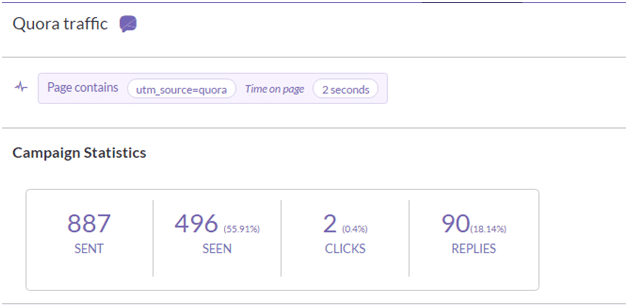 Image Source: app.nudgespot.com
On Facebook and LinkedIn groups, you could post offering demos to your product or discounts on certain plans and create relevant greeting messages for the user when they show interest and click.
For emails sent through cold outreach, you decide, according to your CTA, what would provide the most contextual information and engagement for a visitor, even if it is as simple as auto triggering a message with an incentive to nudge them towards a subscription or sign up.
How Do I Use Auto Triggered Messages and UTM Parameters?
One of the many benefits of attaching UTM parameters to a post on the web is the fact that you can tag them with metadata and campaign information about the sites you post them on.
You can set an auto-triggered message to pop up whenever somebody arrives at your website from a URL containing your campaign parameters. Potential campaigns you could set up are
Messages to engage visitors who receive your cold outreach mails.
Discounts or Special Offers for visitors from a particular source.
Feedback from users once they attend one of your webinars or read one of your ebooks.
Lead Nurturing campaigns for users who sign up from different sources.
To see if this is working, you can also filter and search through your signed up users by UTM parameters to understand how many of your visitors convert to signups through which medium. To make sure you are achieving the results you want to, it is best to find a tool that lets you set goals and timelines to can measure against when you are running a campaign.
To make sure you are achieving the results you want to, it is best to find a tool that lets you set goals and timelines to can measure against when you are running a campaign.
How to Set up a Outreach Campaign With Auto-Triggered Messaged and UTM Parameters
The first step to creating your campaign is building UTM parameters into your links using a link tracker or google's URL builder.
At the other end, you need to set up an auto triggered in-app campaign using your communication tool.
Using an in-app messaging platform, you can create a campaign using the condition "Page URL contains." In this case, utmsource=quora, combined with the "time on page"

Once you have visitors coming in from your cold outreach, with say, UTM source=mailer, it is important to ensure that you guide them through the interaction angle of the auto-triggered message in a way that context is not lost.
Make your calls to action clear to a visitor before they arrive at your website.
Engaging Visitors You Might Otherwise Lose
When you can create a way that immediately engages visitors on your website, before they get distracted or navigate away, you have a powerful asset.
What you say here matters, so don't mess it up!
This is an important stage of your communication. It is also your opportunity to make a sale or signup out of every cold outreach communication that you have sent out.
Make sure not to oversell what you are offering, but instead, educate a visitor and try to answer their immediate questions.
These are usually questions you learn from every conversation/interaction.
If you find that these messages aren't getting the kind of responses you expected, use a heatmap or click tracking tool to understand when your visitors drop off without engaging in conversation. Also, try to build
Also, try to build auto-responders if you aren't available to respond immediately. This way, you capture email addresses and this helps you keep the conversation alive later.
Conversations to Generate Leads
Once you begin a conversation with them, you need to make use of the information available to you on the visitor profile to engage the visitor better. Be alert to factors like geographical location, or time zone (you can even create create auto-triggered messages according to these factors).
If a visitor likes what they see, chances are they will respond or sign up. If not, they'll leave or at the least, leave their email address to stay in touch if they are interested.
This is a good second best to achieve because it helps you build the basis of a lead nurturing campaign.
Lead Nurturing for Your (now) Warm Leads
Now that you have a bunch of warm, qualified leads that you generated through the process of cold outreach and auto-triggered messages, you have the opportunity to reach out to them in a more direct, targeted campaign.
Let's say you have users that showed interest in a feature you don't have yet – like language support. Now is your chance to send a short, quick updates while you plan and build the feature – even get feedback from a small focus group of warm leads.
This doesn't just serve the purpose of increasing engagement, it also makes your leads more invested in the new feature and makes them look forward to using it.
You build your own product evangelists just by targeting the right audience.
Hubspot's tips on building a successful lead nurture campaign is a great place to start composing the different stages of your campaign. Remember to make your unsubscribe option available clearly (in accordance with the CAN-SPAM regulations) just in case you've reached out to someone who isn't interested in receiving your mails.
The Conversion
Once a user sign up, you can validate the connection between your cold outreach and the signup depending on the UTM parameters, the auto triggered messages, and the conversations you had in between.
You have now completed that circuitous yet rewarding path to conversion from cold outreach.
But the journey doesn't end here.
You can still use auto-triggered in-app messages throughout the customer journey onboard and retain your customers, while making sure to prevent churn.
How else you would engage with your visitor?
---
Tara is a Content Strategist at Nudgespot, An In-App Messaging Platform that helps Online Businesses acquire and engage their customers.