Time for the fifth, monthly business review at NinjaOutreach.
May saw the business grow to around $1600 MRR from April's $1200. We seem to be adding around $400 a month, but I think that's about to pick up starting in June. We hit a small milestone recently as well, crossing the 50 customer threshold.
Here's what went right, and what went wrong.
Development - State Of The Web App
In April we released the beta of the web app, and we've been developing it since.
Unfortunately, we haven't managed to take it commercial yet, because we are also changing our payment processing from Paypal to Stripe, and that has taken a few weeks and is delaying deployment of some key features for the web app.
My expectation is that we'll launch it in June. It's going to be a two step process:
Firstly, we'll make it commercial on the website, meaning that instead of just getting the desktop app, users will be delivered both the desktop AND the web app. There is some slight disconnect in the feature set, so it's useful to have access to both.
Secondly, if/when feedback is positive enough, we'll do an official product launch to our list for the web app. Currently there are over 300 users on the web app who are potential customers down the line. Often, when someone cancels, we send them the invite to the web app, and that's how we've been promoting it thus far.
One of the features I'm really excited about launching is social search. We've had a lot of feedback that the search needs to be more relevant, and the way we're attacking this is by leveraging the social APIs of platforms like Twitter and Instagram to bring in millions of users and their profiles. It's a very different approach to the more content-centric search we have now. Here's what it will look like:
Here's what it will look like:

It's basically done, we're just waiting on the Stripe integration to launch that into the web app.
Marketing - A New Focus On Content
A big marketing win for us was redesigning our pricing page.
I'll be honest, I've traditionally been of the opinion that CRO is not worth the time investment for websites that don't get a lot of traffic (like ours).
But I had an idea for changing the pricing page.
The previous page was very long form. It highlighted all the features, had FAQs, a competitive comparison table, etc.
I decided I wanted to try a very simple approach. Lead with a quote for social proof, and then have the pricing table - no questions, no features, nothing.
We didn't split test this, I just went with it, but the result has been fantastic. The old pricing table converted visitors at around 5%, while the new one converts them at around 7-7.5%.
As you can see, over the last few weeks, our signups have grown significantly.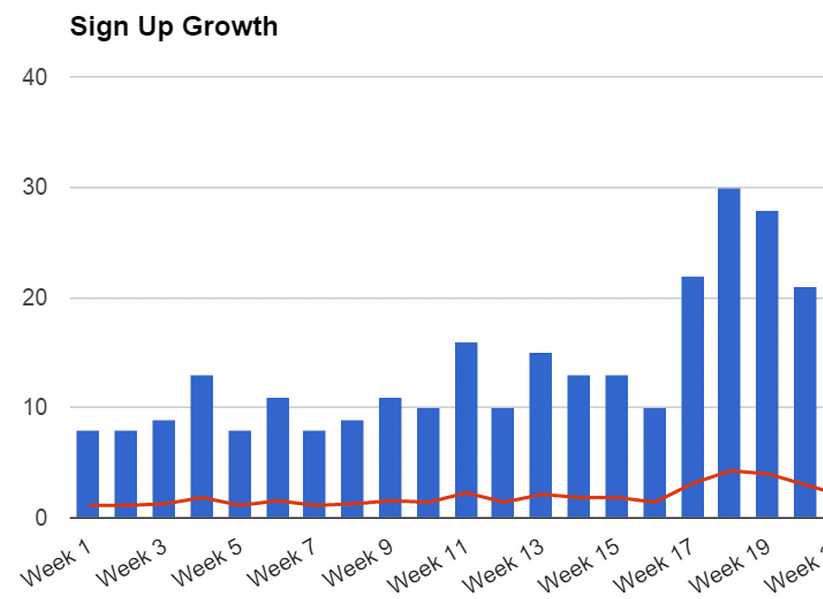 Which, fingers crossed, will make for a nice June.
The lesson here is that if you have a website that doesn't get a ton of traffic, then you have try big changes, aka, the key pages that lead to conversions like the home page and the pricing page. That's the only way to really get a significant list in my opinion.
In addition to this conversion win, we've been focusing a lot on our content and tried to come out with some really nice ultimate list type posts, including:
The first two received over 700 social shares combined, which is way above the norm for us. I suspect they'll rank well in the search engines, and they've definitely led to a boost in our traffic for May: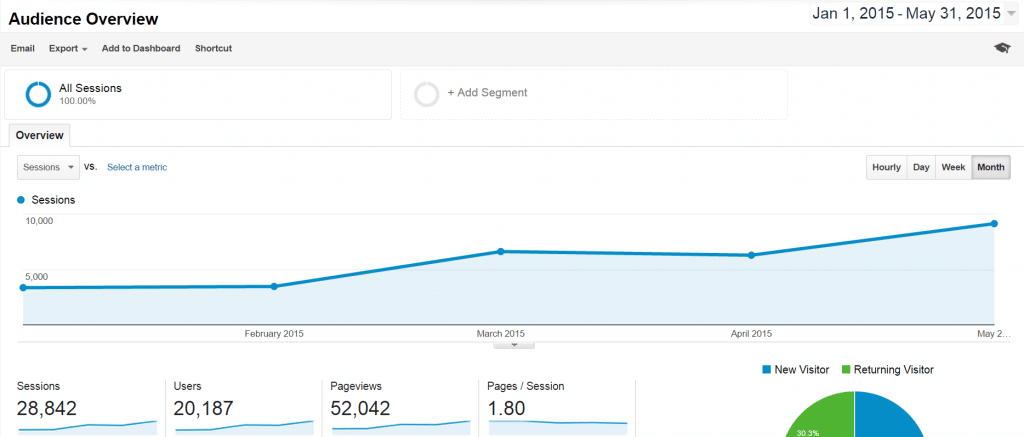 In my experience, this increase in traffic doesn't hold 100% but it DOES transition you to a new plateau, so to speak. Basically, June will probably not be as good as May, but I bet it will be better than March and April, and if we play our cards right we'll continue to move upwards from there.
I have some great posts planned for June including some expert roundups and blogger awards. It's taken the focus of the blog a bit away from NinjaOutreach, but the incorporation of influencers into our content is definitely generating more buzz, so we're going to stick with that for now.
Conclusion and Next Steps
I'm not sure if June is going to be THE month, where we finally launch the web app and bust out our signup growth, but we're definitely making progress and for now the business continues to grow every month.