I love free tools, especially when they sit in my browser. That is why I have prepared a list of top 100 SEO chrome extension for you.
Over the years I've tried dozens of Chrome Extensions, and I've finally gotten around to compiling a resource guide for SEOs that strictly deals with Chrome Extensions, broken out into their respective categories.
But before I get into that list , I want to highlight the 5 that constantly sit in my toolbar.

1. Gyazo – Grab any image on the web and share it instantly. (Productivity)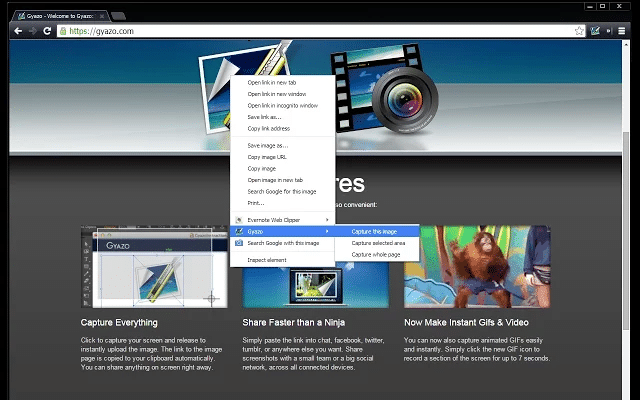 This has literally replaced Screencast for me.
In the past, to grab an image I would usually do the following:
Take a print screen
Copy it to Paint
Crop it/make edits
Send the file off, or upload it to Screencast and share the URL
Now I simply use Gyazo to highlight an area, and it produces a shareable URL for me instantly. I still make edits from time to time in Paint, but I can then just take another screenshot of Paint, bypassing the need to save and upload.
2. Grammarly – Spell check and grammar check your writing when communicating online.  (Blogging)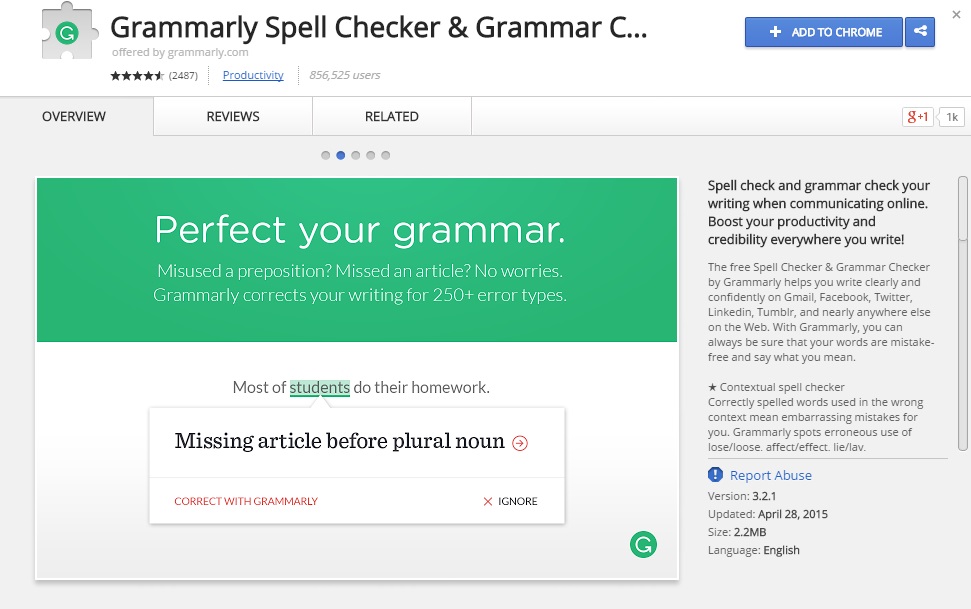 I write. A lot.
And chances are you do too.
Chances are also that you're not aware of how many typos and grammar mistakes you're making.
Thankfully I now have Grammarly, which scans my writing on the go and highlights all my grammar incidences, while simultaneously making suggestions for improvements. It's caught a lot of mistakes I would have been embarrassed about otherwise.
3. Ninja Outreach – Adds powerful prospecting and outreach capabilities to your web browser on the fly. (SEO)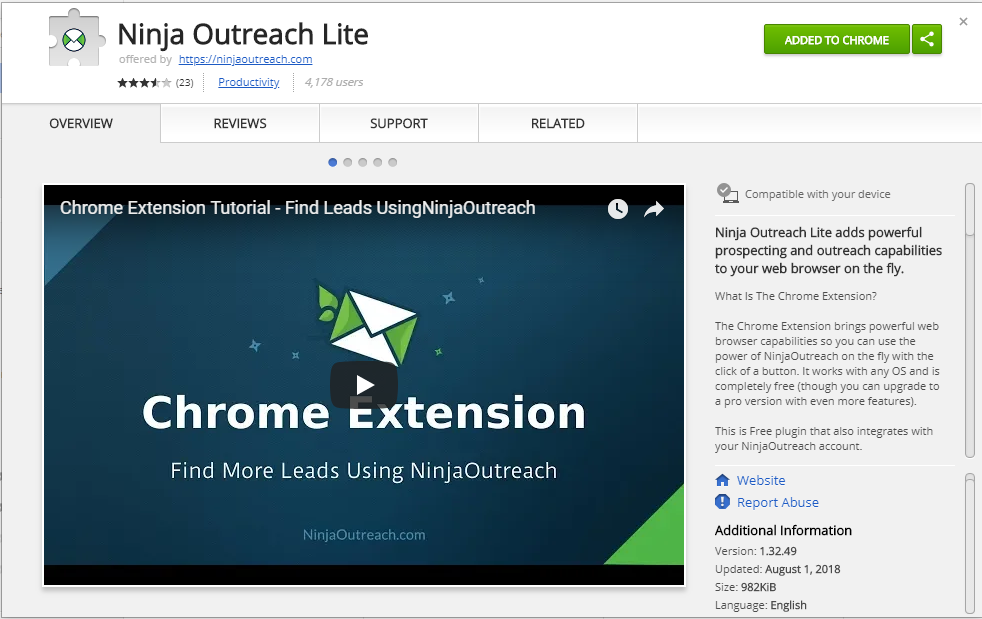 Disclosure – This is our own chrome extension (plugin), but like all of the others, it is free.
Ninja Outreach basically tells me just about everything I need to know about a blogger and website in seconds. Here's a few things it brings back (when available):
Name, location, and contact info like email address
Social profiles and following
Special posts they've written like guest posts, product reviews, and infographics
RSS feeds and demographic information
SEO metrics like Moz, Alexa, and Klout
It can also be used for outreach (emailing and contact form filling).
4. AdBlock – The #1 ad blocker with over 200 million downloads. Blocks YouTube, Facebook and ALL ads by default. (Productivity)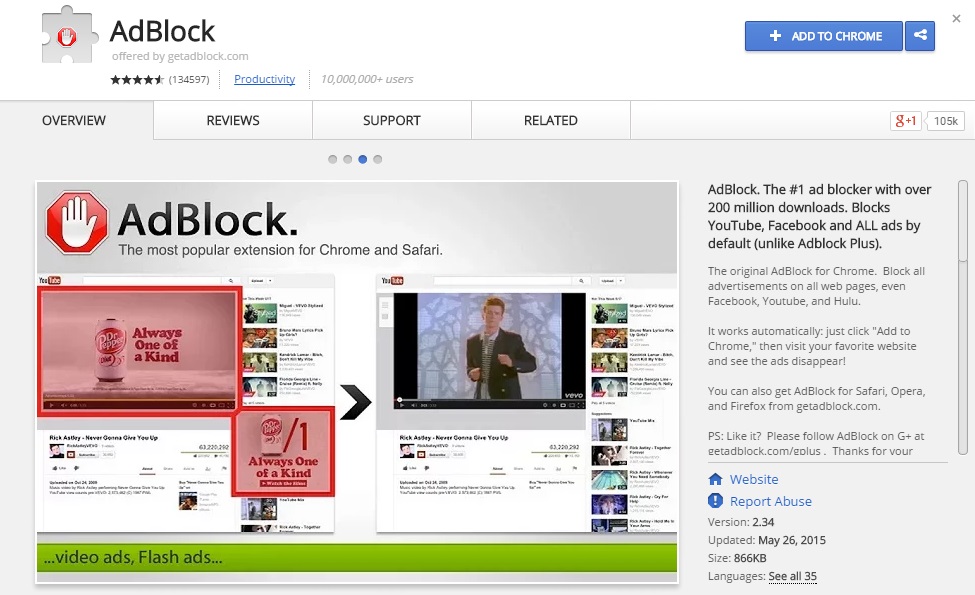 I don't like ads (unless I'm the one benefiting from them), so this handy plugin blocks them from my screen.
I like that it just sits there and does its job, requiring absolutely nothing from me.
Having no ads appear on my screen helps me focus and increases my productivity.
5. Rescue Time – Keep track of the time you spend in Chrome, and get a clear picture of what you were doing all day. (Productivity)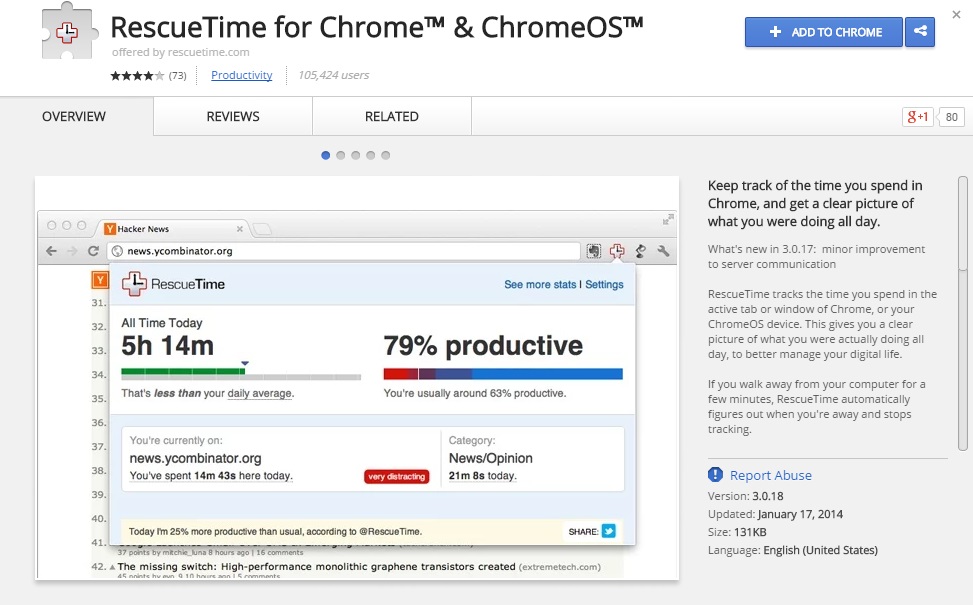 I've tried several time trackers, but my major problem with most of them is they require me to manually state which task.
For me, this is contrary to the idea of increasing my productivity.
Rescue Time is different – it sits in the background and provides me a weekly update.
Curated on websites such as Mashable, Moz, Business Insider, Make Use Of, etc.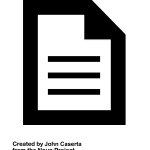 Blogging
Designer & Developer Tools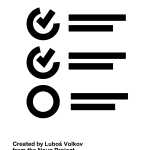 Productivity & Task Management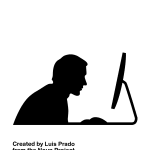 Search Tools & SEO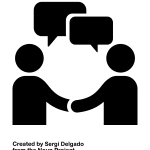 Social & Communication
Instagram for Chrome: Instagram extension for Chrome.
Delicious Bookmarks Extension: Chrome extension for Delicious.
Pin It Button: Pin the things you find on the web.
Pocket: Save articles, videos and more for later.
Rapportive: Shows LinkedIn profiles in your Gmail
CircleCount.com: shows information about Google+ Profiles and Pages.
goo.gl URL Shortener: Shorten url with goo.gl.
Shareaholic for Google Chrome™: Share & bookmark content.
Spling Google Chrome™ Extension: Adds the current page to Spling
Sprout Social: Share content to Twitter, Facebook or LinkedIn.
TwitShot for Chrome: Spice up your tweets with an image.
Google Mail Checker: Displays the number of unread messages in your GMail.