Using the right strategy for SEO for your website can be helpful to the customer as he/she can be directed in the right manner. For those who own a e-commerce business, quality content and healthy SEO are the absolute essentials as most of the traffic is generated through search engines.
Modern SEO depends on lots of elements like back links, user experience, user activity on your site, popularity on the social media etc. The website thus, should be user-friendly and also search friendly. For businesses like e-commerce it is very tough to maintain all the aspect of SEO, specially the user experience one. So, the e-commerce back link building is the ultimate way to rank high on search engine.
Let us start with the 5 tips which work ideal for building healthy E-Commerce Back-links.
1. Making a Website With UX in Mind
Make sure to take that extra effort to have a 'good look', which, in other words, means free of any clutter like advertisements, products and also content which might not be appealing to the user. If dealing with multiple products, you need to make sure that each product has a specific page dedicated to it. Businesses need to know that a website creates a large impact on link building and also conversions.
2. Writing Guests Posts on Reputed Websites
This is not writing for the sole purpose of getting a back-link in the author-bio. You need a specific strategy to ensure you get what you are looking for. A few guidelines can give you the right picture of how to do this.

Make sure 'NOT' to look for websites which have the page, "write for us". The ideal websites to get your links are those which do not have this page.
Reputation plays an important role but make sure that the reputed websites you opt for are in the niche of your business. It is a waste of time and energy writing for those websites which have a lower level of domain authority as compared to yours. This can bring down the value of your link and there is also a possibility of the removal of the link without any notice.
You need to write more than once for every website or else it will be known that you are looking for back-links.
The 'No follow' links might not be good enough for SEO but work well for followers on the social media.
Monitoring the links from your guests' posts is essential. This can be done by making use of a specific SEO tool. There are chances of the links being changed by the webmasters to 'no follow' from 'do follow'. It is essential you have this knowledge.
You need to link to the social media accounts in the author bio of articles.
3. Leaving Footprints on The Back-links
All the back-links should be natural, including those for a SEO. In case of guests' posts, you need to change the author bio and have different pen names. It is advisable not to use similar descriptions for your website throughout the web. In case the links are untraceable and natural, it is a win-win situation.
4. Building Good Back-links
Links from real websites are the best ones for your web site. This should consist of good content and a lot of social media share. You can think of building these on your own as long as these are in your niche coming from the authority websites. Checking out what the competitors are up to for building back-links can be helpful. Some common methods for the building of back-links are
Niche Forums
Broken links method
Links with info graphics
E-mail to influential's
Guests posts on websites which are related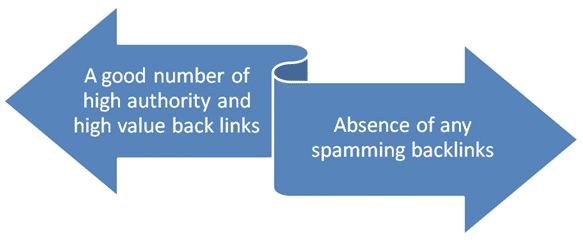 5. Leverage of Relationships:
You can think of requesting for back-links with the people you do business with. This includes suppliers, vendors, manufacturers, dealers and more. Most of the businesses these days use websites and this can be linked back to your business and create a healthy e-commerce back link for you. You can also think of requesting back-links from relatives and friends, or if you have another website, you can think of the required back-links from these(only if they are in the same niche).
Importance of Back-Links
We have guided you on few tips to get the required back-links for your E-commerce, but it is essential to know how these can be beneficial.
Building of brand authority is one big benefit of being able to get back-links for your website. Good back-links can arouse the interest of the customers to your brand and present your business as a source of information within the specific industry and probably, result in linking of the website to your content. This ensures natural back-links.
Links which are of a high quality on sites with a heavy traffic can drive targeted traffic to your website 24 hours a day. One link on the right website can direct traffic to your website for many years.
Most of us who come across a good content and find a back-link informing them about the writer, there are more than one chances, they tend to click on that specific link to know more. This can result in relationships which tend to be good for your business. This also might lead to connecting on the social media. In short, an ideal link can bring a consumer to your business without any help of the search engines.

Recognition comes easily with the content posted by you on a specific website. The individual reading the content posted will either click on the link or probably, register the brand name with the content. If your website is not immediately visited, the brand name gets associated with the posted content.
To conclude, make sure you do not follow tips given by sources which are not known. It is almost impossible that someone who has been able to rank first in the Google Search will share the strategy with anyone. It is advisable to make an effort and do the required research and tests so that you are assured of good back-links for your website. You need to make sure that you avoid getting links from pages which have thin content as these are hardly valued, besides this, avoid websites that are unable to provide value to its users.
---
Author Bio
Manas Kumar is the CTO, digital marketer and SEO analyst of usa seo company. He owns the best seo firm and currently working for 1SEOIn.