These days Ecommerce content marketing is is hard work.
Sure, the basics still remain the same - you just want more folks to buy more stuff.
But while the trend for eCommerce growth is positive, it's become a really crowded landscape. Where you were once up against a handful of competitors you're now facing some seriously big guns like Amazon.
So how do you stand out?
You've tried pay per click but you just haven't got $100K a month to spend on it (like your competitors).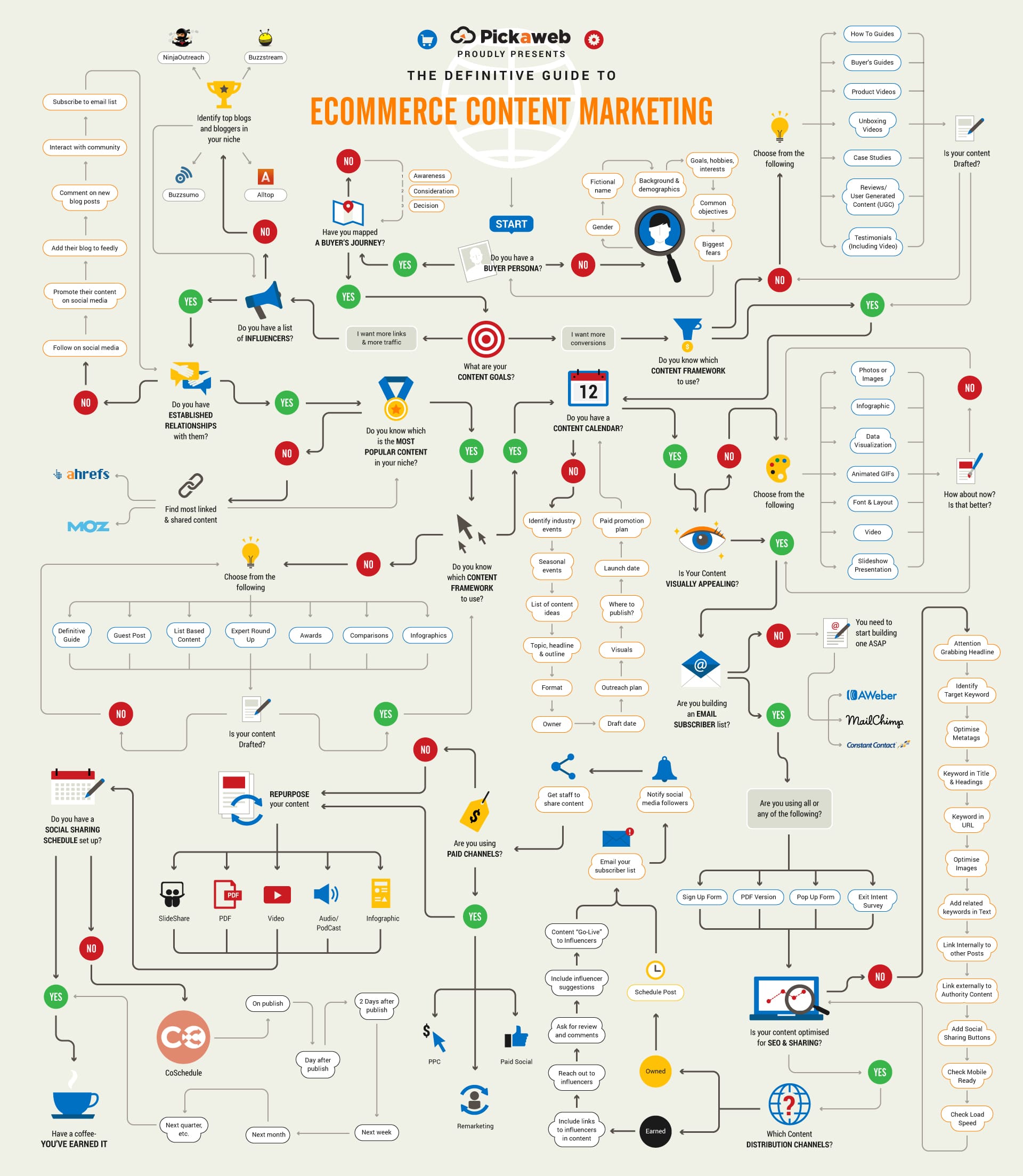 Click image to open interactive version
Social Media - yeah right - like you've really got 5 hours a day to spend on that. These companies have got teams of people running their accounts for them.
But don't despair! There is a way that even small independent online retailers can start to take on the big guys.
It's called eCommerce Content Marketing and it's a step by step, predictable process that anyone can master. It's the central point where SEO, Blogging, Link Building, Social Media and even Pay per Click all meet.
It's perfect for you because you know your product inside out, you speak the language of your customers and because it's all about sharing your passion and knowledge of your products.
It's about positioning you as an authority and reaching out to influencers who can help with the heavy lifting of getting the right people over to your website.
But it isn't just about getting traffic. It's about conversion too. Ask yourself this: What's better 10,000 uninterested browsers or 1,000 motivated buyers? I know which I'd rather have. Sure, traffic is nice, but conversions are nicer.
Why Content Marketing For eCommerce?
Since 2012 when Google went nuclear on spammy websites and underhand link building practices the focus has shifted towards a more editorial, authority-based approach to content.
Take a look at some leading eCommerce websites - they don't even look like eCommerce websites as we know (or knew) them. They look more like a magazine with a shop attached.
And why is that happening? Two reasons.
Firstly the big brands know that consumers are far savvier these days. They want to engage more with a brand if they are going to buy from them.
But also because in this post Panda/Penguin world, Google is calling the shots and if you want to send the right signals to Google you'll need to learn rather pronto how to get good quality links from good quality sites.
And let's face it, building links to product pages was always a difficult task and always will be. But linking to great content - that's a much easier challenge.
But creating great content isn't just about getting links. Great content works for improved conversion rates too. And the chances are that you already have most of the content you need. It's either on your hard drive, in your outbox somewhere or up in your head.
The trick is to get it from 'up there' to 'out there'.
And here's how…
Let's Start at the Beginning - The Client
Any marketing campaign starts with the client. You'll need a Buyer Persona to start with - an Avatar of your ideal client. You need to understand their background their needs, desires, fears, and concerns.
Give them a name, draw a picture of them and get inside their head. Don't get too hung up about getting this absolutely perfect. If you have clients already pick your top 10 and create it around what you know about them.
It's not an exact science and you can refine this over time. Don't lose momentum - that's the key point.
Once you've got this you need to think about the steps that lead them to you - the Buyer's Journey.
This will include:
Awareness - they realise they have a problem or a desire or some kind of need
Consideration - they're looking at the alternatives?
Decision - they've thought it through, compared the options and they're ready to buy
This is where your content ideas will come from. These are the questions they are asking. Again, this is an ongoing process but initially, look for the highlights and focus on quick wins.
Once you've nailed this you can start to think about the types of content you can create. This falls into our two headline categories:
Content for Authority and Backlinks
Content for Conversion
Let's look at each in more detail.
Content for Authority and Backlinks
Remember the good old days of Article Marketing?
You know - just create some thin content, upload to your favourite article directory, get your spinning software out and spin it out to hundreds of article directories (you didn't really do that did you? Go on, I won't say anything).
Let's be honest - that was a cheap way of building links. What made it so annoying for many was that it was just so easy for people to manipulate the rankings with such low-quality content. People were asking why should someone with a low-quality website be able to outrank a genuine website run by passionate owners who had years of experience.
But Google took notice and pressed the nuclear button in 2012. Since then the winners have been either the ones with the cleanest backlink profile of the ones who create the best content and have the best outreach.
That's the thing, it isn't JUST about great content. I mean great content is great, but it's just not that great if no one else is reading or seeing (or hearing) it.
So your starting point when it comes to Authority Content is to find your influencers. These are the people with an audience. The movers and shakers who already have a following and who are willing to share and promote great content.
And that includes YOUR great content.
Now don't think you only need to go for the A grade, superstar bloggers (although that would be nice and it will happen if you keep at it). There are plenty of up and coming bloggers who have a loyal and committed following.
They don't necessarily need to be exactly on message either. That's to say they don't have to be writing exactly about what you do or what you sell. The important point is that they have an audience with similar characteristics to your buyer persona.
Of course, what they must have is a blog and a social media following and this should be on the back of the great content that they themselves create.
There are aggregator sites that pull together lists of the best blogs as well as tools that will help you identify the movers and shakers. Initially, you just need to narrow down your list of targets.
OK, so you've got your buyer persona, you understand the journey they go on to find you and you have a list of Influencers who are going to help you with the heavy lifting.
Now you need to create that content, but fortunately, there are some proven content formats that you can use. Here they are:
Definitive/Ultimate Guides - You are an Authority and this type of content proves it. Heavyweight content from 5,000 to 20,000 words in length, these will work now and long into the future for you
Guest Posting - If you thought guest blogging was dead, then guess again... There are tons of authority websites (i.e. your influencers) that want great content from knowledgeable people (i.e. you)
List Based Content - Whether it's top 10, top 20 or top 100, people love lists. Easy to create, easy to digest and fun to share, lists are always going to be a popular content format
Expert Round Up - Want Authority content? Ask the experts. An approach you can use once you have built some relationships with your influencers
Awards - You can create your own awards - whether it's for product of the year with different categories or even best blogs of the year, featuring (of course) your Influencers
Comparisons - What's best? iPhone or Android? WordPress or Joomla? People are busy and they appreciate it when someone has done the hard work of comparing two products side by side to give them an expert opinion and this type of content will attract links for you
Infographics - There are good infographics and there are bad infographics and there are awful infographics. Just remember that the purpose of an Infographic is to make a complex issue easier, rather than more difficult to understand
Conversion Content
Content for Authority and Backlinks may be the sexier content cousin, but Content for Conversion is the everyday workhorse that can make a huge difference to any eCommerce store.
Again, there are proven frameworks for you to choose from:
Plan your Content Calendar
Now that you've got plenty of content ideas you need to create a plan of action. But committing to content is an ongoing process, not a flash in the pan.
Remember that building relationships with influencers take time and effort. There's no need to wait until the final content is ready. You can start straight away as we shall explain below.
In terms of the content itself, brainstorm some ideas and go for the easy, quick wins first. Lay out a schedule and assign it to whoever can create it.
If you're on your own then you may need some external help particularly for the graphics or maybe copywriting if that's not your thing. There are loads of freelancer sites that you can use to keep a lid on costs.
Visual Aspects of Content Marketing
One area that should not be overlooked is the visual aspects of your content, particularly if your focus is on shares and backlinks.
Let's speak frankly: if you want to get your content featured, shared and linked to it had better look the part. Visuals are vital these days.
But not only that, you have a great opportunity to repurpose content - content that may already be on your website or your blog.
Here are some options for every piece of content you create:
Slides - Slideshare gets some serious traffic and creating content into slides is a quick and easy option
PDF - If you have great content on your site then offer a free PDF download too - some people just prefer their content that way
Video - Can you complement that Definitive Guide or that Buyer's Guide with a useful informative video?
Audio - The death of Podcasting has been greatly exaggerated. Some people just prefer the spoken word
Infographics - Apart from standalone infographics, can you repurpose more of your written content into visual content?
Don't Forget to Optimise Your Content
You've done all of the hard work to create your content but optimising it is a vital step that's easy to overlook in the eagerness to get it published.
Use this SEO checklist to remind yourself:
Create an attention grabbing headline
Identify your target keywords
Make sure Metatags, Headings, and URLs are optimised
Any images should be optimised too
Include your keywords naturally throughout your text
Link internally to other pages where possible, i.e. product pages other content
Link to Influencer's content too
Make sure social sharing buttons are visible and functioning
Check for mobile friendliness and speed
Or you could simply opt-in to an e-commerce SEO service if you simply don't have time to do all these yourself.
Now the Fun Starts - Content Outreach
You can actually start your outreach before you have any content ready. Remember your Influencers? You can follow them on social media, subscribe to their blog, be the first to comment and join in with their community.
We don't want to be too prescriptive here - this is an ongoing process and isn't necessarily linear i.e. do A, then B, then C. The point is that you need to get on their radar at some point and the sooner you throw your hat into the ring the better.
Also, use the Outreach tools to speed up the whole process.
But once your content is ready you can definitely ramp up your outreach. You're like a rock band taking their latest work on tour. The aim is to get it in front of as many eyeballs as possible.
If you've been working with your Influencers to create the content or if you've linked to their content then you should be able to get some quick wins. Just politely ask them to share it with their audience.
Most times you'll be pleasantly surprised because you've prepared the ground in advance by developing a relationship with them.
But don't forget your own clients or subscribers or followers. Over time these numbers will increase if you just follow the steps we have outlined.
Finally, it would be a shame if your content was a one hit wonder. You've worked hard to create some great content and hopefully, there will be some evergreen content there. So make sure you set reminders to promote it after a week, a fortnight, each month, every quarter, etc..
There are some great tools out there that will automate all of this for you.
And that's all there is to it. Now you've got a step by step plan for your eCommerce Content Marketing Plan.
So let us have your thoughts. What type of content do you favour and what works best for you when it comes to outreach? Leave a comment below.
---
Tony Messer is the Co-founder of Pickaweb (web hosting provider) & Author of The Lazy Website - Follow him on @AntonyMesser