The Fastest Way to Get Backlinks Using Competitor
Using your competitors to find new backlinks is a strategy that has been around for quite a while, but this post shows a different perspective on how to execute it - fast and with a high conversion rate. Finding quality backlinks and contacting hundreds of websites with this technique can take less than an hour.
If you are reading this post, there are high chances that your income depends on scoring some link juice. That's fair, same here! Google is always keeping us busy with constant updates and making sure that no day is the same. That is the reason our time is our most precious asset.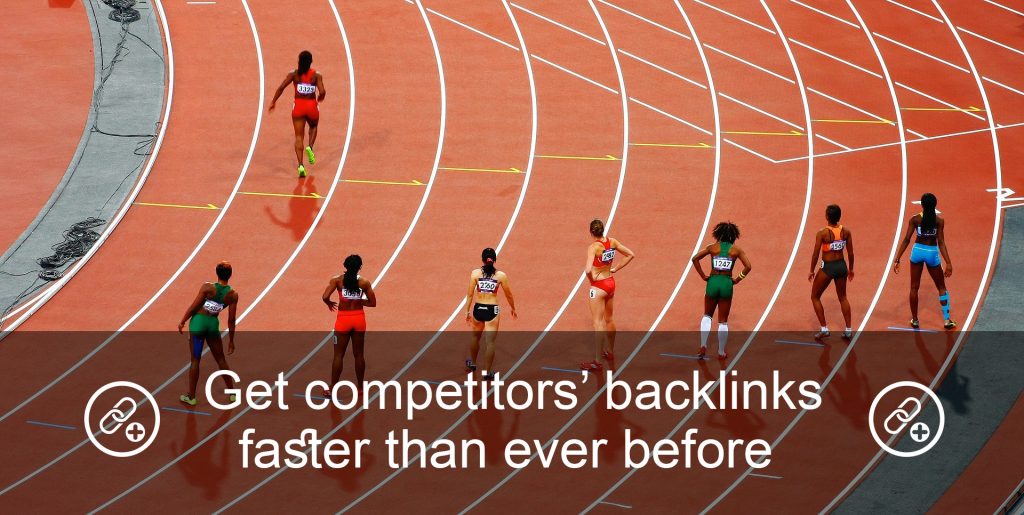 A lot has changed in the recent years but one thing remains the same - backlinks still matter. Scratch that, quality backlinks matter.
Backlinko.com ran a research and discovered that the most important ranking factor is the amount of quality seo backlinks pointing to your page, and the second is your website's overall link authority. They analysed 1 million search results, so you know that this research holds its ground - quantity goes hand in hand with quality.
We are at the point when backlink analysis dictates what kind of backlinks help rank higher and which backlinks should never see the daylight. Getting quality backlinks is time-consuming. Or at least it was.
Laziness is what drives innovation. We all want the best outcome with the least effort. So what about a workflow that can be automated or outsourced?
Got you excited? Let's dig in!
Find your competitors
After reading this post and for the first time ever, finding new competitors will bring a smile to your face.
It boils down to knowing how people would search for your product or service.
If you still don't have a list of XXX keywords that people would use to find your business, it's time to make one. Here's an extremely detailed guide to help you.
Make sure to focus on long tail keywords. They have higher conversion rate and much lower competition - those are the keyword sequences with 3 and more words.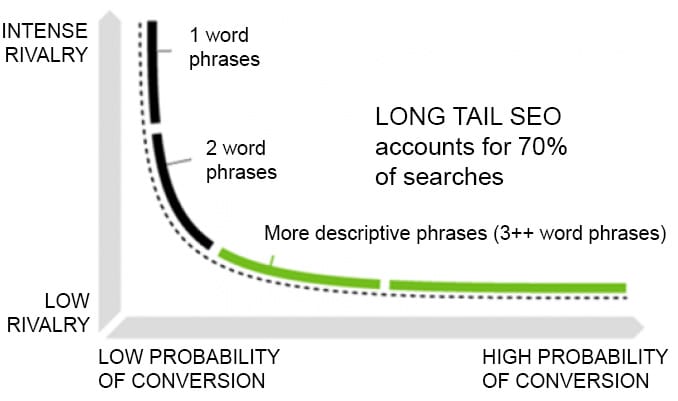 Exploring the keywords that people would use to find your business is crucial to finding your competitors, because they are also targeting these keywords.
Step 1: Make a list of your competitors and write down their URLs.
Google the list of your keywords and write down the companies that show up.
Don't be afraid of other sharks swimming in the same pool, this post will help you to jump in front of your competition.
Your competitors' backlinks are your backlinks
Your competitors have invested both time and money to score considerable amount of backlinks, just so you don't have to. It's a shame not to benefit from their work.
Step 2: Find the competitors' backlinks
We will examine this part by using Linkody, the tool that helps you track backlinks.
Go ahead and create the account:

Note: In this case Step 2 (add your domain) and Step 3 (add your competitors' URLs) is a must!
Linkody finds all the backlinks leading to your or your competitors' website. It might take approximately 2-4 minutes for all the links & metrics to appear.
Wait a bit and refresh the page.
For the sake of this example let's imagine you are starting a cocktail recipe blog. You have inserted your URL (cocktailrecipes.com) and your competitor's URL (liquor.com). Click on "Competitors" (1) and you will find all your competitors' backlinks.

Step 3: Segment the competitors' backlinks
Let's find all the blog posts where Liquor.com was mentioned.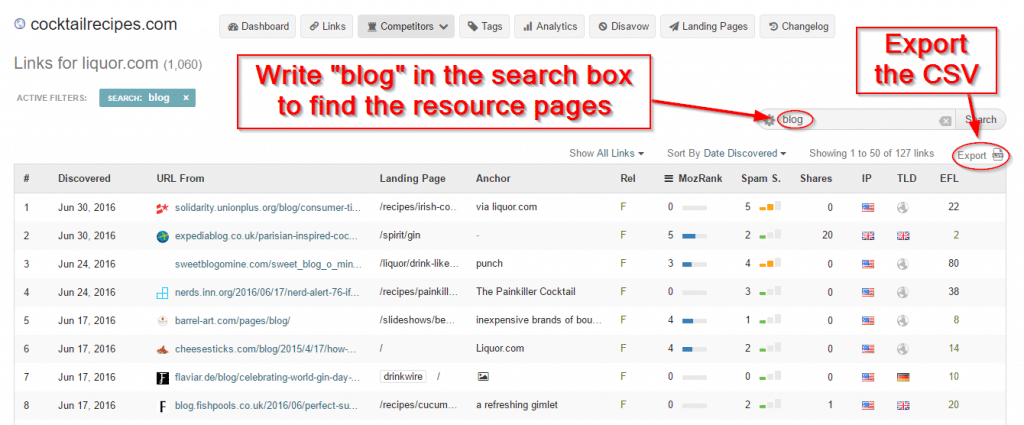 All you have to do is write "blog" in the search box and export the CSV file.
You can also search for:
"list", "links" and "resources" to find resource pages;
"tips" and "testimonials" to find how-to guides and testimonials.
Some of you might ask "why can't I just export all the backlinks at once?" It's because resource pages, blogs, testimonial websites, etc. must be pitched in a different manner. Later on, this is a massive time saver that will increase the conversion rate of your emails. The more time you spend narrowing down your segment, the more quality backlinks you get from the outreach phase.
Step 4: Prepare the CSV file for the outreach phase
When you have exported your CSV file it should look a lot like the image bellow.
Make sure to delete websites with Domain Authority under 20 (these websites are not worth your time).
Note: For this guide we are using Microsoft Excel, but it's similar for Mac users.

Select the "K" row;
Press on "AZ" icon and select "Sort smallest to largest";
Circle all the inputs with DA under 20 and delete them.
Then head over to the "C" row and copy all the URLs starting from C2 to C...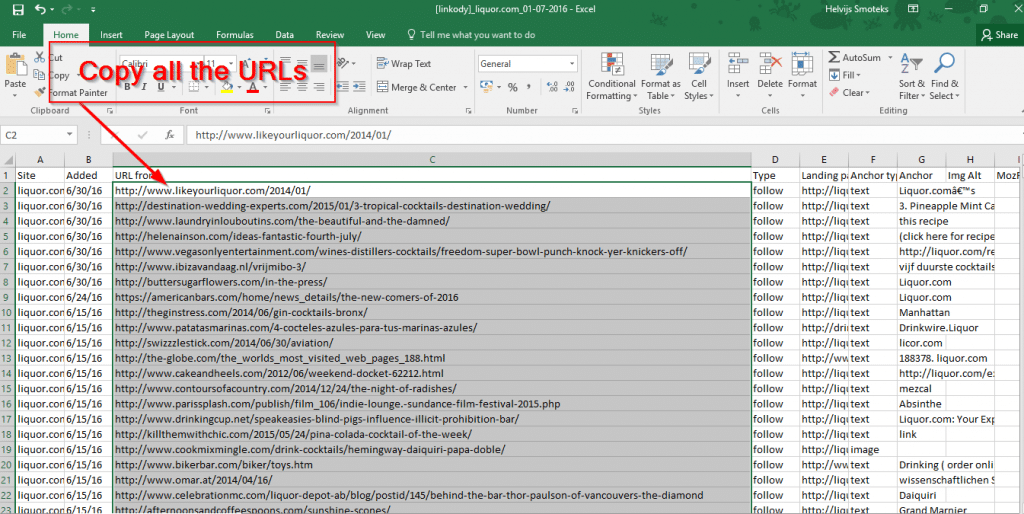 Time to score some quality backlinks
After 10 minutes of work, you have all your competitors' backlinks from high quality websites. For your competitor it took weeks or even months to do the job you did in 10 minutes. Quick tap on your shoulder and let's move on - time to get in touch with these websites.
Step 5: Log into you Ninjaoutreach account and import the URLs from Linkody's CSV file:
From the main page, click on "Create list" (1).

Insert the "list name" (1) and click on "Import a List" (2).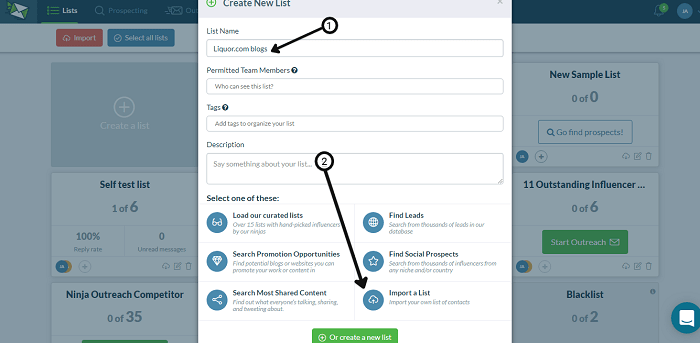 Then select "Websites" (1).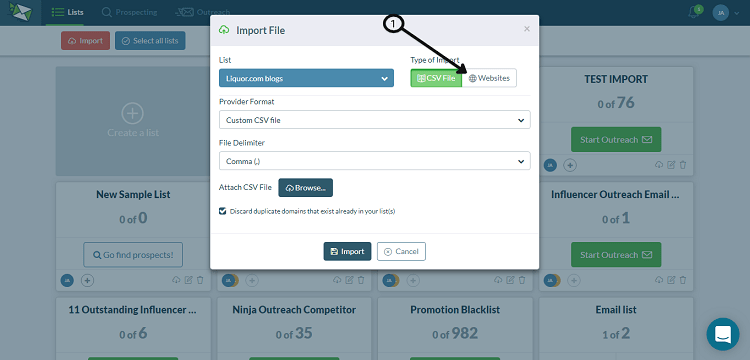 Paste all the URLs (1) from the CSV file export and wait a couple of minutes before Ninjaoutreach will process all these links.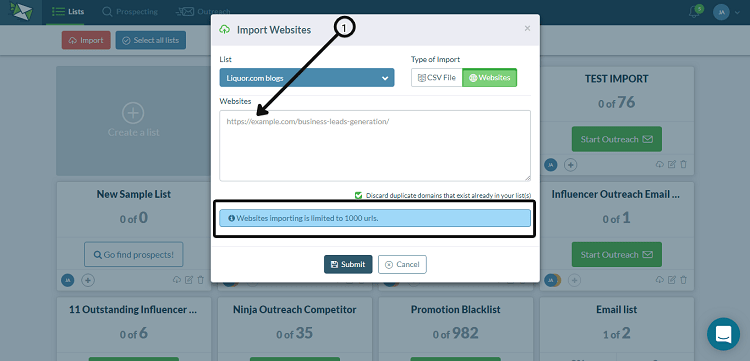 Note: It might take up to 4-5 minutes before all the links are imported (you will receive an email once it's done) and make sure that you don't import more than 1000 URLs per serving.
Step 6: Filter the irrelevant contact information.
Usually you would click on the URL and go through the web site to find the email but now that's done for you by little ninjas. We suggest that you filtrate the contact info as much as possible to minimize the chance that your email seems like a spam. Click on "Liquor.com blog" (1).

Find all the listings without an email and name. Click on the Filter Button (1). Filter prospects that don't have names and email addresses (2) then click on the Select all button (3). Delete them (4). You don't need the contacts that you cannot address by name and obviously, the ones lacking the email will not be contacted.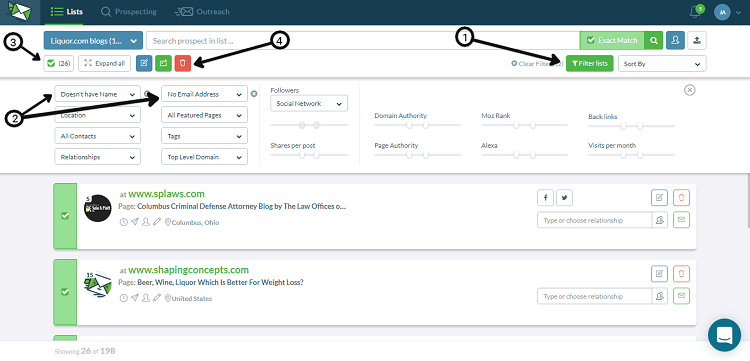 Note: Make sure to scroll through the list to see if there are blogs that you should not contact for some reason.
Step 7: Create a killer pitch.
Head over to "Outreach Tab" and select Templates from the drop-down (1). As Ninjaoutreach offers great blogger outreach templates to begin with, all you have to do is pick the one that would be the most suitable and edit it (2). In this case we want score guest blogging opportunities.

Useful tip: You are emailing the blogs, you have the receivers name and you know that they host your competitor's backlink - make sure to state these facts in your email. This tip helps your email to look personalized and obviously will increase your chances to score more backlinks.
Step 8: Contact all the websites.
Hover your pointer on the "Outreach tab" (1) and press on "Auto sending" (2).

Then press on "Schedule A Campaign" (1).

Select the list (1), then choose the email address you are sending from (2). Add the Template (3) and set up the schedule (4). Lastly, launch the campaign (5).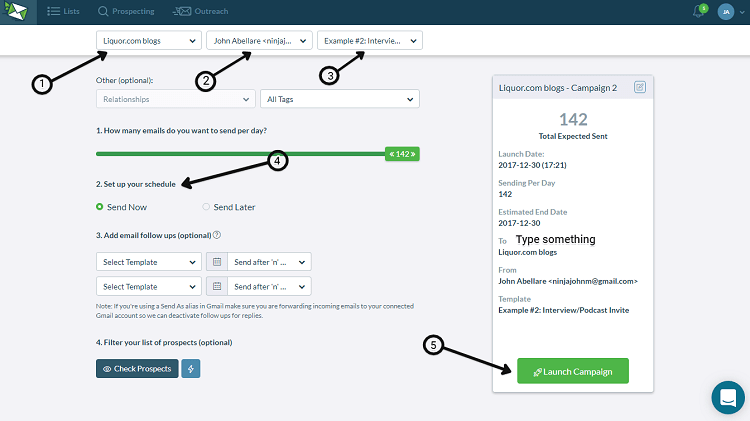 Note: Each day you can send max. 200 emails but it happens automatically so just sit back, relax and be ready for the guest blogging opportunities to pour in.
To sum up
You are done! 8 steps that will bring you all the way from finding all your competitor backlinks up till emailing all of the websites in a matter of minutes.
This technique combines very small time investment with high conversion rate. Nevertheless if you are willing to invest couple of extra hours, check out the tips bellow. Even though you will have to spend couple of extra hours, the following steps will help you to score even more backlinks:
Improve the website segmentation by narrowing down the web sites you contact. Social media shares are great indicator of how qualitative content websites hosts.
Instead of adding websites through "click here to submit websites" feature, you can upload a CSV file directly. It's important that you customize this file according to Ninjaoutreach requirements.
Customizing the CSV file will allow you to improve the mailing template to such extent that it will look like you spent hours crawling the host's website and writing the email. Here you can see few tips and tricks to improve the killer pitch you send out.
I hope this was as useful for you as it was for us to bring our link building efforts to a whole new level. If you have managed to find ways to improve this link building strategy make sure to share it in the comment section bellow.
Related post: Beginner-Friendly Guide To Building Backlinks Easily
---
François Mommens is an IT engineer, web entrepreneur, and a rock climber. He's also the founder of Linkody, an easy-to-use and affordable backlink tracker. Follow him on Twitter!