What is marketing competitor analysis
If you want your business to succeed, then you need to understand three aspects of your market:
What problems and needs do your target demographics have that you can solve?
How is your competition positioning themselves to attract their ideal customers?
How is your business positioning itself to attract and retain customers based on their needs?
Since you are already running a business, then it can be assumed that you understand your ideal customers and know how to address their questions and needs.
Often, your ideal clients are represented by customer personas, which are frameworks that you can use to build valuable marketing campaigns.
Of the three aspects listed above, the most difficult issue to understand is how your competition is positioning themselves online. It is reasonable to assume that your competitors are doing everything they can to capture more market share from you because they want to grow their business.
The purpose of a competitive analysis is to understand the strengths and weaknesses of your competitors so you can find areas where you can outperform them and reach your target audience. A competitive analysis is a comprehensive process that takes a holistic view of your market, your target audience, and how your business is positioned online.
How to conduct and prepare a competitive analysis
Competition is growing quickly in virtually every business, driven mostly by globalization, and is proving to be a double-edged sword for entrepreneurs.
You might be feeling this pressure because on the one hand, while you have a larger base of potential clients due to online marketing strategies, your competition is also growing, no thanks to the ease of entry into the marketplace.
The most important part of a competitive analysis is to start by asking the right questions about your competitors.
You need to ask specific questions to identify who you are competing with and use the information to find the weaknesses of your opposition.
Some basic questions that you should ask when identifying your competition include:
Who are your competitors?
What services or products are they selling?
How much market share do they have?
What are their previous strategies?
Are they using the same strategies?
How competitive are they?
How aggressive are they?
Are their flaws and strengths just like yours?
How large of a threat are they to you?
How can their plans affect your enterprise?
5 steps to performing a competitive analysis
While a competitive analysis can be a large undertaking, there are five steps you can do to learn about your competitors and establish your positioning in the market.
Here, we are going to walk through these steps and look at what they will provide your business.
1. Identify your direct competition
The first step to creating a great competitive analysis for your market is to identify your direct competition.
Your list will vary based on your location, industry, and target audience, but the process is the same no matter what your business offers.
While there are expensive tools out there to do this step for you, I recommend going to Google and typing in your industry keyword and location.
For this example, let's imagine that we own a swimming pool installation company in Orlando, FL. To begin the competitive analysis research, I typed "swimming pool installation Orlando" into Google and recorded the first few results that came up.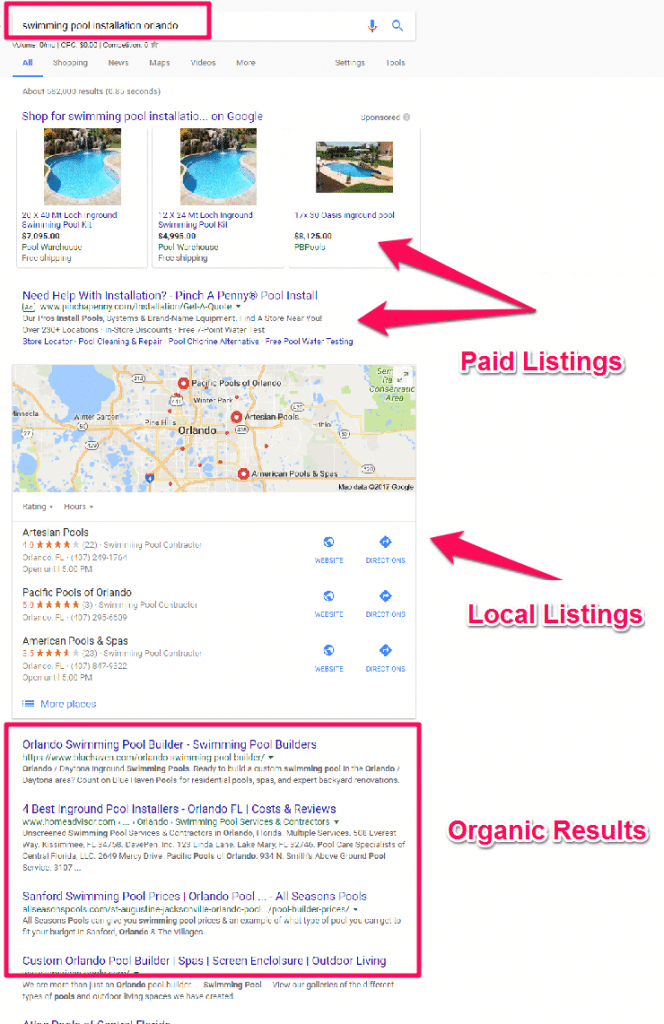 The first thing we want to record is the paid listings because we know that these competitors are paying for these ads.
We can assume from this that these businesses are doing pretty well and have a structured marketing strategy, so evaluating them could be a good source of information.
The second thing we want to do is record our local competition. These appear in the Google Maps section of the SERPs, and this can help us understand who our direct competition is within proximity to our business operations.
Finally, we want to record the top few organic search results because these companies are doing a good job ranking for competitive keywords without paid advertising.
You should record this information on an Excel spreadsheet to help you frame and direct your competitive analysis in the coming steps.
Now that we have a list of 5-7 competitors, let's begin researching who their target audience is.
2. Understand their target audience
Identifying a target audience is an integral part of any in-depth competitor analysis. Your entire marketing and business strategy start with the needs of your customers. Your messaging varies based on the demographics of your target audience.
In a competitive analysis, your business should look at the messaging, branding, and value proposition of your competition so you can identify who they are trying to reach and how.
You can take the time to understand your competition's narrative, the verbiage used in business marketing material, and the brand that your competitors are building for themselves.
To execute this step, take the Excel spreadsheet you started in the previous step and start making notes about the type of content they have, specifically looking at blog posts and other valuable content on their website.
Look at two or three of your direct competitors and begin evaluating their messaging to learn about their target demographic. You can do this by assessing their website copy, presence on social media, and blog posts.
As you evaluate the scope of their messaging, look at the context of their message to understand their customer base.
Segments served: How can their client base compare to yours?
Market observations: Why are they focusing on specific customers, based on the content they develop on their website?
Marketing and campaign topics: What topics, trends, and ideas are they actively targeting in their online content?
Channels of distribution: Is their website engaging and responsive? Are they leveraging social media and other networks? If so, add those URLs to the spreadsheet that we will use in future steps.
Pricing, reviews, and yearly specials: Do they have competitive pricing? Do their products and services resemble yours? What do you offer that they do not? What do they offer that you do not? Also, take note of any yearly specials that they have, so you can build a comprehensive marketing strategy that includes this information.
Record your findings and begin to evaluate how your competitors stack up against each other, and how your online message compares to your competition.
This is the first step to getting the high-level context to what your competition is doing, so you can find opportunities to reach your target audience with focused messaging that your competitors are not using yet.
Now that we have a qualitative view of your competition, let's take a look at quantitative information about your competitor's online presence.
3. Compare your competitor's website content and data
Since your competitors are selling their products on their website, look at the type of content, keywords, and targeting strategies they use.
While this information won't help you craft great copy, it will give an additional data point for you to understand your ideal customer and optimize existing content.
Researching your competitor's keywords helps your business in three main ways:
Keywords provide clues to the intent of customers who use your competitors' products and services. This information can provide insight to help you understand who their target audience is.
The keywords that your competitors use can help you isolate gaps in the product and service offered by your competitors. If you find that specific terms are not used relating to goods or services you offer, then you can leverage that gap to draw more qualified leads to your website.
You can use keyword research data to find low-hanging terms and search queries. This type of research can help you find natural keywords that can drive qualified leads to your website and boost conversions with direct purchases.
This process can be tedious, but using an Excel spreadsheet, coupled with excellent organization skills, will help you discover valuable information to drive business success.
Start by creating a spreadsheet that records necessary information about your competitor's website, including:
Top rank keywords
Search quantity for the main words
SERP place for groups of rank keywords
The number of location-specific keywords
The number of long-tail and short-tail keywords
Ranking of advertisements on search engines for your top-ranking keywords
For this example, let's continue to imagine we are a swimming pool installation company in Orlando. One of the top competitors we identified in step 1 was http://artesianpools.com/.
We are going to use a tool called SEMrush to take a look at how Google understands their online presence so we can find some basic information on their website.
To find this information, you just click on "Organic Research" in the left sidebar and put the URL in the top search area. Now that you have these items selected, you can see the keywords that this company is ranking for based on SEMrush data.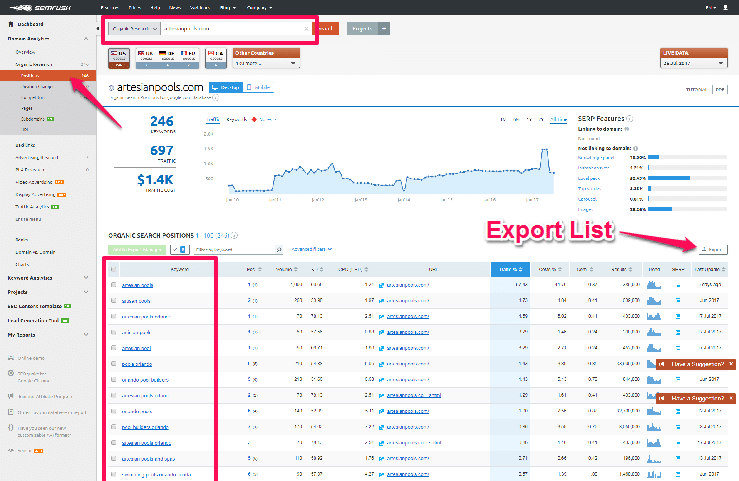 Now that you have the keywords your competitor is ranking for, you want to export this information into a new tab on the Excel spreadsheet we are creating.
You want to do this same thing for all your competitors, so you should have a "Competitor Keyword" tab for each of the competing business that you are evaluating.
Now that we know the types of keywords your competitors are ranking for, you can start formulating a content marketing strategy to optimize for keywords that have high rankings but weak competition.
Let's take a look at how to review the backlink profile of your competitors in the next step.
4. Discover the competitor's backlink profile
Backlinks are the heart of any business online marketing strategy. Not only are backlinks among the top three factors that search engines take into consideration for online rankings, but they are also great ways to understand how your competition position themselves online.
You can easily find the backlink profile of your competitors with a tool like Ahrefs. This tool helps you identify outside sources that link back to your competitor's website.
We will continue to look at http://artesianpools.com/ to understand who and where their backlinks are coming from.
To do this, we are going to use Ahrefs. This is a great program that provides valuable insight into various aspects of the online presence of a business.
To learn about the backlinks of a competitor, we are going to put their URL in the top bar and hit "search."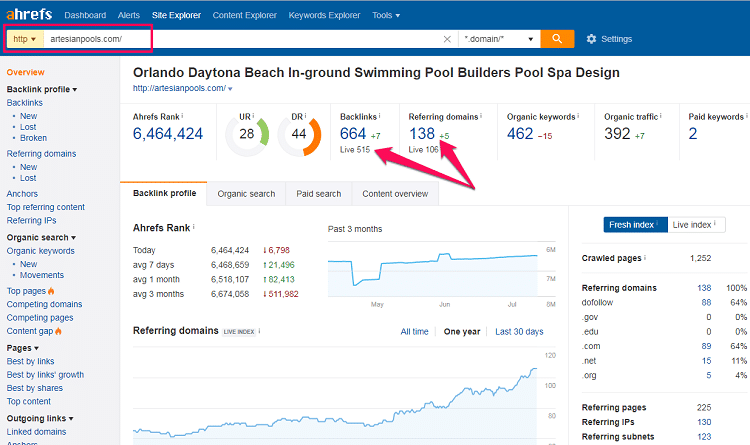 Once you see this information, you can click on either "Backlinks" or "Referring domains." These sections offer different information but both provide the backlink sources for this domain.
I like to use Backlinks because it provides specific pages that are referring, so you can see the type of content that engages with the referring sources.
You should export this information and review accordingly. Check out referring sources that seem relevant to your business, and take notes to reach out to those blogs and websites to see if you can begin building backlinks from them.
Understanding the backlink profile of your competition is the first step to creating a comprehensive link building strategy for your business.
Taking a quick look at a competitor's backlink profile allows you to find potential sources to build a relationship with, and helps you learn who your competition is trying to market to.
This is because it is reasonable to assume that your competitors are building relationships with other businesses to reach that company's audience.
You can use this as an additional data point to understand who and how your competitors are reaching a specific audience.
Now that we have comprehensive data about our competitors' keywords and backlinks, we can begin building a content strategy based on gaps we see in their content.
5. Identifying content gaps
Finding gaps in available content is an excellent way to get easy wins in the content marketing world. A content gap is a space between what people are searching for (their questions) and available information (content and answers).
If you can find a rich content gap, then you are well on your way to developing great business website content that is relevant and valuable for your audience.
The first step to finding a content gap is to learn what people are searching for about your products or services.
We will go back to Ahrefs to take a quick look at what people are looking for so we can think about valuable content to meet their needs.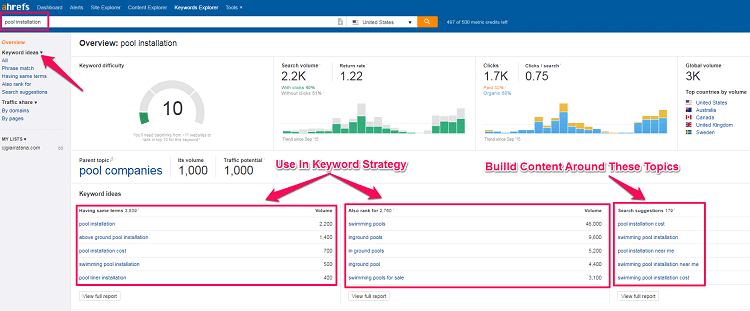 In the above example, I searched for "pool installation" to find topics that customers are looking for. From this quick search, I can see some interesting results that can guide me to develop more valuable and relevant content for our target audience. These findings could include:
The cost of installing a pool
The process of installing a pool
Why integrating videos and podcasts of pool installation help
Why installing a pool adds value to the property (especially in Orlando, FL)
Why using a local Orlando, FL pool installer is essential for a quality job
This is just a quick search, but it has already helped us find some valuable topics and ideas for content. Developing content can be expensive and time-consuming, so you want to make sure that you focus your finite resources on topics and themes that will engage with your customers and drive more business.
Applying your competitive analysis
Now that you have done all the hard work, you should have a fairly complete view of what your competitors are doing online and how they are marketing to their target audience.
You can use this information to optimize your existing content, focus your SEO strategy, and even improve your product and services based on any gaps you found in the market.
Learning how to perform a competitive analysis is pretty easy, but the most important part is to apply your findings. Don't let your competitive analysis go to waste, but use this information to refine your marketing strategy today.
A competitive analysis provides you with a unique perspective on what your competition is doing so you can improve your business today!
---
Chris is a Digital Media Strategy Consultant in Orlando, FL. With over 13 years of experience, he works with national brands to make his clients more money by creating awesome PPC campaigns. Learn more on his website at www.cjgiarratana.com.