Note: This post is a BIG list of keyword research tools
Everything has to have a beginning.
Even in the digital marketing world, when you consider doing SEO, you have to start with something, right?
I don't think anyone would just go on full blast link building and guest posting to improve their SEO right off the bat.
That said, allow me to introduce a topic that I know you've already heard of:
Keyword Research
What is keyword research?
Let me borrow Moz's definition of what keyword research is to give you a bit of context: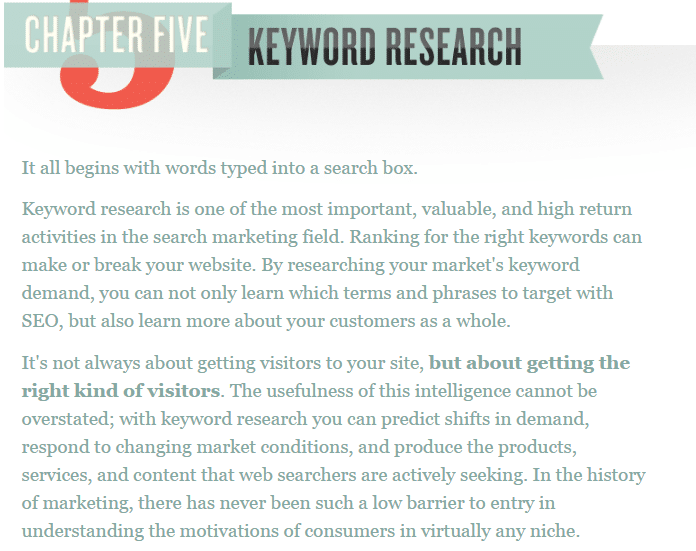 From here, it looks all SEO, right?
Actually, keyword research plays a big role in your content strategy.
If you know what people are looking for in terms of the exact keyword they type in search engines, then you are on the right track in getting the right visitors for your website.
Knowing the right keywords gives you the power to create the right content that would give you the traffic you are targeting.
Is it difficult to do?
Not with the help of a tool.
For us, we use NinjaOutreach for our own content research.
But when it comes to in-depth keyword research, our SEO guy uses other tools as well.
And since there are a lot of different tools out there, we've decided to come up with this list post to help you figure what could be the right tool for you.
Introducing:
Ultimate List of Keyword Research Tools
| | | |
| --- | --- | --- |
| Name | Description | Cost |
| Nightwatch | This tool a cloud-based search tracker and analytics platform. You can use it to monitor and analyze your SEO performance at a scale. | $19 – $699/month |
| Advanced Web Ranking | This tool used to track keyphrase rankings across multiple websites and report rankings weekly and offering reliable results. | $49 – $499/month |
| Twinword | This keyword research tool can sort and filter by how relevant each keyword is. | $14.99 – $89.99/month |
| Affilorama | AffiloTools crunches data from a range of premium sources to find out what's really happening on your website. search engines, social media, revenue and all of your most important data, all in one place. | $1 – $67/month |
| Ahrefs | Ahrefs is a SEO backlink checker and competitor research tools. It will allow you to track your keywords, brand mentions and your competitors doing. | $99 -$999/month |
| Amztracker | A complete amazon SEO tool that can track keywords, track competitors, and increase your sales. | $50 – $400/month |
| CanIRank | CanIRank is a super-charged keyword difficulty and SEO competitive analysis tool to find keywords you can rank for, links you can get, & on-page optimizations that will move the needle. | $49 – $299/month |
| Codecanyon | WordPress keyword tool works as WordPress keyword suggestion tool which will help you know keywords people are using to search so that you can target, it also will help you target these keywords the right way by checking keyword density ensuring that your article is search engine friendly and keyword optimized. | $17 (Extend support to 12 months $4.50) |
| Colibri IO | Colibri IO allows you to monitor and tracks your brand online. They provide a set of growth hacking tools and inbound marketing tools to improve your visibility on social media and your rankings in Search Engines. | $45 – $295/month |
| Concentrateme | Long Tail Keyword Tool for Search Analytics | $39 – $299/month |
| Dragonmetrics | All successful SEO campaigns start by targeting the right set of keywords.Dragon Metrics leverages data from search engines, your site, competitor sites, and your analytics platform to provide you with the most relevant, effective, and profitable keywords to boost traffic and conversions on your site. | $99 – $999/month |
| Getrank | Check your keyword results and get suggestions. Use the Keyword Suggestion Tool to get new keyword ideas from Wordtracker, Google and Yahoo related searches. | —— |
| GinzaMetrics | Ginzametrics is a enterprise search intelligence platform, making SEO relevant to CMOs and marketers worldwide. | custom plans & pricing based on user's needs |
| Good Keywords | Good Keywords is a windows software for finding the best keyword phrases to use in your web page content and online marketing materials. |  —— |
| Google Adwords | Google AdWords is a free tool that helps you build search network campaigns by finding keyword ideas and estimating how they may perform. | —— |
| Grepwords | Grepwords merges a massive, fresh keyword database with intuitive tools and the industry leading lookup and related APIs to bring you the best keyword tool hands down. | $15 – $250/month |
| Hashtags | Know essential information and how-to knowledge to improve your social media branding and intelligence. | $49 – $349/month |
| HQSuggest | HQSuggest is a feature-packed, fully-loaded application that will take your traffic and business to whole new levels. | $14 |
| Ispionage | A Adwords competitor keyword tool that will help you to make easily steal your competitor's traffic and uncover their conversion strategy. | $29 – $299/month |
| Jaaxy | Jaaxy is the world's most advanced keyword tool built for internet marketers. Reveal the hottest and most profitable keywords online. | $49 – $99/month |
| Keyword Discovery | Create a list of generic and long-tail keywords that you can use for your SEO or PPC marketing campaigns with Keyword Discovery. | $49.95 – $495 /month |
| Keyword Eye | Another great tool for keyword research that will be useful addition to keyword analysis for PPC and SEO campaigns. | $17/mo – $157/yr |
| Keyword Revealer | Keyword Revealer is a huge time saver for anyone looking to uncover low-competition keywords and analyze the competition for currently ranking on the first page of Google. | $9.97 – $47.97/month |
| Keyword Snatcher | Discover untapped niches and find the keywords that no-one else is searching. | $47 |
| Keyword Studio | Keyword Studio is a keyword workspace for SEO professionals that saves time and effort on in-depth keyword research allowing marketers to take their organic marketing strategies to the next level. | —— |
| Keyword Tool Dominator | Affordable and easy to use tool that will help you to find long tail keywords. | $13.99 – $59.99 (One-Time Purchase) |
| KeywordInspector | KeywordInspector is a suite of individual tools to help you, the Amazon Seller, gain an advantage over your competition. | $39.95/month |
| KeywordXP | KeywordXP Pro is one of the keyword tool available for generating commanding traffic to your website through effective keyword research. | $7.99 /mo – $47/yr |
| Kombinator | The easiest tool that will help you to combine AdWords keywords. | —— |
| KW Finder | KW Finder is a free premier keyword research tool that finds hundreds of hidden keywords with low SEO difficulty in seconds. | $49-$129/month |
| Long Tail Pro | Long Tail Pro is the keyword research software used marketers and SEOs to find the best long tail keyword ideas and quickly analyze the competition. | $25 – $98/month |
| LSIGraph | Generate latent semantic indexing (LSI) keywords for your SEO needs with this free LSI Keyword Generator tool. | —— |
| Majestic | The Keyword Checker shows how often keywords or key phrases appear in indices. You can expand the list by adding multiple phrases, allowing you to compare how much interest and competition surrounds a set of keywords or key phrases. | $49.99 – $399.99/month |
| Market Samurai | Discover the best keywords and your competitor's weaknesses with this keyword analysis tool. | $149 |
| Moz | Marketing analytics software for search, links, social, and brand. | $99 – $999/month |
| Mozilla Add-ons | Find keywords for free and view keyword search popularity volume for a specific search term using Mozilla add-ons. | —— |
| Niche Laboratory | Be an instant expert in any niche and find keywords, phrases, and themes instantly with Niche Laboratory. | —— |
| Positionly | An SEO software tool that will help you to gain more organic traffic, improve your keywords rankings and leave the competition behind. | $19 – $100/month |
| RavenTools | Manage and report on all your online marketing with one software solution. | $109 – $479/month |
| ScrapeBox | The Swiss Army Knife of SEO, perform tasks such as scrape millions of keywords, generate long-tail keywords, crawl websites for keywords and find available keyword domains | $97 (One-Time Purchase) |
| Screaming Frog | Screaming Frog SEO Spider is a website crawler, that allows you to crawl websites URLs and fetch key onsite elements to analyze from an SEO perspective. | £149/year |
| Searchmetrics | Searchmetrics professional software is the top rated global Search, SEO, Content Performance / Marketing and Social platform for agencies and enterprises. | —– |
| SECockpit | Find profitable keywords and analyze your competition with SECockpit keyword research tool in a Matter of Seconds. | $40 – $120/month | $339 – $899/year |
| SEMrush | SEMRush is a great tool and easy to use, this will give you insights on the popularity of keyword that you can use. | $99.95 – $399.95/month |
| SEO Book Tools | This free rank checking tool allows you to check your rankings in Google, Yahoo!, and Microsoft Live search results. | —— |
| SEO Chat | Build a list of the most popular keyword phrases that all start with your core term with this free keyword tool. | —— |
| SEO PowerSuite | SEO PowerSuite was designed to combine immense SEO capabilities with straightforwardness and extreme ease of use.This software really guides and assists you in every task. No techy preps and deep SEO knowledge needed, just set and go! | $299 – $699/year |
| SEOPressor | SEOPressor gathers the most essential SEO intelligence of your website and present them in one place.You can gain important insights into your website's SEO health with crystal clear clarity. | $9/month |
| SEOquake | SEOquake is a free plugin tool for your browser that provides you with organic research data at the click of a button. | —— |
| SERanking | All in one advanced web-based SEO software with a special focus on SERPs check. | $$7 – $189/month |
| Serps | What SERPS does? It can track thousands of keywords for multiple search engines and languages, on multiple devices, from multiple locations, every day. | $99- $49/month |
| Serpstat | Research your competitors in search and the competition of every keywords in SEO. | $19 – $299/month |
| Serpwoo | SERPWoo can tracks, monitors, analyzes and saves your keyword's SERP archives for you. | $49.95 – $299.95/month |
| Soovle | Soovle is easy to use, fast, and efficient you can search suggestions and completions from the top providers on the internet with this free tool. | —— |
| TermExplorer | Find the most profitable keywords with TermExplorer it delivers the highest volume of relevant keywords & most actionable competitive data available. | $34 – $499/month |
| Traffic Travis | Traffic Travis is SEO software designed to help new and established online businesses boost their traffic from organic and paid search. | —– |
| Übersuggest | Use Übersuggest to quickly find new keywords not available in the Google Keyword Planner. Take your keyword research to the next level with tons of keyword ideas for SEO, PPC and your next content marketing campaign. | —— |
| Ultimate Keyword Hunter | Ultimate Keyword Hunter – Free LSI keywords research tool to create high ranking article | —— |
| Web SEO Analytics | Web SEO Analytics offers one of the most innovative online marketing platforms providing pioneering search engine optimization tools for advanced SEO Professionals. | —– |
| WebCEO | Web CEO is a powerful SEO tool that provides keyword research, SEO audits, link quality control, site monitoring, internal link optimizing, competitor monitoring and social media analysis. | $99 – $499/month |
| Wordstream | A free keyword tool that help to generate thousands of keyword suggestions. | —— |
| Wordtracker | Wordtracker helps to improve your rankings and attract high levels of targeted visitors. | $27 – $99/month |
| Wordze | A free tool that helps you find the best keywords for your niche selection, SEO campaigns & more. | —— |
Did We Miss Any Keyword Research Software?
We hope that this resource post was able to help you pick the right tool to help you with your content strategy.
If you think we missed a certain tool that you'd like us to take a look at and maybe add to this post, just let us know in the comments section below!
Resources From Around the Web
If you are searching for the best collection of Keyword Research tools in German, this post will help you out.