Time for the eighth, monthly business review at NinjaOutreach.
August saw the business grow its MRR by ~80%. In fact it was the best month we've had to date (which is great, because you always want your most recent month to be your best).
Here's what went right, and what went wrong.
Development - State Of The Web App
Adding an additional developer at the end of July was huge in allowing us to release Outreach Mode, a new and improved way to send emails in the web app (and direct email integration, finally!).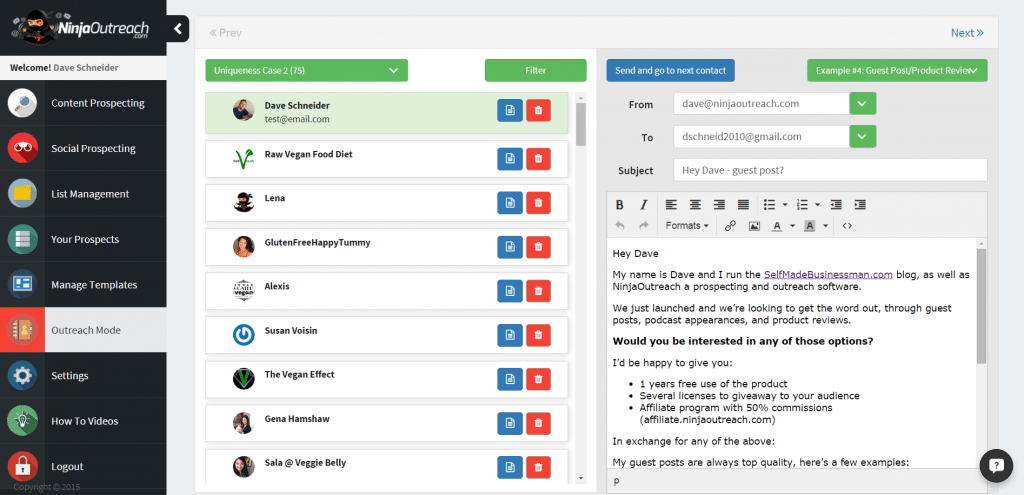 It's great to finally have enough developers to be able to say that one developer is focused on outreach, while the other is focused on prospecting. The thing about having two is that even when there are bugs and other priorities that come up, distracting you from what you planned to get done, you can always be certain that the other developer is making forward progress on a new feature.
In fact, we liked having another developer so much that we went ahead and hired another one!
This new developer is focused on the user registration process. He's going to finally finish the Stripe integration and just fix the onboarding, which has been very confusing to date on account of the various tools and log-ins we have. I don't think that this will take him longer than the month of September, and after that we can get him started on more product-focused features.
At this point, with three developers cranking away, I think we have reached the point where we are going to be set on product development for awhile, and will be focusing more on building up our sales and marketing.
In addition to Outreach Mode, we've recently made some major improvements to our prospecting algorithm, which is returning a lot more quality results, and are looking into how we can grow our database faster. Whether we decide to build out more servers, or integrate with an API, will be left for the Septemeber wrap up.
Marketing
Two things really came together in August: traffic and conversions. The product of those is sign ups, and eventually customers.
The traffic was on account of a few things, which should come at little to no surprise:
A few posts on our blog that did exceptionally well (expert round ups and list posts)
A few guest posts on high traffic blogs that did exceptionally well (Boost Blog Traffic and Unbounce)
A feature on Product Hunt and Entrepreneur On Fire
In short, it's just typical inbound marketing done right.
On the one hand, this is difficult to reproduce month to month. It's not as though we have a plan in September for how we're going to get featured on Product Hunt (again) or some other high trafficked startup website.
But I've also found that these features have not been complete one-hit wonders and have helped us improve our monthly traffic significantly: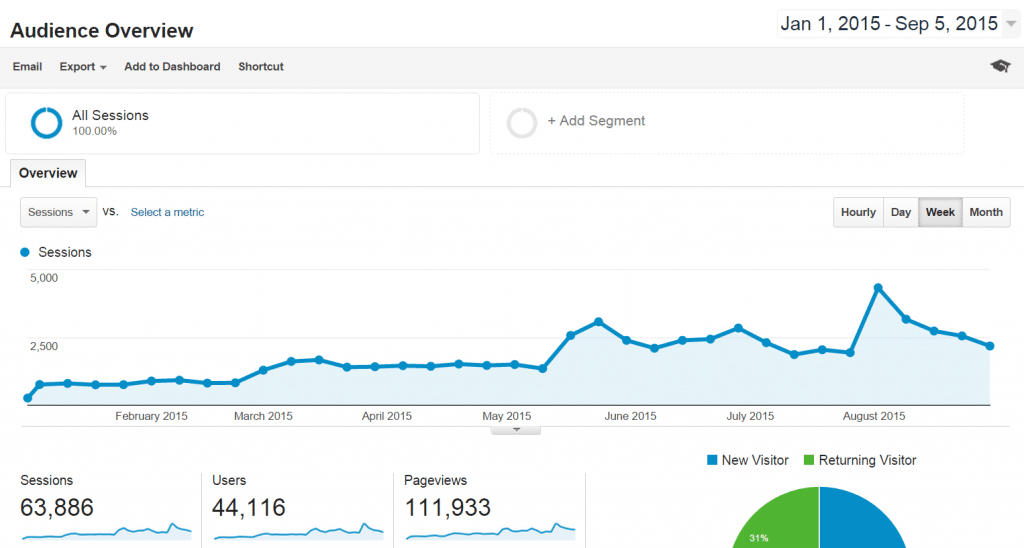 So although things have calmed down a bit since the beginning of August, they have ended well and we're not out of tricks yet, to say the least. In fact, we're currently working on a feature for October that would be larger than anything ever before.
While there is nothing explicitly out of the norm to talk about with conversions, they have been holding steady despite the influx of traffic (often an increase in traffic can bring a decrease in conversions if the source is not super targeted/quality).
Increasing Our Prices
We increased our prices on August 31st to be more competitive with the market. Up until then we were the cheapest influencer marketing tool out there (and we're still pretty cheap comparatively, to be honest), but we decided to remove our $19/month plan as it just wasn't contributing significantly to the bottom line.
This decision was made after some critical product improvements were released, which we believe added a lot of value to the tool, as well as looking at the vision of where we wanted the tool to go, and knowing that we simply need more resources to get there (hence, hiring another developer).
So far, we haven't seen a significant drop in sign ups or conversions on account of increasing the prices, but it's still very early to tell. I think it will have been a great decision though.
Releasing Our Podcast
My partner Mark is joining the content marketing front by producing a podcast every week, which will appear on Thursdays. It focuses  on startups, business, and growth.
Two episodes have already been released and they contain some excellent case studies and tips from entrepreneurs who are kicking butt.
Our Ultimate Guide To Using NinjaOutreach
One thing I really wanted to put together was a series of ultimate guides for NinjaOutreach. The tool is somewhat of a generalist marketing tool, and therefore sometimes it requires an explanation on how to achieve the best results.
So Mark and I worked on producing tutorials and videos to go along with them for everything we could think of concerning the tool. We put these in our knowledge base and published them on the blog, as well as a table of contents/handbook.
Check it out: The Ultimate Guide To Using NinjaOutreach
Conclusion and Next Steps
August was a fantastic month for the business, where it finally felt as though we are getting some traction and I can see the growth for the rest of the year, and it looks promising.
In September, we will have launched our new Ninja Assistants program as well as will be attending Inbound, Hubspot's conference for inbound marketers held every year in Boston. We haven't done much in the ways of conference networking, so this will be an interesting channel to explore.
How did your business do this month?