You create an awesome blog post with great effort. You spill out 1000 or 2000 words on your blog posts. You hit that magic button, in the hope that your content are shared and loved. That's not the case.
Your content will be nowhere, and is stuck under the stack of tons of webpage published daily.
You'll get a dozen read on your new post, and it's gone as if it never existed!
In order for you to get the most of your published content, you'll have to learn some of the great ways to promote it.
In this post, I'm going to trash all the generic promotional strategies and focus on some smart ones.
I'm sure that you will benefit a lot from this post if you pay heed to what I am about to tell you.
Link Out to Awesome Content
Linking out to others ain't gonna leak your rank juice. Most Internet marketers and bloggers fall for this big misconception.
There are many benefits of linking out to awesome content.
Here are a few:
Content relevancy signal.
Has SEO value.
Building relationships with other bloggers.
Returns great value to your readers.
Have other bloggers promote your content.
The last one caught your mind didn't it? When you link out to other bloggers in your niche, they will be pinged with trackbacks in their comment section.
As a courtesy, those bloggers would link back to you or share the content with their large base of social media followers.
Once you link out to related content over the web in your post, just reach out to the bloggers and notify them personally that you've linked to their blog post, ask them for feedback. And that's all. Don't ask for a link or a share.
Here's a template for you
Hi, this is [ME] from [yourblog.com]. What's up?
I published a new blog post @[your post URL], I linked to your blog post @[their post URL]. I loved your article.
Cheers.
You may also consider quoting an expert in your post, and linking back to him. Something like,
"Try not to become a man of success, but rather try to become a man of value."
- Albert Einstein (link out to Einstein's blog)
Like this. People love to be cited and featured.
Tips
Always link out to bloggers who likely build relations with you.
Spy the blogger on Twitter, and make sure that he is sharing content other than his own.
Always make sure that the external links on your page open in new tab, with this you won't have the risk of losing your visitors.
Link out to only relevant content, which drives value to your readers.
This is one of the powerful yet ignored strategies to promote your blog post once it's published.
Get Google to Promote Your Post
Organic traffic is the highest form of targeted traffic anyone can get.
When we talk about blog post promotional strategies, we often forget about the promotion of content by Google!
Don't worry. I'm not going to teach you some basic SEO here.
I'm presenting you a dirty, little tweak that enables you to double or at least increase your organic traffic by
130%.
Wanna know how? Keep rolling your eyeballs.
As a blogger, you'll be definitely using Google webmaster tools for your blog. This tool offers you all the necessary tools a webmaster needs to manage his blog efficiently.

Under it, you can find the section named search analytics. Head over to it. Just check the options to display impressions and CTR along with the clicks.
Impressions are all the keywords that you are ranking for. If a user comes across your result in a search page even if there are no clicks on it, it will be counted as an impression.
Now in the results you can look at all the keywords your blog is ranking for. Click on CTR, and sort it in descending order. It will list all the keywords you are ranking for but not driving traffic.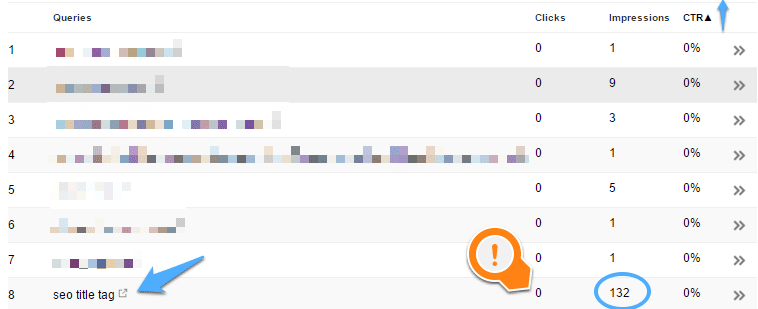 As you can see in the above screenshot, my blog is ranking for 'seo title tag' keyword but not getting traffic.
This usually happens when you are ranking for a wrong keyword or you have not included relevant content around the keyword in your post.
In order to rank higher for the keyword and make people link on your post, you have to head over to your post. Then update the content so that it includes relevant content around the keyword. Then optimize your post for the new keyword.
By this, you start gaining traffic for your already ranking post. This is one of the advanced ways to help Google promote your blog post in its SERPs.
Contact Who Interacted With Similar Type of Content
If you are looking to promote a blog post, enter the keyword of that post in Google search. Now take a note of the URLs of all the similar content to that of yours.
You may use tools like NinjaOutreach to find the content that has good shares. Then find the people who shared or commented on those similar blog posts.
Then you can contact those people and introduce to them your content. Ask them, if they would mind sharing your content with their followers. It will increase the exposure your content gets.
Below is the template.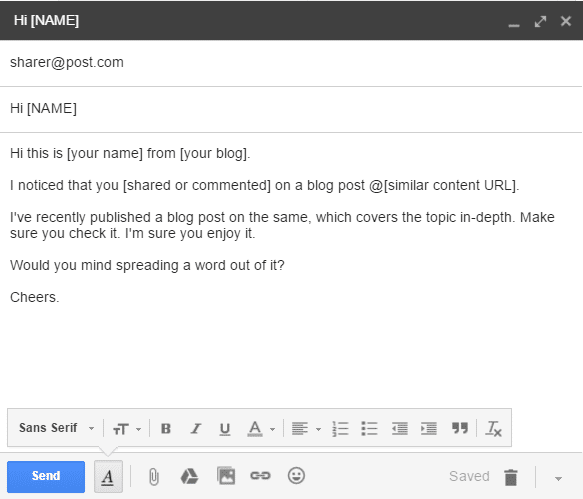 Here are the other 2 killer tips:
Include social share buttons below your newsletters, so that your subscribers drive you tons of social media shares instantly depending on your list size. This is often neglected by even the most experienced Internet marketers and bloggers. Your subscribers likely share your blog posts.
Repackage your content to feed the audience in different platforms. Like, create stunning visuals and share them on Pinterest.
Mix out the images, create a slideshow, and upload it on Slideshare. Join the Slides and beautify them to form an Infographic and promote it to build backlinks. Again, share it on Pinterest.
Finally, you can also create a video out of your blog post. This ensures that your content is read by a great number of audience in your niche.
Up to you
Here are some of the advanced strategies that work out well in order to promote your content effectively.
Related read:
I hope you liked the article. Don't forget to share and comment.