I hate to break it to you, but there's a big ol' myth out there. They say loyalty programs are just about giving customers a way to save some money and increasing repeat visits, meaning more purchases for retailers.
Well, it's not entirely false. In fact, these are the main reasons why commerce companies introduce a program in the first place - they're made to give customers a benefit and the companies who use them better sales results.
But I'd like to help change the way people think about loyalty programs, because they're not only a good way to offer a discount, they're also a great way to increase brand advocacy, which is hands-down the most effective way to increase reach and sales for any type of company.
To show how a rewards program can help, I'm going to talk about a single loyalty program that was recently introduced to do something different: to appreciate and communicate, rather than sell.
That loyalty program is Marvel Insider, by Marvel Entertainment - and if you follow anything the company does, you probably already know that they've already built a massively loyal fan base.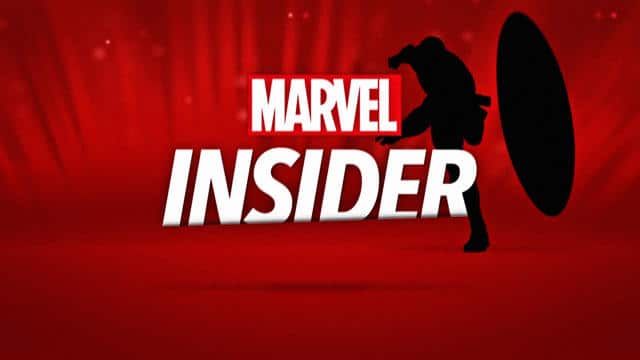 So here are 5 ways a loyalty program can improve the health of the brand advocacy program surrounding your store (and they're all easy to achieve with the right program):
1. By encouraging more engagement and activity with the brand
A loyalty program should be about increasing engagement in more ways than reaching into a purse or pocket and breaking out a wallet.
That holds true for physical stores, and for e-commerce as well.
I don't want to scare you, but 77% of transaction-based loyalty programs actually fail within 2 years.
The reason is that they're not really building loyalty, but are rather just a complicated coupon scheme that reward spending alone.
Encourage customers to take part in a wider variety of online activities, like sharing content, reading the latest blog posts, leaving reviews, watching videos, taking quizzes, or filling out forms - and reward them for it.
Where does Marvel come into the picture? They've just introduced a loyalty program which, according to the Executive VP and General Manager for Interactive and Digital Distribution, Peter Phillips, has nothing to do with selling.
Let that sink in for a moment...because that's really amazing.
They're using a rewards program 100% for engagement and advocacy, rewarding their fans and followers for doing what they're already doing, and encouraging them to do it even more.
For example, they're giving points to fans who watch their trailers, interact on social media and check in at Marvel events - activities that build interest surrounding the brand among fans, and their friends, too.
Of course, not all companies can introduce a loyalty program without incorporating the sales aspect more directly than Marvel, but all companies can use this knowledge to make sure their program is effective at engaging advocates (in addition to improving customer retention and average spend).
In fact, that's the business we're in at Antavo - because, once again, rewarding spend alone does not build loyalty.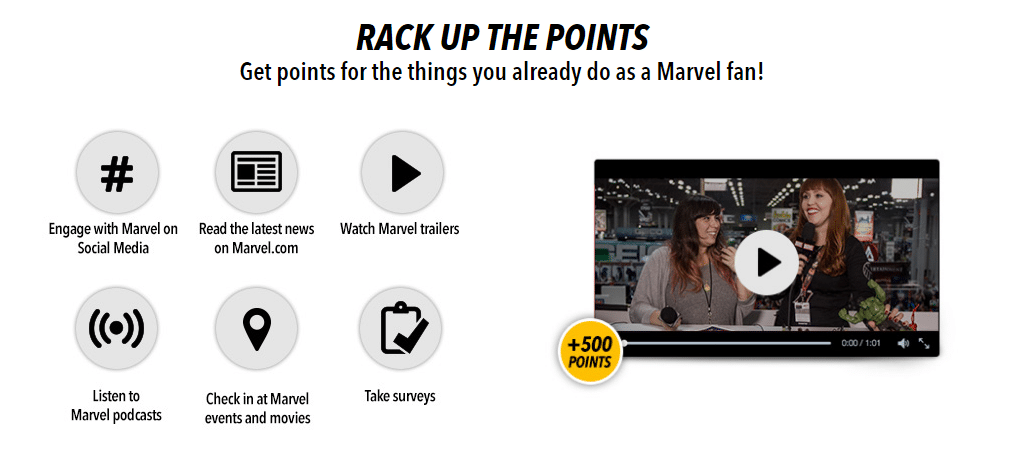 2. By gathering data and helping you stay relevant
Retailers should be set up to get the right data from their customers.
The problem is, many online retailers try to get this data during checkout, which causes a long and painful process for customers.
That also causes those shoppers who just want to buy something quickly and move on to abandon their carts and buy the goods elsewhere.
A loyalty program is for customers who already like your brand, but can also be useful for newer shoppers, too.
Signing up for a loyalty program comes with distinct benefits, for example discounts on the first purchase, or points that come with each purchase, so that shoppers can get cash back or cool rewards later down the line.
But the real value in this is that you can ask for data and personal preferences from customers in a non-intrusive way.
The first round of data can be retrieved when customers sign up for the program.
Then, if you have a loyalty program that actually rewards customers for filling in more information, you can ask them to fill in a form with more detailed information, in return for a small sum of points.
So what is Marvel doing about it? First of all, they're getting the data they need, which they couldn't do very efficiently prior to this program.
They'll be able to see how customers are engaging with their brand, see what works and what doesn't - and all the while they'll be giving something back to their fan community.
3. By pinpointing who your advocates are, so you can say "thank you"
When a company wants to use a loyalty program to really focus on thanking customers and show their appreciation more efficiently, there's something I can recommend… find the customers who love you most and show your gratitude.
That's why, no matter if a company builds their own loyalty program, or uses a third-party solution like ours at Antavo, there are certain things you need to be able to learn about your advocates.
Setting up a threshold to determine who your advocates are is the first step.
You should be able to see who has used the loyalty program the most and learn about them and see which rewards and activities they're enjoying most on your site.
The second step is making contact. You should be able to reach out to your advocates directly, in automated email communication that gives this special group of customers exclusive opportunities or rewards, or by reaching out personally to just say "thanks."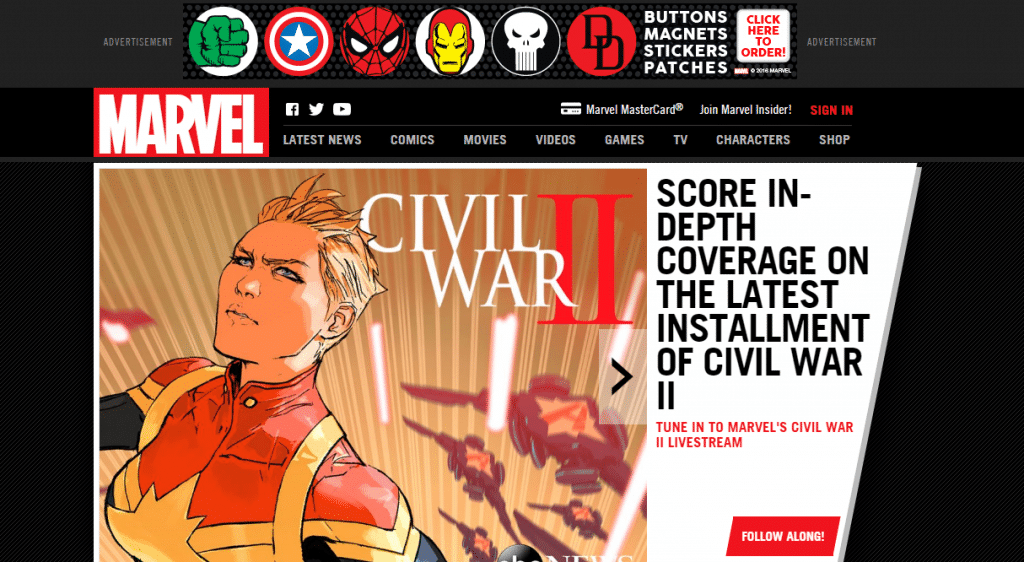 4. By encouraging a bit of friendly competition
In normal circumstances, I would never encourage pitting customers up against one another... but when it comes to generating fantastic content, a little bit of competition can produce great results!
I'm talking about user-generated content, or UGC. Offering a giveaway contest for the newest Spring season handbag collection, or maybe offering free tickets to an upcoming screening at your movie theater is always a great way to generate excitement and get people talking.
If you want to take it to the next level, asking customer to submit their pictures and videos with their fave products is a great way for you to collect great content that you can use on your website or social media channels.
UGC is important because, according to Salesforce, "50% of consumers find UGC more memorable than brand-produced content."
So show customers that your products are real and loved by customers, and give viewers ideas about how your products can be a part of their lives.
Recognize and SHOW OFF your own advocates, because that just might encourage others to act the same way!
5. Don't treat all loyalty members the same
I think we can all agree that treating all customers like Kings and Queens is a good idea. But when to comes to loyalty, there's no harm in giving a little extra to your most highly-engaged and high-spending customers Setting up loyalty tiers in your rewards program is an excellent way to do this automatically.
Having different tiers means, as shoppers spend and interact with the brand more, they work their way up from one level to the next, getting more and more perks at each new level.
Usually, the higher the loyalty tier, the better the point value and the rewards become.
Marvel is using 4 separate levels, creatively named, motivating their fans to act more to build up points and work their way up from plain-old "Insider" to "True Believer" status.
As a side note, they've put some really cool rewards on display on their site.
The more exclusive benefits they can offer, the more their loyalty program will do what it's meant to - increase the buzz and advocacy surrounding their new projects, events and products.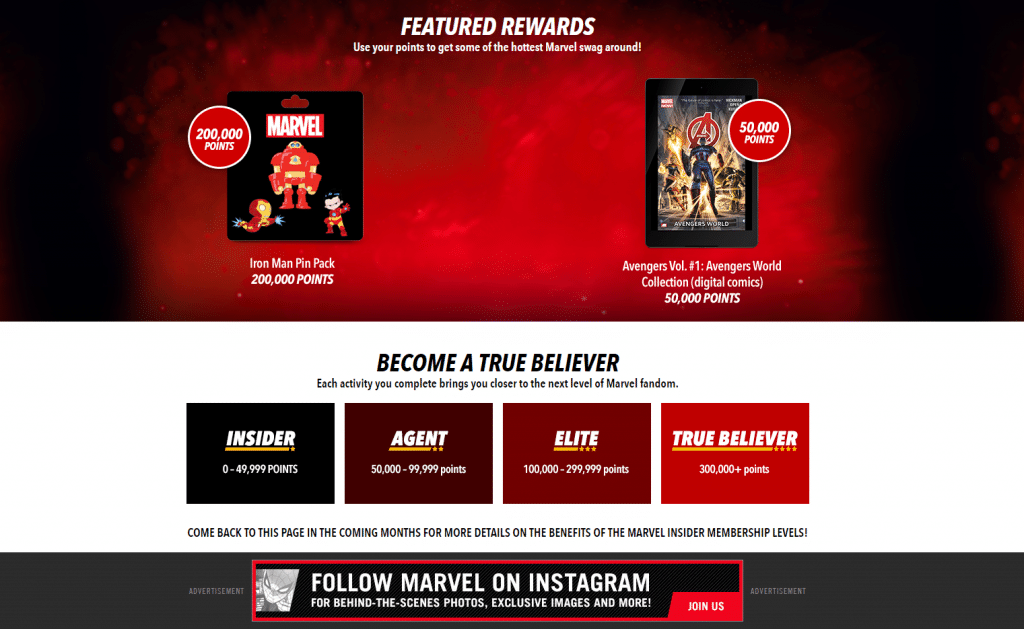 In conclusion
Although I've used a company with a massive, almost unbreakable fan base as an example in this article, I'd like all companies to know they can use these tricks to boost their own brand advocacy program - even without the massively popular comics and movies.
The main goal when it comes to boosting brand advocacy is to use your loyalty program to acknowledge your biggest fans, instead of just showing appreciation when they're entering in their credit card info on the checkout page.
Reward a variety of activities and encourage customers to interact with your brand on many levels.
To learn more about how you can build a loyalty program that brings in great engagement and boosts sales, check out the Definitive Guide to Creating a Successful Loyalty Program.
Finally, I'd like to pass a Huge Thanks over to Dan Solomon at Fast Company for publishing great insights about Marvel's loyalty initiatives. You can read more about the program on Marvel's website.