Do you know what link roundups are? Every now and then I check my Google Analytics and I notice some traffic from an unknown source.
Often, they are link round ups.
In today's tutorial I am going to tell you what you need to know about link round ups, such as:
What they are
How to find them
How to get featured in them
A master list of 60+ link round ups to check out
So let's get started.
What Is Link Round Up?
If you're new to this game, link round ups are essentially blog posts that feature other peoples' blog posts. Kind of meta, isn't it? They often appear weekly or monthly and will be themed around a particular topic such as SEO, content marketing, social media marketing, blogging, business, marketing, etc.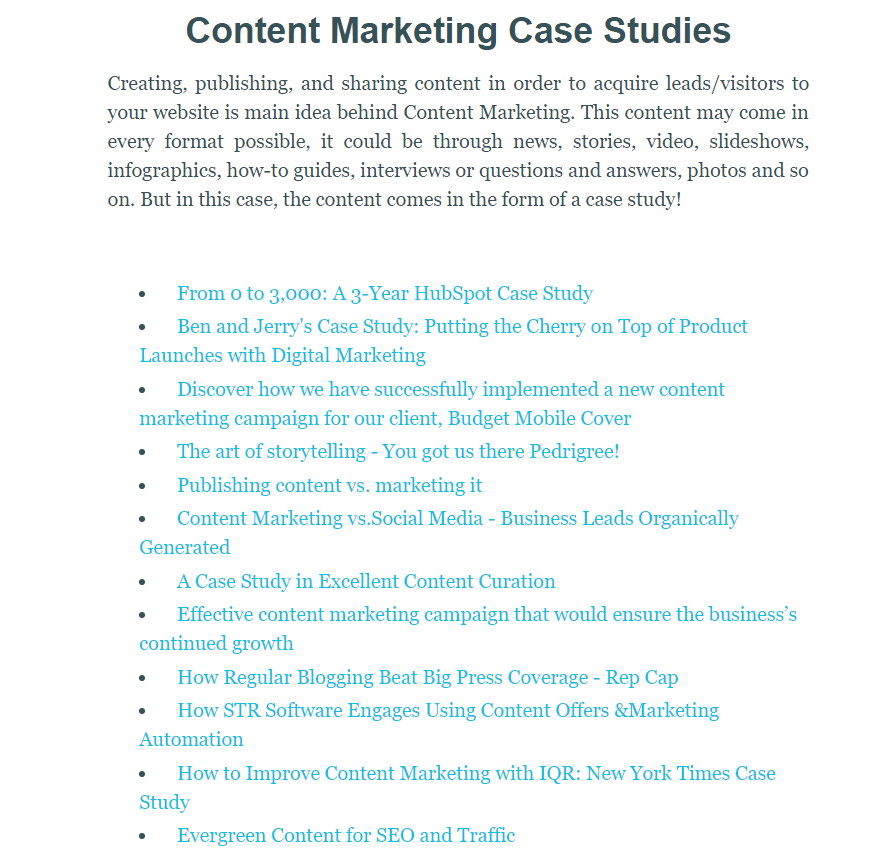 The idea of course is to share content with your readers from other sources. Changes are if you are blogging you are reading other blogs as well, and if you are doing work that benefits you then it would probably benefit your audience to know about it.
As this content is presented as being "the best" or at least interesting, people are particularly inclined to visit, which is why it's great to be featured.
How Do I Find Link Round Ups?
There are a couple easy ways to find link round ups in your niche.
Pay attention to your traffic/pingbacks - One easy way is to simply be featured in one. If you are, you will probably get a pingback or notice some traffic coming in from a somewhat abnormal source. This is how I found out about Rich's link round up as well as his main site Clambr. Since then, I've had some dialogue with him and I think he checks out my site from time to time.
Google Search - The next is to simply search in Google, which isn't as hard as it sounds. There are some particular keywords people tend to use and you can target those. Here's how:
intitle: roundup "YOUR KEYWORD"
In addition to the word round up, you might want to try variations, such as
Link love
Linky love
Friday's best (or another day of the week)
Mashups
Friday finds
Tuesday tips
Speedlinks
Best of
Top 10
May edition
Post awards
Weekly
Monthly
Roundups
Remember to vary days of the week and months to get all the variations.
How To Get Featured In Link Round Ups?
Of course there is no sure fire way to get featured in anything, but two methods work alright.
The first is to work on building a relationship with the blogger. For example, Lewis from CloudIncome and I are friends. As a result, he tends to read my blog, and from time to time, will feature me in his link round up. Jason, from DoSEOYourself has done the same.
The second is to email them directly a few days or so before their link round up goes live, and let them know about some of the content you have written and how it might be a great edition to their round up. That's how I got my Triberr post featured in Matthew Woodward's round up. Preferably you include recent content, as many people have restrictions that the post was published in the last week or month.
I like to break down my content into specific categories as well as write out the description for them to make it super easy to be included.
After all, it is a lot of work to curate this content, and I do believe that webmasters appreciate having it handed to them quite easily.
Here is a script I might use:
Hey Kristi
My name is Dave and I am a blogger at SelfMadeBusinessman.com.
I was looking for some link round up posts and I came across yours. I was hoping I could submit some of my articles for consideration. I have split them into category, with a short description.
Also I am writing a post highlighting all the different people with link round ups, so I'd love to feature yours too!
Thanks so much for your consideration, and have a lovely day!
Content Marketing
Title: The Definitive Guide To Guest Posting For Traffic
Description: Although guest posting has been a controversial topic this year, this article breaks it down into everything you need to know to find the right blogs to pitch, and get a great feature that will drive traffic to your blog.
http://www.selfmadebusinessman.com/2014/05/18/definite-guide-guest-posting-traffic/
Social Media
Title: Hacking Triberr – How I Got A 6 Million Reach In Two Weeks With 80 Twitter Followers
Description: Triberr is still relatively new for social media, but in this case study we see that even with just a few Twitter followers you can experience great results in a short amount of time.
http://www.selfmadebusinessman.com/2014/03/23/hacking-triberr-got-5-million-reach-two-weeks-80-twitter-followers/
SEO
Title: How To Organize A Killer Round Up Post That Gets 300+ Shares
Description: Round up posts can be a fantastic way to connect with influencers in your niche. This article is a case study on how a relatively new blog got three hundred shares and a lot of traffic by featuring 39 entrepreneurs
http://www.selfmadebusinessman.com/2014/06/22/write-killer-round-post
Business And Marketing
Title: 39 Successful Entrepreneurs Share Their FIRST Ever Sale
Description: If you are wondering about what product or service you should sell next, check out this case study of 39 entrepreneurs who share their first ever sales!
http://www.selfmadebusinessman.com/2014/05/05/first-sale/
I should note that while the above is formatted quite nicely, it looks like crap coming through a contact form - but nothing you can do about that. I also added the URL because you can't hyperlink in a contact form.
Master List Of Link Round Ups
If you are interested in doing or being featured in a link round up, I have done a search and collected as many link round ups as I could find. There will be instances where the person is no longer doing their round up so you should definitely check, but for the most part it is up to date and as new ones come in I am happy to add them. The name is linked to a recent round up that they have done, and I have noted the topic and frequency.
Website
Topic
Frequency
kikolani
Marketing
Weekly

Francisco from iblogzone

Content Marketing, Social Media

Weekly

Laura from seocopywriting

SEO and Copywriting

Weekly

Brooke from repcapitalmedia

Social Media

Monthly

Joseph from blogaid

SEO and content marketing

Weekly

Sherryl from keepupwiththeweb

SEO

Weekly

Chris from verticalmeasures

Content Marketing, Social Media

Weekly

Matthew from matthewwoodward

SEO/Content Marketing

Monthly

Jason from doseoyourself

SEO/Content Marketing

Monthly

Lewis from cloudincome

SEO/Content Marketing

Monthly

Michael from tucsonvelo

Bicycling

Monthly

Ross from crowdspring

startups, entrepreneurship, small business

Weekly

Richard from techtoucan

Content Marketing, Social Media

Monthly

Denise from writeandgetpaid

Writing

Monthly

Mike from internetjetstream

Content Marketing, Social Media

Monthly

Julie from thisgalcooks

Food

Weekly

Jane from makeaheadmealsforbusymoms

Food

Weekly

Kristi from ishouldbemoppingthefloor

Food
Weekly

Lisa from flourmewithlove

Food
Weekly

Aubrey from homegrownandhealthy

Food
Weekly

Amanda from naturallivingmamma

Food
Weekly

Judy from bakeatmidnite

Food
Weekly

Anyonita from anyonita-nibbles

Food
Weekly

Mandy from mandysrecipeboxblog

Food
Weekly

Jill from realfoodforager

Food
Weekly

Erin from ourtableforseven

Food
Weekly

Kristy from sheeats

Food
Weekly

Kelly from kellythekitchenkop

Food
Weekly

Linda from glutenfreehomemaker

Food
Weekly

Aka from foodyschmoodyblog

Food
Weekly

Nancy from realfoodallergyfree

Food
Weekly

Lea from nourishingtreasures

Food
Weekly

Miz from mizhelenscountrycottage

Food
Weekly

Millie from homespunoasis

Food
Weekly

Kimi from thenourishinggourmet

Food
Weekly

Cindy from vegetarianmamma

Food
Weekly

Katie from

nourishingsimplicity
Food
Weekly

Jess from hungryharps

Food
Weekly

Mark from vizioninteractive

Internet Marketing

Weekly

Marla from aristotlebuzz

Social Media

Weekly

Jim from internetmarketingninjas

SEO, Internet Marketing

Weekly

Michelle from seo-e

SEO, Content Marketing

Weekly

Jason from uklinkology

Marketing, Content Marketing and Social Media

Ethan from roadsidemultimedia

Marketing, Blogging

Weekly

Tom from cornerstonecontent

Content Marketing

Monthly

Corey from northcutt

SEO, Social Media and Content Marketing

Monthly

Joanne from JoanneClancy Writer

Content Marketing and Writing

Weekly

Hannah from repcapitalmedia

Content Marketing and Social Media

Monthly

Helen from ahrefs

SEO, Content Marketing

Weekly

Rob from zadroweb

SEO, Content Marketing

Weekly

Ross from crowdspring

Business, Social Media and Marketing

Weekly

Steve from stevefarnsworth

Blogging, Social Media, Marketing

Monthly

Sean from

visiblehq

SEO, Blogging

Weekly

Garry from seoinc

SEO
Weekly

Mitch from pndblog.typepad

Marketing

Monthly

Susan from .hallaminternet

Blogging, Marketing

Monthly

Ben from

bensbeerblog

Blogging

Weekly

Jaclyn from jaclynpaul

Blogging

Monthly

Jacob from NomadicNotes

Digital Nomad Related News

Fortnightly
Note: Kristi has discontinued hers for now but has plans to restart it in a few months.
If you know of one that I missed (even if it's yours) feel free to tell me in the comments, and I'll add it!