We have another list post for you! You know the drill. This time, I'm going to use NinjaOutreach to prospect the top blogs for another lucrative niche that's as enduring as life itself—parenting.
Methodology
For this article, I used Google Trends to check general search stats for parenting.
I set the filters to show global results from 2004 to present in all categories.

Now, I see the top locations that have searched for "parenting" overall, and I can see also the top related topics and queries.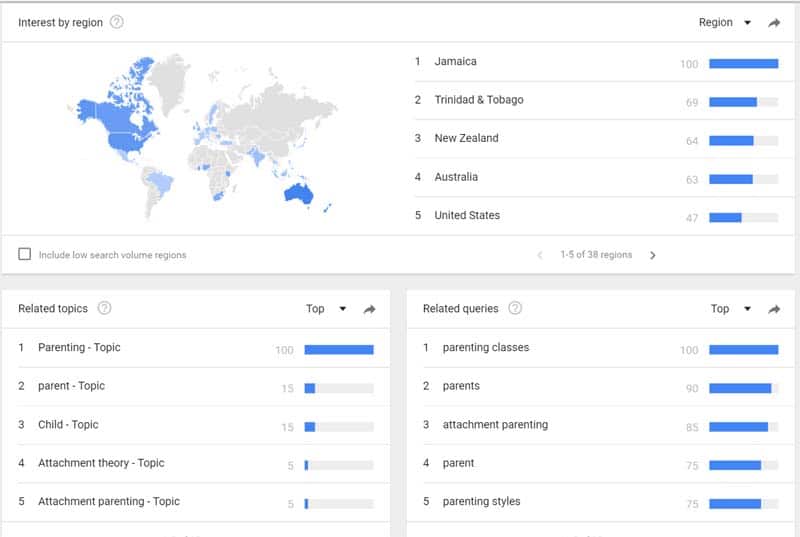 The top related query, "parenting classes," is apparently about programming, so let's ignore that.
However, results two and onward, seem more relevant.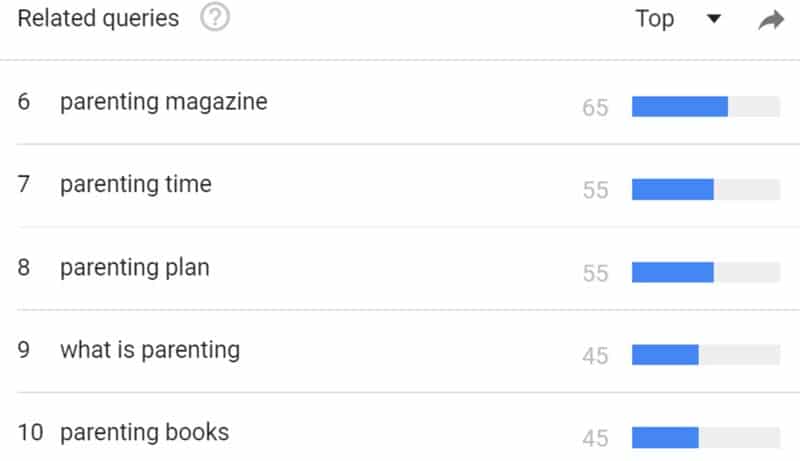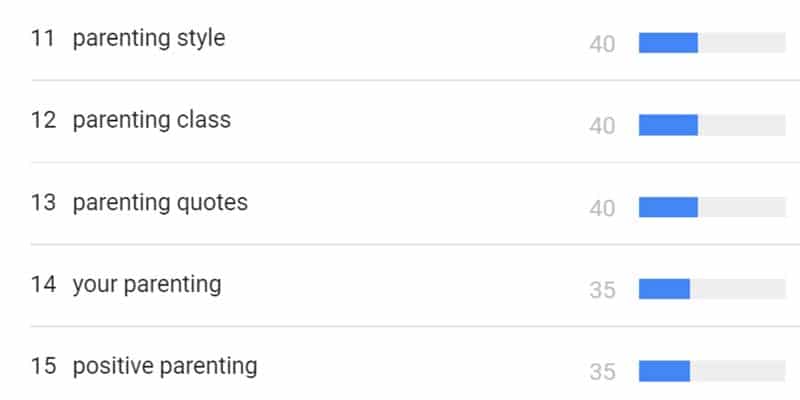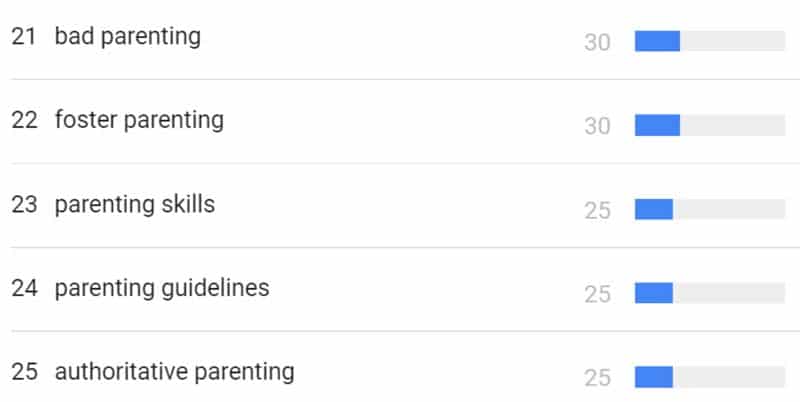 After crossing out other irrelevant results and looking at the commonalities between related topics and queries, I intuited the top issues most searches about parenting were about.
Attachment parenting
Parenting styles
Positive parenting
Bad parenting
Foster parenting
Parenting books magazines resources
Parenting plan
Single parenting
Authoritative authoritarian parenting
So now, I have several keywords to work with.
Next, I'll search for the trending articles related to these keywords using NinjaOutreach. Then, I'll check the SEO and social media stats of the blogs behind those top articles to find which sites have more authority and audience engagement.
Note: For the keyword "parenting plan," the best sources I found were law and official government blogs, which does not fit this article's general parenting theme, so I will not be including suggestions based on this keyword.
So, back to NinjaOutreach Content Prospecting, I searched for top articles about the topics that I already listed, starting with attachment parenting.
For every search, I excluded all companies from the results. This is just to help filter against blogs from mainstream corporate blogs.

I also filtered the results to have a minimum domain authority of 30.

Finally, I set another filter to organize my results according to number of shares per post. That way, the articles that have more social media shares show up top.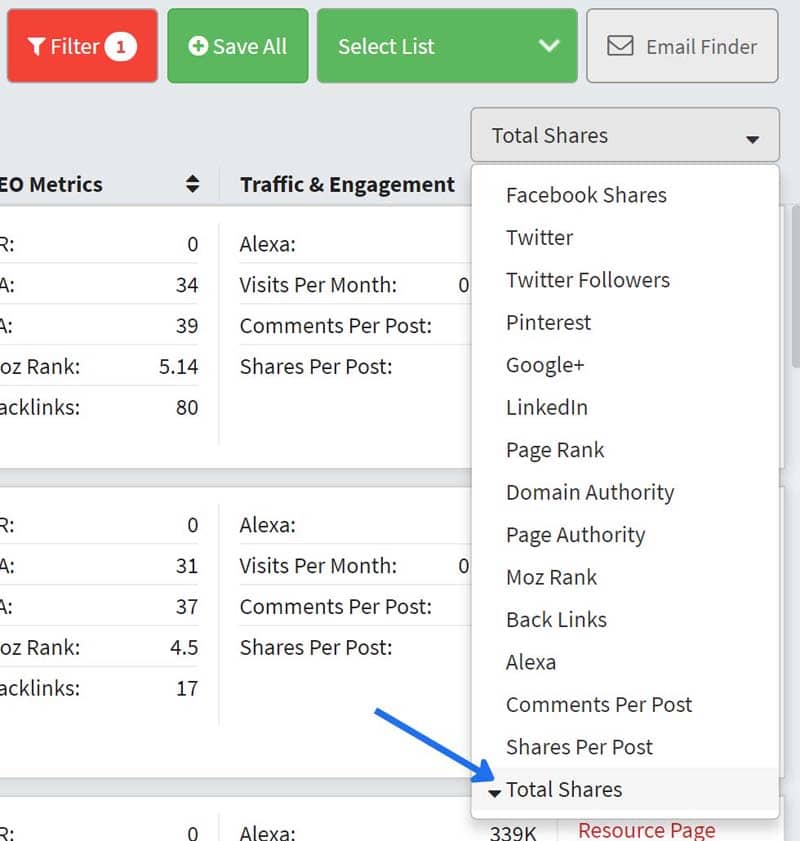 I will use this same process to find the top articles and blogs for the other topics. But of course, I will modify whatever needs modifying when I hit hard walls in my research.
Once I have my list, I will then manually whittle them down to fit our "best of" list.
Now, let's see what I found!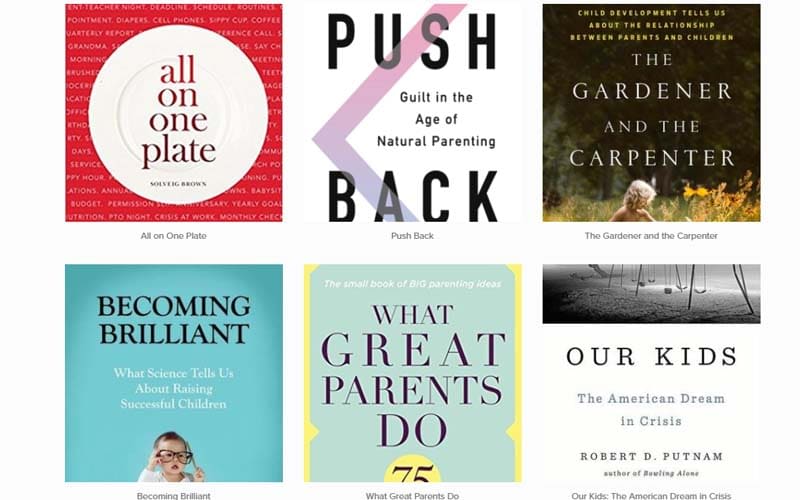 Domain Authority: 31
What could be a more authoritative blog about parenting than one written by a developmental psychologist? This blog, managed by Diana Divecha, Ph.D., contains commentary about various research on parenting and children's development. Dr. Divecha, among other things, is also a research affiliate with the Yale Center for Emotional Intelligence, where she works on research for bullying prevention.
See:
What is a Secure Attachment? And Why Doesn't "Attachment Parenting" Get You There?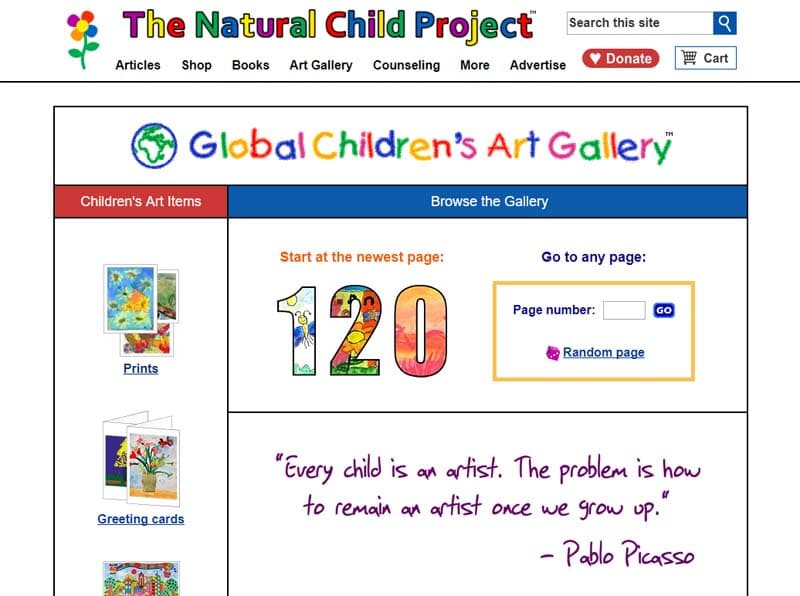 Domain Authority: 64
The non-profit Natural Child Project describes itself as a resource that: "covers information and advice on all aspects of 'attachment parenting' (raising children with respect and trust), unschooling (trusting the child to set the 'curriculum'), and child advocacy (including documents from children's advocacy organizations around the world)." The site's team is headed by project director Jan Hunt, a psychologist and member of several associations advocating attachment parenting and the prevention of cruelty to children.
See: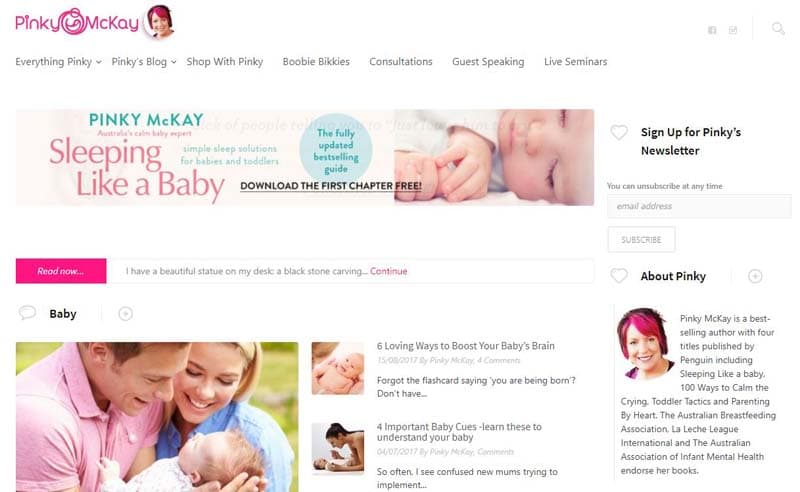 Domain Authority: 40
From breastfeeding, establishing sleeping habits, to calming unruly kids—for those pressing questions related to raising newborns into well-adjusted toddlers and beyond, this blog by International Board Certified Lactation Consultant Pinky McKay is the place to go.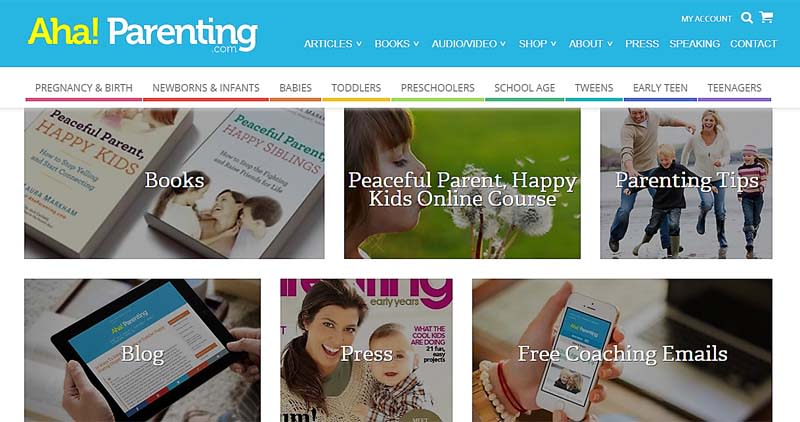 Domain Authority: 60
Aha! Parenting is edited by Dr. Laura Markham, a Clinical Psychologist from Columbia University. The blog is all about breaking off from traditional, authoritarian parenting and offers advice on "gentle guidance" and "positive discipline."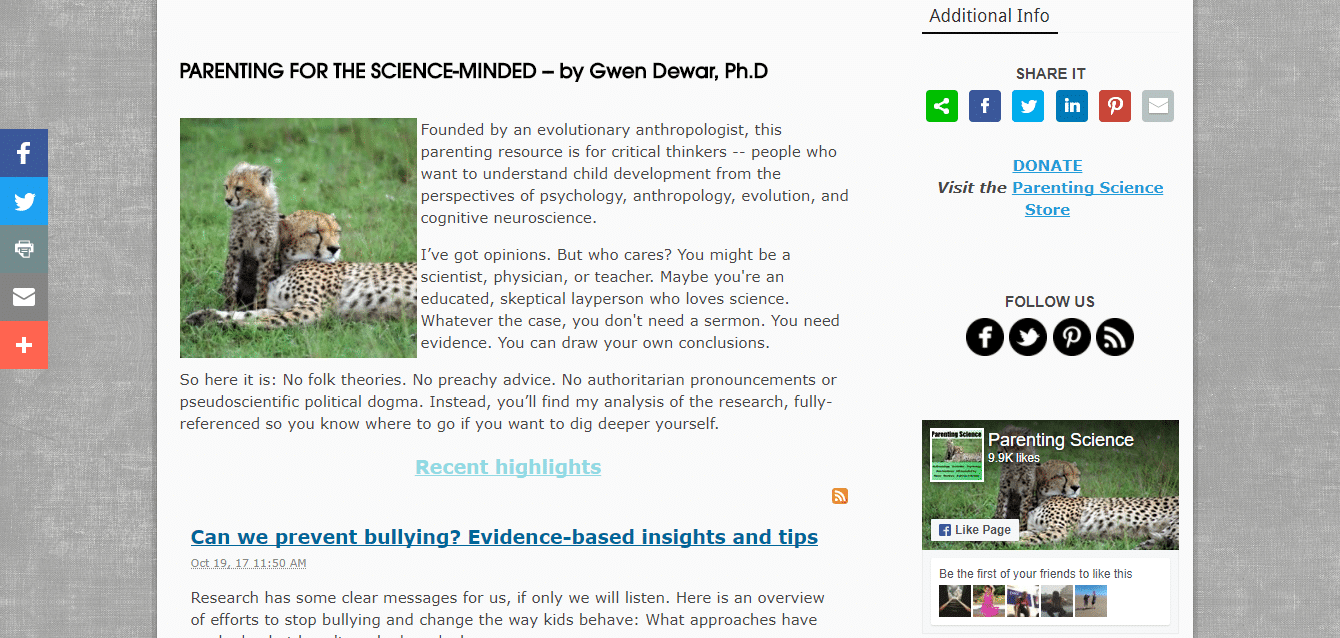 Domain Authority: 54
Parenting Science blog, founded by Gwen Dewar, Ph.D., (an evolutionary anthropologist) is a parenting resource for "people who want to understand child development from the perspectives of psychology, anthropology, evolution, and cognitive neuroscience." For Dr. Dewar, people do not need nor want to be preached to about parenting and promises that the blog will only focus on delivering fully-referenced, evidence-based articles, so readers can dig deeper and draw their own conclusions.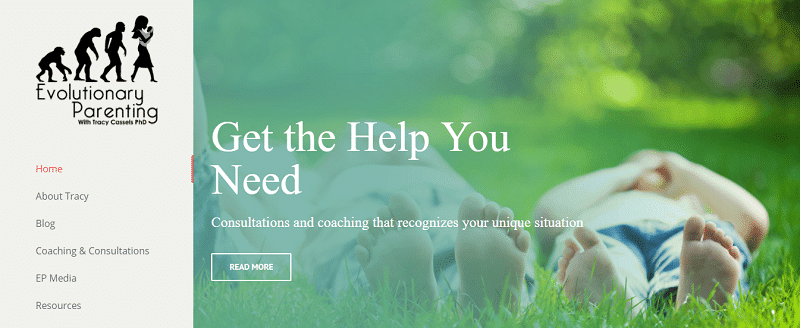 Domain Authority: 43
Evolutionary Parenting was founded by Tracy Cassels, Ph.D., a developmental psychologist and Program Director of Reaching for Rainbows, a non-profit dedicated to providing social and emotional development support for vulnerable and at-risk girls. The blog contains science-based articles, product reviews, and analysis of all things parenting. There is also a coaching and consulting option for parents.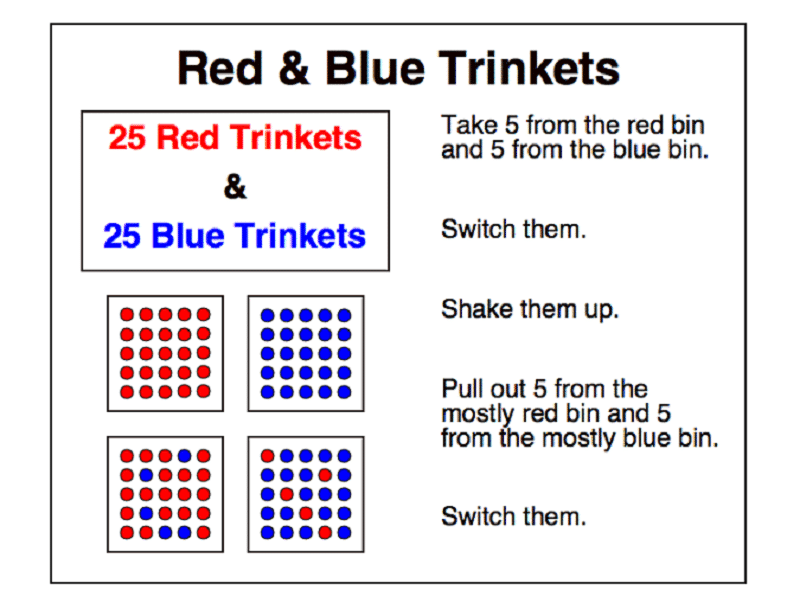 Domain Authority: 37
DevPsy is a blog that dates back to 2003 and was founded by physics grad turned developmental psychologist K. H. Grobman, Ph.D. Despite the fact that this blog was made to be an ultimate resource of all things developmental psychology for students and practitioners, the content is still invaluable for parents who want to learn science-backed parenting.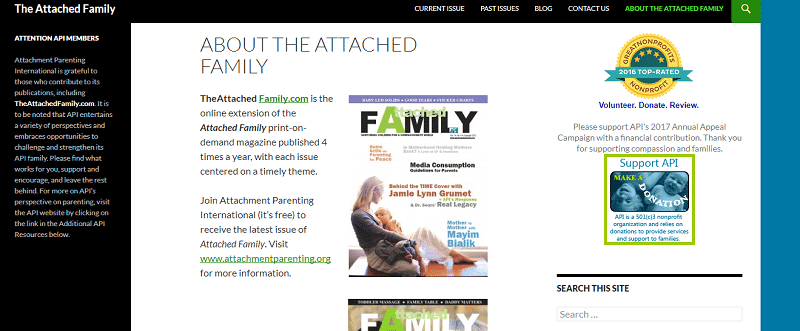 Domain Authority: 40
The Attached Family is the online blog extension of the print magazine, Attached Family, both of which are the publication arms of the non-profit organization, Attachment Parenting International. As its name suggests, the Attached Family blog is chock-full of articles, videos, and other informational materials about the parenting style of attachment parenting.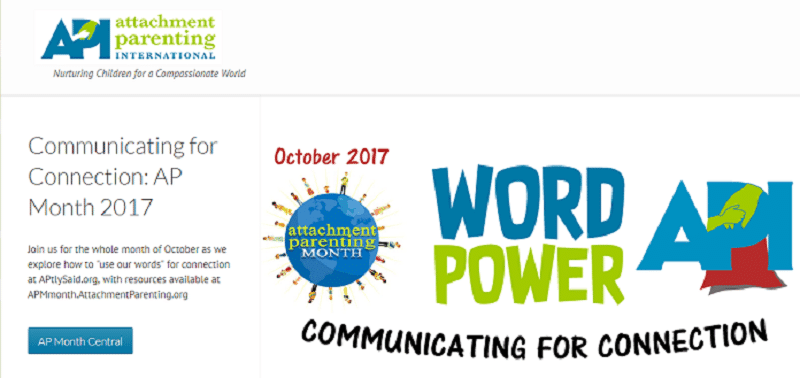 Domain Authority: 59
Attachment Parenting blog is the online home of non-profit organization Attachment Parenting International. It contains an array of articles and resources about attachment parenting organized according to a child's developmental age. The blog also publishes news and announcements related to the organization, its events, and other causes.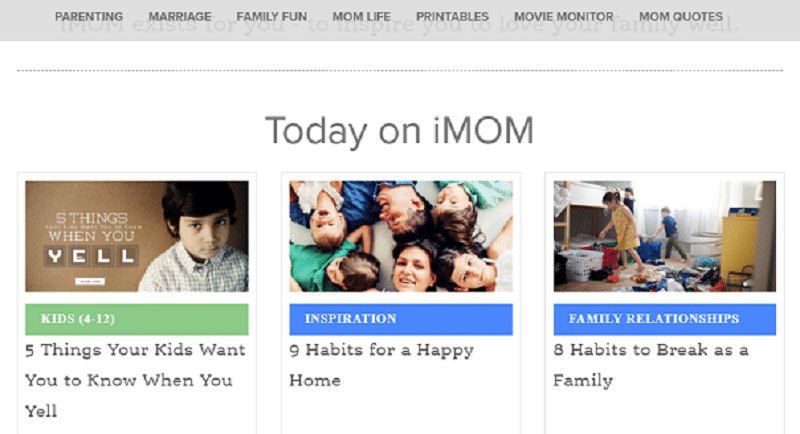 Domain Authority: 54
iMOM is founded by Content Director, Susan Merrill, and has a dedicated team managing it. iMOM delivers parenting support in a comprehensive package, with advice for managing parent-child relationships, marriage, and all other relationships that contribute to a healthy family life overall. iMOM even has a section for adoptive parents.
But perhaps one of iMOM's most notable features is its kid-friendly movie reviews section, with recommendations from other parents. As a bonus, there are also free printables.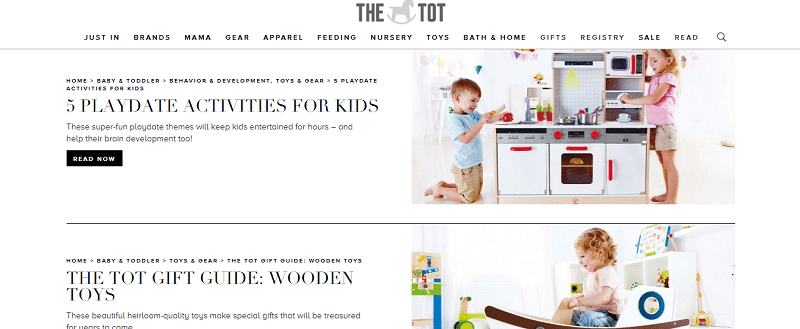 Domain Authority: 40
The TOT is an ecommerce website by former fashion editor turned serial entrepreneur, Miroslava Duma. Their goal: "To be the premier destination that offers trusted advice with mindfully curated safe, non-toxic, innovative and stylish products for conscious parents in a world of overwhelming choice." But behind this fashionable exterior of carefully curated, to-die-for mother-and-baby products catalog, is a blog section stocked with articles on how to handle parenting—from prepartum to postpartum, from newborns to toddlers, teenagers and beyond—that are as meaningful as they are stylish.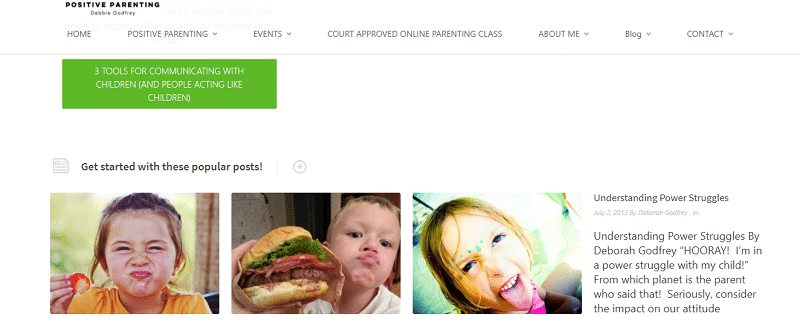 Domain Authority: 53
What could be a more apt resource about positive parenting than a blog with that exact domain name and a certified, experienced parent educator at its helm? From articles, online classes, parent coaching, family empowerment sessions, and more, Deborah Godfrey aims to provide all the help she can to parents who want to " discipline their kids without breaking their spirit." Deborah is also an active participant in various child protection and support organizations.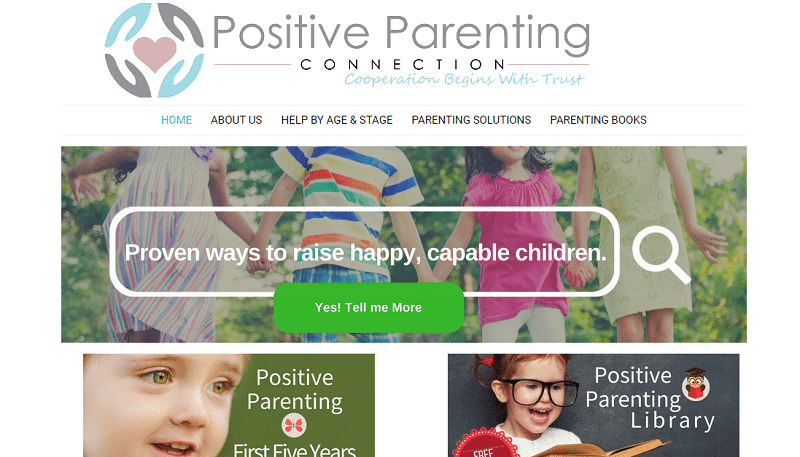 Domain Authority: 41
The Positive Parenting Connection is a collaborative blog by "parenting educators, psychologists, coaches, and parents." Founded by Ariadne Brill, herself also a parenting educator, the blog contains practical advice and support for parents who want to learn constructive and "non-punitive" ways to deal with common child-rearing issues.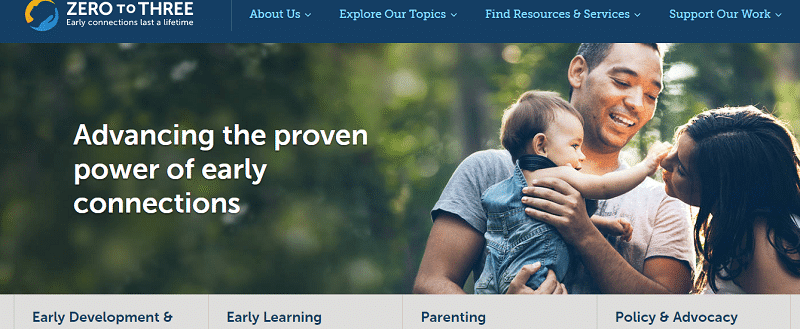 Domain Authority: 82
The Zero to Three blog is the online resource by a Los Angeles-based non-profit of the same name. The blog is home to informative, data-backed articles focused on early child development specifically, as its name indicates, meant for the crucial ages of 0 to 3. Zero to Three is run by early childhood professionals and policy advocates who aim "to align groundbreaking research with the real needs of the region's youngest residents and serve as a vital link with programs and policy."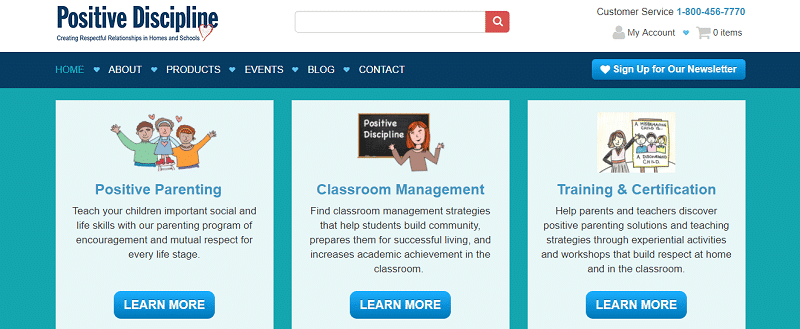 Domain Authority: 54
This is the main website for one of the most recognized parenting styles of the modern age: positive discipline. Resources—from books to online videos, events, manuals, classes, and more—are available for parents, teachers, couples, and professionals.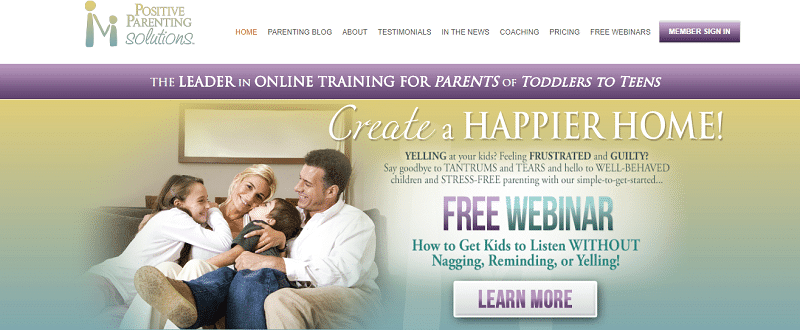 Domain Authority: 47
This website is the online learning portal for positive parenting expert and advocate, Amy McCready. Parents have access to learning materials, insightful articles from the blog and, most importantly, coaching sessions with the founder herself. Positive Parenting Solutions aims to help parents navigate child-rearing through the positive parenting style from birth through to the teenage years.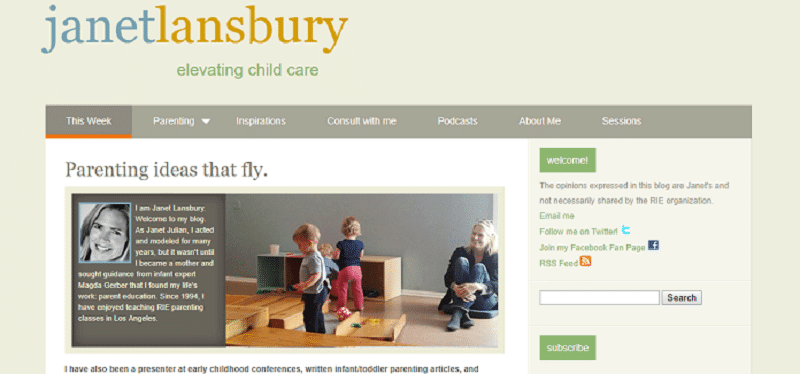 Domain Authority: 49
This blog by former celebrity turned parent-child educator Janet Lansbury is a useful resource on the "educaring" method of parenting.Called Resources for Infant Educarers (RIE), the RIE method was co-founded by Magda Gerber (infant specialist and educator) and Tom Forrest, M.D., (pediatric neurologist).
The RIE philosophy advocates eschewing established, formulaic ways of parenting. Physical distractions viewed as disrespectful to a child's real wants such as bouncy chairs, sippy cups, and the like (even toys!) are discouraged. According to RIE, every child has unique needs and signals, so these should be responded to after sensitive observation.
For more about this method, Janet's blog is a resource for articles, podcasts, audio lessons, consultations (online or in person), and live classes.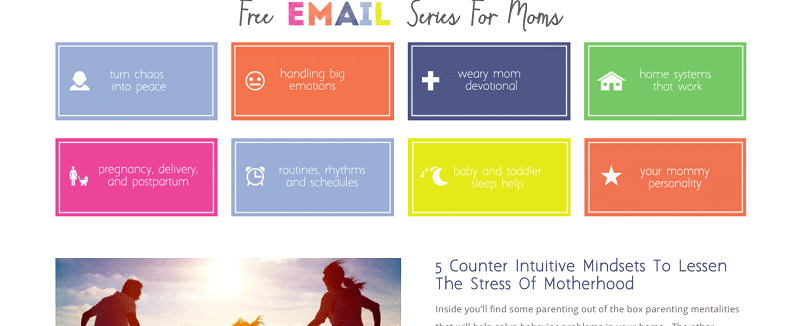 Domain Authority: 42
A Mother Far From Home is a beautifully packaged blog by mother of five, Rachel Norman. With an email series for moms, healthy baby food recipes, printable parenting organizers, anecdotal advice, a sleep course, parenting style test, and more, what's not to like?

Domain Authority: 35
Someone's Mum is the blog of Danielle Duggins, a former English teacher and mother of two, one of which is on the autism spectrum.
Parenting children is hard enough, but for parents of children on the spectrum, the challenge is amped up by miles. This blog is a vivid and emotional storybook of those trials—how Danielle manages her role as parent to two different but equally exceptional children, and how to find the magic of parenthood even in the most trying of times.
Of course, aside from parenting survival 101, the blog also comes with a variety of play and quality time ideas for kids both in and out of the spectrum.
Domain Authority: 35
Foster 2 Forever is a blog that provides stories, advice, learning materials, and even online training for other foster parents who need support on how to manage relationships with adopted children.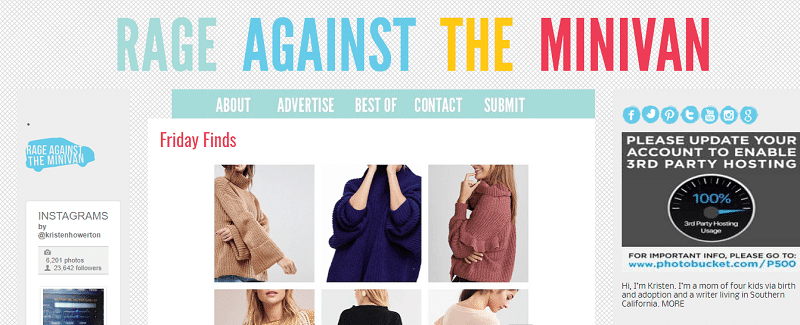 Domain Authority: 53
As its name suggests, Rage Against the Minivan is a humorous blog by mother Kristen Howerton to both her genetically and adopted children. As Kristen says, the blog is a safe place to explore and laugh about the "indignities of motherhood." Great site for fed up moms who need to kick back, take things a little less seriously, and live a little.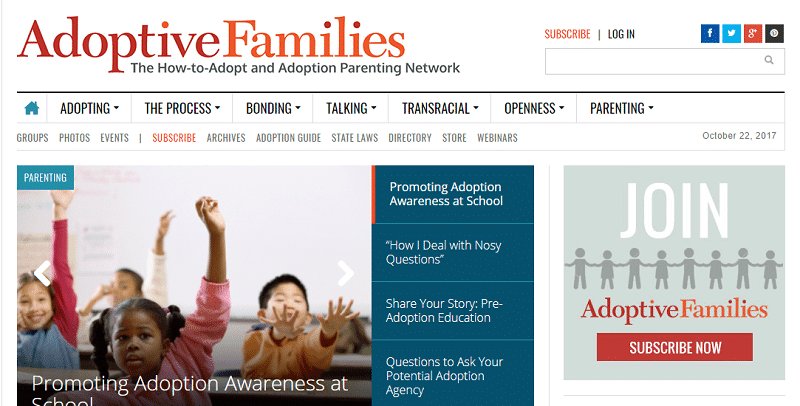 Domain Authority: 66
This website aims to serve as a "resource and community for adoption parenting," and is stocked with information from how-to-adopt to parenting after adoption.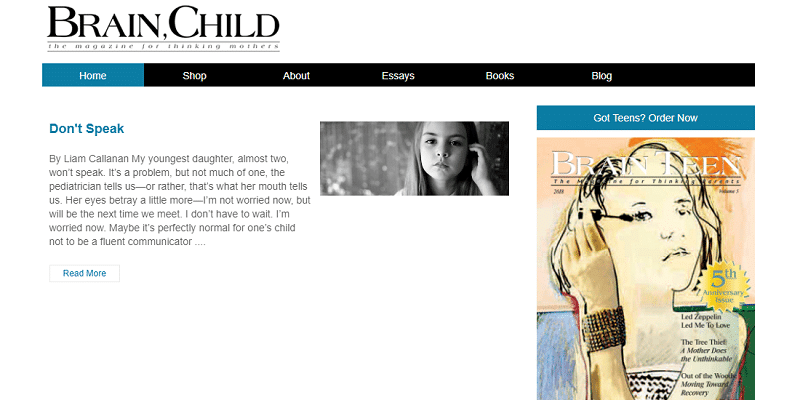 Domain Authority: 51
Dubbed as "The New Yorker for Mothers," Brain Child is the online blog extension of the award-winning print magazine, Brain, Child: The Magazine for Thinking Mothers.
The blog's goal? "to bring together the many voices of women from different backgrounds, circumstances, and experiences" to help provide mothers with "insight and perspective into real issues."
Aside from a blog section filled with exceptionally written stories (the blog accepts long-form essay submissions), the site also has book reviews and an online shop.
See:
Top Ten Books for Parenting Children With Disabilities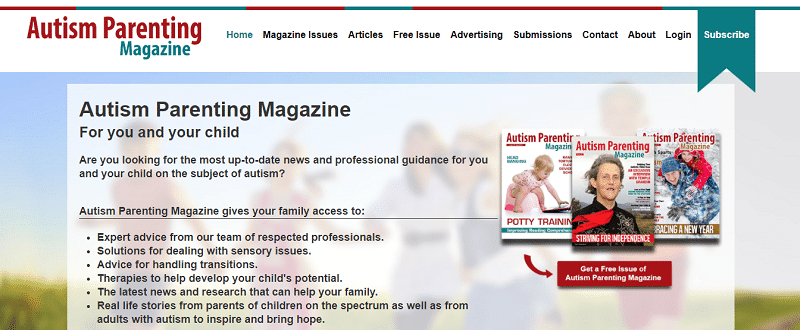 Domain Authority: 45
The online blog extension of the print magazine Autism Parenting, the publication's goal is to provide "up-to-date news and professional guidance" for parents and children on anything and everything to do with autism. The blog also welcomes story submissions.
See:
Autism Resources for Parents – The Ultimate New Guide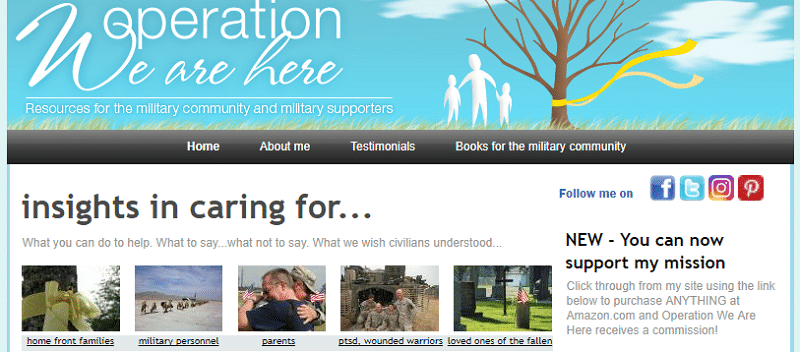 Domain Authority: 46
Operation Here We Are is not a strictly parenting-only site but more of a blog meant for families of people serving in the military. The blog's kids' section comes with great book recommendations for children of soldiers to help them bridge the gap with parents who are away on the field.
See: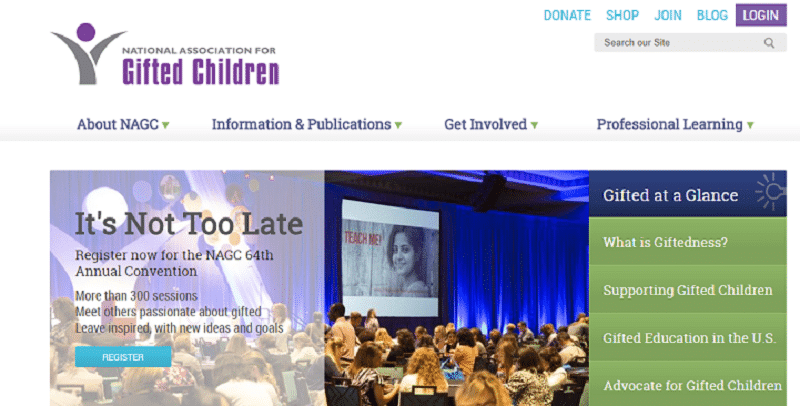 Domain Authority: 75
No, it's nothing like an X-men school or mutant organization, but it's pretty close. The National Association for Gifted Children (NAGC) is a non-profit dedicated to nurturing and providing support to gifted children, families, researchers, as well as education and health professionals who "work to help gifted and talented children." The website has a well-stocked archive of information from glossary of terms, school recommendations, research material, articles, and more.
See:
Resources for Parents | National Association for Gifted Children

Domain Authority: 60
The blog is an online resource for those interested in practicing Cognitive Behavioral Therapy principles in parenting. There are free behavior charts to help parents track their children's progress. There is also a rich collection of expert-written articles organized according to the diverse behavioral problems that parents frequently encounter with children.
See:
Setting Limits for Difficult Kids: Are You Too Strict?
Signs of Parental Abuse: What to Do When Your Child or Teen Hits You
Parenting After Divorce: 9 Ways to Parent on Your Own Terms
28. Parents Without Partners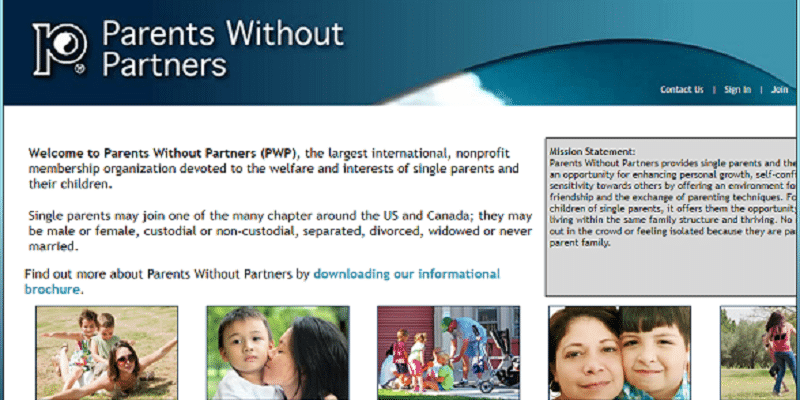 Domain Authority: 49
Parents Without Partners is the online home and resource by, to quote, the "largest international, nonprofit membership organization devoted to the welfare and interests of single parents and their children."
Aside from a member sign-up section, the blog also has an online resource section filled with free articles, books, "parenting kits," and a members-only section.
See:
School Success Kit for Kids with ADHD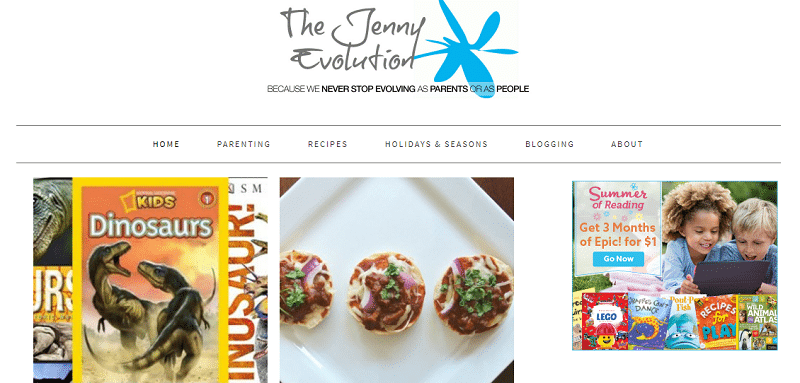 Domain Authority: 52
For those not into overly complicated, Pinterest-perfect parenting, then The Jenny Evolution blog will be a welcome respite.
The blog has a ton of book recommendations, product reviews, parenting tips, family and kid activity lists, kid-friendly recipes (gluten-free snacks, anyone?) and a section for parenting kids with special needs. But the founder, Jenny, promises that it's all something any busy mom can easily do in her free time—no domestic goddess certification needed.
Oh, and the blog accepts guest posters, too.
See:
Children's Books About Fall (Autumn Unit Study)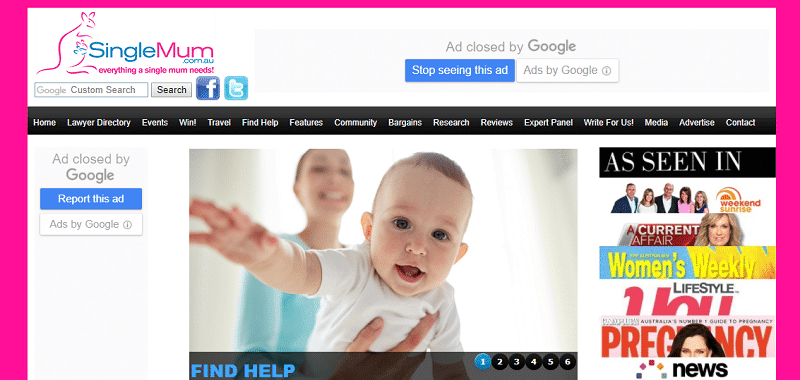 Domain Authority: 37
The Single Mum is, according to their self-description: "Australia's biggest divorced, separated and single parent community and website discussing child support, custody, Centrelink benefits & payments for single parents & all single parenting. Info and support for separated, divorced, ex-de facto, pregnant and solo mums."
For those interested, the Single Mum also has a Write For Us page.
See:

Domain Authority: 34
The Marcy Axness blog features a resource list of high-quality books for every developmental, behavioral, and other child-rearing milestones. The blog also lists consultation options and contains expert advice from the internationally renowned speaker, author, and early development specialist Marcy Axness.
See:
Talking to Children About Tragedy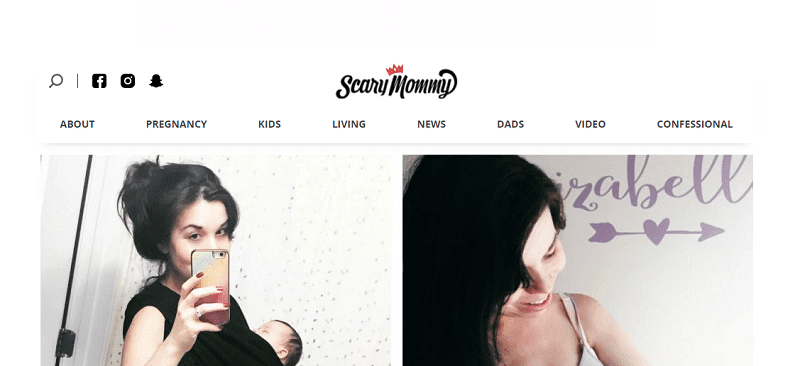 Domain Authority: 72
Scary Mommy has gone a long way from the personal parenting blog of Jill Smokler. Its no-nonsense articles and parent confessionals dished out all the good and the bad about parenting. The community of Scary Mommy flourished, and the blog has since been acquired by a media company that gave it more resources to tap into.
These days, with a full-scale in-house team at its helm, Scary Mommy has turned into somewhat of a Wired for "scary" parents—that is, parents who acknowledge both the beauty and messiness of parenting, with no rose colored glasses.
See:
The Advice I Didn't Know I Needed After An Autism Diagnosis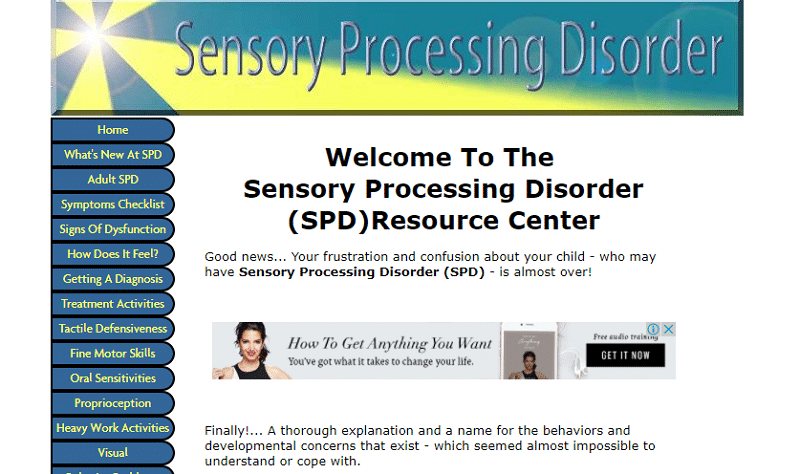 Domain Authority: 49
This blog is an incredibly valuable resource for any parent, educator, caregiver, or therapist struggling to understand and explain sensory processing. It peels away the blinders and brings understanding as to why some kids just can't stop fidgeting, can't sit still, or need to keep biting things.
Filled with rich info that elucidates how the body perceives sensory input, readers will walk away from this blog more equipped to address children's common sensory issues.
See:
A Step By Step Guide For SPD Parents: The Seven Steps For Helping Your SPD Child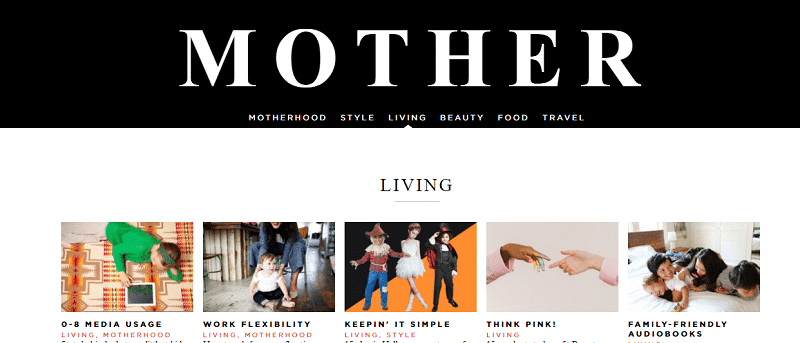 Domain Authority: 48
Parenting doesn't always mean ditching beautiful things for utilitarian drab. But the lack of resources for practical and "stylish" parenting is a gap that cofounders Katie Hintz-Zambrano (former fashion journalist) and James Kicinski-McCoy (blogger and photographer) wanted to fill.
Enter Mother Mag: a fashion-forward, full-service magazine style blog for mothers who want to keep the glamour in their otherwise hectic lives. All content is littered with lovely pictures of what motherhood would be like if mothers don't forget to take care of themselves, too.
It's not all pretty products, recipes, books, and recommendations either, but also contains inspiring editorials featuring moms who show how to mother effectively and gracefully.

Domain Authority: 69
Parenting is not all about hugs and kisses—although that is an essential part of it. But aside from love, there is also the fundamental need to keep your child healthy.
And when it comes to ensuring that your child meets proper developmental milestones, gets adequate nutrition, hygiene, protection against diseases, and most importantly, identifying warning signs, then this blog by the Sears family is undoubtedly a household name resource.
The team is headed by pediatrician Dr. William "Bill" Sears, his wife, nurse and childbirth educator Martha Sears. Alongside them are their sons, who are all pediatricians, Dr. Jim, Bob, and Peter Sears.
Such a power lineup makes the site the ultimate expert roundup of articles, advice, learning resources and more, from experienced health professionals in pediatric care.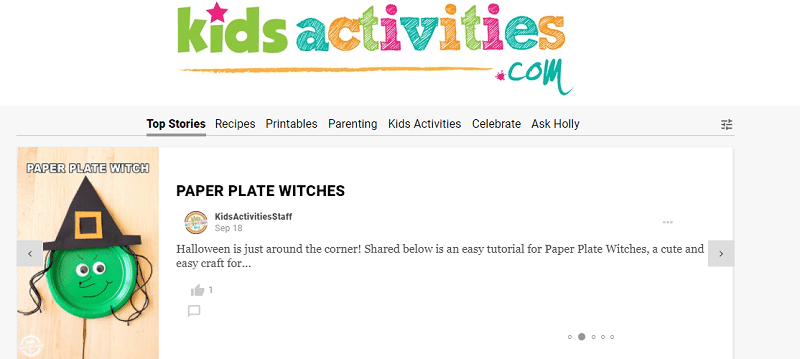 Domain Authority: 51
This blog should be a treat for DIY parents. It has one of the most abundant and interesting collections of free printables, recipes, crafts, parenting articles, giveaways, and yes, kids activities. The blog's goal is to make parenting interactive and fun, and it's reflected in their design—candy-colored and laden with illustrations.
There is also an "Ask Holly" section for the blog's subscribers where the founder, Holly Homer, replies to messages from her readers.
Final word
And that's it! Again, if you feel like I've missed anything, feel free to point me in the right direction in the comments section.