For the last 90 days I have been using and reviewing a new startup, SoHelpful, which aims to help you find your first 100 customers through helpful marketing.
In this tutorial, you will learn
What is SoHelpful?
How do I set up SoHelpful?
What results can I expect from SoHelpful?
What is it like to speak with someone on SoHelpful?
And more..!
Note: This post does NOT contain affiliate links, and I have no business association with SoHelpful other than the fact that I am a customer, nor did they request for me to write this review or pay me to do so.

What Is SoHelpful?
I came across SoHelpful from two other entrepreneurs who I know through the Dynamite Circle, a private membership community.
Both of them are using SoHelpful, so I thought - well, if it's working for them, it could work for me!
After all, I am launching a new digital marketing startup at Ninja Outreach and I need to drive leads to grow that business.
But first I had to figure out what SoHelpful is, because I had never heard of it or seen it before!
The SoHelpful methodology states that being helpful is one of the most effective ways to build our reputations and grow our businesses. We call this strategy Helpful Marketing, and SoHelpful is a product we've created to make it easier to be helpful over Skype, Hangouts, or phone calls.
In short, it's a platform through which potential customers can seamlessly schedule a call with you. You have a profile, with testimonials, and it integrates with your Google calendar. You can send potential customers to your page so they can schedule time with you, and you dictate your availability through your calendar.

The service costs $9/month and has a 30 day Free Trial.
When I first read this, my response was a bit of confusion.
Wait a minute - I have to pay $9 a month to speak on the phone with people for free?
So I emailed the CEO Kevin and asked him to clarify, and he wrote back: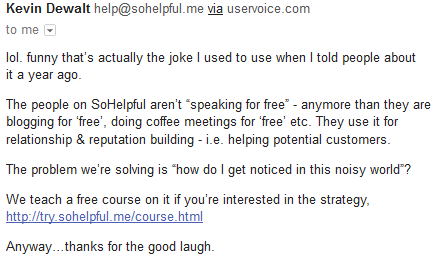 Kevin had a point here.
There are a lot of things business owners do for free, that, on the back end, they think/hope will build leads and drive sales.
And of course there is also just the volunteering aspect (but if you're going to be paying a monthly fee, you're probably looking to drive sales).
To be honest, this really spoke to me, because I often feel that I have a lot of advice I could give, if I could simply get on the phone and help someone, and that would be great for networking and building relationships.
But it's pretty difficult to get people to give you their time nowadays, everyone's too busy!
At the same time, so much of sales is reputation. If you want people to buy from you, specifically digital products, courses, membership communities, etc - people want to know who you are.
So I decided it was worth a shot!
It's free for a month, after all, and only $9/month afterwards.
Signing up was a breeze, it was mostly just filling out a short profile, and then syncing it with your Google Calendar. The whole process took about 5 minutes and I'm confident just about anyone could have it up in running in under 10 minutes.
Here is what my profile looks like, with a few testimonials (more on those calls later):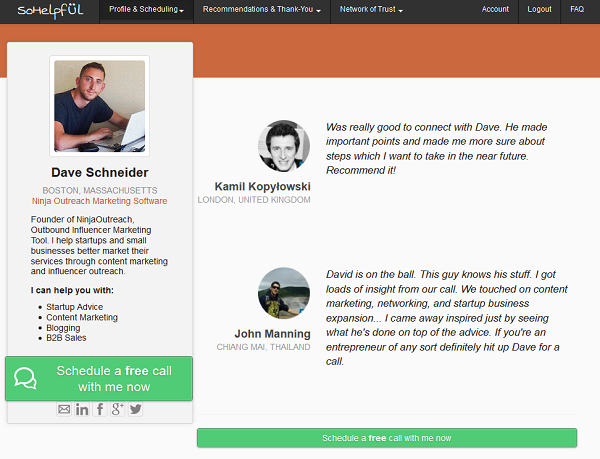 If someone wants to schedule a call they just pick a slot.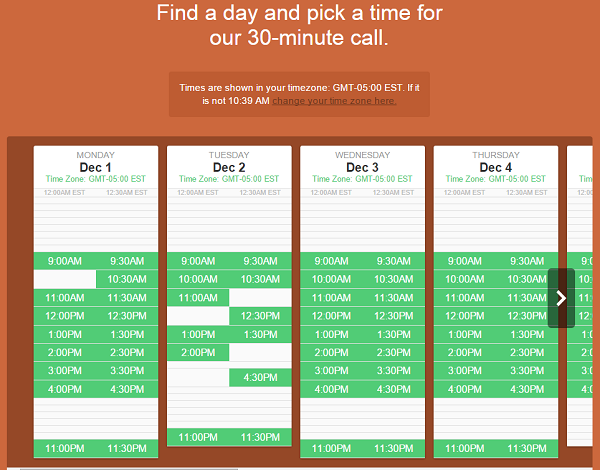 When I was done my thought was to just sit back and let the calls roll in.
Unfortunately, Kevin was clear that they didn't have nearly enough traffic to make that a reality - if I wanted to talk with people on the phone, I would have to promote it to my audience.
In some ways this seemed a bit odd to me, because if I am going through the hassle of promoting a way to get in touch with me, why not just give out my Skype and not have to pay $9/month?
Kevin's argument is that the platform facilitates people to schedule calls with you, because it provides an easy, user-friendly way for customers to pick a time, see your availability, and view your testimonials/expertise.
So I decided to throw it out there and see what happened.
I advertised it on my blog's sidebar: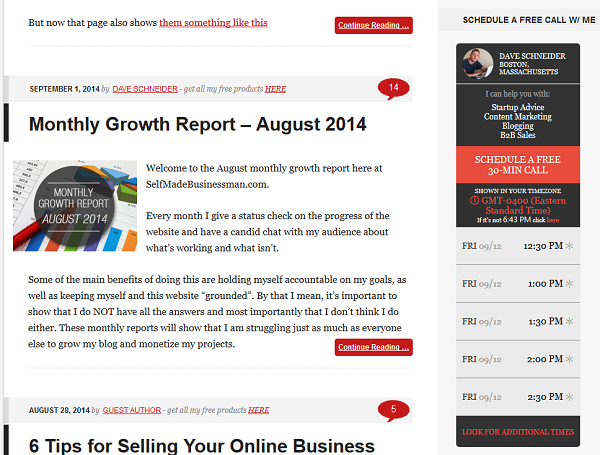 I also added it to both of my email follow up series (Selfmadebusinessman, and NinjaOutreach).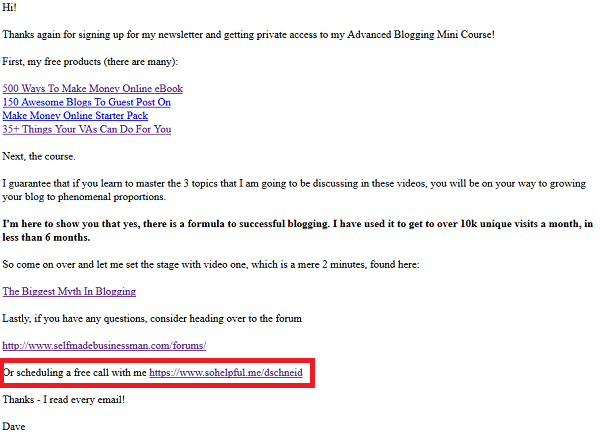 Naturally, the leads I'm most interested in are the ones for Ninja Outreach, but realistically, Self Made Businessman has all the traffic right now, so I thought it would be necessary to include it as well.
And then I waited.
And within the first two days, I had two requests!
Inbound Calls With Sohelpful
The very first called actually resulted in a no - show. I later connected through email with that person, and gave them some help on their topic of interest (making money online).
Next I had a call with Kamil from Poland, who was also interested in making money online. That call went well, and I hope I provided some actionable advice to help him on his way. He ended up writing me a testimonial.
It was disappointing that I could not drive more results with that level of promotion. Of course, I did not make a Herculean effort to promote my page, but at the same time, my hope was that with the thousands visitors this blog attracts, and the hundreds of newsletter subscribers that sign up in a month, it would convert much better than it did.
So what is the result after 90 days?
Things picked up.
I haven't been keeping track but I would venture to guess I've had around 2 dozen inbound calls on SoHelpful. Most of them fall into the following buckets
Call Scheduling - The most common is that I simply use SoHelpful as a call scheduler to talk with someone I probably would have talked with anyways, but by using SoHelpful it is a bit more convenient. In short I get the most value out of it by having it be a call scheduler. This makes my schedule clear, makes the details of the call clear, and helps remind both parties about the call. This alone is probably the main reason I am still a customer. There are other call schedulers of course, some are free, though I think most with comparable functionality are paid. I find the platform pretty easy to work with.
Response To Outreach - I include SoHelpful in a lot of my outreach efforts like if I'm sending direct emails to cold leads, things like that. On occasion these generate inbound calls. Again another call scheduler could do this but I like that SoHelpful includes recommendations and has my picture and a description. I think it helps win over cold leads who are on the fence about scheduling a call better than a traditional platform because it builds more trust.
Random - This is basically people who come off my blog and see the widget, or are searching on the platform itself. From a sales perspective these calls tend to be the least valuable. Although they do sometimes introduce me to nice people, they also have the highest rate of No Shows and people who are just very off topic to what I can offer.
Nowadays I generally get a few inbound calls a week, and I used SoHelpful to run the beta launch for NinjaOutreach.
Outbound Calls With Sohelpful
There are a lot of opportunities to get value out of SH by scheduling calls with other members.
There are dozens of topics and over a hundred members right now, offering up free 30 minute calls.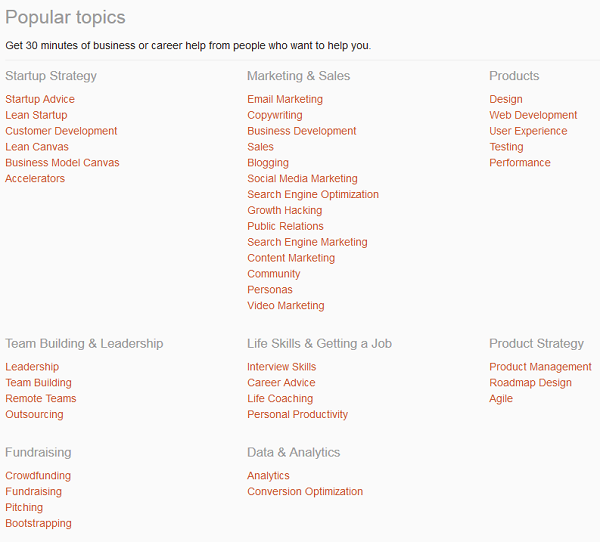 When you think about how much it can cost for a single coaching call, which doesn't even guarantee that the individual is going to be well versed in the topic you're interested in at the time, this is definitely a bargain for many entrepreneurs.
I decided to seek out anyone with an interest in startups and entrepreneurship and schedule calls with them.
The process of scheduling is pretty easy and the reminders they send out are super clear.
My goal was to chat with other business owners, learn about their experience with SoHelpful (was it driving leads) and then just get advice for Ninja Outreach.
Again, I had about a dozen calls, and it provided a lot of insight into my business.
From what I could gather, most people were using SoHelpful as a way of giving back and networking. I wouldn't say a lot of people claimed it was driving leads, but they were happy to devote an hour or so a week to connecting with another entrepreneur. Certainly that has value.
Additionally, I found that some of the outbound calls I was doing was inadvertently driving interested parties for my software, NinjaOutreach, since it works well for blogger outreach and lead generation and is very applicable as a general marketing tool and CRM.
Conclusion
In conclusion, despite my initial thoughts that I would cancel, I remain a paying customer.
Although I'm not 100% thrilled with the platform I have found myself sharing it with other people, as well as writing this post, so I guess for all its shortcomings perhaps I like it more than I realize.
As for the results - well, it's not like I've been keeping track and of course NinjaOutreach is still in beta and there is no way to tie SH back to generating new sales.
What I can say is this:
I've had a lot of nice calls with people, both inbound and outbound, which have provided a lot of insight into my business.
Some of these calls have built nice relationships, which has been an additional win for networking.
I've probably spent less time dealing with call scheduling by using SH, since it is quite intuitive.
However, that has also come with a cost, and I don't mean the $9 a month.
I've spent hours on the phone, some of which were on calls that I knew were "going nowhere" and were likely just a time suck. I've also had a fair amount of no shows, which can interrupt your day/scheduling.
If there is one thing I would do to improve SoHelpful, it would be to force a longer questionnaire as to why the person wants to meet with you.
I get that they want to make it low friction, but I often find the people who write the least are the ones who tend to no show or be fruitless calls.
But to have them have to write a few sentences would provide me with enough intel that I could preemptively decline a call that I didn't think was valuable.