I love podcasts. Specially Marketing and Entrepreneurship Podcast.
I love that they're so easily digestible. It's a nice 30 minute or so nugget that I can listen to while at the gym or going for a walk.
I'm picky though because there are certain topics that I'm more interested in than others.
As a result, I go through them quite quickly and I need to have a lot to draw from.
Here are 15 podcasts that you should check out, if you're interested in entrepreneurship and digital marketing.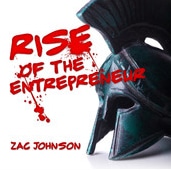 Rise of the Entrepreneur with Zac Johnson
Zac may be new to the podcasting game but he has been a digital entrepreneur for a number of years and brings a ton of wisdom (and killer guests) onto his show. Definitely worth checking out!
Recent Customer Review: Even though Zac just launched I've gotta say that he sounds like a natural behind the mic. I learned a lot from his first guest, Jim, and love that his personal battle cry is aligned with mine as well. I'm looking forward to more shows and keep up the great work Zac!
---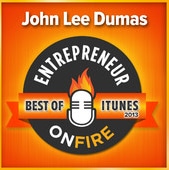 Entrepreneur On Fire by John Lee Dumas
John made a huge splash in the podcasting world two years ago when he decided to do a daily podcast. His enthusiasm for entrepreneurship truly shines and he interviews a ton of big names.
Recent Customer Review:This podcast is an instant hit. John Dumas has simply found some of most inspiring entrepreneurs and brought them into one podcast. Every interview provides amazing insight into the minds of people who are further down the path of success in the areas of life where many of us have yet to travel.
---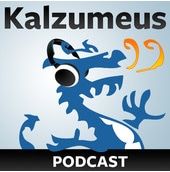 Kalzumeus Software By Patrick McKenzie
Pat just started his podcast but without a doubt it will take off because he's got the knowledge and experience to make it worth your time. I'm interested to see where this one goes.
Recent Customer Review:Patrick knows his stuff. If you're a consultant or run a software service, this is a MUST listen to podcast. In fact, everything he puts out is very useful information.
---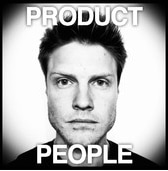 Product People By Justin Jackson
I love Justin and Kyle's focus on the products AND the people. There aren't that many podcasts that focus specifically on products so if you are a software entrepreneur this is a must.
Recent Customer Review:If you're at all interested in building income from software or online products, you have to give this series a listen. At the time of this review the guests they have gotten are top notch in their fields (Rob Walling, Patrick McKenzie, etc). Extremely valuable and looking forward to the future episodes.
---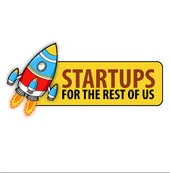 Startups For the Rest of Us By Rob Walling and Mike Taber
I've probably listened to more of these podcasts than anyone's.The advice is super solid and I like the depth they each go into. They have a podcast for just about every topic a podcast founder would want.
Recent Customer Review:This podcast is targeted at those who are starting or running small software or web businesses on their own. It offers advice on everything from project management to marketing/AdWords management to finance and personal time management. The hosts often reflect on their own extensive experiences. Even though I'm not a micropreneur, I found the time management advice helpful. It's now in my podcast queue along with TWIT, MarketPlace, The Bugle, and TAL.
---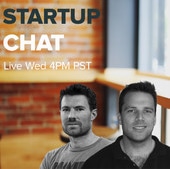 Startup Chat By Dan Norris & Alex McClafferty
I love Dan's no BS style for entrepreneurship and he's put together a killer podcast to complement his own startup WPcurve.
Recent Customer Review:Dan Norris is smart and an action taker. I got to spend 2 weeks with Dan in the Philippines recently and see just how brilliant he is with web design, online marketing and software development. He's a triple threat! If you learn just one thing from Dan, I hope it's to implement your ideas. If you don't take action you're never gonna dominate the web. Listen to Web Domination and crush it. ~ Tim Conley, The Foolish Adventure Show.
---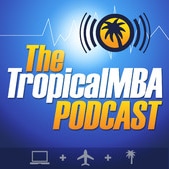 Tropical MBA - Entrepreneurship, Travel, and Lifestyle By Dan Andrews
Dan and Ian are uber professionals when it comes to podcasts and their shows are really fun and entertaining to listen to. If you're looking to escape that 9-5 lifestyle, this is for you.
Recent Customer Review:Amazingly entertaining. This is exactly what I hoped to hear coming from Dan and Ian from The Lifestyle Business Podcast, Tropical MBA dot com and the Dynamite Circle. I was always a little bummed out listening to The LBP when they would say they had just spent hours bs-ing but it wasn't what us listeners wanted to hear. Its exactly what I want to hear! I've always gotten a lot of value listening to people I look up to when they're relaxed and just shooting the breeze and this podcast is excellent for getting that kind of insight and value.
---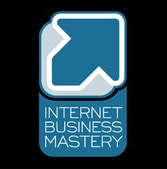 Internet Business Mastery By Jeremy Frandsen and Jason Van Orden
The guys at IBM know internet marketing through and through, and I thnk they have a great rapport with each other which makes for an entertaining podcast.
Recent Customer Review:I found out about this podcast this week, and i already ran out of episodes to listen to. You guys are great at what you do. I like your show especially because you are just trying to help out people with their business. You never talk like the guys that promise you riches every twenty seconds. I think that you should start promoting your websites because i would not mind checking out some of your info products to learn more. Also i think that you should release a new episode every day or maybe two days, jk. I recommend this show to anyone starting a business or already has one, because it is easy to relate to their experiences and tips. Keep up the great show! Damien
---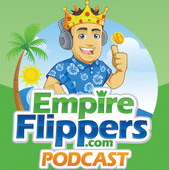 Empire Flippers Podcast By Justin Cooke and Joe Magnotti
I've been a big fan of these guys for awhile. They dish out practical no frills business advice and if you are interested in niche website building, buying, or selling, this is the place.
Recent Customer Review: This is a great new podcast about building niche sites. The show is well produced and the hosts are entertaining. Keep up the good work!
---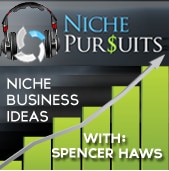 Niche Pursuits Podcast By Spencer Haws
Spencer's always got his hands in a ton of pies from niche sites to software to internet marketing and his guests are no different. Check this one out!
Recent Customer Review:Trustworthy podcast where real learning happens without the hype.
---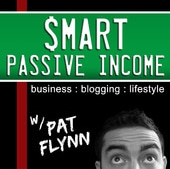 The Smart Passive Income Podcast By Pat Flynn
Pat's been dominant in the podcasting world for ages now. I love how each episode starts with a quirky fact about Pat. He brings in all sorts of guests, kind of like John's EOF.
Recent Customer Review:Pat Flynn is the epitome of "Smart Passive Income". He constantly shares in depth, unbiased, and uber helpful content that most bloggers could charge a premium for and he does it for free! He's completely transparent with his business- successes and failures- and gives anyone hoping to escape the 9 to 5 a fighting chance go get there. I've enjoyed his first webcast and I'm sure his podcast will be mothing short of spectacular. Subscribe. Enjoy. Prepare to be engaged.
---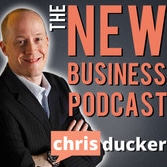 The New Business Podcast By Chris C. Ducker
Chris is a business powerhouse and manages a virtual assistant business in the Phillippines. With years under his belt there is solid advice here about how to work ON your business and not IN it..
Recent Customer Review:I love this business podcast because Chris always brings on great guests and shares the smartest tips on how to grow your business. Check it out!
---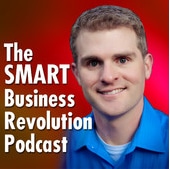 The Smart Business Business Revolution Podcast By John Corcoran
I love John's focus on networking and relationship building, which is what everyone knows they should be doing but few actually are.
Recent Customer Review:John Corcoran's podcasts offer invaluable tips for small business owners, including great information about how to effectively use the web and social media to market their businesses.
---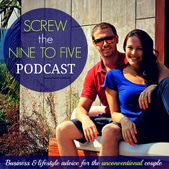 Screw the Nine to Five Podcast By Jill and Josh Stanton
New to the scene but up and coming without a doubt. These guys have the type of relationship that only a married couple can product. Fun and entertaining!
Recent Customer Review:I love Josh and Jill because they are real people, they're fun to listen to, and they know their stuff. There is very little fluff and a lot of fun. I like how they tell the story from the perspective of a couple who is running a business together. I look foreword to more podcasts in the future, I find them very inspiring! Thanks Screw the Nine to Five!