We've just released an exciting host of new features on the NinjaOutreach web app social search and social media follower Counter are just the two of them.
Let me take you through them page by page:
Content Prospecting
Two big things that people have been asking for in the search were:
Advanced Search
Social Follower Counts
We've gone ahead and added tags to each result when applicable. The current tags we have are:
Blogger
Influencer (this is a blogger which high authority/engagement)
Company
Executive
Journalist
We look for keywords and metrics to inform us, and you can now see it on each prospect and filter by it. This will help everyone achieve more accurate results and know at a glance who they're looking at.
This is particularly useful to help separate those who are looking for bloggers and doing blogger outreach, versus those who are looking for companies and doing lead generation.
Additionally, we've added Twitter Follower Counts to results that have a Twitter Profile. You can sort and filter by Twitter Follower Counts, too.
For example, this is what a result could look like now:

Lastly, we've done some data cleanup so that results are more populated with first names, images, and locations!
Social Prospecting
Perhaps the most exciting feature is our new social search. Many people have been asking for influencers specific to platforms like Twitter and Instagram, so we've created an entirely new search for them.
It includes:
An exact match search for more relevant results
Filtering by tag (like the example above)
Profiles, Descriptions, Websites, Locations, and Follower Counts
Here is what it would look like if you were searching for marketing executive influencers: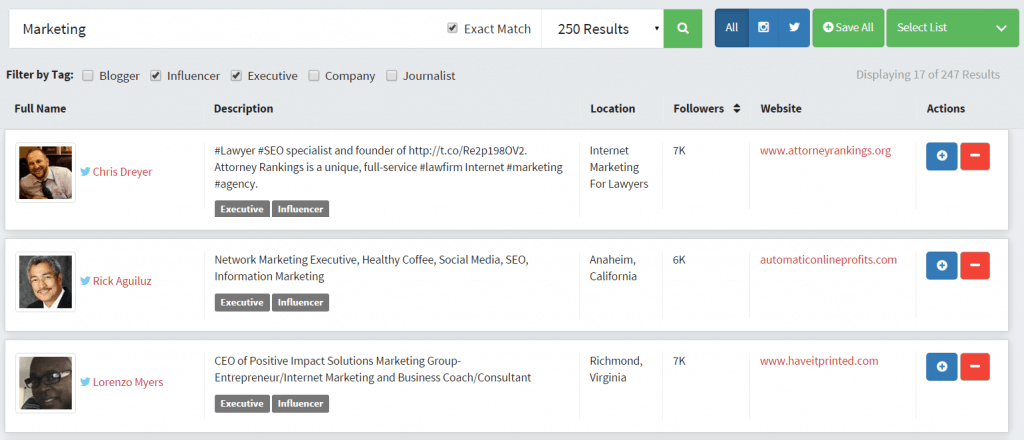 You can add these contacts to lists and export them or contact them just like the content prospecting.
Manage Templates
We've gone ahead and added two more custom fields including:
Page Title - The title of the page, as opposed to the URL (ex. NEW Social Search Features Added To NinjaOutreach (And More!) )
Website Title - The title of the website, as opposed to the URL (ex. NinjaOutreach)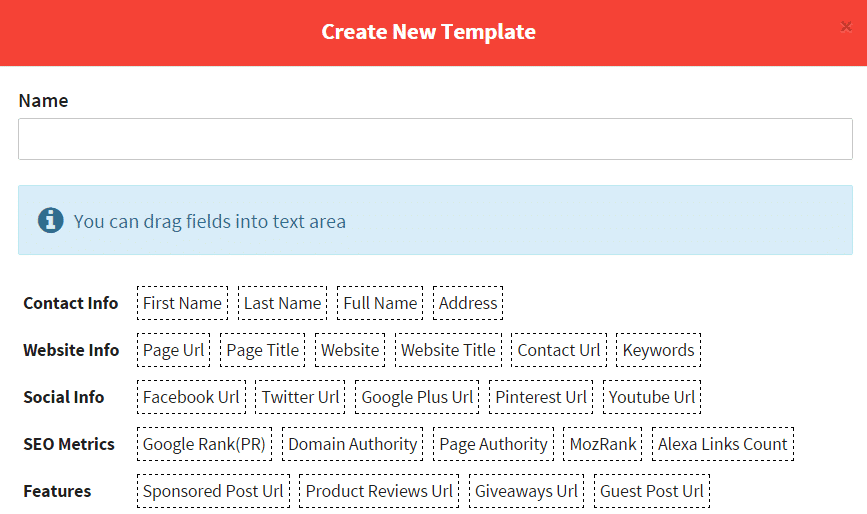 Now your emails will look even more personal (thanks Brad for the suggestion)!
Your Prospects
Many people were asking for an improved way to manage their contacts, so we're working on building out the CRM aspect of NinjaOutreach. There will be more on this in a few weeks, but right now some of the changes you can enjoy are:
Additional sorting by:
Added Date
Last Modified Date (last time an edit was made)
Email Sent Date

Also, you can now add an individual contact to your list as long as you have a website. Just fill in the information through the form: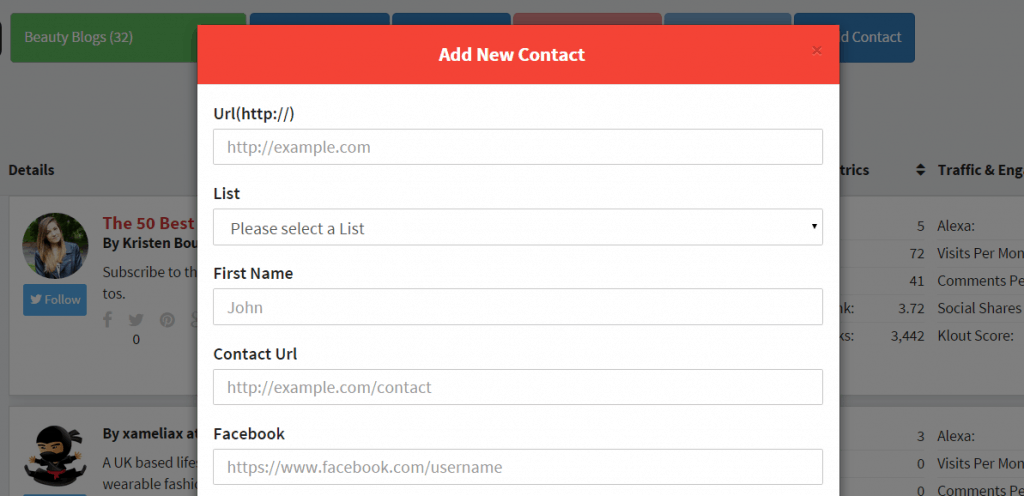 Next, we wanted to improve the email management aspect of things, so we added a filter that allows you to filter the results by:
Email Not Sent
Email Sent
Sent Today
Sent Yesterday
Sent More Than 1 Week Ago
Sent More Than 2 Weeks Ago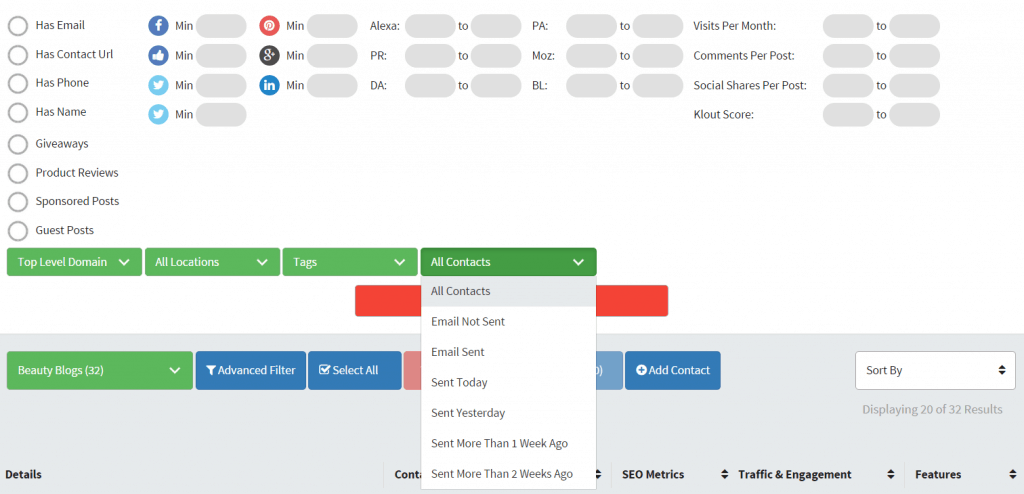 And you can see on the individual contact when an email was last sent: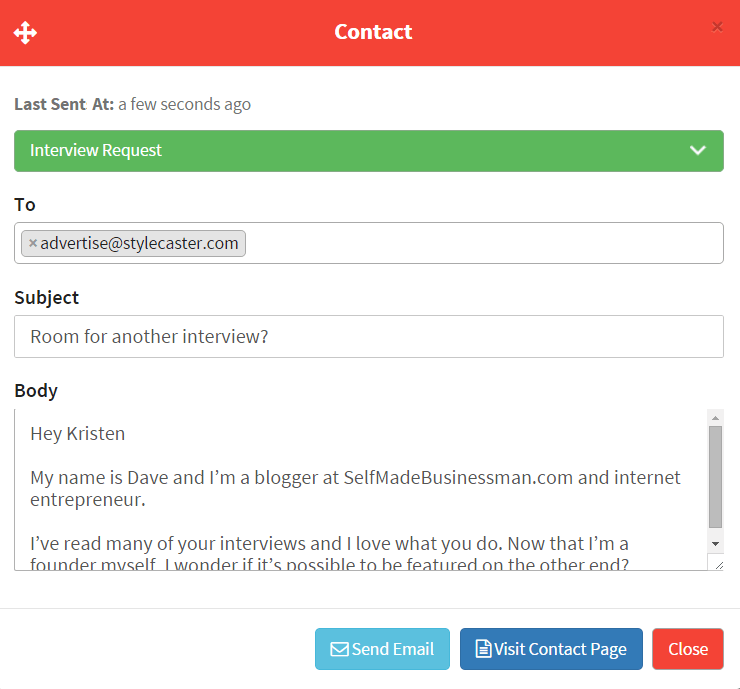 This will help you send follow-ups to anyone who has not replied in a week or two.
We've improved tag and note management by adding a bulk edit option. Just select all of the bloggers you want to edit and assign tags and notes to them all at once (for tags, this will append to your old ones, whereas notes will be overwritten).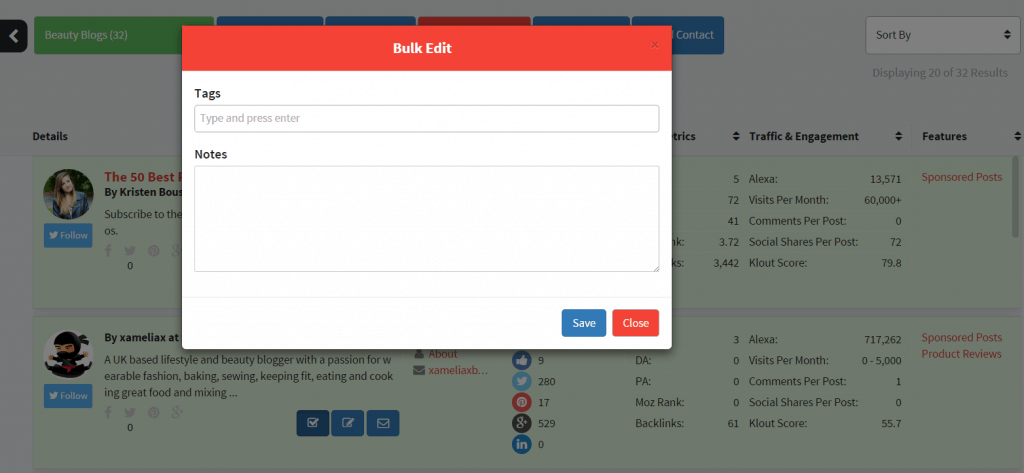 Lastly, if you want to follow a blogger on Twitter, we'll, now you can!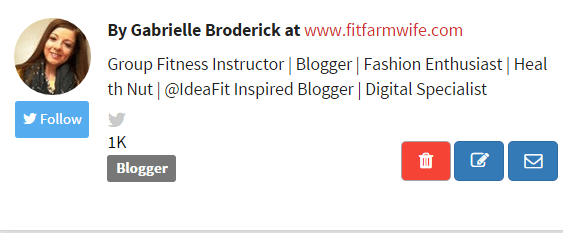 How-To
We want to show more users how they can get value out of the software, so we've built out a How-To section with videos on topics like:
How to get more interviews, podcasts, guest posts, and product reviews w/ NinjaOutreach
How to do broken link building w/ NinjaOutreach
How to do resource page link building w/ NinjaOutreach
How to do lead generation w/ NinjaOutreach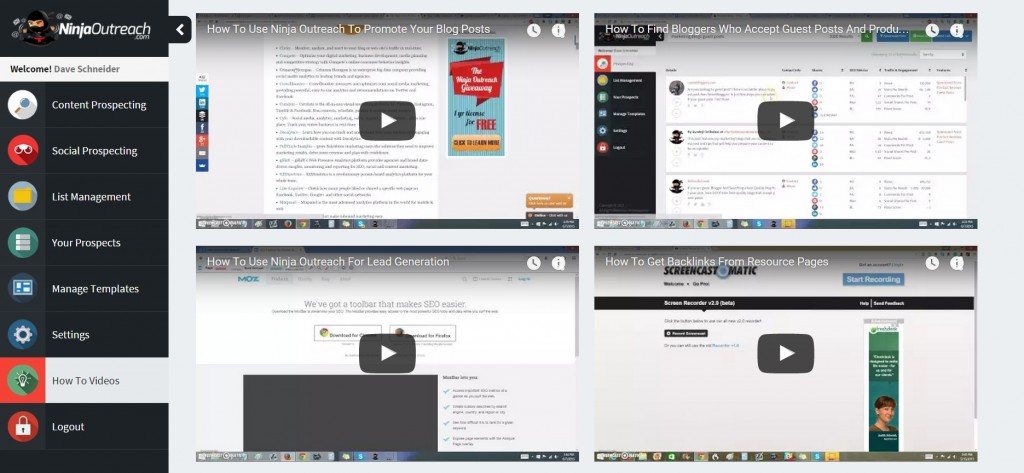 If you have a video request, let us know!
Conclusion
Although it had been over a month since the last update (we were busy with payment processing - sorry!), we're planning on recently improvements much much quicker going forward - weekly even. We have plans to improve the import functionality and build out the CRM aspect of NinjaOutreach including relationship management.
What do you think of the new features, and what else would you like to see?