Welcome to the February monthly growth report of SelfMadeBusinessman.com.
Every month I give a status check on the progress of the website and have a candid chat with my audience about what's working and what isn't. You can see past monthly growth reports.
Some of the main benefits of doing this are holding myself accountable on my goals, as well as keeping myself and this website "grounded". By that I mean, it's important to show that I do NOT have all the answers and most importantly that I don't think I do either. These monthly reports will show that I am struggling just as much as everyone else to grow my blog and monetize my projects.
What's New?
After a difficult January, February started to see things turn around for the better.
Here's a few of the highlights:
Recovering From Tendinitis - Even though I'm still not at 100%, my arms are feeling good enough to type as much as I want. Stretches, Dragon Software, and adopting a more ergonomic typing position has been very helpful. Hopefully when I get settled back home I can heal completely!
Guest Speaker Invitation - Something I've always wanted to do is to be a guest speaker at an event, like a conference. I got my first invitation the other day from Boston SEO, which is a marketing meetup group in Boston! They've had some top notch guest speakers in the past such as Brian Dean and Matthew Woodward, so I have some tough acts to follow. I'm planning on streaming the event via Google Hangouts if you're interested, and the live audience is expected to be over 50 people. The plan right now is to talk about outbound lead generation techniques for startups and small businesses. Wish me luck!
Road Trippin' - Vicky and I have crossed the 15k mile threshold with over 400 hours in the car - Wow! Apologies to anyone who requested to meetup, we just haven't had any time. We're pretty much in and out every night. Right now we're in Utah heading to Colorado, making our way back to the East coast.
As far as the blog, things are steady as usual. I haven't been putting much work into it as my focus as been on NinjaOutreach, so it's mostly on auto-pilot with a post once a week (though I still think the quality of the posts is solid - do you agree?)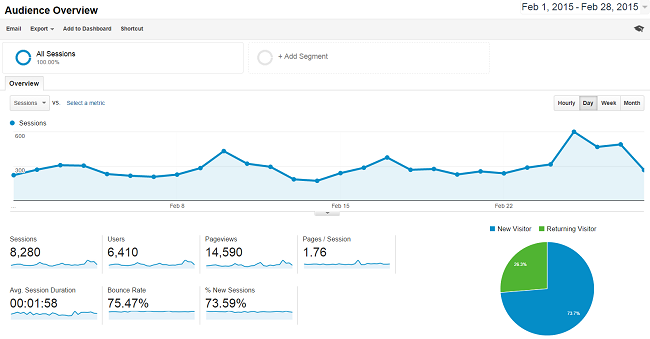 However, I have been doing a lot of guest posting as part of NinjaOutreach so perhaps things will start to pick up for this blog as well?
Project Updates
I only have one project right now, NinjaOutreach - Blogger Outreach Software, with no plans of taking on anymore.
Although we didn't hit the 20 customer mark I wanted in February we did see growth, and we are now at 15 customes and $558 in Monthly Recurring Revenue.
This month we're making some big advancements:
We have two more developers working with us as contractors. I expect this to speed up development significantly.
We're coming out with a free chrome extension, which will allow you to get on the fly analytics for any website. It's awesome and should serve as a great tool for lead generation!
We're releasing a web application. This has been highly requested and will open us up to 50% more customers and help conversion rates. I really have my fingers crossed that this will be a major release for us.
These just got started at the end of February, but I am expecting March to be a great month after we release these!
If you would like to help me promote the software with a guest post, product review, or podcast invite - let me know. We also have a great affiliate program with 50% commissions!
Income
Right now I only monetize my blog with AfterOffers.
AfterOffers - $82.50
Right now I am focused on NinjaOutreach, so I don't expect to see my income jump a whole lot for a minimum of 6 months, unfortunately.
Conclusion And Goals
There is still a long way to go but I feel like things are starting to turn around - but will they turn around in time to have a great March?
My goals for last month were:
Launch my product and get 20 paying customers (Fail - at 15)
Scope plans for the NinjaOutreach Web App (Success!)
Write 10+ Guest Posts for NinjaOutreach (Success!)
My goals for this month are:
Get 25 paying customers
Release the NinjaOutreach Web App
Release the NinjaOutreach Chrome Extension
Write 10+ Guest Posts for NinjaOutreach