A marketer's expectations can sometimes clash with a subscriber's perception of a marketing email. That is, while a marketer is focused on getting better conversion rates and revenue, a subscriber wants personalized answers to their pain points. And that's exactly why you need to sort out exactly how to position your email messages to ensure that your email campaigns give you the results you want.
An infographic by Email Monks shows these stark differences in what a subscriber really thinks about email marketing content, versus what an email marketer thinks they want.
But first, some quick pointers:
1. Write concise, non-misleading headers on your marketing email
Your subject line needs to be crisp. According to a study, open rates go down 50% with subject lines that have 5 words. The more words you add, the lower open rate goes.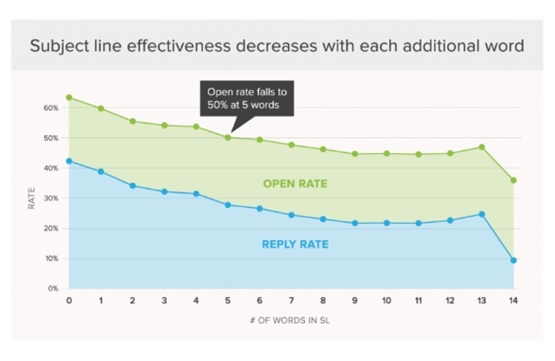 Source: Yesware Research
Apart from being short and to the point, you need to make sure the subject line is not misleading. It should highlight what the email is about—no setting wrong expectations. Your subscribers expect you to be true to your word. Otherwise, they'd just ignore your marketing email, chuck it to their trash bin, or worse—mark it as spam.
2. Establish a reliable, permission-based email frequency
Yes, you want to be in the minds of your subscribers, but that doesn't mean you bombard them with your marketing emails.
Your subscriber is your most valuable asset; make sure you don't make them unsubscribe to your marketing emails for sending too many. Give your subscribers the option to set an email frequency of their choice and if possible, even the time of day to receive your marketing emails.
Permission-based marketing helps you create long-term relations with the right kind of subscribers.
3. Add CTAs linked to a dedicated landing page
The focus of every email campaign you create is to get the subscriber to click on the CTA/s in your email.
Imagine your subscriber clicks on it to view a certain product/ service/ offer and is redirected to your website home page, where they feel completely lost. This is certainly not what they were expecting from you!
Hence, every CTA must be connected to a dedicated landing page where you collect the subscriber's information to add them to your sales funnel and take the relationship ahead.
Understanding what the subscriber really wants can help you make your marketing emails better.
So, check out more best practices in this tastefully designed infographic:

Source: Perception of Email