Last year I made about $60k in revenue buying and building websites by exploiting what was a fairly untalked about strategy among travel bloggers for quite some time.
In the process, I probably invested less than $5k.
I'd like to share that story here because I think it makes for an interesting case study.
Now, full disclosure, in recent months I have moved away from this strategy altogether.
Or perhaps to be more exact - it has moved away from me.
A lot of the opportunity I was exploiting has largely dissipated on account of various exogenous factors plus the market getting entirely flooded.
Too many people started buying these types of websites, which drove the prices up, while at the same time Google penalized some very prominent sites in the industry, which drove demand down.
In short, you were spending more money to make less and eventually I decided to move on to other projects.
As such, I have not bought a website for several months and have no immediate plans to do so in the future, nor do I recommend anyone else to copy this and buy websites with a similar strategy in mind.
Sorry.
Also, as you dive deeper into this case study you may begin to wonder if this was against Google's TOS. The answer is yes, and in some cases this led to penalties, and in others, it didn't.
Though I do think this strategy today can yield a profit (with the main caveat here being that you have to have contact information of interested buyers), I choose to spend my time on other projects.
Additionally, the lessons learned are the most important part and will hopefully guide you through some of your own endeavors with buying websites.
The Strategy
There are a lot of guides around buying websites. I'm particularly fond of this one by Daily Blog Tips.
However, you also have to understand that depending on what your purpose for buying a website is, the strategy may differ completely.
Mine, for example, was not your typical investment style adsense earner - I was looking for travel blogs that I could turn a quick profit on by selling links (PBN style) to travel companies.
I've been a travel blogger now for a good two years, and we have always published income reports on our site (up until January of this year).
One of the major ways travel bloggers earn money is by selling links to large travel related companies for key anchor text like "cheap flights".
We were doing this primarily on ACoupleTravelers (which has since been punished with a manual slap from the webspam team for unnatural outbound links).
As a result, we had a lot of contacts in the industry who were always interested in working with us as long as we had fresh websites.
We were able to get more by simply trading with other bloggers.
This is the most important thing, and without any contacts we would have just had a bunch of crappy websites no one wanted!
After awhile it became very clear that more websites would mean more money, so we set off looking for travel blogs to buy, and then contacted our existing partners letting them know that we had a new website.
Unfortunately, buying an actual travel blog from someone costs a lot of money.
Even if the website itself isn't making much, people attach a lot of personal value to it and that inflates the cost to thousands of dollars.
So instead, we looked for ones that people were building off of expired domains on Flippa.
Finding The Right Websites To Buy
So if the strategy was to buy expired domains off of Flippa and related sites, how do you know which ones are good to buy?
There were certain characteristics about the sites we were looking for, namely SEO.
They had:
A page rank greater than 2
A domain authority greater than 20
More than 20 backlinks that didn't look super spammy
A travel related domain name.
Almost no traffic and were not making any money. This was key for making sure it would sell at a very low price.
Also, things like design and content were fixable and therefore not important.
For the most part, I could go to Flippa and search "Travel Blog" and about 60-80 results would come through that I could skim on the fly.
I was mainly looking for PR (which is advertised in the search results), so if I saw something 2 or great, I would open it.
I could find a dozen or so a month.
Then I would check the DA and the backlinks using opensiteexploer.
If I had a winner, I would do further investigation on the listing and the seller.
Putting It Into Practice
Although I haven't bought websites recently I wanted to check how the market was, so I went through this same exact process a few months ago and found a winner in about 5 minutes. Here are the steps exactly.
Head over to Flippa and search "travel blog".
Select website (I was not interested in domains at the time)
Start scanning for page rank
4 rows down I found a winner, PR3, with a nice travel related domain name.
Barely any traffic and not making any money, so it won't sell for much.
I also checked the domain authority (21) and it had 20 inbound links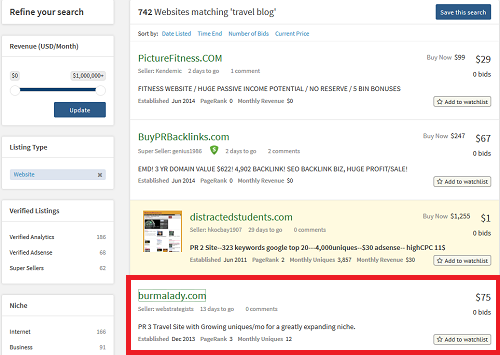 This website is currently selling for $75 and has 13 days to go. I am not sue what it will go for, but I doubt more than $200.
6-7 months ago, I could have easily gotten $1k for a site like this. Now it is probably worth a few hundred for those who have the contacts.
What To Watch Out For
Even SEO metrics can be faked quite easily, and if a Google Update comes around it could wipe out everything you just bought tomorrow.
What some people do is build lots of links, often spammy, that raises PR. They then remove the links and sell the website.
Then next Google update the PR drops back down. So the PR can be a little fake.
This website will tell you if it is fake.
Aside from that you have to pay attention to the seller, which is one of the biggest risks with Flippa.
I need someone who I feel is going to deliver as advertised and therefore I look for someone with several positive reviews.
If someone is up for the first time selling a website with no photo and no reviews it is a huge red flag for me.
With Flippa you can use Escrow so you do not have to commit the money before everything is delivered but as with any transaction I want as much security I can get.
Look for several factors
Does he have a photo?
Does he have reviews, if so, what are they and how satisfied are people?
Does he respond to comments? How is his English?
How is his write up? Why is he selling the website?
Here is an example of a seller I bought from. You can see he has a picture, 100% rating, and responds to questions with perfect English. The case study for this purchase is featured below.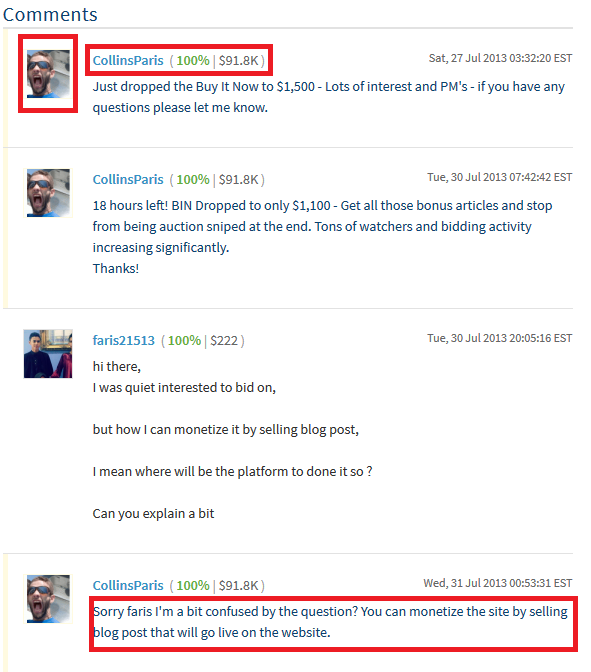 If you are interested, send him a message, communicate with him and see if you can get a feel for him. A bad feeling is enough for me to say no thanks.
When you find a seller you trust - hold onto them. See if they have additional websites that you can negotiate off Flippa.
I have found a handful of sellers I would work with direct and could get discount prices because the seller didn't have to pay listing fees or go through the hassle.
It also resulted in some very lucrative bulk deals.
Transitioning To Building
You have to understand that if you are buying websites on a market place like Flippa, then there is someone who is building them cheaper than what you are paying for them.
It's a balance between how long it takes to build it yourself and how cheaply you can do it.
In this case, since it was purely expired domains, it was quite easy to build them yourself.
Eventually I learned where to find them, and that allowed me to create my own travel blogs by putting on my own content and themes - just like the people were doing on Flippa.
To put things in perspective, the cost of building a website from scratch was usually around $150-$200.
~$50 for the domain
~$100 for the content
Dollar a month hosting services from Web Hosting Talk
A few fiverr gigs for social media profiles, a logo, etc
Whereas the cost of buying a website was usually between $500-$1,000.
Additionally, the steps required to build a website were fairly straight forward.
Find and purchase an expired domain, that has a non fake PR of 2 or greater and a Domain Authority of 20 or greater, as well as 20+ inbound links.
Set up hosting
Order content for the site; general travel articles such as tips, budget tricks, places to see, etc.
Set up the theme, widgets
Possibly order a logo and some social media profiles on Fiverr
And Voila, you have the makings of your own Private Travel Blog Network.
At my peak I had around 30 sites.
My Number One Advice For Buying A Website
Buying a website is an investment, even if it is for a quick profit turn. In order to get the highest ROI, you want to find something that you believe is undervalued.
For me, I was able to get these websites cheap because they were not making any money (most people look for adsense, affiliate sales, traffic), however, I knew I could profit purely off of the SEO metrics because I had the industry contacts who were interested in buying advertisements on these websites.
Know how you're going to make your money back before you buy it.
Have expectations for how long that will take. Have a limit you're willing to spend. For me this was $1k and I never got burned sticking to it.
This mentality is why pretty much every website I've bought was a winner by a large margin.
Additional Case Studies
Let's take a look at the first two websites that I have bought.
Case Study #1: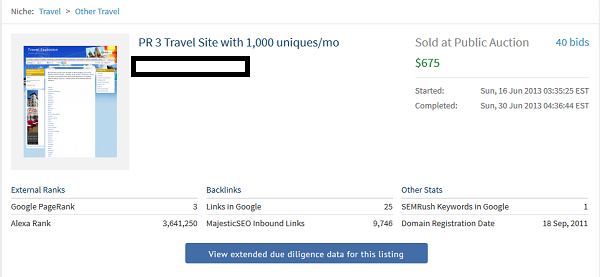 Purchase Price: $675
Advertising Revenue Produced To Date: ~$10k
This is the first travel blog that I bought in late July 2013.
As you can see the website was PR3 and has a fair domain authority in the high 20s.
I have worked with similar websites in the past and seen them make thousands.
The seller had good reviews and was communicating via comments.
It is true that they did not have a picture but their English was good and of course positive reviews are the most important thing.
The website looked awful to be honest and I knew it would need to be edited, but I thought if I spent about 1-2 hours on it I could have to looking decent without having to invest in a new theme or anything drastic.
Take a look at how it looked when I bought it and how it looks now. That took me about 1 hour.
The price at the time of my bid was very low, only around $200.
Unfortunately, there was one very interested party who really jived with the theme of this website (travel interviews).
We got into a bidding war and I ended up winning at $650 in the final minutes, which passed the seller's reserve (the lowest price at which they are obligated to sell you the website).
I ended up spending a bit extra money to cover the seller's fees and for Host Gator to transfer the website from the GoDaddy account it was hosted on.
The transfer was a nightmare and resulted in a lot of back and forth between me, the seller, and hostgator.
When the website was finally transferred to me three weeks later I got to work on it and started promoting it.
Within no time I had my money back on this one.
Although the website doesn't look like much and has barely any traffic, the SEO metrics speak for themselves and there were enough interested parties that after only a few offers I had earned back what I paid.
Case Study #2: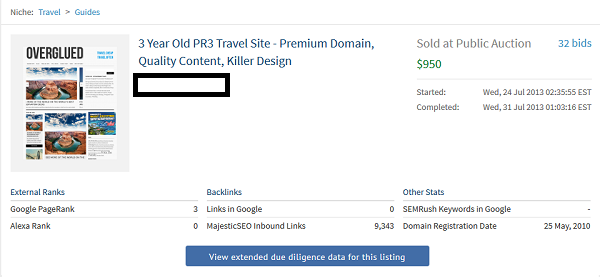 Purchase Price: $950
Advertising Revenue Produced To Date: ~$7k
When I saw this website I fell in love with it. This one was PR3, but I felt the design was really attractive.
It has a really crisp theme and some great, general articles from native speakers. The seller had extremely positive reviews and was very experienced, picture and all.
As usual this resulted in a bidding war and I ended up purchasing it as the Buy It Now price for $950.
This also came with 20 free travel articles, which is worth $100 in and of itself.
On major folly was that although the website has a Domain Authority of 30, it is from an average of only two links!
I completely did not notice this when I was analyzing the website.
As a result this website did not do quite as well as the first, but still very good.
Conclusion
Investing in websites was one of the most lucrative businesses I've had in the last year, although it has since ceased to provide the return it used to.
Now, I am not advocating that you run out and buy a PR3 travel blog, because you probably won't know what to do with it.
Additionally, I largely think this "strategy" has seen it's day, for the most part.
Or at least, I don't pursue it anymore, but it did bring about a lot of valuable business lessons, and if I knew then what I know now I would have doubled down on this much more heavily than I ultimately did.