One of the biggest issues when starting an influencer marketing campaign, is finding the right influencers to reach out to.
The temptation, in many cases, is to go for the big guns, as they have the biggest audiences and the most influence; but what if you could use smaller influencers, micro-influencers to boost your results?
What if you could actually get better result by using micro-influencers?
In this blog, we're going to compare the two to find out which one is best for small businesses and entrepreneurs: micro-influencers or macro influencers?
Making the case for macro-influencers
Macro-influencers, are almost celebrities in their own right.
They might not walk red carpets (too often) or find themselves trying to dodge paparazzi on a daily basis, but they have a huge following and are very well-known in their respective niches.
These types of social influencers can have as many as millions of fans and followers on social media and their blogs and websites, in many cases they are even best-selling authors, which helps them become thought leaders in their industries.
Because of this, having the support of a hugely popular influencer can bring in amazing results for your business; you will be able to reach an audience of hundreds of thousands, if not millions of people, especially when considering shares and retweets.
This could do wonders for your brand awareness and for your sales and overall ROI.
Not to mention, it can also mean a big boost in traffic, in engagement, as well as in conversions.
But, it's not all sunshine and roses; there are some downsides to working with these massively influential people.
Macro-influencers: the downsides
One of the biggest issues with using macro-influencers is that they are not exactly accessible to just anyone.
Some of them have become huge stars with very big followings.
And once they get to this point, they're much more likely to partner up with big, world-known brands, rather than a start-up or small business.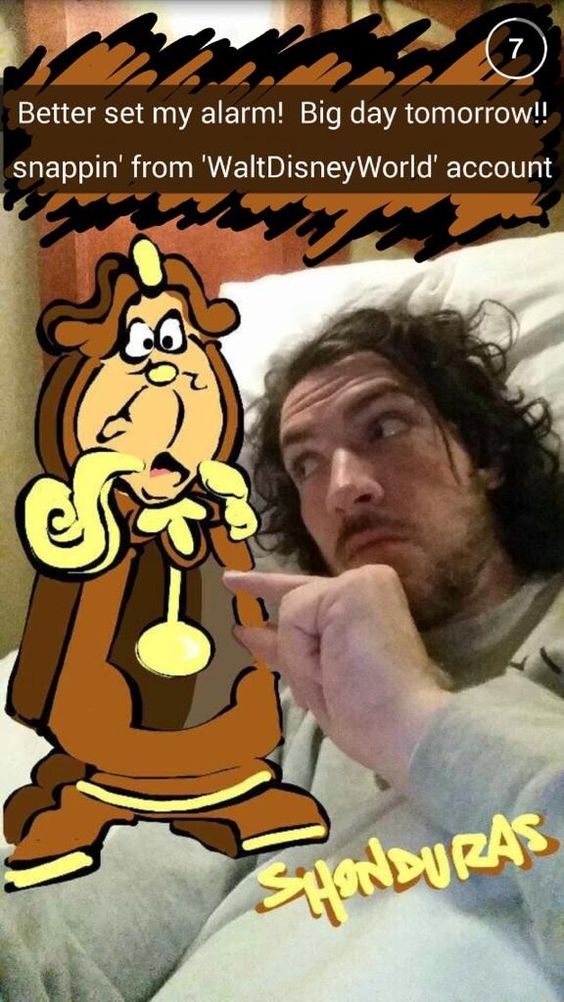 Look at Shaun McBride, most famously known as Shonduras. As one of the first ever viral Snapchat stars and social influencers, he's amassed a huge following in just a few years, leading to branded merchandise and branded content, keynote speaking gigs and more.
He's gotten to the point where he actually has fans that find out where he's filming to come see him in action. Put simply, he's a social media superstar.
Of course, brands have taken notice of his success and have jumped in to collaborate with him; to give you an idea, some of the biggest names in his list of clients are Disney and Taco Bell.
These types of big social influencers are largely inaccessible to smaller brands that don't have a big marketing budget.
Another downside of using macro-influencers is that, because of the fact that they have so many fans and followers, they won't be as targeted.
The more followers someone has, the more likely it is that a big chunk of them will be following simply because they're famous.
Plus, the bigger an influencer gets, the less likely it is that they will actually have the time to engage with their fans.
Macro-influencers: the verdict
Even with their downsides, macro-influencers can help you achieve amazing results, in very little time.
With the right influencer, you could reach an impressive amount of people, but, it will also cost you quite a bit.
As a small business or entrepreneur, these huge influencers are largely out of reach; not to worry, though, as you can achieve a lot by using smaller influencers, at a fraction of the price.
Making the case for micro-influencers
When considering micro-influencers, the first instinct is to think that because of their much smaller audience, that makes them less valuable.
However, that could not be further from the truth. In fact, their smaller audience can actually work to your advantage, as I'll attempt to explain in a bit.
One of the biggest draws to using micro-influencers is they are much more accessible than the big names, both because they're easier to reach and because they are much cheaper to employ.
Some of the biggest names in social media are rumoured to be paid as much as $100,000 for a single post and Instagram model celebrities are paid, on average, over $1,200 per post.
And these numbers only seem to keep growing.
Micro-influencers are incomparably cheaper, while also bringing to the table a host of other useful benefits.
I mentioned earlier how a smaller audience can actually work to your advantage; there's a few big reasons for that.
One of the reasons is that when an influencer has a smaller following, then it's much more likely to be highly targeted.
A big influencer, with millions of people following them, will most likely have followers from all walks of life, with different interests, different passions.
Just look at someone like Pewdiedie, one of the biggest vloggers online.
With over 54 million subscribers on YouTube, there's little chance that they would all be part of the same target audience.
In fact, I would go so far as to say that not all of his subscribers are even gamers, but when someone is this famous and popular, people will flock to them for that reason.
It doesn't mean they'll actually engage with the influencer, or that they'll even see their content regularly.
An influencer with a much smaller audience of say, thousands of followers, stands a much better chance of being highly targeted.
Just like Pewdiedie probably only had predominantly hard-core gamers in his audience when he first started.
Another advantage of having a smaller audience as an influencer is that it also usually means more engagement.
After all, it's much easier to interact with your audience when you're not overwhelmed by millions of people asking for your attention.
But, it's not just the influencer that engages more with their audience; even their audience tends to engage with them more.
For example, a study on Instagram influencers found that, surprisingly, Instagram users with less than 1,000 followers received likes on their posts 8% of the time, while influencers with 10 million followers and up only received likes 1.6% of the time.
In fact, once an influencer gets to over 10k followers, their like rate starts dropping rapidly.
That's one of the paradoxes of influencer marketing; a small influencer can be just as effective as a big one, depending on the engagement rate.
That's why, whenever you research influencers this should be one of the most important metrics you check: how engaged is their audience?
How engaged is the influencer? A person can have a million followers, but if no one's interacting, it really won't make any difference.
Micro-influencers: the verdict
Micro-influencers can be just as effective as macro-influencers; in fact, I would go so far as to say that they can make even more of an impact when you're using the right people.
The big difference in approach is that with micro-influencers, you need to use more than one, which can be more time-consuming; that being said, it would still be much cheaper than using a macro-influencer with millions of followers.
For small businesses and entrepreneurs, this can make a huge difference, which makes smaller influencers a much more appropriate option.
How to find relevant micro-influencers for your influencer marketing campaign
As I mentioned earlier, one of the most important factors when researching micro-influencers, or influencers of any size, really, is to check that they get enough engagement.
Their audience size doesn't really matter if they aren't actively engaging and interacting with them.
Truth be told, a person doesn't hold influence just because they have a lot of followers; they hold influence when they can clearly get their audience to take action.
To find appropriate influencers, you can start by looking at your own followers.
Tools like Agorapulse, for example, will analyse your followers to find any users that were retweeted more than 20 times in the past 30 days and will order them in order of their success and the engagement they get.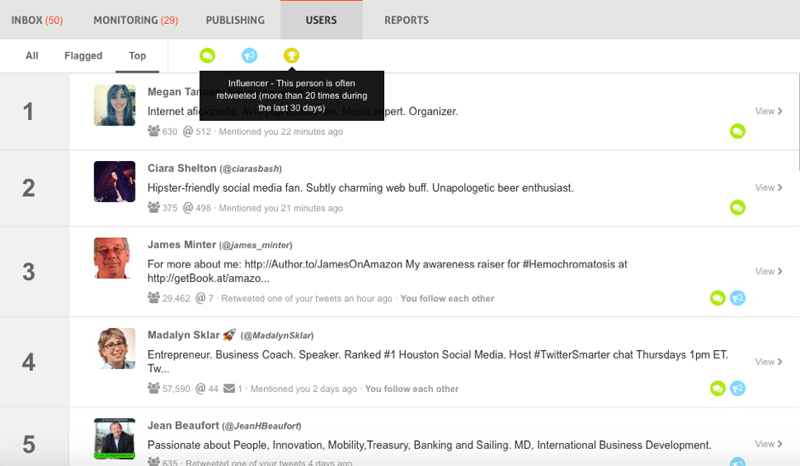 If you find any influencers already following you, these should be your first stop, as you already have an 'in' with them.
Next, to find more appropriate influencers, you can use a tool like Buzzsumo or Ninja Outreach to search for more.
With Ninja Outreach, for example, you can search for both Twitter and Instagram influencers, and filter them by follower count so that you can choose the audience size you want.
Furthermore, you can also check other stats, such as number of shares per post to help you determine whether they are also getting engagement.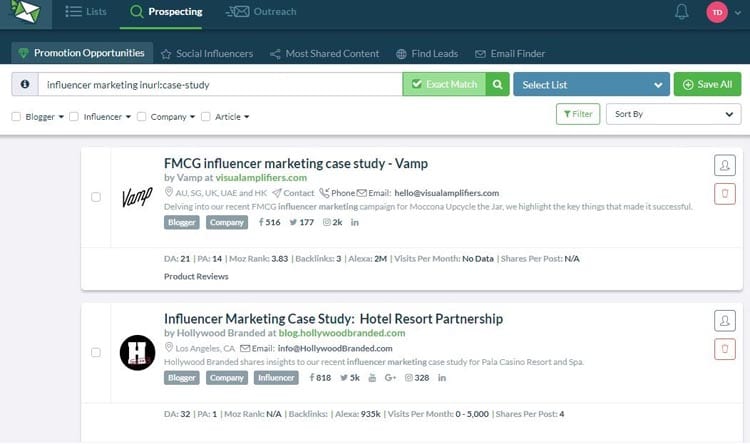 If you want to search for other types of influencers, such as journalists, companies and even regular people, you can use a tool like Buzzsumo, where you can filter your results by type of influencer, choose a certain location and you can also sort them by retweet and reply ratio and other useful metrics: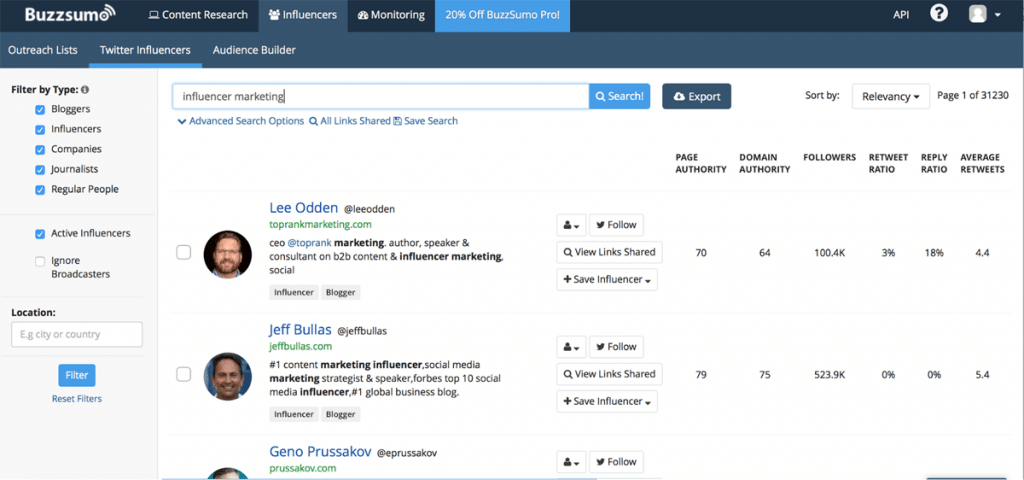 Conclusion
For a small business or entrepreneur, using macro-influencers is most likely completely out of their budget.
Thankfully, though, micro-influencers can be just as effective as a promotional tool. What do you think, who wins in the battle of micro vs. macro influencers?