Although influencer outreach has been around for decades in the form of businesses reaching out to journalists to garner PR, it is relatively new when applied to bloggers.
And yet every year it seems more and more businesses are aware of the benefits. More marketing agencies are incorporating it into their strategy. More articles are popping up about it.
With the current trajectory, driven primarily by the immense and unique benefits that influencer marketing offers, it's poised to become one of the dominant forms of marketing over the next many years.
Let's explore the benefits of influencer marketing.
Low Cost
Historically marketing has been expensive.
The cost of a 30 second commercial might total hundreds of thousands of dollars.
For small businesses, this simply was not an option.
Of course, there are other forms of marketing aside from commercials, such as email, billboards, radio - the list goes on and on.
Still, digital media tends to be incredibly cheap relatively to the alternatives.
In fact according to Search Engine Journal, Businesses consistently ranked inbound marketing channels such as having costs lower than other outbound channels.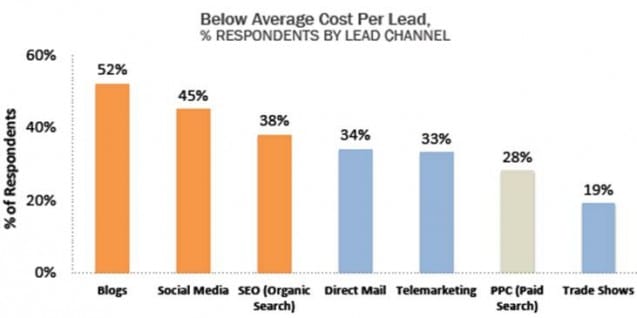 If you're a small to medium sized business with a limited budget for marketing, which is going to be your preferred channel?
Inherent Credibility
The means through which marketing converts to sales is through credibility.
It's credibility that gives users the assurance that the product is as advertised.
The problem with most forms of media is that there is no room for credibility.
Sure we can add things to the creative like Free Trial, Money Back Guaranteed, 9 out of 10 doctor's recommend.
But at the end of the day, you can't beat the word of a trusted individual behind your brand.
Half of the consumer population reads blogs, and Technorati's digital report found that blogs are now the third most influential digital resource (31%) when making overall purchases.
The reasons are simple: people read blogs, and they trust their referrals, because they know they are real people with a real reputation on the line, in a reputation based business.
By connecting with influencers online for your brand, you are pairing your marketing with credibility, which leads to sales.
Scalable and Targeted
What's older forms of marketing lacked was specificity. It's difficult to target an exact group of consumers through a commercial or a radio.
Blogs solve this problem.
They aggregate niche audiences of specific demographics allowing for targeted offers to be made.
Usually, specificity goes counter to scalability - but with over 3 million blog posts written everyday (and that number growing) there is more than enough room to find the right fit (with the right tools, of course)
Control
Marketing with influencers offers a large degree of control, because you can customize the offer, giveaway, or guest post for each person's audience and style.
For example, in this giveaway on OKDork Leadpages offered a FREE 1 year membership to one reader.
If you wanted to win, you had to leave a comment. The best comment got the prize.
This post generated 120 comments and over 800 social shares, and no telling how many sales for LeadPages for just one free license (good for only one year, mind you).
When LeadPages did it again, this time on Pat Flynn's podcast, Clay offered 3 lifetime memberships to LeadPages for the best one-sentence resource guide opt-in page HEADLINE, based off of the formula that Clay mentions around the 46:20 mark of the show.
Clay and Pat picked three favorites and announced the winners on a LeadPages Webinar.
As a result they were able to customize the offer to the different audiences based on the experiences they were offering. In the second one, they were even able to couple it with a webinar, with no doubt resulted in additional sales for LeadPages.
Mutual Demand
Influencer marketing is a two way street, because for many blogs, partnering with brands is an effective way to earn money online.
Consider MatthewWoodward, who as an affiliate earns over ten thousand dollars a month.
Without a doubt, he produces ten times that amount for the businesses he partners with.
Non-Intrusive
There are other forms of online marketing that can be effective, but they are slowly wearing out their welcome.
While pop ups and display ads used to be incredibly effective, they are now being seen as intrusive. As a result, the CPM rates for bloggers are plummeting, and many don't even consider it an effective way to earn money online.
Consumers just don't response particularly well in the long run to aggressive, eye popping calls to action.
They want a subtle, soft sell backed by the security of someone they trust.
Analytics
Marketers want to track their results. They want to know the value of their services and to be able to provide this number to their clients as a means of proving their ROI.
Online marketing brings with it the most advanced form of analytics, because the pixel tracking allows you to follow customers all the way through the conversion funnel.
Conclusion
It's clear why the marketing world is shifting to digital marketing, specifically influencer marketing as a superior form to generate business leads. It's low cost, non intrusive, and trackable. It brings with it the credibility of a respected bloggers, and is preferred by both parties.