JustRetweet is a social media tool that helps you to get retweets for your tweets. The concept behind this tool is quite simple; all it does is to help you to get more visibility for your tweets by getting retweeted by other people.
As you may know that social media can be a source of good targeted traffic to a blog, JustRetweet is one of those tools that can help your blog posts to go viral on twitter.
I have heard of Just Retweet for a while but I never really gave it a try until I launched this blog and I adopted it as one of my social media marketing tools and all I can say is that the result has been awesome.
Why You should be Using JustRetweet
You get more Retweets for your Post and Status
You Increase your Facebook likes and Google+ recommendation
You Increase your blog exposure and Traffic
More Targeted Twitter Followers
Your blog posts get promoted by real people to a targeted audience.
Who are those using it?
JustRetweet is being used by real persons, especially top bloggers and marketers out there.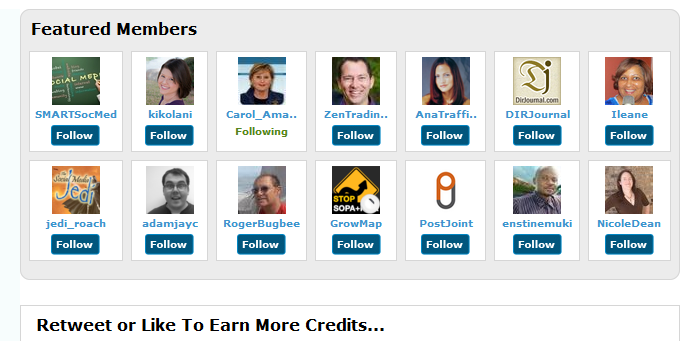 Looking at the image above, you should see some familiar faces of some top bloggers out there, people like Ileane Smith of Basic Blog Tips, Kristi Hines from Kikolani, Ana Hoffmann of TGC, Enstine Muki of EMFastIncome and so on. This shows that top bloggers are using this tool, and you should use it too.
Just Retweet is a great tool that is helping everyone to build traffic, Connections, followers and going viral on social media sites.
So how does JustRetweet Work?
Mode of operation JustRetweet is quite simple and the site is clean and easy to navigate.
To get started, simple visit JustRetweet to Join, you are not going to fill a long boring form, all you need to do is to sign in with your Twitter account.
Once you Join, you will be given an Instant 100 credits for free (I guess for you to try things out), this free credit will be enough for you to run some campaigns to start with.
You visit the submit tweet tab and you draft your tweet to be retweeted by other fellow bloggers
You need credits to submit tweets and you can buy it or earn credits by retweeting other people Tweets
You can easily track who is retweeting your posts from the activity summary tab
How to Get Started with Just Retweet
Simple Go to JustRetweet Homepage and "click on sign in with Twitter" as shown in the image below

You will be taken to the twitter authentication page, Click on "Authorize App" to use you Twitter account with JustRetweet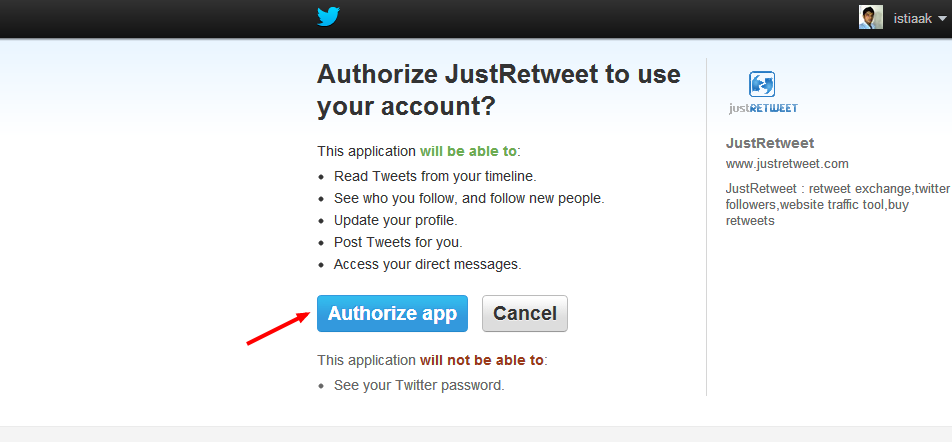 You will be redirected back to JustRetweet website and you will be taken to your dashboard where you will be having 100 free credits waiting for you.
To earn more credits click on retweet, Like or +1  others posts. You can also gain credits by following others or simply purchase it.
I recommend you to buy VIP package to show your profile on Feature list and to highlight your tweet as Featured tweets.
Once you have a substantial amount of credits, you can submit a tweet to get more retweets by visiting the "submit Tweet" page from the header.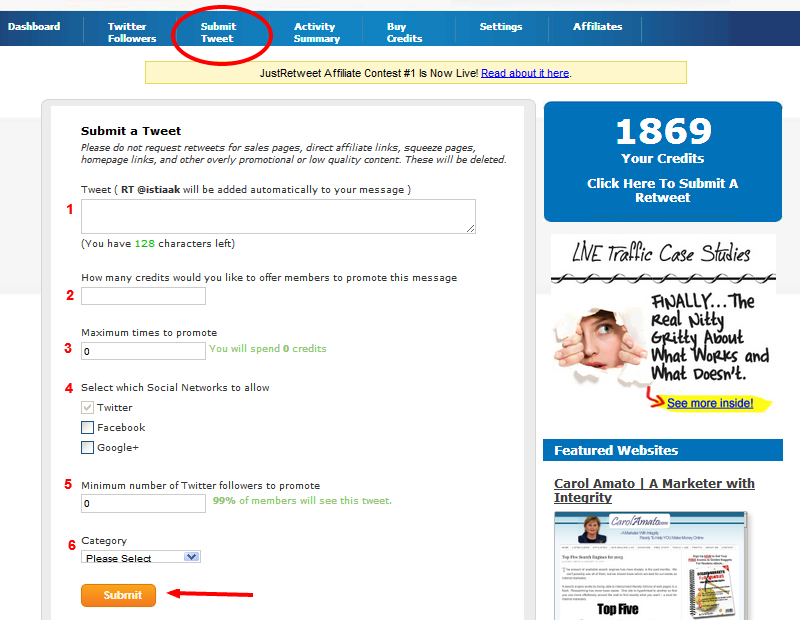 Submit your post title and post links.
Put the amount of credits you would like to spend per tweet.
Set how many retweets you want.
If you want FB Likes or Google +1, check the boxes.
Set how much twitter followers one should have to retweet your tweets. For example, if you set 300, then only users with 300+ Twitter followers can retweet your tweet.
Select the proper category; this is very important if you want to get targeted traffic.
Click on Submit. And you're DONE.