Interview with NinjaOutreach clients, Asher Laub and Sam Dvorin of Fiddler's Dream Music
Fiddler's Dream Music is a music, theater, and dance entertainment company. They used NinjaOutreach for business leads generation, traffic building, and influencer marketing outreach.
We interviewed owner Asher Laub and PR manager Sam Dvorin where they shared how they were able to immediately get high-value leads for their business even with a few campaigns by using highly targeted, personalized outreach and templates.
Results:
Acquired valuable leads from as little as 10 ongoing campaigns divided amongst a team of 4 outreach specialists
1. What specific goal have you achieved with NinjaOutreach?
Our team has managed to use NinjaOutreach for a variety of purposes. We have directed targeted traffic to our websites and social media by strategically reaching out to social media influencers, bloggers and other artists in the music entertainment industry.

2. How many campaigns did you launch to achieve this goal? What was your reply rate? How many emails did you send and how many positive responses did you get?
We have about 10 different campaigns in the works divided amongst our team of 4 outreach specialists. We are comparing various outreach templates between each campaign to hone in on the most effective approach. We're still new to this so it's a work in progress. So far we've gotten some great leads.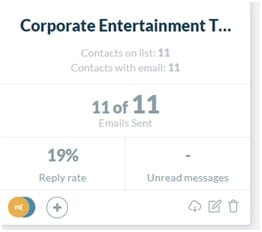 We have found that manual outreach is important to do as well. We're able to speed up the process with the search tool within NinjaOutreach.
3. What other tools (if any) did you use for this campaign and why?
We created some branded email accounts with bluehost and gmail so as not to affect our money site urls.
4. How did you use NinjaOutreach?
We send out a regular dose of emails customized to each blogger, or influencer. We show the recipient that we have read/seen a specific work of theirs so it doesn't come off as spam.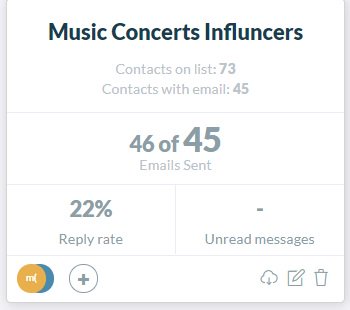 5. What outreach strategies did you find worked best? (best template, best approach, best schedule to send outreach, etc)
Follow-up on the initial email is really important for a response form the higher level influencers. Also, templates only work for a couple of stages in the outreach process. The rest needs to be very personalized.
6. What problem did NinjaOutreach solve for you, or how was NinjaOutreach specifically able to help with your campaign?
It improved traffic for our client and allowed us to circumvent ads in targeting large influencers and bloggers.
7. Before NinjaOutreach, what was your process for prospecting and launching your campaigns?
We used ads, social media and SEO methods to reach clients to promote our main sites https://www.fiddlersdreammusic.com and https://www.asherlaub.com. This method is much preferred than the daily grind of social media.
8. What process would you say was more cost-effective? Why?
It's most cost effective to create a number of outreach templates for your employees to use. This reduces room for error. There needs to be a highly competent outreach specialist who oversees the other workers to insure quality.