June updates
We just pushed a software update with a lot of new changes related to our emails section! In a nutshell:
email accounts are now sorted by activity and then by name, as we found that users were clicking more on the more active accounts;
disconnected accounts are available for immediate editing in the email section to reconnect them — you also get an in-app notification when an account disconnects (email alerts coming soon!)
new icons: a triangle to indicate that an account has errors (with the error text in a tooltip), and a person icon to indicate that the email was shared by a team member;
correct colors on the share/unshare and connect/disconnect buttons that change depending on the state, and give information at a glance.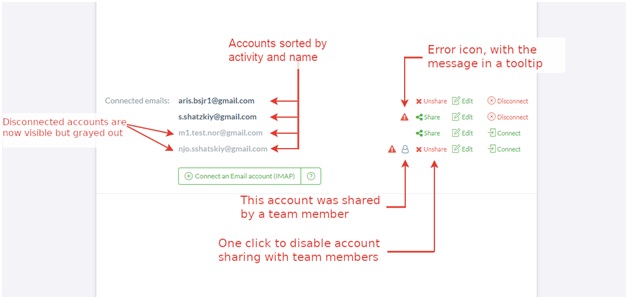 You will also find minor improvements around the settings page that enhance the overall experience, like for example a progress bar that appears when the email accounts data is fetched:

The next improvements, that will be shipped shortly, are additional email notifications. As mentioned, we will enable email alerts to notify you when:
an account disconnects;
your campaign has started or completed;
your import has completed.
For any feedback, suggestion or problem do not hesitate to contact us!