This summer I did something I've never done before since starting my own business.
I stayed in one place.
The place was the Boston area.
And since I never stay in the same place for more than a month or so (and in fact, we are moving to Costa Rica right now), it seemed like the perfect opportunity to see what it would be like to run NinjaOutreach like a local and to attend various business events in the city.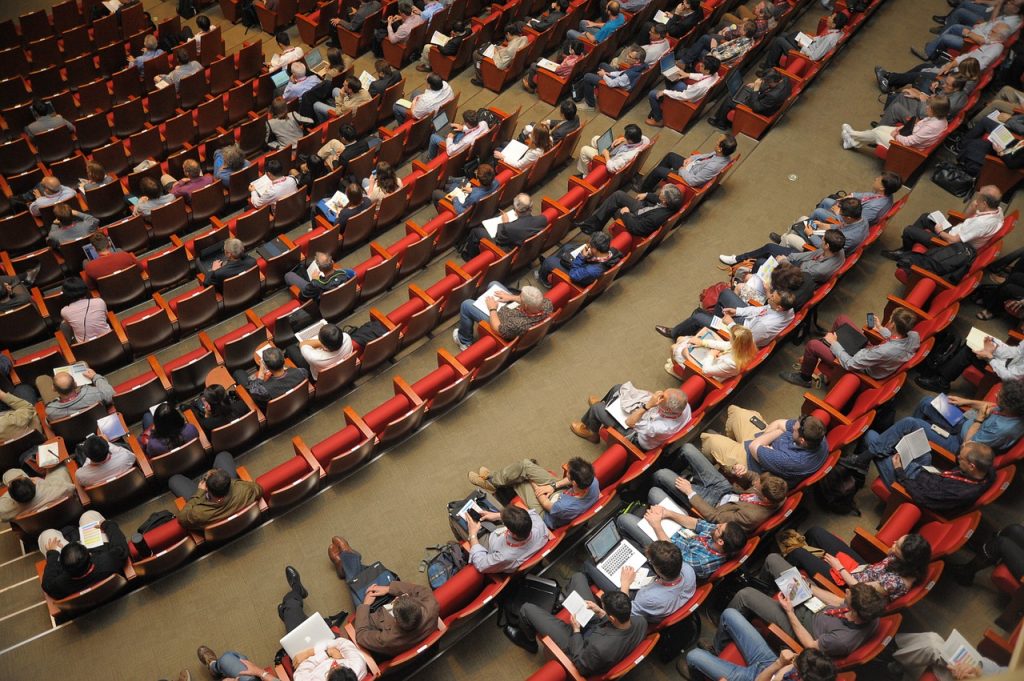 In total I attended 6.
One small meetup for small business owners, at which I DID present. (approx 40 people)
One small pitch event for startups, at which I did NOT present. (approx 100 people)
One small pitch event for startups, at which I DID present (approx 100 people)
One large pitch event for startups, at which I did NOT present (approx 200+ people)
One large pitch event for startups, at which I DID present (approx 200+ people)
One very large industry conference for marketers known as Inbound, at which I did NOT present (approx 14k people)
What's interesting here is that I got to attend conferences of all sizes and present at 3 of them. In fact, I even attended one event as a presenter and the same event (just a different month) as just an attendee - so it was very clear to contrast the two.
Here are my takeaways:
Don't Confuse The Size Of The Conference With The Value
One major outlier on this list is Inbound, which is a 14,000 attendee industry conference for marketers. It's a multiday event filled with talks, parties, and took place in the Boston convention center.
Tickets go for hundreds, sometimes thousands of dollars.
It seems like it would be the perfect fit for NinjaOutreach, and naturally I was very excited to receive free tickets courtesy of a friend who works at HubSpot.
After attending the conference for three days, I handed out a total of 0 business cards.
Why?
The simplest way to explain it was it just did not seem like people really came to network. More or less, it seemed as though people came with coworkers and just weren't super interested in getting to know other people during the day - at least that was my impression.
Contrast that with the smaller events, and it's a very different story. At the smaller events, I'll walk around the room, and if you even make eye contact with someone, you're going to walk up to that person and introduce yourself. For some reason, there is just a different mentality and I found the smaller conferences I attended to be much more effective for networking.
Often I would leave smaller conferences with 10 or so business cards in my pocket.
Now, Inbound has a ton of speeches from keynotes and breakout sessions, so there is value in that that is NOT supplied by the other smaller conferences, but if you're looking to network, I don't think an industry conference is going to be as favorable.
Be A Speaker
Hands down, if you can speak at an event - do it.
It's a wonderful opportunity to have the floor and have people listen to you. Every time I spoke at an event, afterward, there would be a line of people waiting to talk to me.
That's not because I'm a great speaker - that's just how it is.
It makes your life much easier, because after you give the speech, you can just hang around and let people come to you. They already know who you are and what you do and you can skip the formalities. Instead, they want to introduce themselves and talk about ways you can help each other.
Now if you can't be a speaker, try to do something similar, like set up a booth (and if you have a booth, ALWAYS have treats to hand out). Basically, anything that puts you in a power position so that people are coming to you.
Networking is VERY hit or miss
Although I was disappointed with the lack of networking at Inbound, I have to admit that I haven't found conference networking to be a very effective method for my business.
The keywords there are for my business.
In total, I can point to one customer who has resulted from a talk I gave.
Additionally, we have had one investor show interest in us and that resulted in two meetings, and what seems like an ongoing relationship (but no money).
There may have been a few other things to come out of it, maybe some sign ups I wasn't aware of, but I think that's about it.
Now, the total number of hours I've spent at conferences, traveling to conferences, and preparing for conferences is at least 20.
20 hours for one customer is not a good return.
Of course, had the investor actually thrown a bunch of money at us, that would have made that 20 hours feel like a paltry investment - hence why it's hit or miss.
The thing I've noticed is that most people attending conferences are in sales mode. They're looking to sell themselves and that includes to you if you're around.
So often I might exchange business cards with someone who was interested in what we do. I would then go home, add them on Linkedin, and shoot them a message.
But usually nothing came of it, and just as often it seemed like that person did the same thing to me (basically they were marketing to me), and nothing came of that either.
Overall, although I spent a decent amount of time at conferences and was a speaker at three of them, I didn't find them to be terribly effective for business generation.
But to play devil's advocate, relationships tend to be very binary - even one significant one can change the course of your business, so that's the trade-off and why it might be worth it to reserve some time once a month to attend a conference, but not to spend a bunch of money on anything.
Tips For Making Conferences More Effective
To get the most out of a conference consider these tips:
If possible be a presenter or at least set up a table (if that's possible).
Definitely bring business cards. People still use them. In my first few events, I didn't have any so I just asked people for theirs - not a big deal but you should have your own. Bring at least two dozen to each event.
Try to look up attendees beforehand, research them, and isolate the ones who are a good match. If you just randomly talk to anyone you see you will end up in a lot of conversations that do not add any value to either person, and this is just bad for everyone. Many conferences or meetup groups have attendee lists - go through those and seek them out at the conference or better yet, try to schedule  individual meetups.
Conclusion
Attending conferences this summer has been a very interesting experience. In general, I will still reserve some time for them, because I feel like you should reserve some time every month to potentially let something out of the ordinary happen.
Additionally, they're great practice for speaking at events and just communicating you and your business to strangers, which is useful in so many ways.
That said, given the relatively poor results I've seen, I won't be traveling far distances or spending a lot of money to attend.
How has your experience been with conferences?