Businesses run with customers. Serving customers in a better way can be a competitive advantage. This isn't a simple task. An organization must have a culture called Customer Service Culture.
What exactly Customer Service Culture is? With respect to the term, Customer Service Culture is set of norms, values, beliefs, goals, strategies and actions that are communicated to all participants of culture which ultimately leads to the customer satisfaction.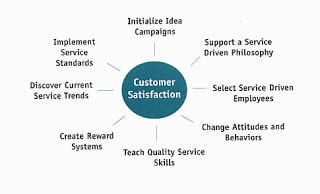 I, personally, related this term with customer satisfaction because an organization's final goal will be customer satisfaction profitably.
Let me explain this with the help of a real example.
Take an example of two companies A and B working in interior decoration industry. Company A has strong customer service culture where their employees are focused on listening, serving and satisfying customers. Company A's employees have the primary object is to satisfy the customer with their information, products, and policies.
If a problem occurs, employees are trained to resolve that problem immediately with the best possible solution where customer stay happy. One time sales are not the main focus of employees that's why they work on customer retention rather than selling products.
On the other hand, company B has a culture where the sale is the primary goal and employees are motivated through commission on a sale that's why they work on products and one time sale.
Transfer of important information to the customers and after sale service ignore in B's culture. Most of the time customer dissatisfied and never come again for his solution, nor he/she refer to someone.
By knowing this two culture we can clearly understand that Customer Service Culture is easy to maintain and has more advantages.
Customer Service Culture is an open culture where a customer can express his views and problems openly and he will be listened and entertain satisfactorily.
Some analysts argue that Customer Service Culture consumes more cost. Handling customers queries by providing services, after sale service and managing relations with old customers charge investments.
Agree, an invisible cost occurs that you have don't even proper head in your accounts but don't forget that carrying a satisfy customer is much cheaper than finding and selling to new customers.
A research explains that a satisfied customer can give you six time more profit by purchasing for himself or by referring to others. An ongoing culture where everyone is trained to help and satisfy customers is easy to maintain.
It is important to learn that how to create Customer Service Oriented Culture?
Hire for Culture
Not everyone working in an organization fits for Customer Service Culture. Of course, previous experience, training, and policies will definitely resist for implementing new culture.
Best start to ensure Customer Service Culture in an organization is to hire new personnel that is fit to a new culture.
The important thing to note that try to hire fresh guys because writing their minds as per your culture is easier than an experienced person.
Educate and Train Your Staff
Yes, it is important because your existing staff will resist and new staff doesn't know what to do. Give them proper education, for example, you can give them short courses like change management, customer services and how to handle customers.
Educate them why Customer Service Culture is important, what are benefits of service culture. Give training with practicals and case studies.
Involve Your Customers
As the customer is the important element of service culture so involve them. Ask them for their help and inquire feedback. Use customers' feedback and align results with your policies and arrange the best possible solution.
Interact with your customers openly and tell them you are going to serve them in a better way. Give confidence to your employees and customers.
Exalt Your Employees
Your employees will work more efficiently when they are motivated. Give them live experience by communicating with customers and exalt them then when they perform well.
Give them incentive and bonuses after successfully handling customers. For this purpose, you can use customer feedback form.
Why is motivation important?
Read this: Bring Motivation In Employees; Increase The Wage Rate. IKEA Just Did This
Measure Your Performance
Measurement is an essential process for getting desirable results. Measure that either your employees are behaving according to the new demand? Are your customers satisfy?
Are you able to retain customers for a long time? Are you achieving your objects for which you have to change your entire company culture?
Kick off Bad Employee
You have to retain this culture for the longer time period for getting the competitive advantage so measure your employee's performance regularly.
If some employee tries to break your new rules, first educate them if they understand exalt them if they don't, kick them out of your organization.
Got any questions? Or maybe, have something to add? Please leave a comment below and tell us what you're thinking. Cheers 🙂