Let's face it: Ads can be a nuisance for readers.
Advertising gurus do their utmost to make ads entertaining, amusing, and sometimes even controversial, thereby reducing the "annoyingness" of ads.
However, as the Internet matures, readers are getting tired of clicking on banners.
More and more studies are proving the existence of banner blindness.
Native advertising is a more unobtrusive form of advertising that syncs naturally with web content and is receiving more and more attention from publishers big and small.
In this post we will discuss:
What are native ad networks?
The advantages of native ads vs. traditional banner advertising
What are some of the best native ad networks for small and medium-sized websites?
The aim of this post is to give you as a publisher all of the relevant information about this increasingly effective advertising format, as well as give you some tips on how you can add native ads to your site or blog, no matter how much traffic you have.
What are native ad networks?
The basic idea behind native advertising is making ads appear less like ads.
For instance, while browsing through the tech section of Business Insider, you may see a story titled "Top 10 Gadgets Under $50," which has been sponsored by the SuperGadget.Store.
Native ads appear like interesting and relevant news items or stories, usually at the end of articles.
They look something like this: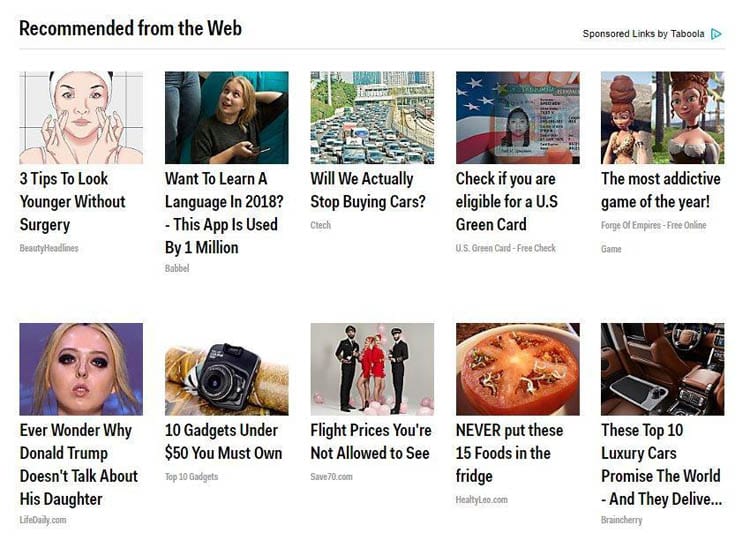 Native ads will drive 74% of all ad revenue by 2021, according to this recent Business Insider article.
This Business Insider study goes so far as to predict that spending on native ads in the US will reach an incredible $21 billion by 2018.
And as Facebook continues to dominate online advertising, perhaps it comes as no surprise that the largest segment of native ad spending is in the social media segment.
Interestingly though, it is the native-style display ad segment that will experience the fastest growth, at more than 200% in the next two years.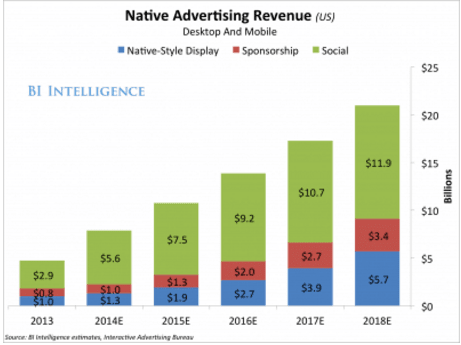 Advantages of native ads vs. traditional banner advertising
We have all experienced banner ads or, more annoyingly, popup ads when we browse.
Those forms of digital advertisement are intrusive -- hence, their relatively low click-through and conversion rates. Here are some of the advantages of native ads:
The biggest advantage of native ads is their ability to fit seamlessly into a website without looking like an ad. Because most native ads are similar to advertorials or actual stories, it could even be argued that these enhance a website by adding relatable and interesting content from outside sources. Native advertising is any paid content that is made to sync with the form of the website it appears on without being disruptive. It is less obtrusive and often not focused on product promotion. Instead, it usually comes across as sponsored posts or suggested reading.
Native ads promote brand awareness better than any other type of digital media. Like advertorials, they just present beautiful and informative content that is sponsored by a company or website. This is one way to make your brand go viral, in a positive way.
Native ads can bypass security measures meant to keep ads at bay. You do not need an ad space on a website to put up native advertisements. Native ads, instead, comply with the editorial structure and standards of the publisher (online or offline) on whose site they are placed. They are part of the content on site pages on which they appear, so they do not appear as ads; they appear as content. That means that native advertising has a higher potential to reach a much greater number of people.
Native ads have a much better click-through rate than traditional banner ads, especially on mobile where it has more than 1% CTR. In addition, 32% of consumers are open to sharing a native ad with friends, family, and colleagues while only 19% of consumers will share traditional banner ads.
For more information about the advantages of native ads vs. traditional banner ads, click here to see a great infographic from sharethrough.com.
The reasons above outline why in 2018, publishers are moving more and more towards native ads, and you should too if you want to maximize your yield from online advertising.
What are some of the best native ad networks?
There are many native ad networks out there, so it is not easy to determine which one is the best.
The following section will list some of the best ones, explain the difference between them, as well as highlight their advantages and disadvantages.
Outbrain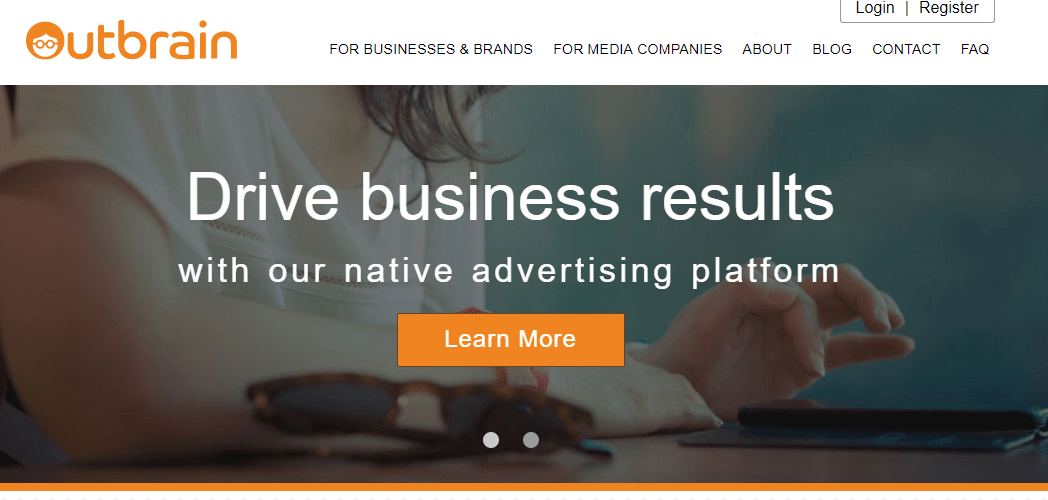 Outbrain is one of the largest native ad networks in the world, with over 200 billion recommendations served per month.
Outbrain are also one of the first native ad networks, marketing their services as early as 2006.
While some publishers hail Outbrain as the king of monetization with the highest Cost Per Thousand (CPM), this is hard to prove.
What is undoubtedly true is that Outbrain has always been a bit of an elitist network, with a publisher list that includes heavyweights such as The New York Post, The Daily Telegraph, Fortune, Time, CNN, US Weekly, Fast Company, Mashable, The Wall Street Journal, and The Guardian.
As you can probably guess, Outbrain really values its elite publisher relationships and have long-term contracts with them that often last for many years.
The network takes its clear content guidelines very seriously and makes sure that only serious ads are shown on its publisher's websites.
Although Outbrain has become less stringent of late, affiliate marketers can and do get banned pretty easily.
If you own a website or blog that is in any way questionable in terms of content, or you do not have at least 500,000 monthly page views, you will probably find it difficult to get accepted as a publisher on Outbrain's network.
The sign-up process is not simple and if you do get approved, you will have to sign an exclusivity agreement with Outbrain.
This means that you will not be able to swap your Outbrain widget for that of another network to A/B test performance and determine what works best for you.
The exclusivity contract usually binds you for a 2-year period.
Also bear in mind that getting a widget from Outbrain can take a few weeks, so don't expect to make money immediately even if you do meet their requirements.
To try and sign up with Outbrain, click here.
Taboola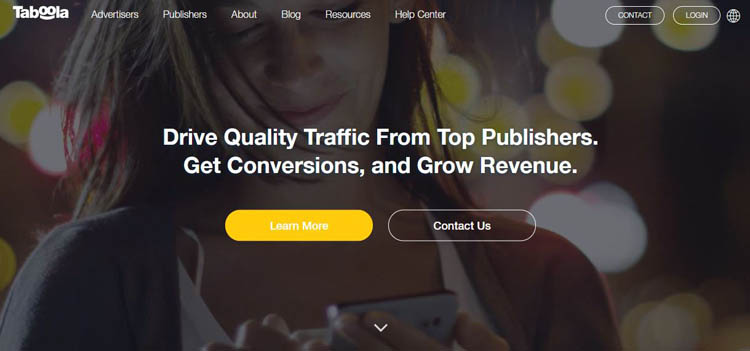 Taboola is currently the biggest native ad network in the world.
The network has a massive list of dominant publishers that include the likes of Daily Mail, USA Today, MSN, AOL, Bloomberg, and NBC.
Taboola's adverts have a nice variety of very serious financial instruments all the way to gems like "Top 10 Stars Who Are Aging Horribly."
If you are an affiliate marketer, you will probably find it difficult to advertise your products on Taboola as the platform is pretty stringent about most products peddled on its network.
The Taboola Choice feature allows users/readers to offer feedback on what recommendations they don't like so that the platform is constantly learning from user feedback.
Advertisers can use the publisher blocking feature with which you can exclude bad sites and maximize your advertising buck.
For publishers, the CPM at Taboola are decent, and it also offers excellent publisher tools and graphs.
Taboola does not accept publisher sites that include adult themes, alcohol, gambling, sweepstakes, questionable health improvement products, weaponry, illegal drugs, tobacco, as well as iffy financial products such as binary options and the like.
Taboola is top notch and if you can work with that platform, you should. The only issue is that you need to have a minimum of 500,000 monthly page views to join its network as a publisher.
If you're just starting out or own a niche blog with not much traffic, unfortunately, you will not get accepted as a publisher.
To contact Taboola, click here.
Revcontent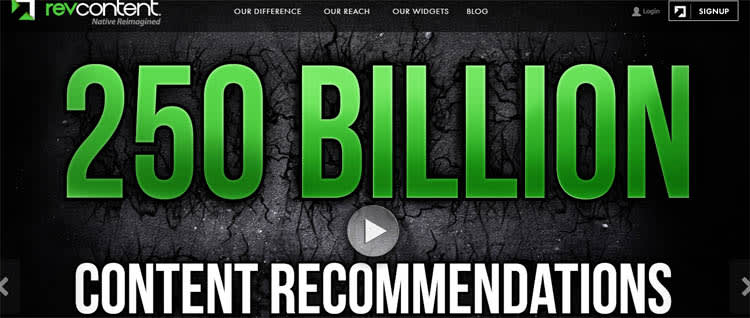 Revcontent is one of the fastest-growing content recommendation / native ad networks serving over 250 billion recommendations per month and ranked #215 on Inc. 5000 in 2017 as one of America's Fastest-Growing Private Companies with over 2,000% growth.
Despite the fact that Revcontent started out 5 years after Outbrain and Taboola, the new platform is successfully catching up.
According to comScore, its network reaches more users than Amazon and YouTube.
Revcontent has managed to bag a few top partnerships, including Newsweek, Viralnova, Forbes, Diply, and many more.
Its network generates high revenue and engagement rates for its publishers by focusing on selectivity.
Apparently, Revcontent denies 98% of the sites that apply!
It also seems that Revcontent really focuses on technology.
The network uses highly responsive widgets, infinite scroll, gallery implementations, and unlimited API customizations.
Advertisers can target based on country, mobile device, and brand.
Recently, Revcontent even added a retargeting pixel for advertisers on its network.
Regarding advertising, Revcontent is not too stringent, allowing a lot of trashy ads that would probably not be approved by Taboola or Outbrain, but that probably have very high CTR and earn decent money for publishers who feature it on their sites.
Publishers with websites generating more than 50,000 monthly visits can try to join Revcontent.
However, be warned that the network claims it will check your website to make sure that your content will provide value to readers and meet their quality guidelines.
Revcontent also claim not to accept sites that contain or promote questionable content and apparently they have become more stringent of late, since getting accused by various media outlets over fake news scandals during president Trump's election.
Revcontent only accepts 6% of all applications submitted, so better make yours count.
To sign up, click here.
Ayboll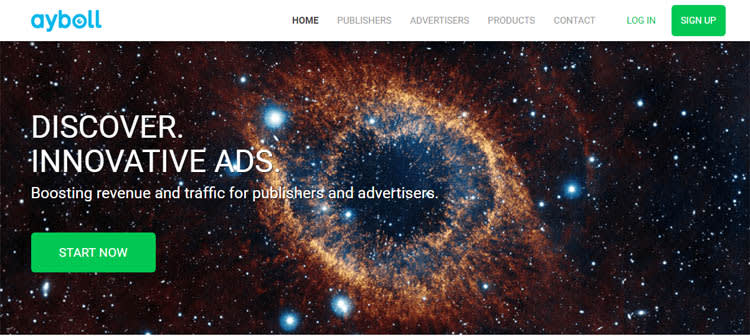 Whereas Taboola, Outbrain, and RevContent work almost exclusively with large websites and favor the famous 20/80 rule of doing business, Ayboll offers the best native ads for small and medium-sized websites.
They have differentiated themselves from the big companies by providing their service to any site or blog, no matter how much traffic they have.
Ayboll accepts pretty much anyone into their network, even adult-themed sites.
They do this simply by categorizing their advertisers' ads into one of three different safety levels: Safe, Moderate or 18+.
Publishers who don't want to show nudity or anything questionable on their sites can just opt for the safe rating, while those with a more mature readership can choose the 'Moderate' or '18+' Safety levels.
According to their website, getting started is easy and, unlike other platforms, requires no long-term contracts, exclusives, or complicated approval processes.
It's basically a self-serve system like Google AdSense, but for native ads. You create a username and password and can create various widgets right away and start earning money.
In a quest to offer a decent alternative to Google AdSense, Ayboll provides not just native ads, but also various other advertising formats.
These include slider ads, banners with arrows in them (like the famous AdSense ads effectively used by arbitrage marketers) and "before-you-leave" ads (smart exit popups on exit intent).
The only downside with Ayboll is its customer support, which is not very responsive (I guess this is due to the large number of small publishers clogging up their support queue).
The platform does, however, have a very detailed FAQ page which should answer most questions.
If you want to try out the Ayboll network, click here to sign up (it really does only take a few minutes to get their widget).
Our Tip:
If you are a small or medium site and insist on working with Taboola or Outbrain, you could advertise with them to push up your traffic stats.
This will obviously also make them more inclined to accept you as a publisher.
The same is true for RevContent, where it should be easier for medium-sized publishers to get accepted as a publisher.
Either way, you can always sign up with Ayboll no matter how much traffic you have, see how they work for you, and then try out one of the bigger networks once your traffic has increased.
Do you have any background working with these native ads networks?
Who offers the best native ads for blogs or small sites in your opinion?
Please let us know in the comments below!