(The following is a guest post from Estera Dezelak. We've had several instances of an encounter with her in our support chats on Intercom and we were very happy to know that we both follow the same dogma there and then when it comes to developing the product better via agile customer support.
For instance, because of her keen interest in using the tool, she was able to identify some features that were lacking back then and have requested it to be made, thus allowing us to improve the software even more.)
---
What's agile anyway?
Business is buzzing with the phrase "agile development."
But it isn't new and it's not just a buzzword.
Doing things the agile way means getting valuable, working software to customers early and inviting them to collaborate, provide feedback and influence product development. Ninja Outreach and Visionect's Joan Assistant have that in common.
The many ways of agile customer support
Taking the agile approach in customer support means that whenever a customer runs into a problem, support is very easy to contact and there's a real person at the other end.
There's no heroic quest through a forest of thorns to find a contact and no pre-recorded message after three repeats of horrible hold music. It's a professional that cares.
Ninja Outreach and the Joan Team run this kind of support.
Whenever you're logged into Ninja, contacting a specialist or even a founder is only one click away through Intercom, the customer communication platform they use or Zopim, their website chat tool.
It's quick, it's effective and it's fabulous.
They answer in minutes (I call that radically good support!) and solve whatever problem you might be having by going into your account for you, testing out the problem by replicating the settings and coming back with a solution.
The Joan Team offers a couple of ways to get in contact: the traditional email way, questions through social media platforms and a pretty rad chat support service through Zendesk.
Our support staff goes into deep settings to see what's happening with our devices and comes back with solutions or a step-by-step procedure for customers, leading them through the process and not just leaving them to figure out the tech-speak for themselves.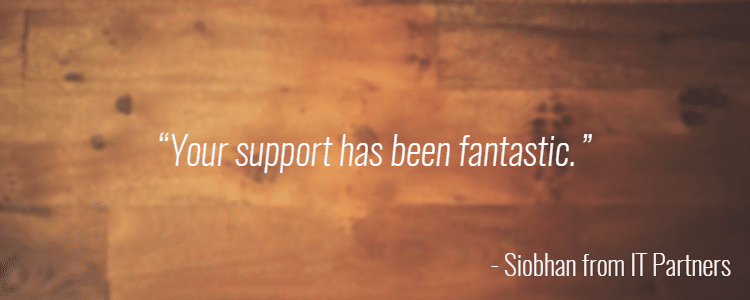 It's comforting to know that a real person is going to be there to help you and go the extra mile to make that happen as quickly as possible.
The system is set up that way with Team Ninja and Team Joan.
Real people that care about the product and the customer are happy to talk to you not like the bored specimens on the phone carrier support service.
Customers want help, but they also want to help
Having a hefty, technically written knowledge base is all good and fine and definitely necessary, but it usually has little to no explanation of the problems customers might encounter on a daily basis – enter customer support.
The problem customers are having always seem to be a little different than what's described in the product documentation.
It's our job to be the detective and figure out what's wrong and most importantly why it's wrong so we can cover it on our end and make the product better.
Whenever customers run into a problem, they instantly see how their experience with the product could be made better through their unique viewpoint.
Different people and different industries have different requirements and contacting the makers of the software who know it in and out might sound a little outlandish but it's common when you're talking agile.
And we're excited to talk to you as well.
Being agile means welcoming customer input by giving lots of direct opportunities to contribute.
Ninja does this really well.
They let you know that your opinion is valued and they seek it out regularly. Emails come to your inbox, saying that they have implemented something you suggested a couple of weeks ago.
Wow!
You can book some time for a one-on-one Skype call with the founders and they not only help you solve your problems but help you work better by giving suggestions on how to carry out your outreach campaign.
Joan also talks to customers all the time with webinars, surveys or social media.
We work on translating our user interface by sending it out to interested customers, who report back and suggest improvements.
We test out new features working closely with selected customers.
We learn from our customers.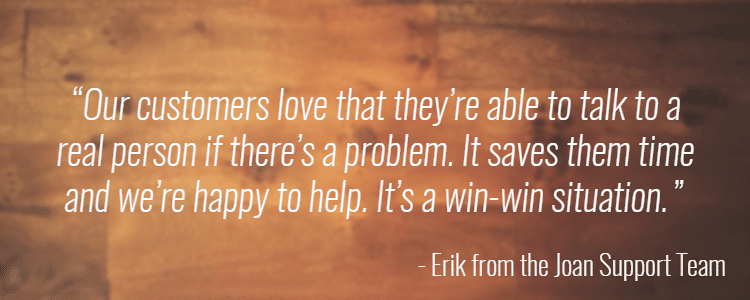 And not just about how Joan has been received in the office but also about how people work, how companies organize and we discover how we fit into that story.
We regularly publish interviews highlighting how individuals and companies work and play and gather their insights. There's more to a company than just the product it sells.
Your opinion and advice are invaluable to us.
It's what makes us better.
So much so that we want to pay for your coffee.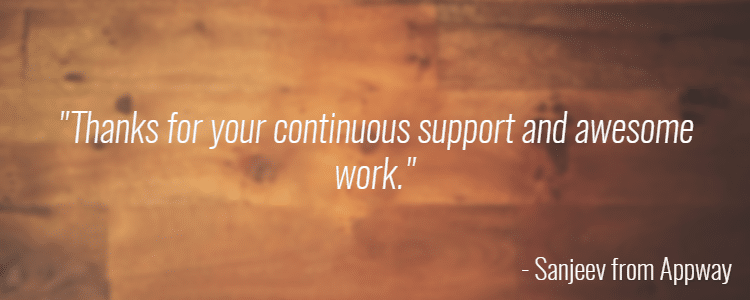 ---
Estera Dezelak gives voice to Joan Meeting Room Assistant, an e-paper digital door display for offices everywhere. An English major, Estera is fascinated by the power of words, technology and her morning cup of joe.