The other week the craziest thing happened with NinjaOutreach - we partnered with AppSumo to do a launch and recruited thousands of users.
Here's a quick recap before getting into the case study:
AppSumo sold over $100k worth of bundles (more on what was in the bundle later)
Thousands of new users signed up for NinjaOutreach
Want to find out how this happened?  Read on!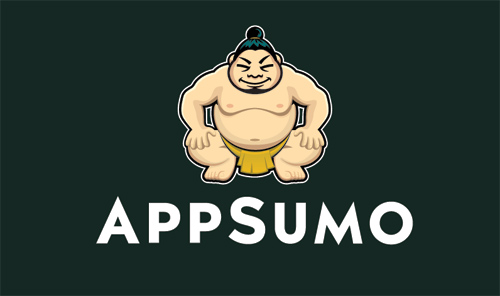 Negotiating The Deal
Given that NinjaOutreach is an outreach software, somewhat, by reputation, I'm expected to be an outreach expert.
Well, I don't claim to be an outreach expert - for the most part my emails probably get the same open/reply rate as most other marketers' emails.
But I have had a few outreach wins, and this was one of them.
It happened as I was browsing Product Hunt seeing what new products were launching, and I came across this course offered by SumoMe called Traffic1M:
Immediately, I knew I wanted to be a part of it (they have a huge newsletter), so I reached out to them: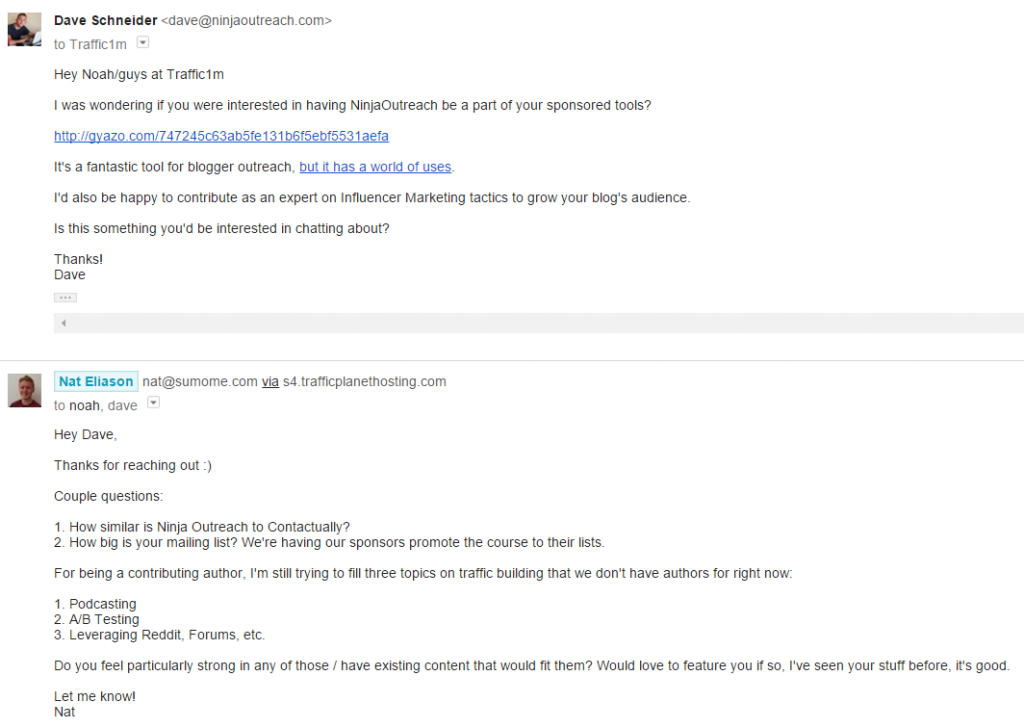 I went back and forth with the guys at SumoMe and eventually we settled on a suitable topic that fit their audience and my skillset, which was How To Get Featured On Podcasts.
I've been featured on about two dozen podcasts, so I think it's fair to say I know a thing or two about that kind of outreach.
I wrote my several-thousand-word guide immediately and also asked if they knew anyone at AppSumo (which I think is like a different branch of the same company).
For those of you who don't know, AppSumo is sort of like a Groupon for Marketers. They offer deals at a heavy, heavy discount to their newsletter of 750k raging fans.
It's a ton of exposure in a short period of time.
I distinctly remember Rob Walling from Hittail talking about how AppSumo was pivotal in getting the word out about his software.
So I got put in touch with Ayman from AppSumo.
Ayman was interested in the software and took it for a spin. He liked it, and I was hoping we would settle on some offer like a one-year blogger account for $75. I saw this as a significant discount off the plan, which usually goes for $200+, but recognized that it would also give us the chance for people to renew after a year, and of course a ton of exposure.
But Ayman pushed for a lifetime account for $25, of which we would get a fraction.
Honestly, at first, I was really taken aback by the terms. Effectively, we were giving away lifetime accounts for peanuts - whoa!
Should we or should we not take the deal?
Why We Took The Deal With AppSumo
It's pretty clear from the beginning of this story that we went ahead with these terms - why?
Firstly, let's start with my concerns:
I was concerned that all of our users would cancel and just buy the deal, and we'd lose out on as much as we were gaining.
I was also concerned that we'd sell through our entire market, and that there would be no one left to buy the software after we finished.
Lastly, I was concerned that our software wouldn't be able to handle the volume/usage and that it would interrupt regular customers' experiences.
But we went for it, and here's why:
Sales: Firstly, AppSumo estimated that we would sell 3500 units, and while I can't disclose what that means in terms of dollars, it was a non-zero amount, which is always a good thing.
Long-term Exposure: Additionally, we saw a lot of long term benefit in having so many users. Think of it like a freemium plan. It could be thousands of users who would be talking about NinjaOutreach; linking to us, featuring us in podcasts, reviewing the product, mentioning us on social, etc.
Different Customer Base: I felt that our target customer (digital marketing agencies), was probably not in line with AppSumo's target newsletter user. So it wasn't super likely that there would be a lot of cancellations or cannibalization of future sales.
Big Market: If we actually did sell through our entire market in this one deal, the business was doomed from the start anyways. Better to know sooner than later. For the most part, though, I think we have hundreds of thousands of businesses in our market, so even a few thousand, lifetime accounts shouldn't make a dent in that.
Upsells: We didn't have a direct upsell as part of the offer, but we do offer a Done For You service, and we also believe that with the right features and value proposition, some of these AppSumo users will eventually upgrade to traditional monthly accounts.
Everything pointed in the direction of "momentum" - something we've sorely needed as of late.
So we said "YES" to the deal.
The Preparation
Believe it or not there wasn't a ton of preparation that had to be done before launch.
We originally agreed to the deal around August so we had about two months to get things in order. Basically we just wanted to make sure that:
The software was running smoothly.
We had a dedicated support agent.
So we hired a dedicated virtual assistant to go on support and just made sure performance was part of the developer's tasks. These are all things we would have been doing anyways. AppSumo handled all of the marketing and organized the bundle.
The bundle, which we didn't find out about until about a week before launch, included us and several other tools/courses/books.
To be honest, I was kind of glad that there were other tools in the mix, because it put less pressure on us and I knew it would increase the total number of sales.
The Launch - Initial Problems
We launched on Sunday, October 18th and immediately had problems - the codes that we were giving out to AppSumo people who bought weren't working.
Naturally, I panicked, and after a few hours got ahold of our developer who fixed it about 4 hours into the deal.
Big lesson here - have your lead developer's phone number in case of emergencies, even if he's a remote worker.
Regardless, we were able to fix the problem before any nasty reviews came up, and at this point only a few hundred people had bought and only a handful of them had even bothered to activate the software. It was frustrating, but solved quickly.
From there on out things went smoothly, although they were crazy busy.
Our application has in-app chats through Intercom and also a call scheduler via SoHelpful, so we were INNUNDATED with people sending us messages and scheduling meetings.
My partner and I plus our dedicated customer support rep basically tagged team customer support so that someone was always on.
For the most part, it wasn't so much problems/support issues as much as people just introducing themselves, their business, and their needs. This is because we have a welcome message that everyone gets, so a lot of people were responding to that. We could have turned this off and support would have been a lot less, but I think we made the right decision.
Because we were extremely active in the chat and on the landing page itself, if you check out the AppSumo page you'll see dozens of 5 taco reviews that specifically mention NinjaOutreach and how excited people are about the deal, the tool, and our customer support.
We killed it.
Especially what people loved about the deal was that there were no "gotchas". It was a lifetime account, no strings attached. Some of the other products in the bundle were designed to be the first part of a marketing funnel.
From a marketing perspective, there isn't necessarily anything wrong with that. After all, they are giving away a lot of value at a low low price.
However, many people are sensitive about being sold too, and if you read a few of the comments, you can see that some people misinterpreted the offer to think they were getting a full course or book when it reality it was only part of a course, or a PDF checklist.
The Final Numbers
You can see the sign ups by day here:

You can see the two major days at 10/19 (the first full day), and 10/26 (the final day).
Basically, standard product launch says that 50% of people will buy on the first day, 25% of people on the last day, and 25% of people in between.
Now, there is a 60 day money back guarantee on the deal, so there is still time for refunds, but it's looking as though we sold over 4500 units.
However, did 4500 people activate NinjaOutreach?
No - about half did, so far.
Some probably will later, and others, perhaps, never will. This is part of us being in a bundle with others goodies that maybe some people were more interested in.
Conclusion
We still don't know the long-term effects of this launch, but I think it is going to be pivotal in the history of NinjaOutreach.
We had a minimal amount of cancelations (less than 10), and were able to build a fairly sizeable user base that we can leverage for exposure, upsells, and research/testing.
We're very happy!
Disclaimer: The obvious question you might be wondering is "How much of that $100k did you make?". Unfortunately, I can't disclose that. Those are the terms of the agreement and we must abide by them. All the same, I hope you enjoyed an awesome case study on product launches!