Need to learn how to find Instagram influencers for your marketing campaign? Read further for a complete step-by-step guide of all the ways you can try to find Instagram influencers. Essentially, it will include free and paid methods to find Instagram influencers, the pros and cons of each, and will be continuously updated as we come across new strategies. This article will be pretty packed, so let's get to it. Ready to start learning how to find Instagram influencers? Let's begin.
1. Search on Instagram
How to find Instagram influencers? Let's start with the free and obvious option: Instagram Explore.
Pros: You can contact the influencer directly via Instagram's direct message feature. This eliminates the need to manually research for an email address, and even gets higher open rates compared to email.
Cons: No quick way to see if followers are authentic or if engagement is good. Qualifying a lead, messaging, and follow-ups can only be done manually, one by one.
Tip: Best for small-scale, highly personalized campaigns. If you need to contact more than a few leads, skip this and move on to the next options on this list that are better for bigger outreach campaigns.
How to find Influencers via Instagram Explore:
1. Click the magnifying glass icon to search for profiles. Searching for leads on Instagram can be tricky as Instagram displays personalized results per profile. So if you use your personal account (where you spent time liking and commenting on cat pics) to look for car enthusiast leads, you might not see these show up in your Explore feed. 2. If you don't see relevant results, you can type the keyword for the niche you are looking for right on the search tab. For example, "digital art." You can then choose to browse through a list of top profiles, hashtags, or places associated with that keyword. Results will still vary per profile, so this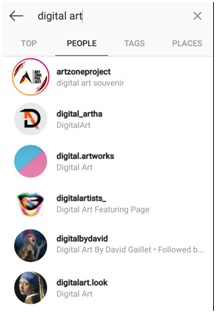 3. Results will still vary per profile, so you'll be spending a ton of time checking each profile out individually to see which one fits your campaign needs. 4. Once you do find a profile you like, just click the send direct message option to contact the influencer manually.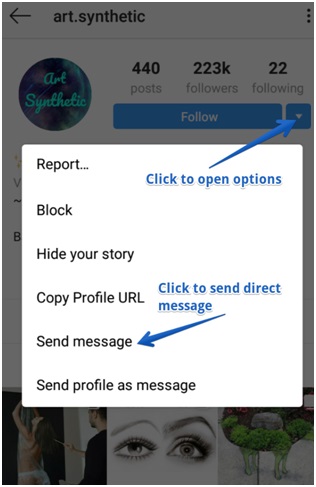 2. Advanced Search on Google
Google is still the search engine to beat when it comes to serving the most relevant results for your searches. You can make your searches even more targeted through Advanced Search Queries.
Pros: You'll get the most relevant results compared to any other search engine. You have the added flexibility to edit your queries and add location and date filters.
Cons: No quick way to verify engagement rate, and if an account and its followers are authentic. You'll have to manually review each result per page, and you can't message them directly.
Tip: Try this if you have no problem investing time and budget on other apps for finding emails and messaging your leads, and just need to generate as many of the most relevant leads as you can.
How to find Instagram influencers using Advanced search queries on Google:
1. Go to your Google search settings and set your location results. (Set your preferred results by location or select global if you're targeting that.)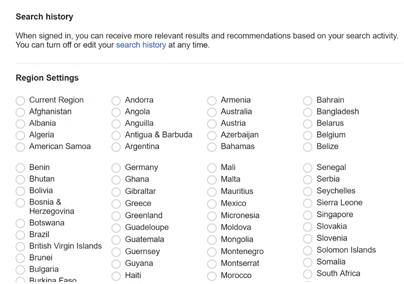 2. Tweak your Google settings to display 100 results in one page.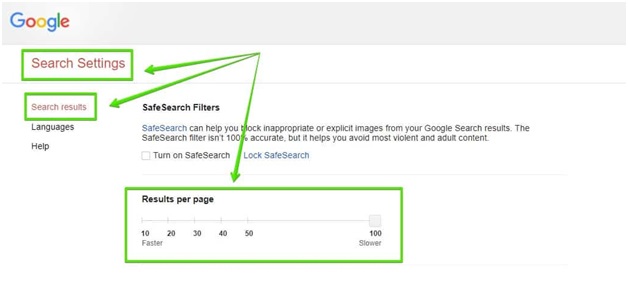 3. Go to Google search and type the advanced search query format: [Your Niche keyword] +[ Your target location] + site:instagram.com The advanced search query: Fashion London site:Instagram.com should show you results like these.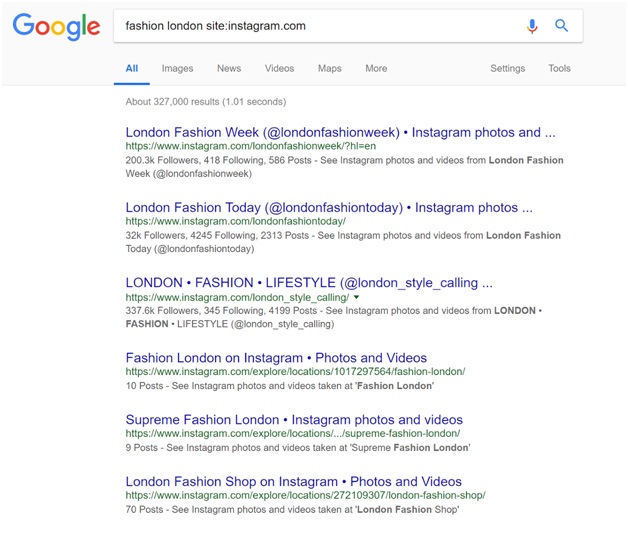 4. Open each profile in your search results as a new tab. Review each one closely, pick what you like, and send a direct message. You can also manually copy the link to the profiles you like and past them into a spreadsheet for list building.
3. Search On Influencer Platforms
An influencer platform is like a directory listing influencers along with the info that businesses need to contact them for brand sponsorship.
Pros: It's like browsing through an influencer catalog that contains all the data you need to easily pick the right leads for your campaign. You'll have most of your research done for you.
Cons: Not all influencer platforms are created equal. Free directories will list basic profile data but are still incapable of verifying engagement, account, and follower authenticity. Those that do, come at a cost. Either way, you still can't automate mass emailing.
Tip: Try this if you're okay with spending a bit of money to save (tons) of time on manual research.
The best influencer platforms should list only curated, verified profiles, including the data you need to qualify and contact leads instantly. At NinjaOutreach, we use advanced data science so our free influencer platform can include the following data:
Category – instantly find influencers by niche
Engagement rate
Follower count
Likes, comments, and shares per post
Location info based on posting activity
Brand partnerships
Price per sponsored post – helpful for quickly determining which influencers you can afford to include in your campaign
But what makes the NinjaOutreach influencer platform stand out is the fact that it's free. You can find all the information you need to qualify Instagram influencer leads, without having to spend extra time researching.
Here's how to find Instagram influencers free on the NinjaOutreach Influencer platform:
1. Go to the NinjaOutreach Instagram influencers directory page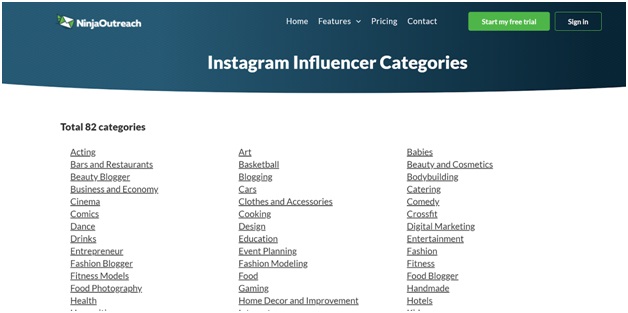 2. Choose the niche you're looking to find Instagram influencers for. Niches are listed as Categories. Try the Mommy category, for example. 3. Set your preferred location. You can filter all the way down to the City level.

4. If you see an influencer you like, you can click their profile card to expand it.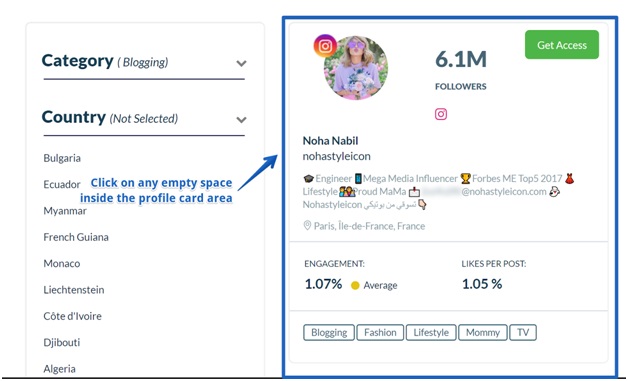 5. Once it loads, click on the small Instagram icon to open the URL to the influencer's actual profile on Instagram.

6. If you're browsing through mobile, then you can head straight to the direct message option to contact the influencer you like. But, if you're doing this at scale, you'll need to use a specialized messaging app.
4. Use an App with a built-in influencer database and outreach
Influencer database and email outreach software are all-in-one solutions. These power-packed tools can help you, from finding and researching leads, to outreach automation. However, they are definitely not free.
Pros: Comes with auto email finder, email + auto follow-up scheduler, templates with custom fields and dynamic text, ninjabot
Cons: Since the profiles added in the database are evaluated first and also comply with the influencers' wish for privacy, some pages/websites/profiles that do not meet our safety precautions or that wish to be excluded may not be present in the database and you'll have to find some via other sources.
Tip: If you want to save money on Instagram influencer research and emailing, then invest on a single tool that has all these specialized features.
If you need to find Instagram influencers for bigger projects, visiting profiles one by one just to send messages and follow ups is inefficient. NinjaOutreach speeds this up by letting you arrange a list of all the Instagram influencers you want to contact. You'll see all their stats in a single page view, and you can can then send more messages without having to manually go through each account.
Here's how to find and contact Instagram influencers through the NinjaOutreach influencer database and outreach software:
Quick Tutorial On How To Use The Instagram Search In NinjaOutreach
1. Go to Search tab click the Instagram Influencers search tab.

2. Type your niche keyword into the search box and click search. 3. Once that's done, click Filter to narrow your search. For example, your search keyword is "blogging." You can open Filter and click the Category "Babies" then filter location to "United States." You can filter further down to the region/state and city level if you want. You can also set your required number of followers per influencer.

4. You can scroll through all the results of your lead search and view all influencer stats in a single page. You can also click each of the three icons to the left side of each profile card if you want to view the Influencer's Instagram profile, contact them, or add them to your list of leads.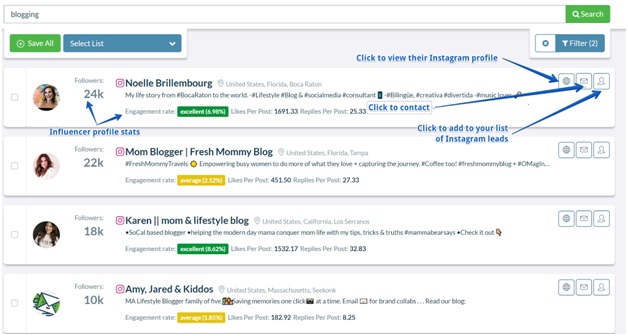 Conclusion
And that's it! Whatever the size and goals of your campaign, you have various options, both free and paid. Are you ready to find Instagram influencers for you campaign now?