One aspect of networking and influencer marketing that many people struggle with is building relationships with influencers.
They just don't get it.
Or they don't want to put in the time.
It's true, building relationships with people, let alone the top influencers in the industry, can take a lot of work.
But it's also very, very doable.
Take Brian Dean from Backlinko, who follows me on Twitter.
Brian and I are mutual acquaintances. I won't go so far as to say we're friends, but we've had several interactions and are aware of each other on some level.
BTW - Brian, if you're reading this, I apologize for creepily analyzing our relationship, but for the purposes of this article it makes for a solid case study!

Now back to the story, which, mind you, is meant to be a humorous albeit true case study of how to get an influencer to follow you on Twitter.
In the internet marketing world, Brian is an A-lister. He's a hotshot SEO blogger, with tens of thousands of followers across every channel.
In short, he's kind of a big deal Influencer.
And me?
Well, I'm kind of not.
On a good day, I might be classified as an up and comer - and that's being generous and only applies to Fridays.
And yet I've had Brian comment on my articles. He follows me on Twitter, and we've exchanged emails back and forth several times. He's even offered to beta test the NinjaOutreach software, once it's ready.
Here's how, with a little bit of effort, I got on his radar.
I first came across Brian from his guest post on OkDork (which is fantastic BTW and you should read it).
What I did is left a thoughtful comment.
I always encourage you to leave comments when you actually read an article. If you've already invested 5-10 minutes to read an article, you might as well spend 1 minute to leave a thoughtful comment and let the author know you were there.
Leaving a comment on a guest post is a two for one special, because often both the author and the webmaster see the comment!
My comment was quite long and Brian gave it a thorough response, which I've abbreviated below:

But now it's time for the follow up, otherwise I would have ended up like the hundred other people who commented on that article and dropped off Brian's radar.
So I did what I usually do, which was to write an article (in this case, about user testing).
And where appropriate, I included one of Brian's great articles.
And then I let him know about it, which was extra significant because his guest post on OkDork was all about promoting your content.
Basically, I was applying the teachings of his guest post on him - which is sort of meta in a way.
Brian was nice enough to come over and comment, because, after all, it was a killer article.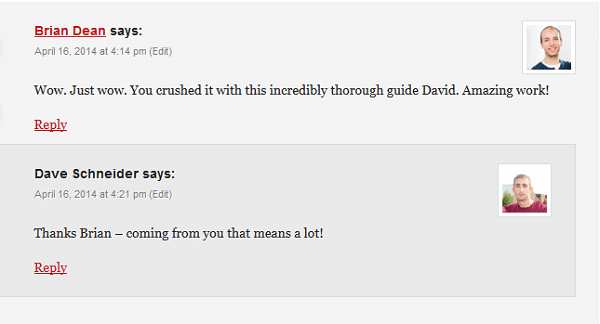 He even shared it on his Twitter as well: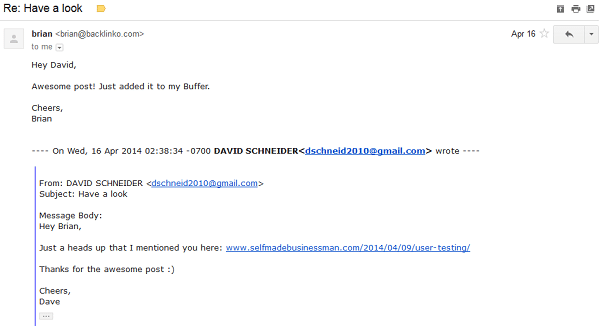 From then on out, I included Brian in my TwitterFeed, which auto tweets each post Brian puts out. I'm happy to promote his stuff, because I know it's quality every single time and I pretty much read all his articles without fail.
Brian noticed the tweets I was putting out, and decided to let me know about an upcoming article he was writing ahead of time, offering to send it over when it was ready.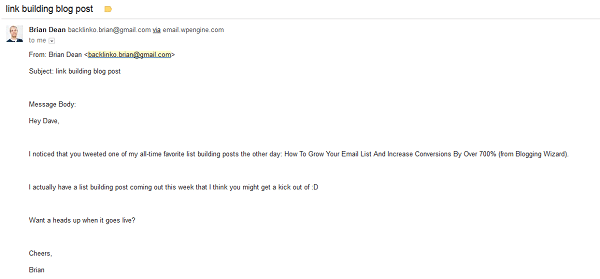 To which I agreed, but as it turns out, since I already auto tweet Brian's posts, I beat him to the punch.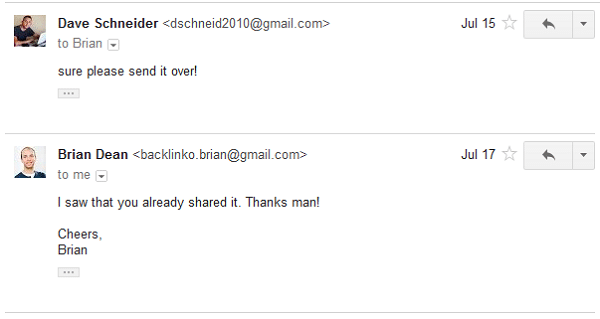 And now, Brian is one of only 300 people who follows me on Twitter. I am one of only 500 people that he follows.

And that's how you get Brian Dean to follow you on Twitter.
Conclusion
In about three months time I was able to build a relationship with a top influencer in my niche, to the point that they subscribed to me on Twitter.
Mind you, I did so with just a little bit of effort.
This was far from spending every waking moment thinking about Brian Dean and how I can get him to notice me - I reserve those hours for the likes of Britney Spears.
I had no plans to write this article 5 months ago, not in the least.
The fact is, it's just a matter of a link here, a tweet there, and overall trying to provide a little bit of value to my target audience without really asking for anything in return.
And of course, taking an interest in their work.
That's the key to Influencer Marketing.