Expert Chat: Harleena Singh Shows Us How to Build Blog Readership
Hi! You are welcome to another edition on the "Expert Chat" Section of Blogging Tips Today where we get to have a chat with various Experts in the blogosphere on a "single" particular topic; it is really great to have you here.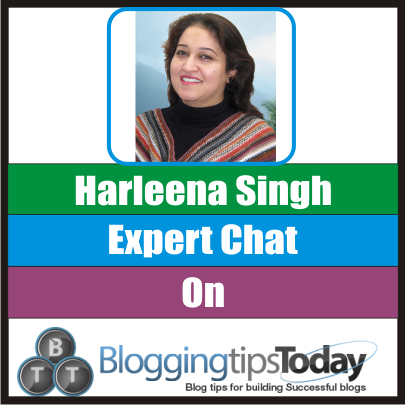 Today on expert chat, our guest is Harleena Singh of Aha!-Now. She is a Professional Blogger and we will be having a chat on  "How to Build Blog Readership" with her. Take your time to read through this Interview and learn from Harleena's experience.
ME: Hi Harleena, it's nice to have you here, can you kindly introduce yourself to our readers
Harleena: Hi Joseph, it's wonderful to be here as well. 🙂
Well,I'm professionally a freelance writer and undertake commercial writing assignments - creating quality content in the form of articles, web content, press releases, email blasts, letters, and any other online or offline content requirement. You can learn more about me as a writer from my website http://www.freelancewriter.co/ .
Prior to being a full-time writer, I was a teacher and an administrator in various schools, and had also been counseling students and guiding them in life. I guess unknowingly, I was laying down the foundation for being a blogger. 🙂 I learned the skills to teach, guide people, and help others by expressing myself creatively through my writing.
Additionally, I've just started my CPC course, for becoming a Life Coach, so that I can help myself and others in more ways than one. You can learn more about it from my latest interview with Berry that I'd conducted recently. Perhaps change is always good if its positive and progressive, and one must keep moving ahead in life, isn't it? 🙂
ME: I have known you for a while now & I know you are a great Blogger; how did you get into the blogging business?
Harleena:  Well, thank you for your kind words, though bloggingwas never a planned or conscious decision – it just happened! Blogging chose me I should say! I'd not dreamt of becoming a blogger until three years ago, and even then, I just started my blog to share knowledge and help others because I knew I could do that.
In fact, I never considered my blog as a business initially, until recently. After starting my blog, I never thought I would become a full-time, devoted, and professional blogger.
That's because being a professional writer, blogging wasn't my cup of tea, but gradually things got better and I got into being more of a blogger than a writer now. 🙂
As I learned and practiced more, I began loving what I was doing, especially once I started adding new stuff to my blog, which people started liking. As a person, I have always had a strong desire to help others, so I guess that's why I happened to choose to be a blogger as that probably best reflects and complements my personality.
ME: To start with, what is Blog Readership?
Harleena: Blog readership in simple terms would be the readers of your blog, those who like what you write and are regular visitors and well-wishers too.
Blog readership is more or less your loyal blog following – they are the ones who are your fans and the fan of your blog too! Your blog readership will be different depending on the kind of your blog.
ME: How do you get readers to your blog?
Harleena: I've never really purposely tried getting readers to my blog! Or perhaps I've always been lucky because they have come on their own, through referral or reciprocation. This happens when you build strong relationships with other fellow bloggers by visiting their blogs and commenting.
Since most of my initial blog readership comprised of bloggers and writers, blog commenting by way of making return visits has always worked for my blog and that's the best way I still get readers to my blog.
The lovely bloggers and readers further share my posts with their friends and followers, so I get more readers. It's like a chain reaction.
Not to forget there is SEO. According to my Google Analytics, I get an average of about 25% blog visitors from the search engines throughout the year.
ME: How can a newbie blogger get readers to his Blog?
Harleena: Whether your blog is solely for bloggers or not, I would always recommend to start with making return visits to those bloggers who visit your blog. However, being a newbie blogger, you might not get as many visits initially, but don't let that dishearten you.
On your part, you go ahead and keep visiting blogs that you like; niche or no niche hardly matters nowadays. I feel it's the connections you build with fellow bloggers that matters most. Having said that, it's always good to visit the blogs of influencers in your niche or generally popular bloggers, and impress other people there through your valuable comment.
Eventually, those bloggers whose blogs you visited would also visit your blog and become your blog readers. It's always worked for me this way, and those who don't come, doesn't matter, others will.
You can get to know of the kind of bloggers who make return visits if you comment on CommentLuv enabled blogs by checking the links they leave, and making their visits at several other blogs. That's because they know their visit will be reciprocated.
So, for the newbie bloggers, I'd highly recommend using CommentLuv on their blogs as it does get you lots of comments in most of the cases.
ME: Is social media effective for building blog readership?
Harleena: Yes it is. Everything counts I would say, and social media has played a huge role for my blog as well, so I cannot forget that aspect of it too.
Besides the usual blogs I visit or make return visits to the newcomer's blogs, when I share my posts on the various social media networks, I get a lot of response and interaction there as well.
This is because you also find many non-bloggers on those platforms, and you need them as well for the growth of your blog. Some of them do subscribe to the blog and become my blog readers, while others opt in through the RSS.
All this you can make out as soon as you share a post on the various Facebook groups, G+ communities, Pinterest, and other such places.
ME: Do you still think Guest blogging can help to get more readers to our blog?
Harleena: Yes it can, and it has done that for many bloggers that I know of, even the popular ones. However, it would depend where you are guest posting I think.
If you manage to guest post on a high ranking blog or site and your post is taken up well, and you too have a good authority over the topic, or your niche relates to that blog's audience, yes, it will help get you readers, or else not.
What guest blogging does is gets you in contact with a completely new world and increases your reach, to both bloggers and non-bloggers. Many of the new people and bloggers you meet at these new places where you guest blog turn up at your blog, and some of them become your regular blog readers.
Moreover, if the guest bloggers themselves don't have good content or a good ranking blog or don't have an authority, perhaps getting readers through guest posting will be difficult for them.
ME: Which methods do you prefer & recommend when it comes to building blog readership?
Harleena: Primarily – write helpful useful content, and it's even better if your writing or presentation is impressive and qualitative. But if you're genuinely helping people and giving them what they like or want, you'll have them coming to your blog again and again, and as a result you build a blog readership.
Apart from that, as I mentioned earlier, nothing works better than building relationships with those who visit your blog. This includes interacting with them on your own blog too. Your return visit to the blogs of those bloggers who visit your blog makes a huge difference because they will visit your blog again, if they are also out to build connections, just like you.
Also, reach out to new people through your social media promotions - like Facebook, Twitter, Google Plus, and Pinterest. I get new blog readers from Triberr and LinkedIn as well because of my interaction with them.
So, basically there have been three methods that worked for me to build blog readership – content, relationships, and social promotions. I personally have not been that big on guest blogging, which is great too.
ME: Is there anything like loyal readers or it's just a myth?
Harleena: Absolutely! Having loyal readers is not a myth, and my blog is proof of that after something I tried and tested recently at my blog, the results of which I'd shortly be putting up in one of my coming up posts.
Loyal readers are those who will keep visiting your blog, whether your blog rises in its rank, even if the rank sinks, or if you are adversely hit by the Google updates. Your loyal readers will always be by your side like your pillars of strength, and that's where having a strong blog community rocks!
They are the people who really value you, your content, and your relationship - and these include bloggers who are least bothered about the "link love". I'd say that your loyal readers are those who have "linkless" love for you! 🙂
ME: If yes to above, how do one build loyal readership for a blog?
Harleena: Relationships – that's one thing that builds you a loyal readership for your blog.
If you don't care for others, the others are less likely to care for you, unless you're a celebrity or a highly successful blogger. Treat your blog visitors well and share genuine love and care with them. Help other bloggers by promoting them in social media and visiting their blogs, even if their blogs are still new – you shouldn't forget your initial time, isn't it?
There are various other ways to build blog readership. If you share good content and post regularly, have your own voice, and a niche that your readers relate to, they are bound to be your blog readers. Consistent useful content that helps your readers in some way or the other, transforms them from becoming casual to loyal readers.
Besides, don't forget to share your posts on various social networks as that surely add to your blog readers too. Moreover, when you get comments on your blog posts, be there and reply to those comments. Seeing good interaction increases your readers as your commenters know their queries will be answered to.
ME: What is the difference between regular readers and loyal readers?
Harleena: That's an interesting question!
Well, a regular reader would read your post or visit your blog because he or she is a regular visitor, or if they're bloggers, perhaps you visit their blogs, so they visit yours. It's like reciprocation, which is good. However, they may or may not share your posts, or some of them just visit because your blog because it is a high ranking one, so they get to leave their links.
Loyal readers, including bloggers, will always keep coming, whether your blog sinks, or you change your commenting system to a 'linkless' one (as I recently did). They will always share your posts on the various social networks. They will mostly interact with you on the social media platforms too, just like friends, and with time, they become more than readers. They become good friends, and I am so lucky to have such friends in the Blogosphere.
ME: How much does the success of a blog depend on its readership base?
Harleena: The concept of success differs from person to person. For some bloggers, success might be the rank of their blog, while for others the amount of value they give their readers or the money it earns for them.
However, if you don't have a good readership, then it means that people don't find your blog a place worthy enough to visit again, either because of the content you share, or perhaps because of you! Or it could also mean that you didn't quite make your best efforts.
Well, if you don't work hard to build a readership, you won't either have the traffic, rank, or revenue and your blog will not be successful. So yes, the success of your blog depends on the readership base unless success for you just means to put your thoughts on the blog without being bothered about anything else.
ME: Is there any quick and easy way to get more blog readers?
Harleena: Nothing comes easy in life, and the same goes for getting readers. I remember the first month of blogging, three years ago, when I hardly got any blog readers. However, that didn't last long because I started reaching out and connecting with people who matter.
Yes, you can do all that I mentioned above, and do them fast to achieve quick results. You can also visit the blogs of those who get a lot of comments and interaction, reach out and connect with influencers, advertise and make paid promotions of your blog (though I haven't tried this method as yet) – that's the quickest way to get more blog readers.
The readership building process can be fastened and it all depends on the time and effort that you can devote on your blog.
ME: What do you think can really attract readers to a blog?
Harleena: Lot of factors can be added here. It definitely starts with good content that is helpful to your readers. Remember, blogging is all about others and helping people. Other than that, your interaction and your relationships you build with readers and fellow bloggers - always makes a difference.
Yes, the engagement too matters. The more interactive and lively the blog community, the more popular the blog becomes and attracts the readers to it like bees to honey. 🙂
Contests and free offers are tempting as well, and having a good reputation, either generally or because of receiving a coveted award. In any case, readers look for value and you need to provide that to attract readers to your blog.
ME: Does a blog design and look have any effect on getting more blog readers?
Harleena: Not much really, but it does certainly add. I've visited many blogs that are very simple and not too good in their design, yet they get 100's of comments.
However, if you have a nice design and easy navigation, it certainly adds up.
ME: What is your take on using Advertising as a means of building a blog readership?
Harleena: Honestly, I've never tried to gain readers that way so I cannot really comment on whether acquiring readers through advertising really works, though I did mention it as one of the ways of building quick readership.
But I'm sure that would work and be better than doing nothing or even supplement your efforts in building the readership through other ways. All I can say is not to depend on advertising or paid promotion alone as these methods can never really replace or relieve you from the conventional readership building methods as discussed above.
ME: Do you think posting/publishing frequency affect a blog's readership?
Harleena: If you are consistent in your blog posts, it matters a great deal. Your readers usually subscribe to your blog or they come through RSS feeds, and once you let them know your posting schedule, they certainly wait for your posts.
If you are irregular or are going on a vacation or break, or else won't be posting on the set dates, it's always good to let your readers know, so that they don't wait for your posts. By not doing so, you might just lose your readers.
How often you post doesn't matter, it's the consistency that matters. And if you have said you'd be posting on particular days, do stick to that, whether it's once a week, twice a week, or once every 15 days.
Ultimately, it's not the posting and publishing frequency that matters but the consistency and quality that will help build and maintain the blog readership.
ME: If you are to start from scratch, how will you drive readers to your blog?
Harleena: Just the way I've always been doing…through building relationships with fellow bloggers. Perhaps I would also concentrate on building a strong list of subscribers, something I never did till recently, though without it I am glad I get many regular and dedicated readers.
One thing I would like to do more is guest blogging and connecting with more influencers – I really have been lacking and lagging on these fronts due to lack of time. 🙂
ME: Thanks for your time Ma'am; to finish off, how can our readers connect with you? (Feel free to drop your links here)
Harleena: Anyone is free to reach out and connect with me on the various social networks. Here are my links –
Facebook , Twitter, Pinterest, Google+
Also, I'm mostly active on my blog so if you decide to become a member of my community by registering yourself at the forum, then we can have live chats and discussions on my blog 🙂
Thanks once again Joseph for having me over – it was a pleasure being here 🙂
I am looking forward to your comment below, make sure you drop them before you Zoom off!