2 Successful Giveaway Examples Run by Bloggers
As a blogger one of the things I am always on the look at for is a product that I can giveaway to my audience. With  today's 3 successful giveaway examples broken down you will also understand how important it is.
It's a shame that so few companies have tapped into this market, for the time being at least.
If you look closely, however, you can find many successful giveaway/competition case studies. I've pulled three in today to talk about them.
A giveaway doesn't always have to involve a tutorial along side it, sometimes it can just be a presentation or an appearance.
In this second example we see Clay Collins, the CEO of LeadPages, coming on the SPI podcast to talk about his company and their product, as well as email marketing tips.
Here's how it went down:
As Clay mentioned on the show, he's giving away 3 lifetime memberships to LeadPages to the SPI community!
In order to win, all you have to do is leave a comment below with your best one-sentence resource guide opt-in page HEADLINE, based off of the formula that Clay mentions around the 46:20 mark of the show.
Clay and I will pick three of our favorites and announce the winners on Thursday's (8/29) Webinar.
What's so effective about this style of giveaway is the following
Firstly, it forces people to listen to the podcast in order to contribute, because the comment is "based off of the formula that Clay mentions around the 46:20 mark of the show."
Secondly, it forces people to watch another webinar in order to know whether or not they have won, which is additional exposure beyond the original podcast, and is designed to be more instructional about the product.
Given that 760 people commented on the podcast, you've already secured yourself hundreds of visitors for your webinar, which convert like crazy.
Surprise, surprise, another example from LeadPages - isn't it so clear when a company just gets it?
Here were the terms:
In the comments, tell me ONE thing you will do today to start/restart/grow your email list.
The guys over at Leadpages have offered a FREE 1 year membership to one reader of Okdork. If you want to win, leave a comment below. The best comment gets the prize!
This post generated 120 comments and over 800 social shares, and no telling how many sales for LeadPages for just one free license (good for only one year, mind you).
And do you know what's so great about comments - it gets everyone talking about your product, and how much they need it (or love it, if they're a current customer).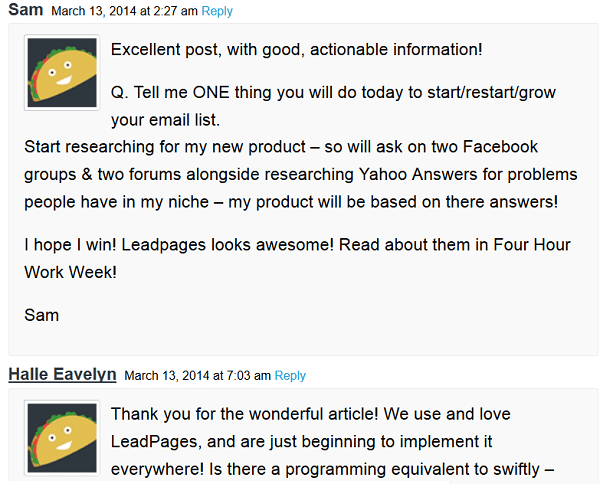 Conclusion
There are three factors that essentially go into a successful giveaway
Providing value to the blogger
Providing value to their audience
Providing value to the company
It's really not THAT hard. In many cases these are coupled by affiliate links, so that the blogger gets an extra bonus for whoever he refers from his audience. He also walks away like a champion because he has supplied some members of an audience with a product for free.